Tropical Pineapple Puff Pastry Tarts with Pineapple Rum Sauce. Super easy. Super tasty.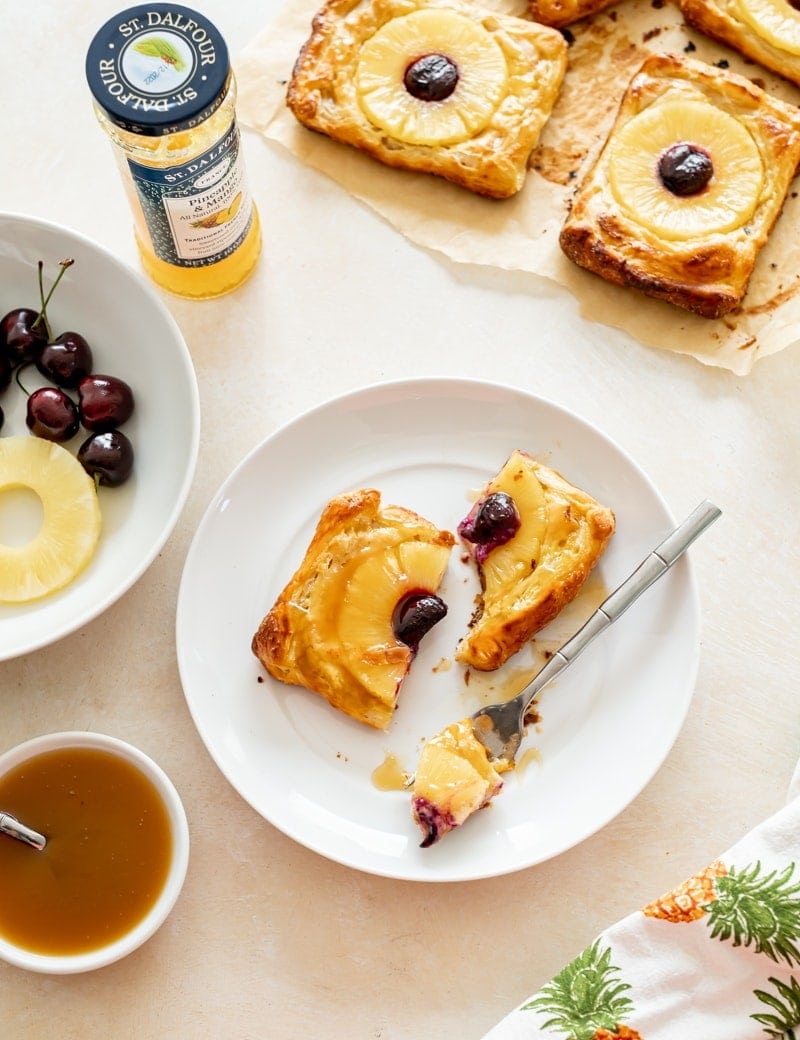 I can't let National Pineapple Day pass by without a new recipe! This one is so good and simple. Great for brunch or dessert. A scoop of ice cream would take this to the next level for a fantastic dessert.
I love easy, puff pastry desserts and tarts. I cheat with using store bought puff pastry. I love making homemade puff, but I have yet to master it enough to make things like croissants and Kougin Amann. So for now, store bought it is. I also use canned pineapples here instead of fresh. If you do go with using fresh I have directions in my notes for using them.
I love cream cheese pastries as well as fruit pastries so for these I decided to combine the two. Start with a cream cheese mixture that has mango pineapple jam and just a little brown sugar added to it. St. Dalfour is one of my favorite brand of jams and this one is perfect for this recipe.
Working quickly with the puff pastry so it doesn't soften too much I roll out the pastry a little to make it more square. The brand I use has two squares that are about 12x12. I keep one in the fridge while I work with the other. Fold over the edges, prick the middle with a fork ( don't go all the way through!)
I fill each pastry with about two tablespoons of the cream cheese mixture
Top with a pineapple ring and a cherry ( with the pit removed if you are using fresh cherries like I did).
Brush the pastry with egg wash, sprinkle with coarse sugar. Off to the oven for 22-25 minutes. See? Fast and easy.
Golden, flaky pineapple puff pastry tarts. Perfection.
While the pastry is baking I make the pineapple rum sauce. I drain the pineapple juice from the can of pineapples ( I use a 20 oz can, 10 slices in the can, you will have two leftover). I add brown sugar, butter, salt and dark rum to the pineapple juice. Bring to a boil then simmer until thickened. It takes about 20 minutes. Same time as the pastry.
If you want thicken the sauce even more, add a cornstarch slurry. Directions for this is also in the recipe.
These are just so good and so easy. A few pantry and freezer staples and you have yourself a fancy treat that doesn't take long at all to make. These are best eaten as soon as they are baked. You can store them in an airtight container or bag and keep in refrigerator for a few days. Crisp back up in the oven. You can also freeze them up to 3 months but they won't be as good as eaten right after baking the first time.
"Recipe"
Pineapple Puff Pastry Tarts with Pineapple Rum Sauce
Golden, flaky puff pastry with a mango pineapple jam cream cheese filling topped with a pineapple and a cherry and drizzled with a decadent pineapple rum sauce. Great for brunch or dessert.
Ingredients
For the pastries and egg wash:
2

sheets of puff pastry

about 12" square sheets, thawed but keep chilled

4

ounces

cream cheese

113 grams

4

ounces

mango pineapple jam

113 grams

1

tablespoon

brown sugar

8

pineapple rings

from a can, reserve juice

8

cherries

pitted ( fresh or you can use maraschino)

1

egg

1

tablespoon

water

coarse sugar
Rum sauce:
¾

cup

pineapple juice

reserved from pineapple can (180 ml)

3

tablespoons

brown sugar

3

tablespoons

butter

2

tablespoons

dark rum

I used Koloa dark rum

pinch

salt
Instructions
Preheat oven to 400 Deg F. Set out a large baking sheet and place a piece of parchment paper on it. You may have to use two baking sheets. 

Combine the cream cheese, jam and brown sugar and mix until smooth

Drain the canned pineapple rings and reserve the juice

Pit cherries if using fresh

Working with one sheet of puff pastry at a time, roll between pieces of wax paper to make it more square. Cut the pastry into 4 squares. Slightly fold over the edges of each square. Pierce the middle with a fork, being careful not to puncture all the way through the pastry. If the pastry is getting too warm set in the refrigerator to chill for a few minutes. 

Working quickly, spread about 2 tablespoons of the cream cheese and jam mixture in the middle of each pastry square. Place a pineapple ring on top then place a cherry in the middle of the pineapple. Place on the prepared baking sheets about an inch apart.  Repeat with the other square of puff pastry for a total of 8 pastries.

Whisk the egg and water together and brush the edges of the pastry. Sprinkle coarse sugar around the edges. If you have small baking sheets, bake 4 pastries at a time, keeping the other 4 chilled until ready to bake. 

Bake 22-25 minutes or until the pastry is puffed and golden.

While the pastries are baking make the pineapple rum sauce.

Combine all of the sauce ingredients in a small saucepan and bring to a boil, stirring until the sugar is dissolved and the butter is melted. Lower to a strong simmer and let reduce while the pastries are baking.

Once the pastries are done, remove the sauce from the heat. Let both the pastries and sauce cool a few minutes before serving. Drizzle some of the sauce over the pastry before serving. If making for dessert add a scoop of vanilla or coconut ice cream!
Notes
I used canned pineapple to make this recipe go even faster. If you want to use fresh trim off the sides and cut into rings. Cut out the center core with an apple corer or round cutter. Place the pineapple on a tray and bake for about 5-10 minutes to soften. Alternatively you can saute in a pan in a little butter to soften. Again for 5-10 minutes. I prefer to soften the pineapple before adding to pastry if I am using fresh.
If you want an even thicker sauce you can combine 2 teaspoon cornstarch with a little water and mix until dissolved, then add it to the sauce while it is simmering. Whisk well to combine then simmer a few minutes until really thick. 
Easy peasy tropical pineapple puff pastry tarts with a pineapple rum sauce. YUM!