Spiced Pineapple Rum Punch.
Introducing your new fave holiday rum punch. Or anytime of year rum punch.
The holiday season is in full swing and I have decided to not bake any cookies this year but instead go with a week of cocktails for Hawaiian DRINKMAS!
My new made up holiday that is a week full of Koloa Rum cocktails because I love the Hawaiian rum so much, I went ahead and created 7 cocktails with it. So without further adieu, let's get this party started with this Spiced Pineapple Rum Punch!
I LOVE rum punch. There are so many endless flavor combinations with them. I have probably made rum punch in my sangria pitcher more than I have made sangria.
I do like sangria, but my heart lies with rum. I think perhaps I was a pirate in another life with my love of rum.
Last Christmas I made a
spiced pear and pineapple cider cocktail
with the Koloa Kaua'i Spice rum. It was by far my favorite cocktail of the season. The pear cider was in very small production at a local farm that I buy it from, but pear juice cocktail worked just as well for it. This year they only had apple cider which goes really well in that cocktail too.
I was so blown away by the flavor combination of the pineapple juice and spiced rum so much that I knew I wanted to make another cocktail with it.
So, what is rum punch made of?
Rum punch is typically one or two kinds of rum, a variety of fruit juices, sometimes grenadine for sweetness and color, and sometimes something fizzy like soda or seltzer. Rum punches can be made a variety of ways, and often made seasonal, similar to a sangria. The flavor combinations really are endless.
I am a big fan of of a salted or sugared rim on cocktail glasses. It adds a little extra flavor and looks so festive for holiday drinks. I dip the rims of the glasses in simple syrup then in the cinnamon sugar mix that I spread out on a small plate. Set aside to dry.
What kind of juices are in rum punch?
You can use bottled or fresh. I use orange and pineapple juices here and a little lime juice. I am a big fan of making my own fresh juices for cocktails. I strained the juices to make them less frothy and to get rid of any excess pulp, but you can leave as is if you want.
Mix the juices and rum together and keep chilled until ready to use. You don't want to add the soda and ginger ale until serving because they will go flat and the fizz is a fun part of this punch. This recipe makes a large pitcher of punch for a party.
You can scale it down to make one or two drinks if you would like. I would go with ounces instead of cups for the measurements for scaling down to two drinks.

You could also make this punch for a summertime Luau or bbq. This is a versatile pineapple rum punch that really is perfect year round!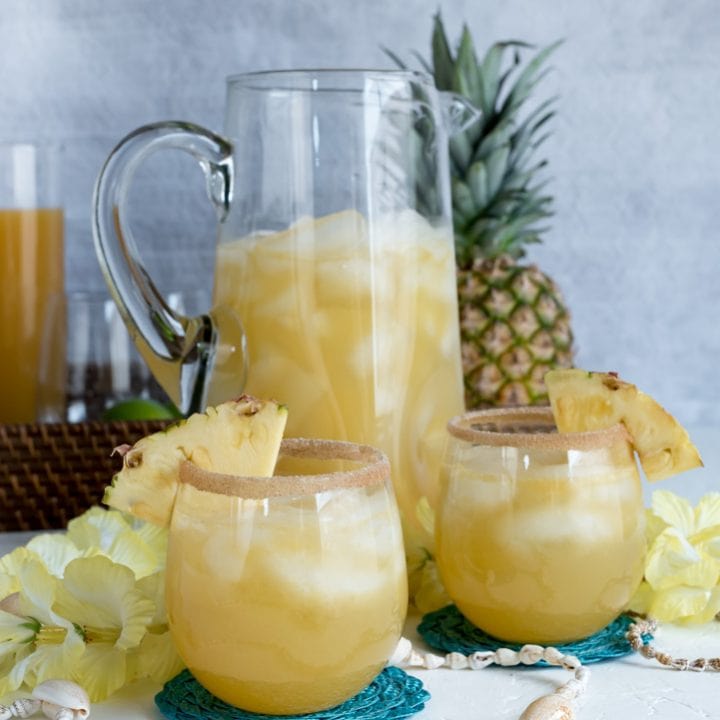 Spiced Pineapple Rum Punch
Spiced Pineapple Rum Punch Makes one large pitcher of punch
Ingredients
1

C

Koloa Kauai Spice Rum

½

C

Koloa White Rum

2 ½

C

fresh pineapple juice

1

C

fresh orange juice

¼

C

fresh lime juice

2

tablespoon

simple syrup

see notes for recipe

few drops citrus bitters

1

C

Ginger Ale

1

C

Lemon Lime soda - I used Hansen's
Sugar Rim:
Simple syrup

Cinnamon Sugar for rim

Pineapple wedges for garnish
Instructions
Use fresh pressed/squeezed juices if possible for fresher flavor. Combine the rum, juices, simple syrup and bitters in a pitcher without ice. Let chill a few hours before serving to blend the flavors.
Finish the punch:
When ready to serve pour into a large pitcher, Sangria style pitcher works great, then top with the ginger ale and soda.

Fill glasses with ice and pour in punch, garnish with a pineapple wedge.
Notes
Simple Syrup is a 1:1 sugar water ratio. Combine in sauce pan and boil until sugar is dissolved and mixture reduces slightly. Cool completely before using.
Cheers or as they say in Hawaii, Okole Maluna! Which means bottoms up!!!