Soft Spiced Apple Oatmeal Cookies. In the world of oatmeal cookies, soft ones reign supreme.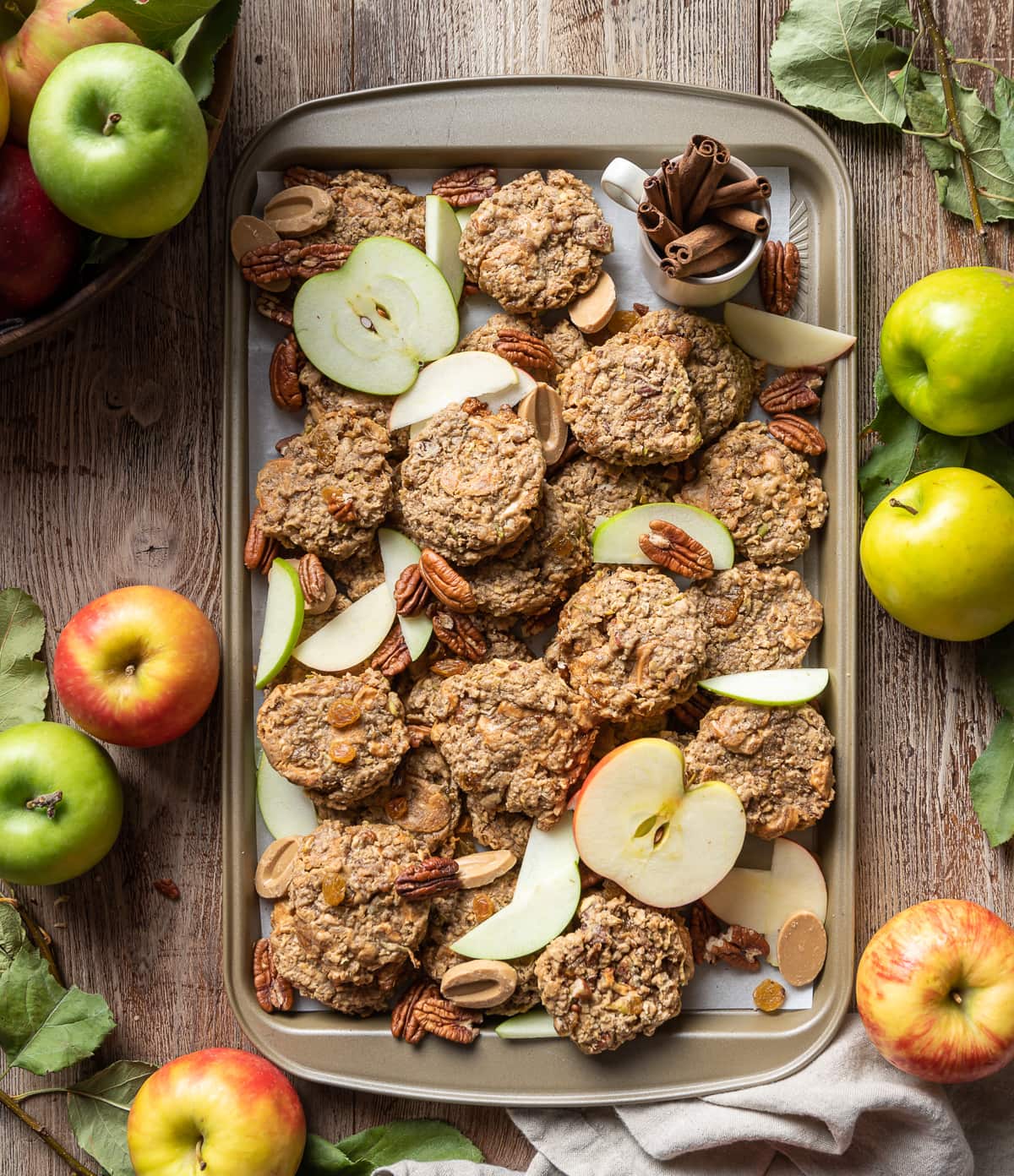 Going all in with all the fall things in this apple oatmeal cookies recipe. I love oatmeal cookies - soft or crunchy, and these oatmeal cookies I think just might be my new favorite.
They are chock full of goodies - warm fall spices, shredded, fresh apples, pecans, oats three different ways and a very indulgent ingredient - Valrhona dulcey feves.
I bake a lot of cookies year round, mostly chocolate chip per my kids' request or for my husband to take to work - cookies are always popular at his hospital, and I love to bake for all the nurses, techs and doctors that work so hard, especially these past few years. I have sent so many baked goods over the years I often get requests which I don't mind one bit.
Oatmeal cookies are requested as often as chocolate chip. Something so warm and cozy about a freshly baked chewy oatmeal cookie.
Since I am well into my run of apple recipes this fall, I wanted to add in an apple cookie recipe. I might even add in a few, I have a lot of apple recipe ideas. But first let's get into these apple oatmeal cookies.
These soft oatmeal cookies can be made with either a stand mixer or a mixing bowl and whisk, spatula or spoon. The dough comes together fairly quickly and the butter and sugar doesn't need to be creamed as long as it does for cake.
In fact, it shouldn't be whipped for that long. If you beat the butter for too long it could actually cause cookies to spread in the oven. We don't want that.
Whenever I bake cookies, or any recipe for that matter, I set out all my ingredients, measured and weighed, before I get started mixing. Only ingredient missing from this photo is my vanilla extract. I always seem to forget one item in these photos.
What ingredients are in apple oatmeal cookies?
Like most cookie recipes this is broken into dry ingredients, "wet" ingredients and mix-ins.
Dry ingredients - all purpose flour, oat flour, baking soda, salt, apple pie spice. (You can make your own apple pie spice blend if you like - check recipe notes)
Wet ingredients - (not always wet as in liquid, but what gets mixed together with butter or oil, usually) - butter, brown sugar, egg, vanilla extract
Mix-ins - Fresh shredded apples, oats two ways (whole oats and quick cooking), golden raisins, pecans and Valrhona Dulcey Feves.
One ingredient I use is apple pie spice. Apple pie spice is most often a combination of cinnamon, nutmeg and allspice. Some blends you will see also include ginger, cardamom and clove. I like to use it all so I make my own blend if I can't find apple pie spice in stores. See recipe notes for more details.
I made this oatmeal cookie recipe in several bowls for the purpose of showing the steps. You can make it in fewer bowls if you like. I always mix together the dry ingredients in one, and the wet in a larger bowl since everything eventually ends up in the larger mixing bowl.
I don't add the oats to the dry ingredients since I like to stir them in towards the end of mixing so they don't get broken up into even smaller pieces.
The apple can be shredded using a food processor or a box grater.I will cut the apples into quarters, cut out the core then shred. I leave the peels on for texture and color. You can peel the apples if you like.
I always squeeze a little lemon juice over the apples to keep them from browning but then right before adding them to the dough I will wrap in a towel or paper towels and squeeze out the excess moisture.
Finally, add in the flour mixture then the oats, then the nuts and dulcey feves. I only mix-in the oats slightly so they don't get broken up more than they are. I like using both whole oats and quick cooking oats for the different textures.
Now the dough gets to chill. At least two hours to hydrate the dough and let it rest, also helps so the cookies don't spread out when baking. I often make cookie dough in the evening and let it chill overnight to bake the next day.
I use a two tablespoon sized scoop to scoop out the dough and place a few inches apart on the cookie sheet, then I press down slightly on them so they will flatten out a little when baking.
How long do you bake oatmeal cookies for?
These bake for around 13-15 minutes. I usually bake cookies like these around 12 minutes, but since these cookies have more moisture in them they take a little longer. I also like to keep them super soft so 15 minutes should be the max amount. They are a soft, thick cookie.
You can see the little melty pools of the Valrhona dulcey. These feves are so amazing. I love using them in cookies, they are huge and a fun alternative to chocolate chips or chopped chocolate. The dulcey have a vanilla-butterscotch-caramel flavor to them.
They work so well with the rest of the flavors in these spiced apple oatmeal cookies. I know they are on the pricey side, definitely an indulgence. I find them online at Surfas, Caputos or Valrhona.
If you don't feel like splurging, which is just fine, a great alternative is to use a combination of vanilla, butterscotch and caramel chips. In the fall, Trader Joes has these insanely amazing salted caramel baking chips. I always grab a few bags when I see them.
Other oatmeal cookie recipe ideas:
White Chocolate Pistachio Cranberry Oatmeal Cookies
Peanut Butter Oatmeal Chocolate Chip Cookies
Cinnamon Dolce Oatmeal Cookies
Yield: 30 two inch cookies
Soft Spiced Apple Oatmeal Cookies
Thick, soft, chewy oatmeal cookies filled with all kinds of fall goodness - fresh apples, warm spices, pecans and golden raisins and indulgent Valrhona Dulcey feves - a buttery caramel vanilla chocolate confection.
Total Time
4 hours
5 minutes
Ingredients
1 ¼ cups all purpose flour (162 grams)
½ cup oat flour (45 grams)
2 ½ teaspoon apple pie spice (see notes)
½ teaspoon baking soda
½ teaspoon Kosher salt
½ cup butter, unsalted at cool room temp (113 grams)
1 cup brown sugar (light or dark) (208 grams)
1 large egg, cool room temp
1 ½ teaspoons vanilla extract
1 cup shredded apple ( honey crisp, granny smith) 2-3 apples, core removed (150 grams)
2 teaspoons lemon juice
½ cup golden raisins (79 grams)
1 cup rolled oats (96 grams)
1 cup quick cooking oats (80 grams)
⅔ cup chopped pecans (80 grams)
8 ounces Valrhona Dulcey feves, cut in half ( or a combination of vanilla, butterscotch and caramel baking chips) (225 grams)
Instructions
The cookie batter is chilled before baking. Preheat oven before baking, not before making batter. Each batch takes about 15 minutes to bake - I try to bake 10 cookies per batch for a total of 45 minutes of baking.
In a medium bowl whisk together the flour, baking soda, salt and apple pie spice and set aside.
In a large mixing bowl, or stand mixer, mix together the butter and brown sugar until combined. Add in the egg and mix well.
Shred the apples and sprinkle with lemon juice and let sit for one minute. Wrap in paper towels or a cloth and squeeze out the excess moisture. Add to the mixing bowl along with the raisins and mix to combine. Add in the regular oats and quick cooking oats and mix again. Then finally add in the pecans and the Valhrona Dulcey feves. Cover the bowl with plastic wrap and chill for at least 2 hours up to overnight.
Before baking, heat oven to 350 Deg f (180c) and set out baking sheets lined with parchment paper
Using a 2 tablespoon sized scoop, scoop out cookie dough rounds and place on baking sheets a few inches a part. Slightly flatten with your hand.
Bake for 13-15 minutes until starting to turn golden brown and middles are set.
Let cool on baking sheet for 5 minutes then transfer to a cooling rack to cool completely.
Keep cookies in an airtight container at room temperature or in the freezer. These cookies are soft so they will stay soft at room temperature. They will keep best up to 3 months in the freezer. You can also freeze the cookie dough in balls to bake at a later date.
Notes
If you can't find apple pie spices make your own!
In a bowl combine:
4 tablespoons ground cinnamon
1 ½ teaspoons ground nutmeg
1 teaspoon ground ginger
1 teaspoon ground cardamom
1 teaspoon ground allspice
½ teaspoon ground cloves
You can keep this in a resealable jar or container or even get a spice jar with the shaker lid.
Let me know if you make these! You can always share on social media and tag me. I am
@pineapple_and_coconut
on Instagram (use my tag too - #pinacocorecipes) or on Facebook -
@pineappleandcoconut
I love when readers share my recipes they make.