Cinnamon Dolce Oatmeal Cookies. Like the fancy Starbucks Cinnamon Dolce Latte but in a tasty oatmeal cookie form.
This page contains affiliate links. Affiliate links support Pineapple and Coconut at no additional cost to you. If you choose to make a purchase via these links, I earn a small commission to help keep this blog running and it is much appreciated. I am an Amazon and Adorama affiliate.
Jump to:
The once popular Starbucks cinnamon dolce latte was a long standing popular latte with the coffee giant. Unfortunately they have discontinued it from their menu. I love a dash of cinnamon in my coffee as well as in oatmeal chocolate chip cookies. I knew this popular latte flavor would make for amazing cookies.
One thing I love about oatmeal cookies is how versatile they are. You can make them into almost any flavor cookie with what you add in. These cookies have a dash of nutmeg, cinnamon chips, semi-sweet chocolate chips and fresh, dried coffee grounds.
Cinnamon oatmeal cookie ingredients:
All purpose flour
Baking Soda
Salt
Sugar - light brown and white. Cinnamon dolce is a brown sugar cinnamon syrup so these cookies have a good amount of brown sugar to go with the cinnamon for that dolce flavor
Butter
eggs
nutmeg
Cinnamon chips and chocolate chips
Coffee grounds
Can you use coffee grounds in baked goods?
Coffee grounds in a cookie?!? Yes. I love coffee anything and I have used espresso powder in cookies and baked goods before but never coffee grounds. It takes these cookies to a whole new level of awesomeness. There are some misconceptions over coffee grinds vs coffee grounds and what is it called before water is added and after.
Coffee grounds Vs. Coffee grinnds:
Grind and ground are just two tenses of the same word. Coffee grounds are both the ground up dried coffee beans that water hasn't been added to as well as whats leftover after your coffee has been brewed. Grinds generally refers to the whole bean that has been ground up in different sizes - finer grind for espresso, coarser for drip etc. So to clear this up - I will grind the whole coffee beans and that is what is added to the cookies. Not what is leftover in the pot or basket after a pot of coffee is brewed.
How to make these cookies:
This is a two bowl recipe - one for the "wet" ingredients and one for the "dry". No need for a hand mixer at all.
The butter is melted and you can melt in in a glass bowl ( or a pan on the stove) and it cools before adding in the sugars, egg and egg yolk and vanilla.
I usually melt the butter in a pan then transfer to a larger mixing bowl but that makes it a 3 bowl/pan recipe.
Once cooled whisk in the sugars then the egg and yolk and vanilla - whisk by hand to mix.
The dry ingredients - flour, oats, coffee, baking powder and soda, salt and spices are whisked together then added into the butter mix and combined with a spatula
Finally add in the chocolate and cinnamon chips
You can bake at this point or chill first. I am a fan of chilling dough at least a few hours to better hydrate the flour and oats.
Bake and enjoy!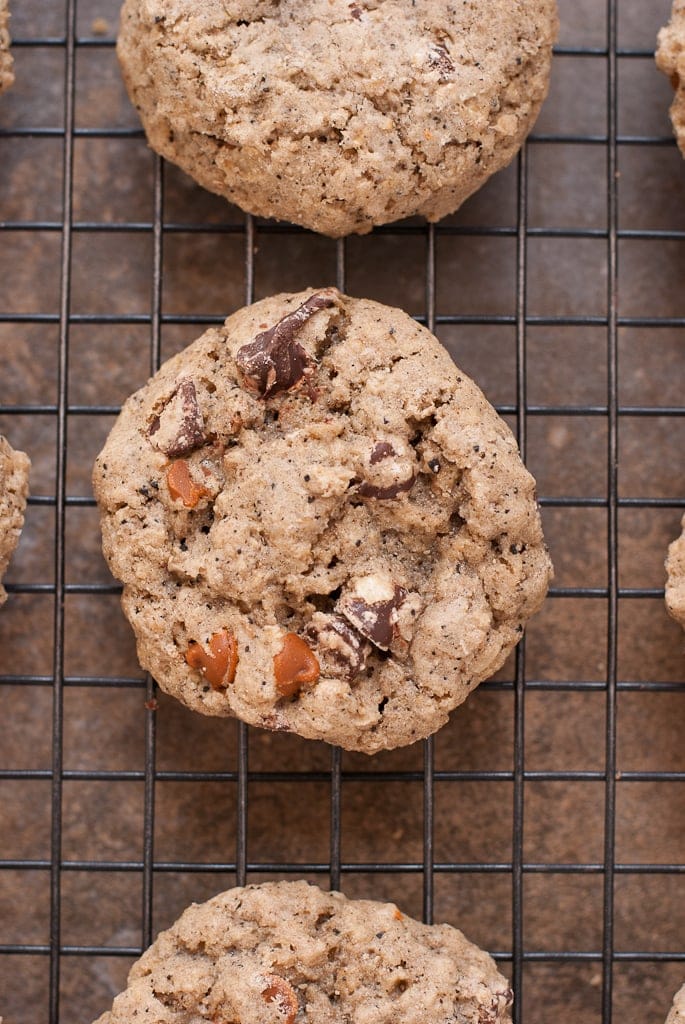 More oatmeal recipes:
Other coffee desserts you may also enjoy:
Cinnamon Dolce Oatmeal Cookie Recipe:
"Recipe"
Cinnamon Dolce Oatmeal Cookies
Cinnamon Dolce Oatmeal Cookies - like the Starbucks drink but in a tasty oatmeal cookie form.
Ingredients
168

g

unsalted butter

(¾ cup or 1 ½ sticks)

208

g

light brown sugar

133

g

granulated sugar

1

large egg + 1 large egg yolk

room temperature

1

tablespoon

pure vanilla extract

160

g

quick cooking oats

145

grams

all purpose flour

3

tablespoons

finely ground coffee beans

not instant, and not espresso powder

1

teaspoon

ground cinnamon

¼

teaspoon

ground nutmeg

½

teaspoon

baking soda

½

teaspoon

kosher salt

130

g

semi-sweet chocolate chips

130

g

cinnamon chips
Instructions
Preheat oven to 325 degrees. Prepare cookie sheets with either silicon bake mats of parchment paper. If choosing to chill the dough a few hours up to overnight, wait until ready to bake before this step.

Melt the butter and let sit for 10 minutes to cool slightly. You can either melt the butter in a large glass bowl in the microwave or in a pan over the stove and then transfer to a separate bowl large enough to mix the rest of the cookie dough in.

Once the butter is cooled, add in the white and brown sugars and mix by hand until well-blended. Add the eggs and vanilla and mix well again.

In a large bowl, whisk the oats, flour, coffee grounds, cinnamon, nutmeg, baking soda and salt together and then add this to the butter mixture.

Fold in in the semi-sweet and cinnamon chips and mix either with a spoon or by hand. The dough will be stiff but still easy enough to mix by hand. You can chill the dough for a few hours up to overnight or bake immediately.

Using a cookie scoop or a spoon, scoop out heaping tablespoonfuls (closer to 2 tablespoons) and place 2" apart on a prepared cookie sheet.

Bake for 10-12 minutes Allow the cookies to cool on the baking sheet for about 10 minutes and then remove and cool completely on a wire rack.