Almond Coconut Cocoa Overnight Steel Cut Oats
Oatmeal is a staple in my house and these overnight steel cut oats just so happen to be my family's favorite way to eat them. Steel cut oats are hearty, relatively easy to make and the flavor combinations are endless. This post is sponsored by Maranatha and Arrowhead Mills.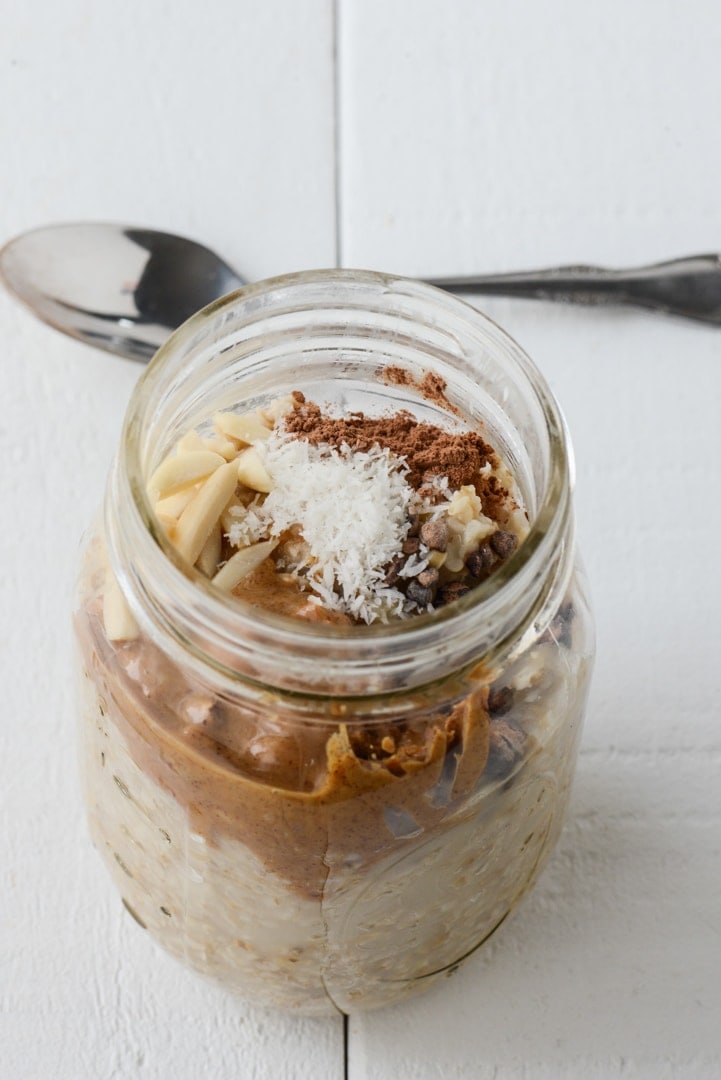 I knew that being a parent was going to be a huge change and the word busy would take on a whole new meaning once my kids got older and started school. My older daughter started Kindergarten last fall and gone are the lazy mornings, or later mornings ,since preschool started mid-morning the year prior, and our mornings are now quite the hustle to get out the door on time. Luckily we live 5 minutes from her school so mornings aren't too crazy. Unless she can't find her shoes. Which is almost every morning it seems... those darn shoes, always playing hide and seek.
I am one of THOSE moms that makes her kids a fresh breakfast every day, or at least part is fresh, like eggs or waffles. Waffles are normally saved for the weekends, oatmeal during the week. My kids love steel cut oats. And since those take around 30 minutes to make I either batch make them and reheat or make them overnight in jars.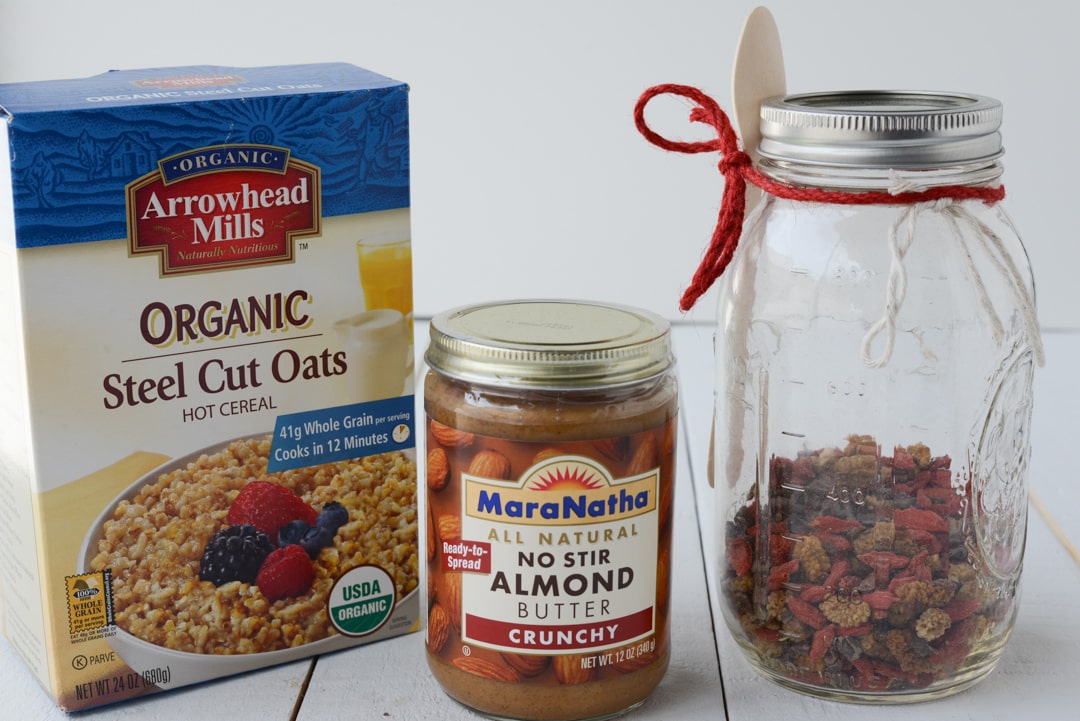 One of the best parts about making overnight steel cut oats is I get my kids involved in picking their "mix-ins" in case they both want something different. Most days they choose a body weight amount of raisins, honey and cinnamon. That reminds me, I need to buy more raisins. Some days we make my favorite that includes MaraNatha crunchy almond butter. I will often make up jars with the dry oats and mix-ins that I add in pre-soak. Some mix-ins we add in when they are ready to eat in the am like the almond butter. Its easier to mix into the oats after they have soaked all night. Like I said, the possibilities are endless. Arrowhead Mills organic steel cut oats are our favorite brand of oats to eat.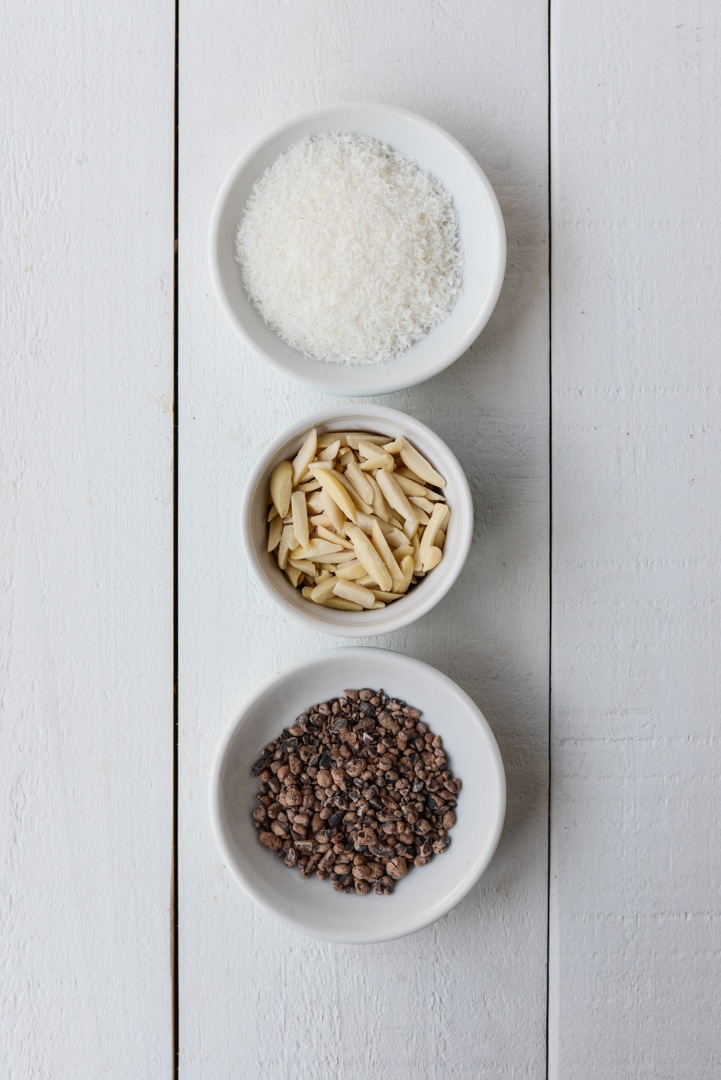 My favorite mix-ins for overnight steel cut oats are unsweetened coconut, almond slivers, cacao nibs, crunchy almond butter and honey. I also add a little sea salt when soaking the oats overnight and I heat up coconut milk in the am to add to the oats to make them a little creamier.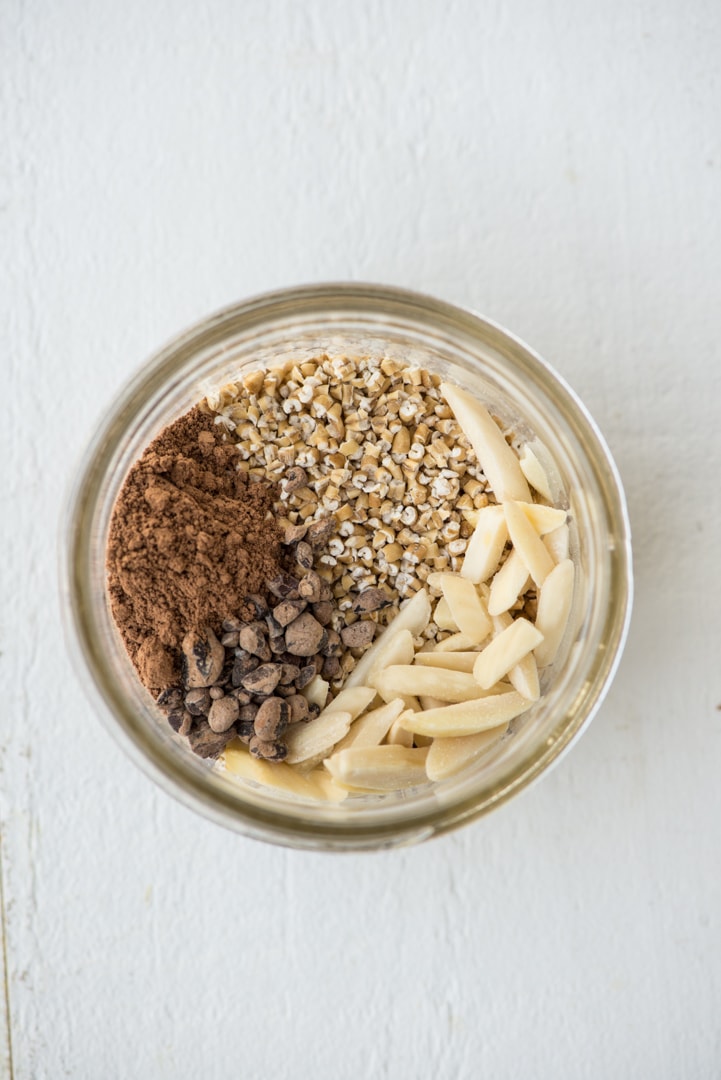 Some ingredients are added pre-overnight soak. This is when its best to add things like spices and cocoa powder. It doesn't clump like it does when you added to oats with liquid added.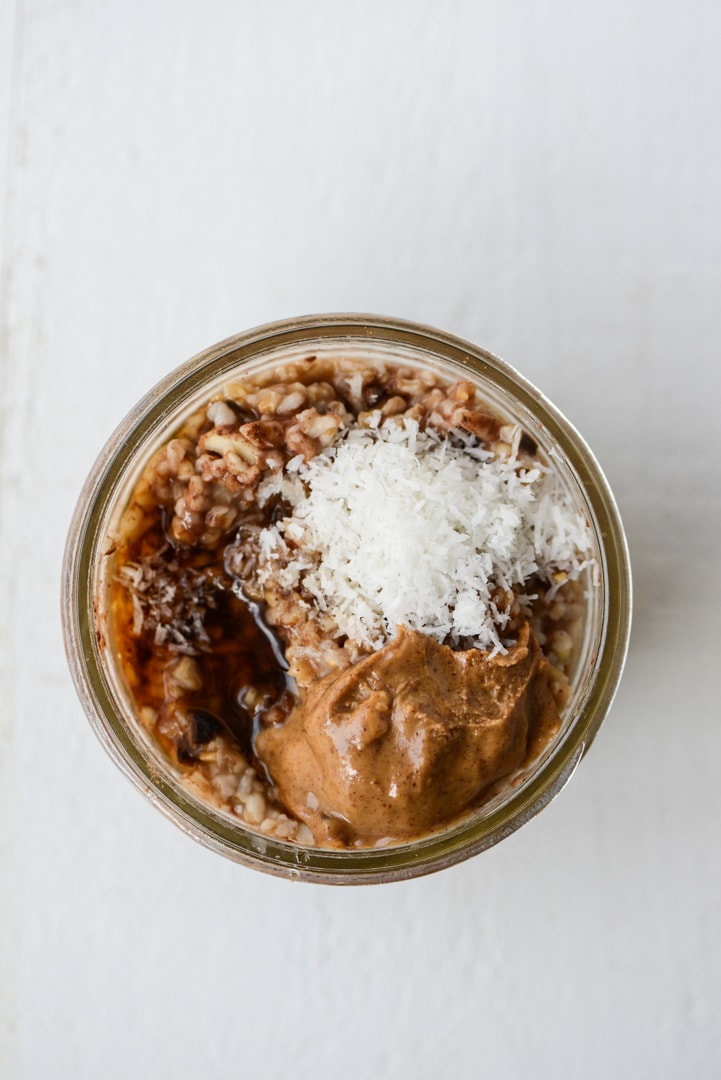 After the oats soak all night I will add in my sweeteners, like honey, and the crunchy MaraNatha almond butter and shredded coconut.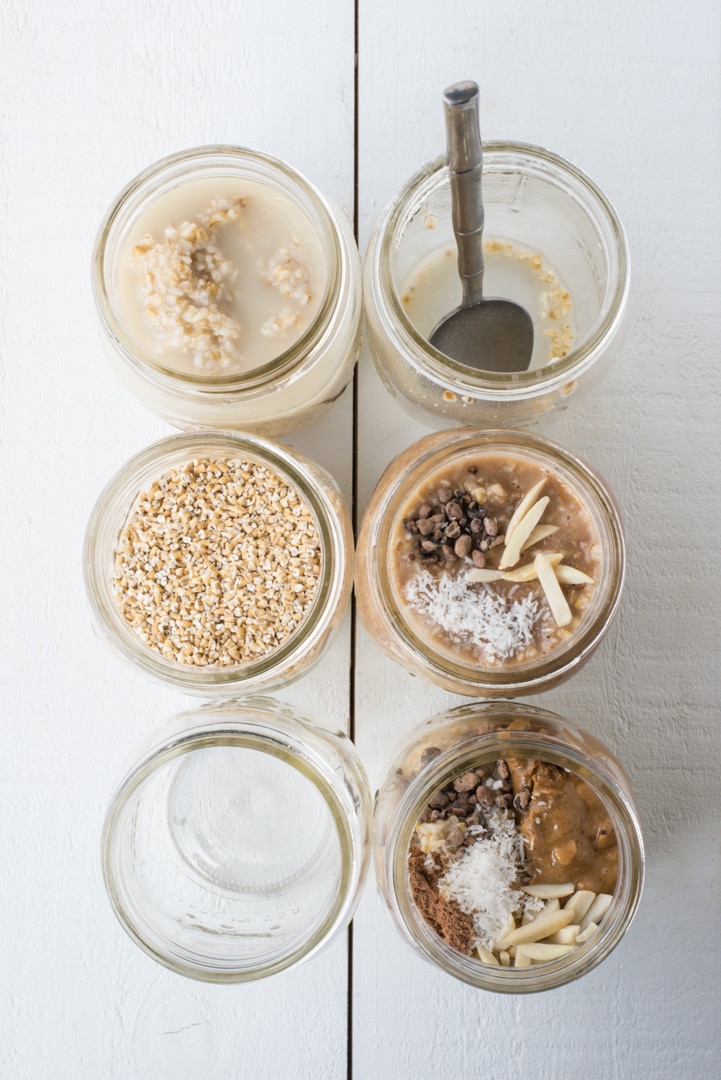 There are many ways to make overnight oats. I have tried a few times making them in the slow cooker and had bad luck. Although, now that I think of it I haven't tried it in my new slow cooker. My old one ran really hot ( and eventually ended up cracking) so the times I attempted cooking oats in it all night the edges would end up burnt and I would have to soak it for 2 days and scrape it clean. That was a pain. If I have more time in the morning to cook I will just combine water with the steel cut oats in a pan and leave on the stove overnight to soak and cook in the am. This works best, at least I have found, with the steel cut oats. They are oat groats chopped into pieces so they hold their texture for a long time. I prefer eating steel cut oats and baking with rolled oats. Like for oatmeal cookies.
Another great combo of mix ins are healthy goji berries, dried mulberries and cacao nibs. This combo is really good with a bit of maple syrup as the sweetener and also? Chocolate for breakfast is always winning!! Mason jars full of pre-measured steel cut oats and mix-ins would make great gifts for a busy family on the go. Just get a case of jars, a container of oats and different ingredients to add to the jars, tie them up with a ribbon and add a spoon and they are good to go! I know if someone sent me a weeks worth of breakfast like this I would be forever grateful. That would give me more time to help my kids find their shoes..
Now you have a healthy on the go breakfast that really takes no time at all to prepare. Prep a dozen jars at once to make sure you always have a healthy breakfast on hand!
"Recipe"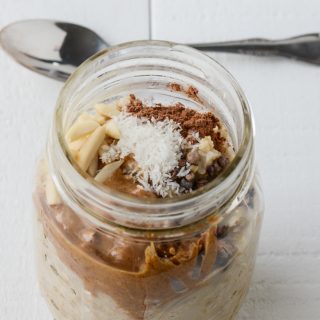 Almond Coconut Cocoa Overnight Steel Cut Oats
Almond Coconut Cocoa Overnight Oats Makes 4 servings
Ingredients
4

Mason Jars

pint size

1

cup

steel cut oats (Organic Arrowhead Mills

½

teaspoon

sea salt

2

cups

water

4

tablespoon

cocoa powder

4

tablespoon

cacao nibs

4

tablespoon

slivered almonds

4

tablespoon

shredded unsweetened coconut

4-8

teaspoon

raw honey

4

tablespoon

MaraNatha crunchy almond butter

1

cup

coconut milk

Canned light or full fat
Instructions
Combine the steel cut oats and salt and divide amongst the jars. Divide the cocoa powder, cacao nibs and slivered almonds between the jars and stir well. Bring the 2 cups of water to a boil and add ½ cup of water to each jar. Stir and let cool. Twist the lid on and refrigerate overnight. The next morning set the jars out to come to room temp ( they can be eaten cold if desired) and add in the coconut, honey and almond butter and stir well. Heat up the coconut milk and add ¼ cup to each jar. Stir again, taste and add more sweetener if desired and serve immediately.
Notes
A serving of steel cut oats is ¼ of a cup and we normally do ⅓ cup dry for a serving. When cooking steel cut oats the ratio is 3:1 water to oats. So for 1 cup oats you will use 3 cups water ( or milk). If you want a thinner jar of oats use ¼-1/3 c more liquid. You can also heat these up in the microwave if you want them hotter. I find leaving them at room temperature and adding in the heated up coconut milk heats it up sufficiently.
January is national oatmeal month so what better way is there than to celebrate with a delicious and super easy to prepare jar of overnight steel cut oats? I am all for saving time here and there when I can, plus the clean up for this breakfast is nothing like cleaning up after the mornings when I make waffles. That is a huge mess.
Presented in partnership with MaraNatha and Arrowhead Mills. I was compensated and provided with product to create this recipe. All opinions are my own and I never work with brands I don't believe in or use. Thank you for supporting me and the brand partners I work with so I can continue to create new recipes and content for my readers.