Banana muffins get an upgrade with espresso powder, warm spices and mini chocolate chips. Perfect for a breakfast or brunch sweet treat or even an any time of day snack.
This page contains affiliate links. Affiliate links support Pineapple and Coconut at no additional cost to you. If you choose to make a purchase via these links, I earn a small commission to help keep this blog running and it is much appreciated. I am an Amazon and Adorama affiliate.
Jump to:
I know the banana bread baking was all the rage a couple years ago because of everyone staying home ( not going to use the p word so I don't end up on a list of sites with inaccurate information about it) and many people have moved on to baking other goodies. I, however, am still baking with bananas often.
These banana muffins came from me baking them often throughout the past few years from having a lot of overripe bananas and I already had a ton frozen for smoothies. Banana muffins are delicious, so easy to make, and you really can customize them however you want.
Coffee and banana together?
Yes. It totally works. Its not banana flavored coffee, that might be weird but the little bit of espresso powder in the muffins gives a very subtle hint of coffee. I love adding in espresso powder into baked goods for an extra depth of flavor. It also works really well in anything chocolate based like cake, brownies etc.
Weighing ingredients Vs using cups:
I use my food scale and weigh out ingredients in grams because this is the most accurate way to get the best quality baked goods. Cups aren't accurate because not only are all cups not the same the sizes vary from brand to brand as well as from different countries. I have done tests with different brands of measuring cups and they all came out with different weights after I did the spoon and level as well as scoop method and then weighed in grams.
Baking is a science and science needs accuracy. Weighing is accurate and precise. Not to mention a lot easier. Another issue with cups is that I have no control over how people use measuring cups to measure dry ingredients especially flour. You could pack in way too much which would result in a sub-par baked good. Too much flour could throw everything off. Same with not enough. Not to mention also some ingredients are difficult to measure in cups such as nuts, dried fruit, chocolate etc. This is why weighing in grams is the most accurate.
I also use grams for most liquid measure since 100 grams equals 100 ml of water. Smaller amounts of items measured in teaspoons I usually leave as teaspoons, tablespoons are sometimes listed in grams as well but for the most part the different tablespoons I have used have all resulted in the same amount. Aside from cute, decorative ceramic tablespoons and teaspoons are never accurate. Those are better as decoration than for being used for baking.
Let's make some banana muffins:
This recipe is a two bowl recipe. One for the dry ingredients to get whisked together and a larger bowl for mashing bananas and adding in the sugar and "wet" ingredients. I have more than two bowls in this photo just to show all the ingredients separately, but it is done in two bowls. This is also why its best to use a food scale to weight out ingredients. Set the bowl on the scale, tare to zero between adding each ingredient that needs weighed. Way less dishes to wash!
Ingredients needed for this muffin recipe:
Dry ingredients - all purpose flour, espresso powder ( I used Delallo espresso powder) baking powder, baking soda, cinnamon, nutmeg and kosher salt. I use Diamond Kosher - if you use Morton's use less since its a saltier salt
Wet ingredients - 4 medium spotty bananas ( a medium, peeled banana weighs 118 grams) so you want a total of 472 grams of mashed banana
Sour cream ( can use full fat Greek Style yogurt instead), two large eggs, melted butter and vanilla extract
How to make this recipe:
Whisk together the flour with leaveners, espresso powder, spices and salt in one bowl.
Start with mashing the bananas in the larger bowl.
Add i the brown sugar and eggs together. Since this recipe has melted butter there is no creaming of butter and sugar together so just a bowl and whisk or spatula works great. No need for a hand mixer or stand mixer.
Add in the sour cream, melted butter and vanilla then stir until very smooth.
Next you add in the dry ingredients, stir a little then add in the chocolate chips and stir until JUST combined. This part of the mixture shouldn't be smooth at all. It will be lumpy and you might still see a few streaks of flour. This is what you want. You don't want to over mix to over develop the gluten, causing the muffins to be super dense and have holes throughout the baked muffin.
The next step is to rest the batter for at least twenty minutes. This hydrates the flour and it will help the muffins rise extra high.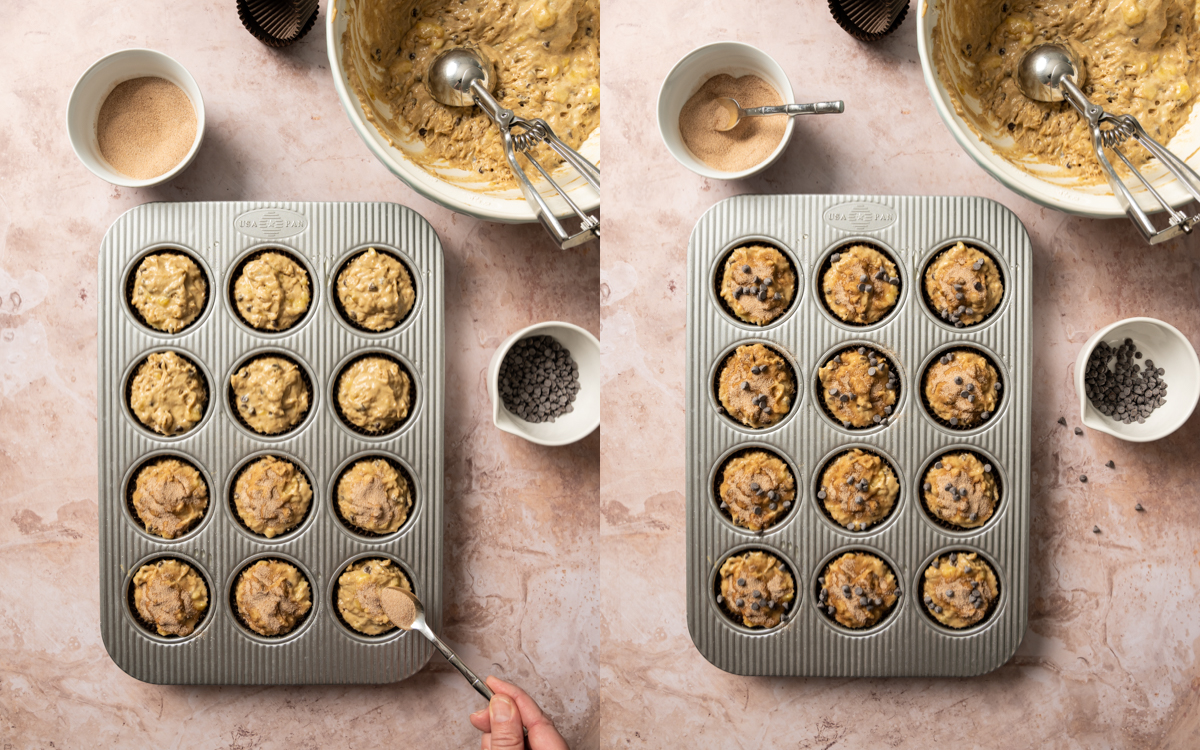 Fill the muffins cups to the top. These muffins rise really nicely and don't spill over at all. You want them really full before baking. Cinnamon sugar gets dusted on top then they are sprinkled with a few more chocolate chips before baking.
Pro Tips:
The type of muffin tin will affect the rise and how quickly muffins or cupcakes bake. The darker the material the tins are made of the quicker they will bake on the outside and will burn before the insides are done. I much prefer using lighter colored, aluminum pans. If you use darker pans, check the muffins 5 min earlier than total baking time. This goes for any baking recipe using a darker colored pan - cakes, cookies etc.
Super thin pans will also burn your baked goods so go for something with some heft to it. I like USA pans and Nordic Ware best.
Use paper muffin liners and give a quick spray before filling with batter. l love using the grease-proof cupcake/muffin liners from Surfas. I order a pack or two from them a few times a year. They are the best I have ever used.
Cool in the pan until cool enough to handle. This way the muffin tops don't pop off when being lifted out.
You can see here that the muffins rise really well, they don't spread out. This has to do with the resting of the batter before baking. If you only have one oven the second batch will rise even higher.
I bake twelve muffins first then the remaining six. You can divide the batter however you like, just don't make more than eighteen muffins. You want them to be big muffins!
Muffin question time:
Can I make these vegan?
I suppose yes. However, you will have to make substitutions at your own risk as I haven't tested these with any vegan substitutions.
Can I substitute milk for the sour cream?
No. The texture of the batter as well as richness comes from the sour cream. Milk would make the batter too runny. You could substitute plain full-fat Greek style yogurt instead.
Do I have to use paper liners?
I highly recommend them for several reasons: they make the muffin tin easier to clean since you won't have to worry about any muffin batter sticking to it. They help the muffin batter rise during baking and they keep the muffins from sticking to your storage container or baggie.
Other banana recipes you might enjoy:
And now here is the espresso banana muffins recipe:
Espresso Banana Muffins with Mini Chocolate Chips
Super moist and delicious banana muffins with a hint of espresso and loaded with mini chocolate chops. A perfect breakfast sweet treat or snack.
Ingredients
For the muffins
400

grams

all purpose flour

1

Tablespoon

baking powder

14 grams

1

Tablespoon

espresso powder

8 grams

2

teaspoons

ground cinnamon

1

teaspoon

ground nutmeg

½

teaspoon

baking soda

½

teaspoon

Kosher salt

4

medium bananas

peeled and mashed (472 grams)

200

grams

brown sugar

2

large eggs

cool room temperature

360

grams

sour cream

cool room temperature ( can also use full fat Greek style yogurt

113

grams

unsalted butter

melted

1

Tablespoon

vanilla extract

173

grams

mini chocolate chips plus a few tablespoons for topping
Topping:
3

Tablespoons

granulated sugar

1

teaspoon

ground cinnamon
Instructions
Preheat oven to 375 Deg F. Prepare muffin tins with 18 paper liners and lightly spray the liners with oil. Set aside.

Im a medium bowl whisk together the flour, baking powder, espresso powder, cinnamon, nutmeg baking soda and salt.

In a larger bowl, mash the bananas with a fork, still leaving some larger pieces. Add in the brown sugar and eggs and mix well. Next add in the brown sugar and the eggs and mix again. Then add in the sour cream, melted butter and vanilla. Whisk until smooth.

Add in the flour mixture all at once and stir until almost combined. Add in the chocolate chips and stir again until no streaks of flour remain. Do not over mix. Cover the bowl with plastic wrap and let rest for at least twenty minutes

Divide the batter between the 18 lined muffin cups. You will be filling them very full. This is ok. They will not spread, but rise really high.

Mix together the cinnamon and sugar topping and sprinkle evenly over the tops of the muffins, then sprinkle the remaining mini chocolate chips over the tops.

Bake the muffins for 18-20 minutes, or until they bounce back when pressed lightly on top. Do not overtake. I have never needed more than 20 minutes for these muffins.

Let cool in pans then remove muffins to a wire rack to cool more before eating. They are good still a little warm from the oven.
Notes
If you only have one oven, the second batch will rise a little higher since it had a longer time to rest. I will make a pan of 12 muffins and a second pan of 6. You can divide them however you like. I don't suggest making more than 18 muffins, you want them on the bigger side. 
These are good up to three days at room temperature kept in an air tight container. They can be frozen up to three months, again in an airtight container. Thaw at room temperature before eating. You can reheat slightly in a microwave if you like.