Halfway to Hana Banana Bread Recipe. My version of the insanely delicious banana bread you get at the roadside stands on the road to Hana, Maui.
This page contains affiliate links. Affiliate links support Pineapple and Coconut at no additional cost to you. If you choose to make a purchase via these links, I earn a small commission to help keep this blog running and it is much appreciated. I am an Amazon and Adorama affiliate.
Why make this banana bread recipe:
I have made this banana bread recipe at least thirty times in the past few months. Maybe even more. It is just that good. Plus this recipe makes two loaves, one for now, one for later. They freeze really well.
I know there are countless banana bread recipes online, I debated even posting this recipe on my blog. I have a banana bread recipe already on my blog ( inspired by travels to the Big Island of Hawaii) but I decided to go ahead with it since I am missing Maui oh so very much.
Banana bread is popular all throughout Hawaii, but I believe the banana bread found in stands along the road to Hana are the best.
Banana bread ingredients:
All Purpose Flour
Baking Powder, Baking Soda, Kosher Salt
Ground Cinnamon
light brown sugar
unsalted butter, melted
Large eggs
Vanilla extract
Sour Cream
overripe bananas,
Optional Ingredients:
Macadamia Nuts
Cream Cheese
See recipe card for full amounts. Amounts are listed in grams. Please use a food scale for all your bakes - they will come out perfectly every time!
Banana bread recipe inspiration came from Maui!
The drive can take several hours one way, and I suggest to make a day of it. Make as many stops as you can to hike to waterfalls, visit the botanical gardens to see the famous rainbow Eucalyptus trees, take photos of scenic overlooks, purchase handmade goods from locals selling their wares along the roadside turnouts.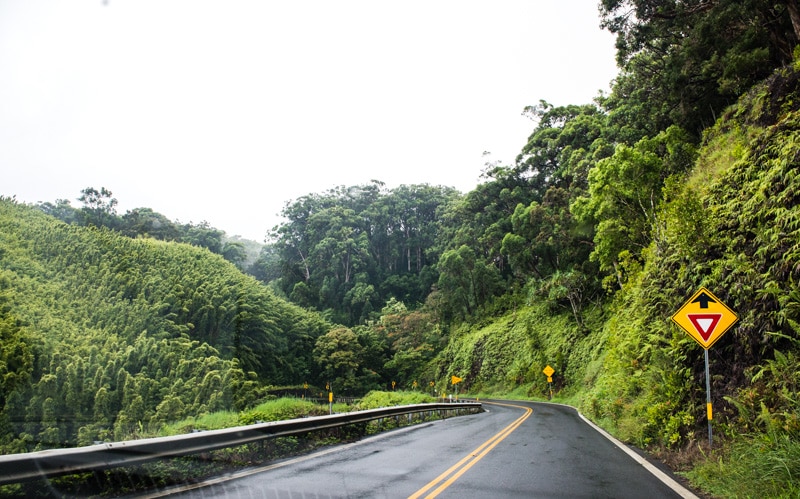 It is truly an experience that I think everyone should do. If you tend to get car sick, this is a drive better done in an open vehicle such as a jeep to keep the fresh air flowing, and of course taken slowly. Stop for lunch in Hana, go to Hamoa beach. One of the most gorgeous beaches on Maui.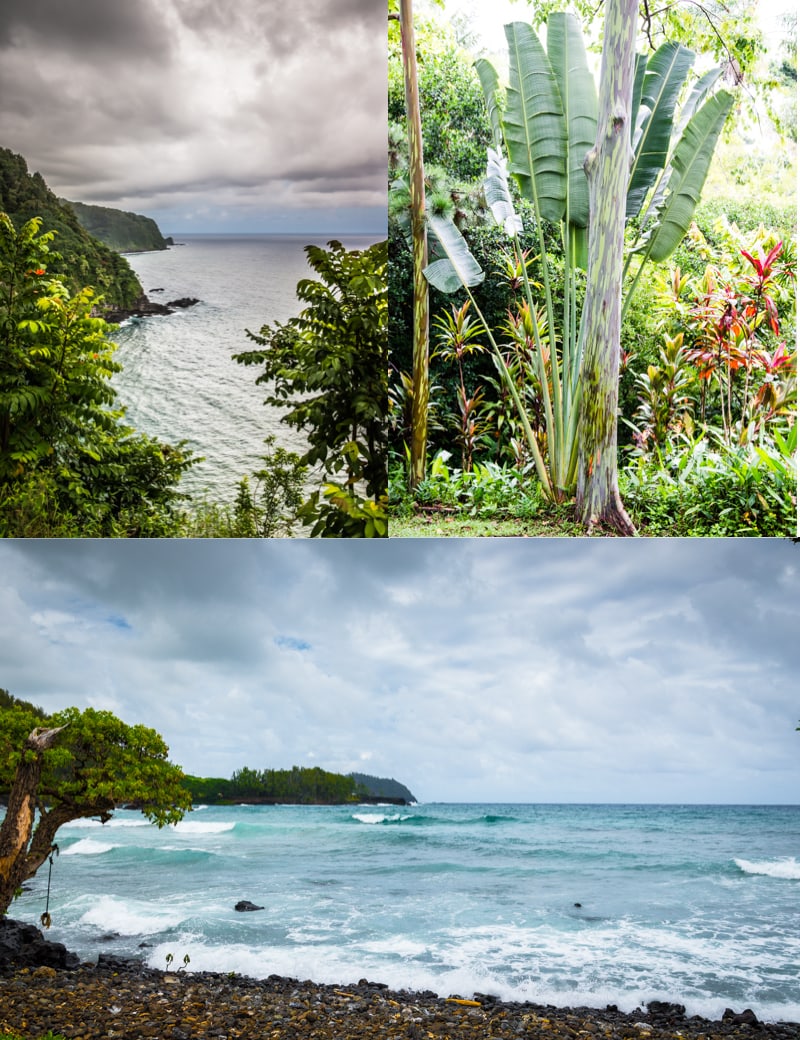 Gorgeous black sand beach with crystal clear aqua water. Hamoa Beach is stunning. No wonder it is one of the most photographed beaches on the planet.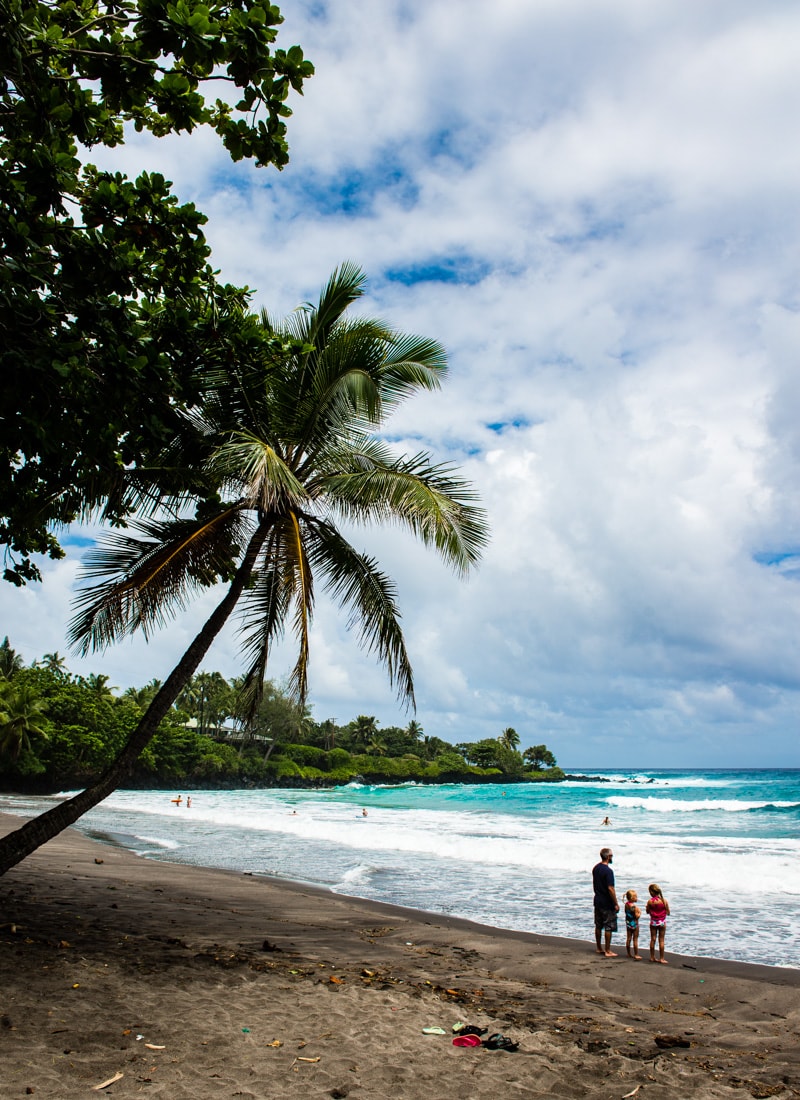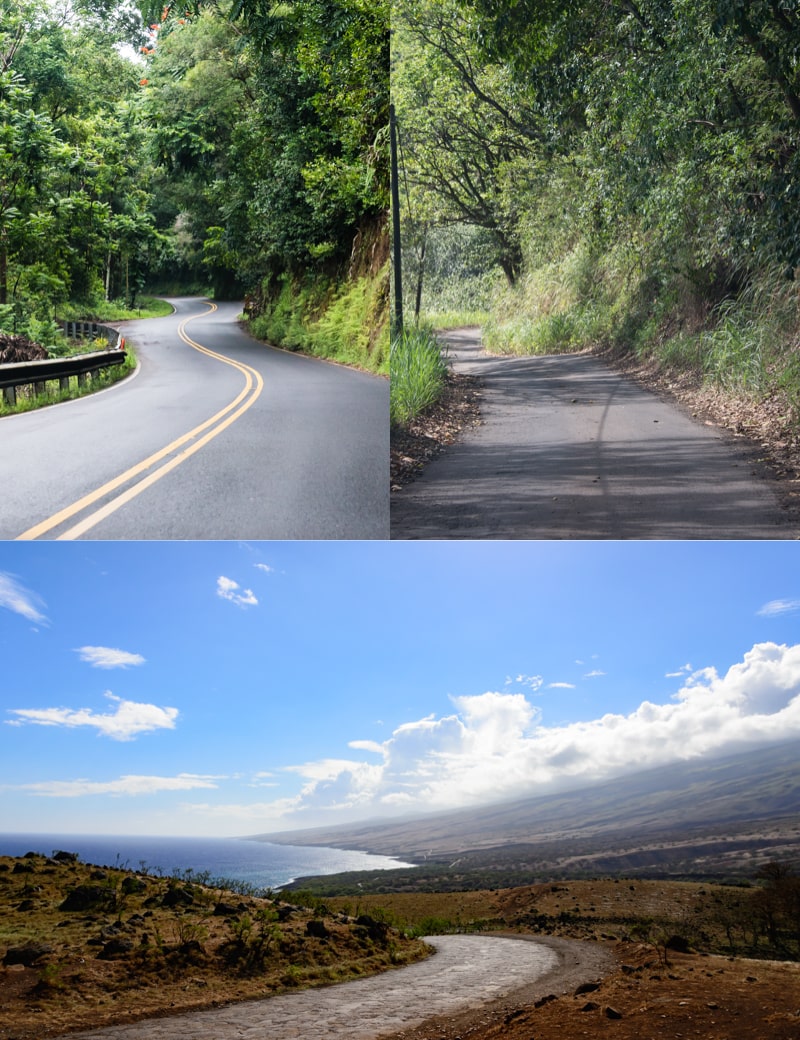 Instructions:
Since this makes two loaves of banana bread prep two loaf pans at once if you can. If you only have one pan, keep the batter refrigerated until baking it after the first loaf. Bake both the same day. The second loaf might take a bit longer to bake if you bake with cool batter.
Whisk together the dry ingredients - flour etc.( along with toasted macadamia nuts if using) in one bowl
Whisk together the mashed bananas, melted butter, oil eggs, sour cream, vanilla and sugar in a bigger bowl
Add the flour to the banana mix and stir with a spatula until no more flour streaks remain.
Bake in prepared pans
My breads usually take an hour to bake
Top tip:
If the banana bread starts to brown on top early in baking, way before the bread is done, lightly tent with foil. At least 15-20 min into baking. This will keep the top from getting too brown.
If you are like us and don't buy enough banana bread for the trip to Hana and back, or to Hana and around the backside of Haleakala ( past Kipahulu and Kaupo,) and you end up in upcountry Maui in Kula, definitely buy more than you think you will need.
The banana bread goes great with the road trip. Then when you are home and you dream of your Maui vacation, make this banana bread recipe and daydream about your next trip to the islands.
Weighing ingredients Vs using cups:
I use my food scale and weigh out ingredients in grams because this is the most accurate way to get the best quality baked goods. Cups aren't accurate because not only are all cups not the same the sizes vary from brand to brand as well as from different countries. I have done tests with different brands of measuring cups and they all came out with different weights after I did the spoon and level as well as scoop method and then weighed in grams.
Baking is a science and science needs accuracy. Weighing is accurate and precise. Not to mention a lot easier. Another issue with cups is that I have no control over how people use measuring cups to measure dry ingredients especially flour. You could pack in way too much which would result in a sub-par baked good. Too much flour could throw everything off. Same with not enough. Not to mention also some ingredients are difficult to measure in cups such as nuts, dried fruit, chocolate etc. This is why weighing in grams is the most accurate.
I also use grams for most liquid measure since 100 grams equals 100 ml of water. Smaller amounts of items measured in teaspoons I usually leave as teaspoons, tablespoons are sometimes listed in grams as well but for the most part the different tablespoons I have used have all resulted in the same amount. Aside from cute, decorative ceramic tablespoons and teaspoons are never accurate. Those are better as decoration than for being used for baking.
Halfway To Hana Banana Bread tips:
One thing that stands out with Hawaiian banana bread is the bananas they use in their recipes. They are made most often with apple-bananas, which are the most commonly found on the islands. They are a smaller, sweeter banana that unfortunately you can't bring home (darn agriculture rules) like you can pineapples.
My suggestion is when using bananas found in stores ( Cavendish are the typical ones that we see in the States) is to let them get pretty ripe, lots of brown spots, but not all the way brown. If not ripe, let them ripe on your counter
Bananas that are fully brown will add too much moisture to the bread. And don't forget to eat with cream cheese slathered on, or butter if you prefer. I love cream cheese with banana bread!
More banana recipes to try:
Halfway to Hana Banana Bread Recipe
Delicious, moist banana bread just like you find being sold on the drive to Hana, Maui.
Ingredients
Ingredients:

455

g

All purpose flour

3 ½

teaspoon

baking powder

1

teaspoon

baking soda

½

teaspoon

kosher salt

1

teaspoon

ground cinnamon

400

g

light brown sugar

226

6

unsalted butter, melted

4

tablespoon

coconut oil,

melted

4

large eggs,

room temperature

1

tablespoon

vanilla extract

120

g

sour cream,

room temperature ( full fat)

675

g

mashed overripe bananas,

Yellow with spots, not all the way brown, 6-8 bananas

Optional Ingredients:

132

g

chopped roasted and salted Macadamia Nuts

lightly toasted. Add in to the flour mixture first before mixing with wet ingredients.

Cream cheese

softened - to spread on top of banana bread slices when served
Instructions
Preheat oven to 330 Deg F for at least 30 minutes, position rack to lower third of oven. Grease and flour two 9x4 inch aluminum loaf pans.

In a small bowl whisk together the flour, baking powder and soda, salt and cinnamon. Add in the chopped macadamia nuts if using, and stir until well coated. Set aside

In a larger bowl whisk together the melted butter, oil, eggs, sugar, vanilla and sour cream. Add in the mashed bananas, stir well. Add in the flour and nut mixture and stir until no streaks of flour remain. Pour into prepared pans.

Bake pans side by side in center of rack for 45-60 minutes. Check the loaf at 45 minutes to test for doneness, using a toothpick to see if there is still raw batter in the middle, if so keep baking checking at 5 min intervals until done. If the top is getting too brown for your liking place a piece of foil over the top for the remainder of baking. Bake until deep golden brown and a tooth pick inserted into the middle has a few crumbs on it but no raw batter is left. 50-60 minutes total. Mine always take 55 min max to bake.

Let cool in pan for 10 minutes then invert to a wire rack to cool completely. Keep wrapped tightly in plastic wrap and then foil at room temperature up to a week or up to 3 months in freezer. 
Notes
You can sub in your favorite nut if you don't wish to use macadamia nuts. Just make sure they are toasted before adding to flour mixture. 
Aluminum pans work best. Glass or darker colored pans will brown the bottom and edges of the bread too quickly which may result in burnt sides and the middle still raw. 
You can bake these at 350 deg. I found that lowering to 330 allows the middle to cook through without the edges burning. This all depends on your oven and if it runs hot or colder. 
This recipe can easily be doubled and tripled for multiple loaves. 
You can also make this recipe into muffins. Set oven temp t0 350 Deg F. Line a muffin tin with paper liners, fill each well about ¾ of the way full. Bake for 18-22 minutes. Let cool in pan for a few min, then cool completely on a wire cooling rack.
For mini muffins set oven temp to 350, line mini muffin pan with paper liners, bake for 12-13 minutes. Let cool in pan for a few min, then cool completely on a wire cooling rack.