Peanut Butter Banana Chocolate Chip Baked Doughnuts
I guess today is national doughnut day. Or is it donut? Does it matter the spelling? It seems to be quite the split camp about the spelling. Either way, the first Friday of June has been declared national doughnut day and I am sharing with you a baked variety I made for my kids a few weeks ago.
I have a confession. I actually don't really like donuts/doughnuts. I have never liked yeast fried ones and cake kind are ok. Most are way too sweet for me, and any of the filled ones are just too messy. I don't care to deep fry foods at home ( I attempted churros once and, well, they looked like fried poop) so if I do make doughnuts, they are baked. Which really is more like a round muffin. And muffins are healthy-ish.
My kids have learned to totally sucker me into making doughnuts for breakfast on the weekends once in a while. I wont make them every weekend, but maybe once a month. It all started with me laying in bed scrolling through pinterest on my husband's ipad and my 5 year old saw donuts in my feed and she practically screamed " MOMMY!!! Can you puhhllleeeaaassseeee make donuts for breakfast??" Actually she did scream. She is always so excited for donuts. This is why I keep it a once in a while rare treat. I am all about healthy organic foods, and I believe in balance, and an occasional treat is still ok.
I actually wasn't even planning on photographing these doughnuts, But I had my marble slabs set up from a prior shoot so I decided to photo them. I had to throw two doughnuts at my kids first so I didn't have to hear them complain I was photographing the doughnuts first. They are now on to me " Mommy do you have to take photos of these or can we eat them?" My poor kids...
I told my kids they could eat a doughnut ( after eggs of course) and then they decided they wanted to watch me photograph and offer ideas on how to style. " Stack them up high, mommy!!"
These were fun to shoot
I love this round cooling rack.
The only bad part about baking donuts, or really anything I cook or bake for that matter.... The dishes to clean up after.
"Recipe"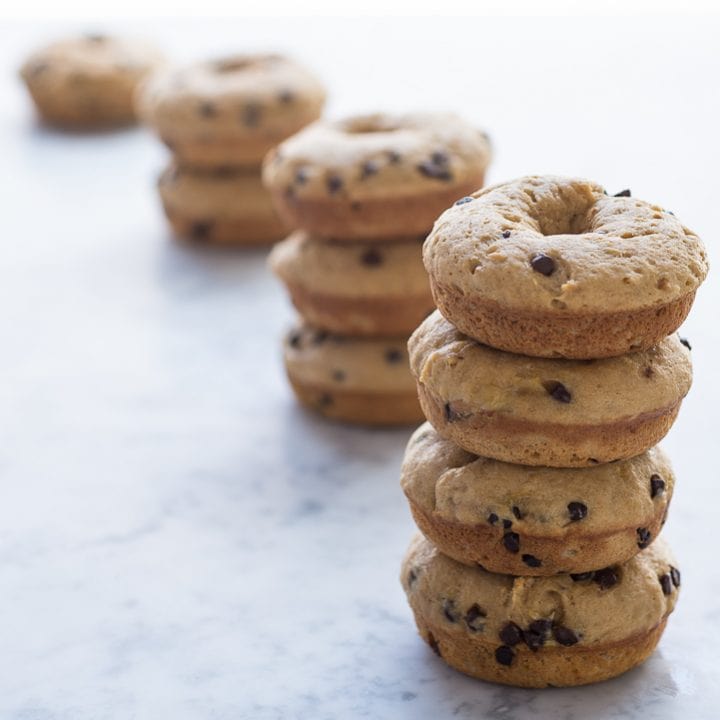 Peanut Butter Banana Chocolate Chip Baked Doughnuts
Peanut Butter Banana Chocolate Chip Baked Doughnuts Makes 14 Doughnuts
Ingredients
1

tablespoon

coconut oil

2 ½

c

organic all purpose flour

11 ounces

1

tso baking powder

½

teaspoon

baking soda

½

teaspoon

sea salt

2

medium overripe bananas

½

c

organic crunchy peanut butter

4

tablespoon

organic butter

unsalted

⅔

c

organic light brown sugar

½

C

plain organic Greek yogurt

2

large free range organic eggs

room temp

1 ½

teaspoon

vanilla extract

1 ½

cups

mini chocolate chips

I used Enjoy Life
Instructions
Preheat oven to 325 F. Brush the wells of two donut pans with melted coconut oil, set aside

In a small bowl whisk together the flour, baking powder, baking soda and salt. Set aside,

In another bowl melt the peanut butter and butter together, and stir until smooth. Stir in the brown sugar. Let cool slightly.

In a large bowl mash the bananas and add the greek yogurt and vanilla stirring until just combined. Add in the peanut butter mixture and stir again. Add in the eggs and stir until well combined. Add in the flour and stir until no flour streaks are left, fold in the chocolate chips

Using a pastry bag ( or plastic baggie with a nickel sized hole cut from one corner) fill with doughnut batter. Pipe even amounts of batter into each doughnut well. Bake for 10-12 minutes or until the tops bounce back when pressed.

Let cool in pans 2 minutes then remove to wire rack to cool completely. Cool and wash pans before brushing with butter to bake the remaining batter.

Store at room temp for 2 days or freeze up to a month.
Notes
If you want to make these gluten free you can swap out any all purpose gluten free flour mix. I use the one I created often. I keep a container of it in my fridge. You can find my gluten free flour mix recipe HERE
So there you have it. Happy National Doughnut day.