Roasted Hatch Chile Salsa with Avocado Recipe
Take advantage of Hatch Chile season with my recipe for Roasted Hatch Chile Salsa with Avocado! Thanks to Frieda's Specialty Produce for sending me some of their gorgeous, fresh Hatch Chiles to make this recipe!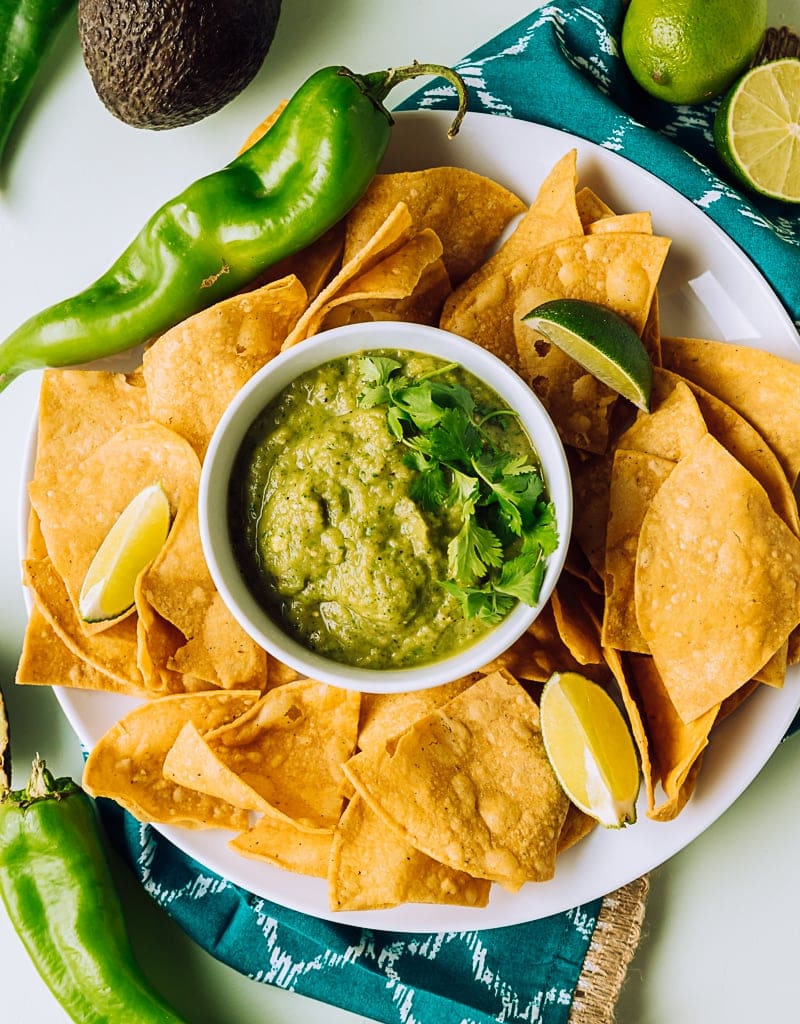 What are hatch chiles?
Most of us know, right? If not, here ya go. Hatch Chiles are amazing, you have probably smelled them roasting outside many grocery stores or farmer's markets when they are in season. These chiles, which are also known as the New Mexican chile are named after the valley they are grown in and around Hatch New Mexico.
These chiles were first grown in Santa Fe de Nuevo Mexico by the Pueblo and Hispano communities before New Mexico was a part of the United States.
Hatch chiles are similar to another New Mexican green chile variety, the Anaheim chile. They are very similar in look, taste and color. The Anaheim variety tends to be longer, milder in flavor and grown in California and are available year round while the Hatch variety have a much shorter season. Hatch chile season is typically the beginning of August to mid to end of September.
People tend to call them Anaheim peppers rather than chiles. Bother the Hatch and Anaheim turn red when ripening more which makes the flavor more earthy. I love hatch chiles and love when they are in season.
It has been SO HOT here in Vegas that any produce sitting on my counter for half a day starts to ripen. Fast. These chiles were all green when I got them and one immediately started turning red. I knew I wanted to roast them for salsa.
Because we didn't want to turn on the oven we roasted the chiles and a few other ingredients for the salsa on our grill. Keep all the heat outside.
I preheat the grill to high heat on one side and low on the other. The chiles roast on high heat the whole time. The tomatillos start out on high heat then get moved to the low heat side. The white onion and garlic hang out on the low heat side the whole time.
The chiles are turned frequently for even charring, the tomatillos start cut side down and roast until the color starts to change, just a few minutes. Then they are turned over and placed on the low heat until finished grilling.
Once everything is done grilling, I bring it all inside to cool down a little. The chilis get placed in a stainless steel bowl and I cover with a towel to let them steam so the skin is easier to peel. I run them under cool water once cool enough to touch to remove the peels, stems and seeds.
All the salsa ingredients go into the blender and blended until I reach the consistency that I like. Sometimes chunkier, sometimes smoother. Taste then adjust with more lime juice or salt. Eat with a ton of chips.
A few notes about this roasted hatch chile salsa with avocado recipe first:
I roast the Hatch chiles on a grill. You can use your oven's broiler or set over direct flame if you have a gas stove. You want as direct flame/heat as you can get so the skins blister to be removed easily.
You can also roast the tomatillos, onion and garlic in your oven with the broiler setting as well or on a cast iron pan on the stove. These don't need the almost direct heat/flame that the chiles do
Hatch Chiles vary in levels of heat, if you want hotter salsa you can always add in a jalapeño, serrano or even a habanero if you dare. I don't since I love the flavor of the Hatch chiles and don't want anything to overpower their flavor. I'll save those chiles for other tomato based salsas.
"Recipe"
Roasted Hatch Chile Salsa with Avocado
Roasted Hatch Chile salsa with avocado added in for a spicy, creamy, delicious dip. Perfect with chips or served on tacos, burritos, eggs, you name it.
Ingredients
1

pound

tomatillos

8-10, husks removed, cut in half (16 0z)

1

pound

Hatch Chiles - about 6 large

16 oz

1

large white onion

peeled cut into 4-5 rings

5

large garlic cloves

unpeeled

Juice of one lime

about a tablespoon

1

bunch Cilantro

rinsed well (about a cup)

1

teaspoon

kosher salt

½

teaspoon

ground black pepper

1

whole avocado

cut in half, pit removed.
Instructions
Wash the Hatch chiles and dry well. Prep the rest of the ingredients as stated above.

If using a gas grill preheat one side to high heat, the other side to low heat. See notes for alternate roasting methods.

Roast the chiles on the grill, turning frequently until blistered. Roast the tomatillos cut side down on the hot side until the skin side starts to turn color, flip and place cut side up on the low heat side until finished.

Grill the onion and garlic on the low heat side. If you have a grilling pan use that for the garlic since its so small, and if the onion starts to fall apart a little its nice to the onion on it as well to not lose any to the flames below. This all takes about 15 minutes for everything to roast/grill.

Remove everything from the heat and place the chiles in a stainless bowl. Cover with plastic wrap or a towel until cool enough to touch. Run them under cool water in the sink to remove the stems, seeds and peels and put in a blender.

Add in the onion, tomatillos to the blender as well. Remove the peels from the garlic, I just squeeze it out into the blender, then add in the cilantro ( I trim off the very end of the stems but include most of the stems as well as the greens) lime juice, salt and pepper.

Blend until it's a rough puree, scoop in the avocado. Blend again for another 30 seconds or so until you reach desired consistency. Taste and add more salt or lime juice if desired.

Pour into a bowl, garnish with some cilantro and serve with a ton of salty chips. 
Notes
If using an oven you can line a baking sheet with foil and use the broiler. If going the oven route, put the onion, garlic and tomatillo on half of the sheet and take them out before the chilis are blistered.  You can also roast the tomatillos, garlic and onion on a cast iron skillet if using your stove to blister the chiles over open flame. Many ways to make this salsa.
Enjoy Hatch chile season while it lasts! I know I am. Thanks again to Freida's Specialty Produce for sending these to me!