Cherry and White Peach Rosé Sangria with Rum. The ultimate, refreshing, summertime cocktail.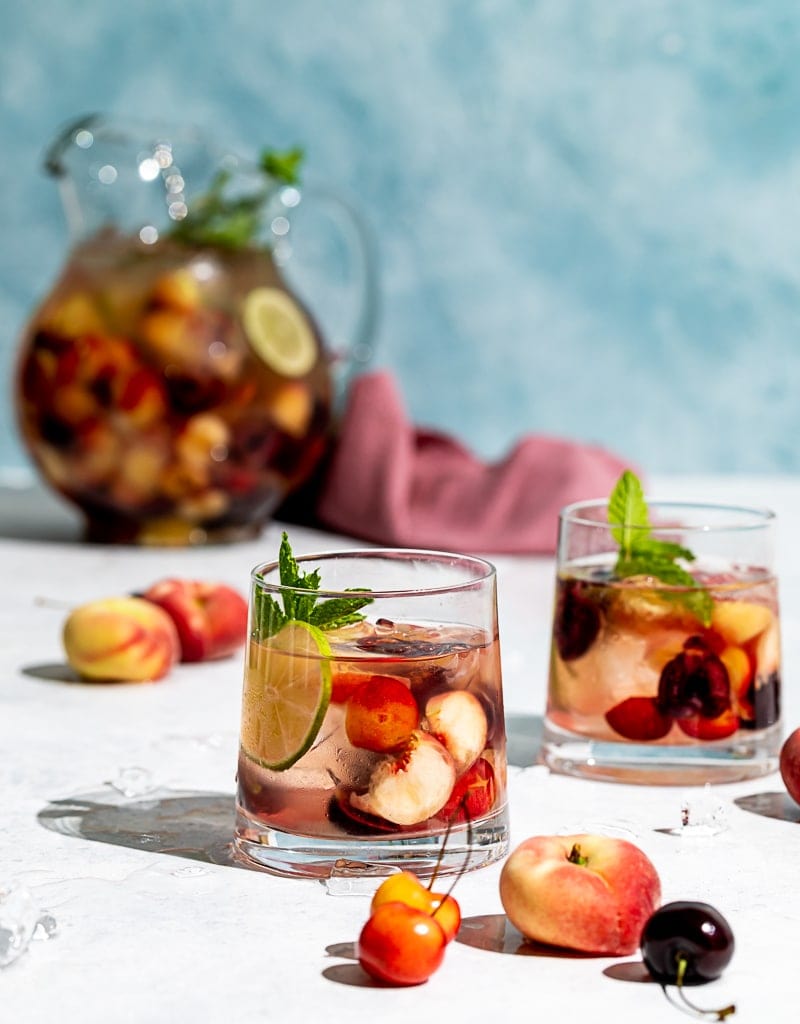 I love sangria. It is such an easy cocktail to make as well as so versatile depending on what fruit or liquor you add to it, use either white or red wine, or as in this case, rosé wine. It's a choose your own adventure drink.
Sangria is popular in summertime and I can see why. The huge variety of stone fruits available make for one awesome drink. I love using a variety of peaches or nectarines along with cherries, sweet dark and Rainier cherries. My fave. Too bad their season is so short.
Rosé sangria is really easy to make. Almost doesn't need a recipe. Almost.
I was organizing my pantry and found a bottle or Rosé wine that te Pā had sent to me that I had been meaning to make something with. I had this sangria recipe on my calendar for summer and knew that rosé would be perfect for it. So I put it in my fridge to chill.
To make this rosé sangria I add all the ingredients into the pitcher, aside from soda water and garnishes, that I am going to serve it in. Easier this way. Add in the ingredients, chill, right before serving add ice and either top the pitcher off with soda water or each glass. Garnish and serve. Easy peasy.
Fruit first, prepped of course. Peaches peeled if desired and cut up, cherries stems and pits remove, sliced in half. Fill with liquor or liqueur used, any other additions like fruit juices, simple syrups etc. Then the wine. Chill for at least 2 hours. Some recipes say to chill sangria for 30 min but in my opinion that isn't long enough for all the flavors to blend. I chill for at least 4 hours. Sometimes overnight.
A few notes about this Cherry and White Peach Rosé Sangria with Rum recipe first:
I used white peaches, dark sweet cherries and rainier cherries. Feel free to substitute nectarines or yellow peaches. Rainier cherries have a short season, you can use all dark, sweet cherries if you like
Use fresh fruit, not frozen
Traditional sangria uses brandy, I prefer using rum. For this recipe I used white rum since rosé is so light in flavor I didn't want to use a liquor that overpowered it. Brandy is better with red wine sangrias
I like my sangria to be on the sweeter side, but not too sweet since rosé tends to be sweeter than a dry white or a red wine. I add in a little orange liqueur and a little simple syrup.
Some like their sangria sparkling, some don't. I do so I add in a lime unsweetened soda water. You can add plain or any flavor you want that would go well with the peaches, cherries and rosé
Cherry and White Peach Rosé Sangria with Rum
Summertime Rosé Sangria. A refreshing and delicious sangria made with white peaches, two kinds of cherries and rum.
Ingredients
2

cups

white peaches

2

cups

cherries

I used 1 cup dark sweet, 1 cup rainier

8

ounces

white rum

I used Koloa

2

ounces

orange liqueur

I used Cointreau

1-2

ounces

simple syrup*

1 750

ml

bottle Rose Wine

well chilled

Sparkling Lime soda water

Ice

10-12

Lime slices

Fresh mint sprigs
Instructions
Pit the cherries and slice in half

Slice peaches, remove pits then slice into one inch pieces

Combine cherries and peaches in large pitcher

Add in the rum, liqueur, and simple syrup. Stir

Add in the whole bottle of rose wine. Chill for at least 4 hours

When ready to serve: add ice, sparkling lime water, lime slices. You can add half the lime slices to the pitcher and a lime slice in each glass. You can either add a can ( 12 ounces) of the soda water to the pitcher or top off each glass with a few ounces. Up to you.

Divide amongst glasses, garnish with lime and mint 
Notes
I always have a bottle of simple syrup in my fridge for cocktails. I make mine a little richer than the usual 1:1 ratio of water to sugar. You can use 1:1 or 1.5 cups sugar to 1 cup water or even go really strong with 2 cups sugar to 1 cup water. Depends on how sweet you want it. Add the sugar and water to a sauce pan, bring to a simmer and stir well until sugar is dissolved. Transfer to a resealable jar and chill completely before using.