I am thrilled to be talking about healthy school lunch ideas today. This post is sponsored by Planetbox. I LOVE their lunchboxes, they sent me two to review and to show you all some ideas for quick and easy healthy school lunches AND I will be giving away a lunchbox at the end of the post.
Aren't these cute? These are the Rover lunch boxes that work great for my kids because they have several compartments to hold a variety of foods. My kids tend to do a lot more talking through lunch than eating so I put in enough food for lunch and snacks, knowing that at some point in the day the food will get eaten. The cases hold the lunch boxes with plenty of room for ice packs, external pockets are great for a water bottle and to hold napkins and silverware or plastic ware. When you first look at the lunch box you think everything will spill into the other compartments but it doesn't.
I made 6 different school lunch ideas for you all today. I make so many different lunches for my kids. They are a usually a mix of leftovers from dinner if available or things my kids ask for the night before school. I make most of the lunch the night before and keep refrigerated then add in items the next day that don't need to be chilled all night. Crackers or pretzels tend to get a little soggy in the fridge overnight.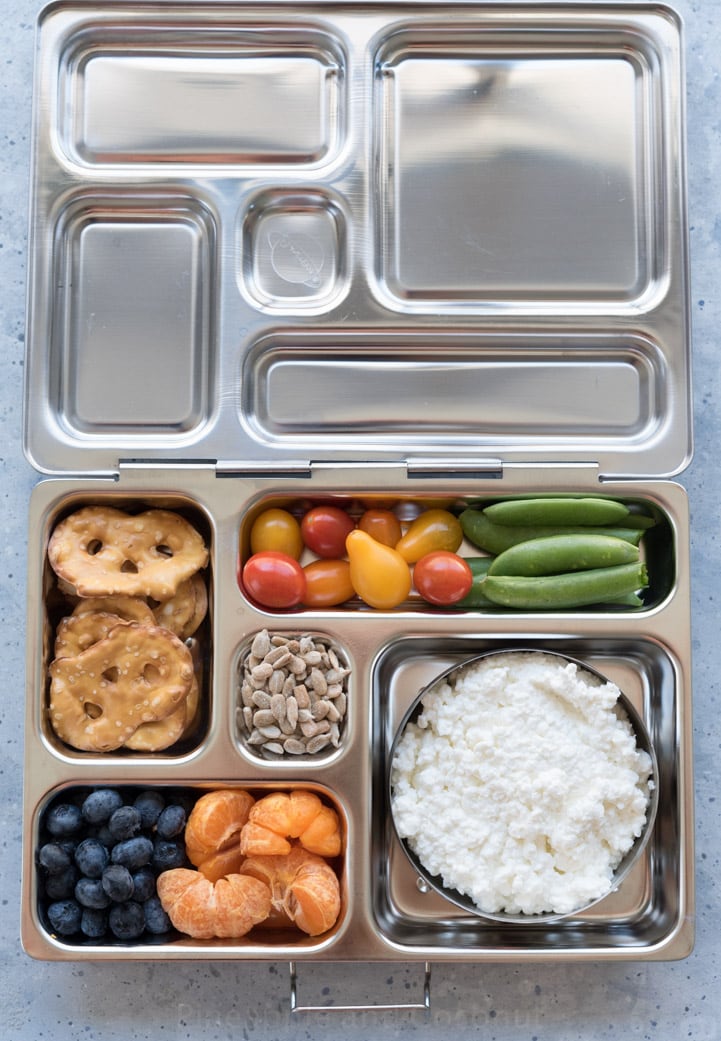 School Lunch 1: Snack Factory Pretzel crisps, cherry tomatoes and sugar snap peas, Kalona cottage cheese, sunflower seeds, blueberries and miniature tangerines.  I try to go for a variety  that has fruits, veggies. carbs, protein and fat. We love the Kalona full fat cottage cheese and it is fun to use the pretzel crisps as a spoon.
School Lunch 2: Quesadillas, Salsa, Pineapple and Blackberries, pickles and gummy probiotics. We either make cheese or chicken quesadillas - if we have leftover chicken - and my kids like eating them cold. They also love pickles with quesadillas. We will also often make bean, cheese and chicken burritos instead of quesadillas. Another favorite of my kiddos.
Lunch 3: Cream cheese and jelly pancake sandwiches, strawberries, cherry tomatoes and Persian cucumbers, macadamia nuts and freeze dried apple.  I make up a batch of silver dollar or slightly bigger pancakes and make sandwiches with them. Usually cream cheese and jelly since that is what my kids like best. Most of the time I make the pancakes from scratch but recently I found a high protein pancake mix, Kodiak Cakes, and I have been using that. My kids love it.
School Lunch 4: Taco chicken and rice, Persian cucumbers, berries, chips and salsa and chocolate covered sunflower seeds. I don't often give my kids sweets or treats for lunch, kids tend to eat that first. But the little center section is perfect for a small treat and I love that these are made with natural food dye.
School Lunch 5:  Homemade pizza - chicken. cheese and olives, snap peas, freeze dried mango, dried apricots, broccoli slaw salad. We make homemade pizza one to two times a month and save the leftovers for school lunches.
School Lunch 6: Veggies, pita chips and hummus, pomegranate, navel orange and chocolate coconut chips.  My kids love dips such as hummus, salsa, guacamole so this is another favorite lunch of theirs.
I could go on and on with school lunch ideas. Preparation is key. Slice veggies and keep in a container with ice - they will last all week. Prep fruits and portion out for the week. Apples I usually slice the morning of school and add a little lemon or pineapple juice to keep from browning.  We will do leftover spaghetti with ground meat tomato sauce  - which goes great in larger round container with a lid that is included with the lunch box. Planetbox has TONS of ideas on their instagram - @planetbox. Check them out for more ideas and don't forget to search the tag #Planetlunchbox. Lots of ideas from everyone that owns them!
While these ones are amazing for kids the Shuttle lunch box is perfect for a small lunch or snacks for kids. Or maybe even for breakfast in the car on the way to school. All I need you to do is comment with what is your favorite lunch. This contest ends on April 27th and is open to US residents only ages 18 and up. Once the contest is over I will notify the winner which is selected at random by Rafflecopter. If the person selected doesn't respond in 48 hours a new winner will be selected. Good luck!!
I was sent two Rover Planetboxes to review and test out. I received no other compensation. As always, opinions are my own.