Mini Shrimp Ceviche Tostadas. Oh so slightly adapted from Esteban Castillo aka "Chicano Eats" new cookbook.
I had a dream the other night I was eating shrimp ceviche. That day my copy of Chicano Eats - Recipes from my Mexican-American kitchen arrived and I HAD to make is ceviche recipe first. It was meant to be. I could easily split my diet into half Mexican ceviche and half Hawaiian poke and be a very, very happy person.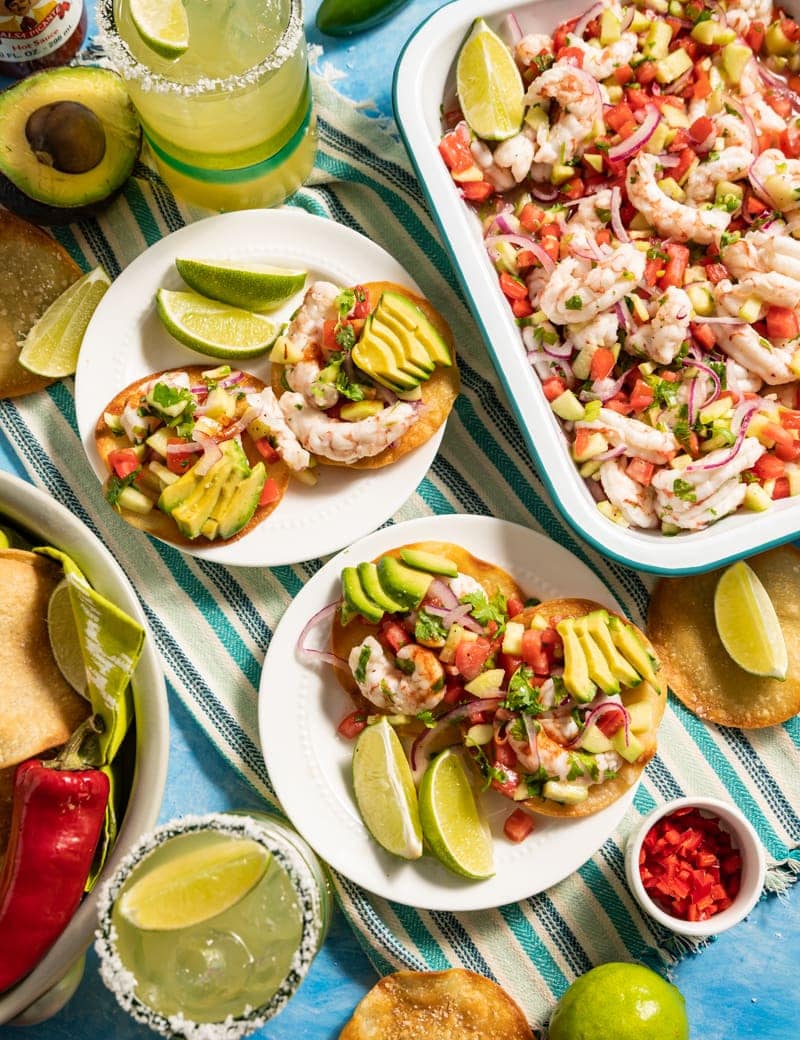 Having grown up in Southern California, Mexican food was a staple in my house, when going out to eat and especially when going to friends houses. A large amount of my friends growing up were Mexican. Children of Mexican immigrants just like Esteban. Food is so important to Mexican cultures, it is one way how they stay connected to their culture. Recipes are passed down through so many generations, many recipes kept a family secret.
Esteban grew up cooking with many family members in the states and with many visits to extended families in Mexico. I love his blog, his recipes and photos. So bright and vibrant just like the people of Mexico.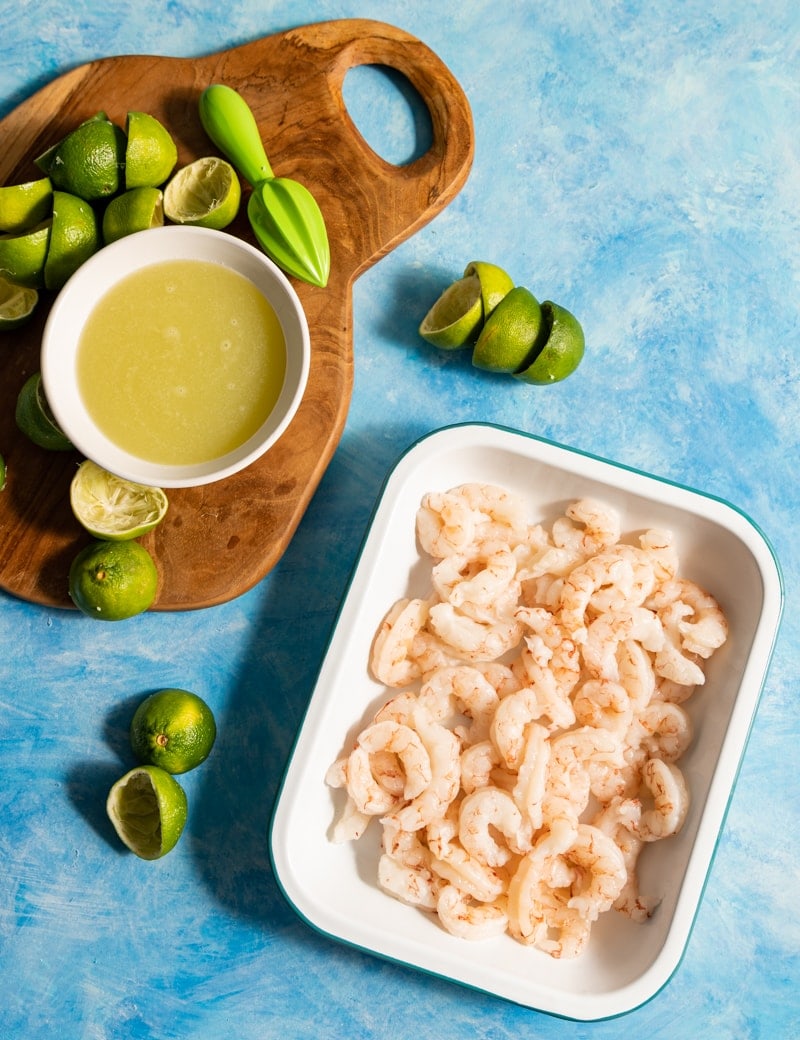 The original shrimp ceviche recipe in the cookbook starts out with poaching half the shrimp in boiling and "cooking" the other half in lime juice. I realized I hadn't bought enough shrimp to make the entire recipe as is in the book so I went with just cooking what I had in lime juice.
The shrimp will turn an opaque pink and curl slightly once cooked in the lime juice. They won't curl up as much as cooked over heat, but 20-25 minutes in the fridge in the juice is perfect.
I mix up everything in a large bowl then transfer back to a shallow serving dish. The ingredients are few, but the flavors are amazing.
Normally I just get a bag of chips and dig into the pan of shrimp ceviche as is. Since the original recipe is served on tostadas, 6 inch round crispy tortillas, I decided to go with mini tostadas. I had a bag of mini street taco size corn tortillas in my refrigerator and I fried them up, blotted off the excess oil with paper towel and sprinkled with a little sea salt. Perfect for appetizer sized bites.
A few notes about the Mini Shrimp Ceviche Tostadas Recipe First:
Original recipe is from the cookbook :

Chicano Eats - Recipes from my Mexican American Kitchen

. It's a must own cookbook.
Original recipe uses one pound of shrimp for cooking over heat, one pound for *cooking* in lime juice. I only used shrimp in lime juice.
Original recipe also adds in shredded imitation crab. I forgot to get that from the store
I couldn't find serrano chiles so I used jalapeno and fresno. Use what you like
Serve with cold Mexican beer or margaritas and plenty of Tapatio hot sauce!
"Recipe"
Mini Shrimp Ceviche Tostadas
Easy to make refreshing shrimp ceviche served on mini tostadas. Slightly adapted from Chicano Eats Cookbook - Recipes from my Mexican-American Kitchen. Servings size vary. Original recipe states 6-8 servings.
Ingredients
For the Ceviche:
1 ½

lb

shrimp

21-25 size deveined, shells and tails removed, thawed if frozen

1

cup

fresh lime juice

1

lbs

roma tomatoes

diced*

1

lb

cucumber

peeled and diced

⅓

cup

thinly sliced red onion

⅓

cup

fresh cilantro

chopped

1

jalapeno

diced*

1

fresno pepper

diced*
For the seasoning:
⅓

cup

lime juice

¾

teaspoon

celery salt*

½

teaspoon

ground black pepper

½

teaspoon

granulated garlic

½-1

teaspoon

diamond kosher salt
For serving
Mini tostadas*

Sliced avocado

Sea Salt

Lime slices

Hot Sauce

I used Tapatio
Instructions
In a medium bowl, or shallow dish, place the raw shrimp and pour the lime juice over it. Stir well and make sure all the shrimp are submerged in the juice. Wrap bowl or dish and place in refrigerator for 20 minutes or until the shrimp have all turned pink and opaque. Stir at the 10 minute mark and flip the shrimp over to make sure it is all still submerged in the lime juice. 

While the shrimp is "cooking" prep all the vegetables and seasoning. 

When the shrimp is ready drain off all the juice and place in a large mixing bowl. Add in the diced tomatoes, diced cucumber, red onion, cilantro and peppers. 

Whisk together the seasoning ingredients in a separate bowl then pour over the shrimp mixture. Stir well then leave in bowl for serving or transfer to a serving dish deep enough so the seasoning won't spill out. 

Serve immediately, I like to spoon out two shrimp with some of the slices of tomato, cucumber, onion etc and juices onto a mini tostada ( or scoop with a chip) then top with avocado and hot sauce. Ceviche keeps well in an airtight container in the refrigerator up to three days. That is if you don't eat it all the first day. 
Notes
I remove the seeds from the tomatoes and hot peppers. You can opt to leave them in if you like. 
If you don't have celery salt just use one teaspoon of salt or more to taste. Always taste before adding more. 
I fry my own mini tostadas. I get the street taco style corn tortillas and either fry in oil in a pan on my stove or on a baking sheet at 350 Deg f. flipping every few minutes to crisp up evenly. About 10 minutes total. If I fry them in the oven I will spray both sides of the mini tortilla with oil first. Once crispy I will place on a paper towel to drain off the excess oil and then I sprinkle with sea salt. I fried up about 25 mini tostadas. You can use store-bought 6 inch size already crispy or a use a bag of chips!