Smoked Salmon Baked Eggs with Roasted Asparagus. Also known as some seriously delicious food served in cute dishes. Small dishes are always cute, says me.
When it comes to brunch there are two types of people, those who go for sweet options like waffles and pastries or those who go for savory like omelettes and hashes. Personally? I like both. I will always order an egg dish and a sweet dish like a waffle. Today I am sharing a really simple and delicious baked eggs dish that is perfect for brunch and its a small enough portion so you can save room for that waffle, or pastry. Like a cinnamon roll...mmmm my favorite.
These smoked salmon baked eggs have different layers of flavors and textures, and my husband loved the saltiness of the smoked salmon with the tart cream cheese and the creamy egg yolks. He also thought the asparagus dipped in the yolks was really good too and told me " nice touch with the asparagus".
Hey, if it has the husbands seal of approval you know its good. Then again I do joke he is like a goat and eats anything. But he would tell me if something I made was gross. These baked eggs are on super delicious list.
I also love the idea of baking the eggs because it makes for less dishes to clean up afterwards and leaves stove and counter space to prep other brunch items. The more " one dish" meals I can make the better.
I need to figure out how to do that for more of the meals I make. I tend to dirty a lot of dishes for every recipe I create.
The best part about these smoked salmon baked eggs is they are really quick to prepare. Some brunch recipes, like my favorite cinnamon rolls, are a lot more labor intensive. And since brunch is served midmorning to midday, you don't want to be getting up at 4 am to cook or bake. The fun part about brunch is getting to sleep in first!
"Recipe"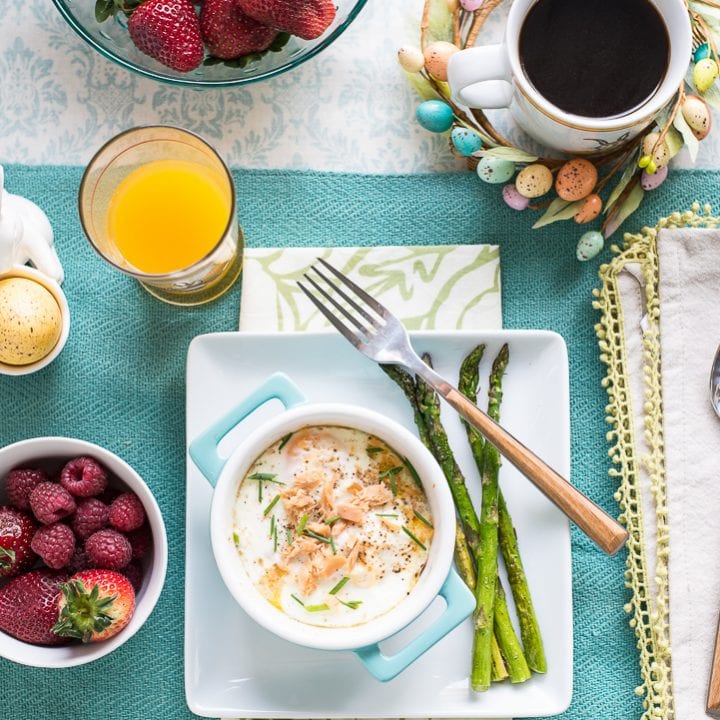 Smoked Salmon Baked Eggs with Roasted Asparagus
Smoked Salmon Baked Eggs with Roasted Asparagus www.PineappleandCoconut.com
Ingredients
3

tablespoon

butter

divided

1

small leek

white and light green part only, diced (about ⅓ c)

8

tablespoon

Cream Cheese

room temperature

8

ounces

smoked salmon

drained and flaked (from World Market)

8

whole eggs

1

teaspoon

Hawaiian alaea sea salt

From World Market

½

teaspoon

ground black pepper

4

teaspoon

chives

diced

1

lbs

asparagus

ends trimmed off

1

tablespoon

good quality olive oil (from World Market

1

teaspoon

Hawaiian Salt

½

teaspoon

garlic powder

½

teaspoon

black pepper
Instructions
Preheat oven to 400 Deg F. Place the top rack of the oven about 6" below the broiler.

Place 4 ramekins on a baking sheet and divide 2 tablespoon butter between them. Place in the preheating oven until the butter is melted. Remove from oven.

In a small skillet, melt the butter and then add the leeks. Saute until starting to caramelize, about 4 minutes. Transfer to a small bowl and add the cream cheese and all but 4 tablespoons of the smoked salmon. Season with half the salt and mix well. Divide the salmon mixture amongst the ramekins. Crack two eggs into each ramekin being careful not to break the yolks. Sprinkle the tops of the eggs with the remaining salt and pepper.

On a separate baking sheet spread the asparagus out evenly. Drizzle with olive oil and sprinkle with salt pepper and garlic powder.

Place the baking sheet with the ramekins on the top rack and the baking sheet with the asparagus on the middle. Bake for 6 minutes. Switch to broil and cook for another 4-5 minutes or until the egg whites are set.

Remove from the oven and place ramekins on dishes and divide the asparagus amongst the four plates. Sprinkle the remaining 4 tablespoons of smoked salmon over the ramekins and top with some diced chives. Serve immediately.