Smoky chicken noodle soup. My fave way to make this classic soup with smoked chicken and smoky broth.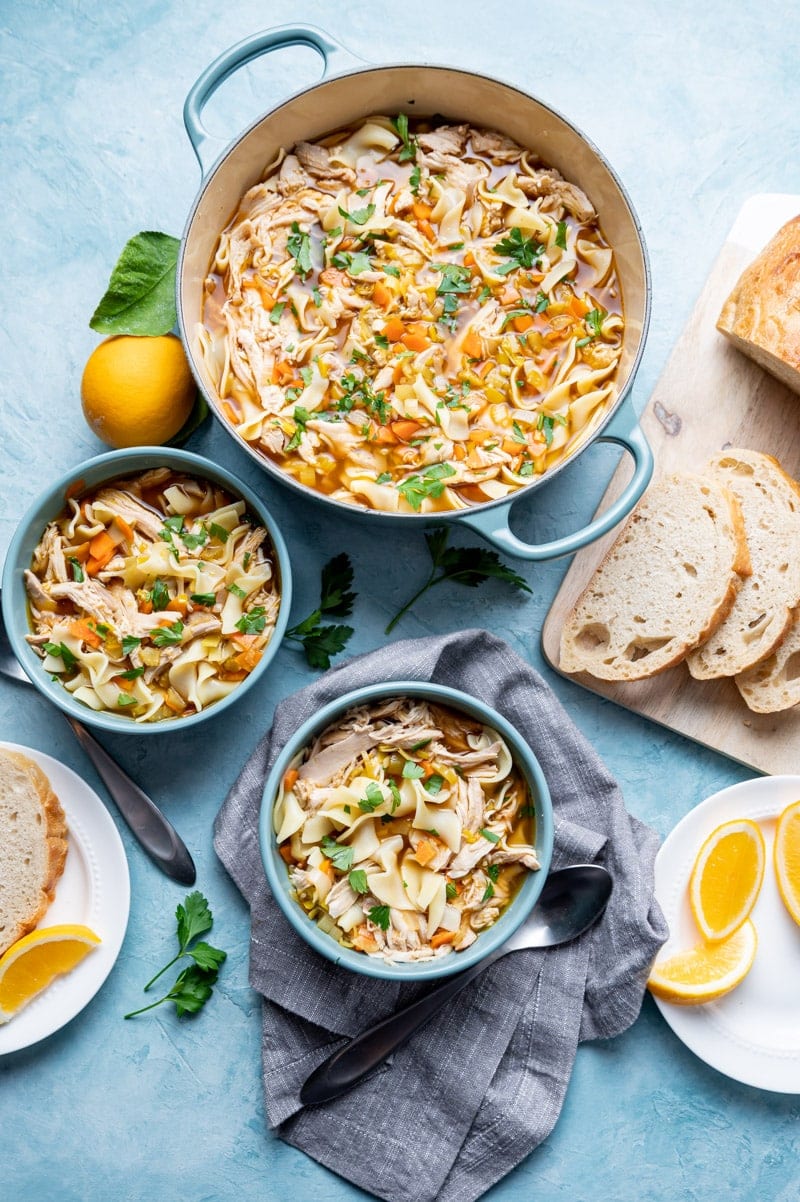 Whenever I make smoked chickens, or whole roast chickens, I almost always make two at a time. I save all the bones for homemade broth or stock, save half the meat in the freezer for later and use the other half for soup, tacos, enchiladas. Whatever. This time I used half the chicken for this soup.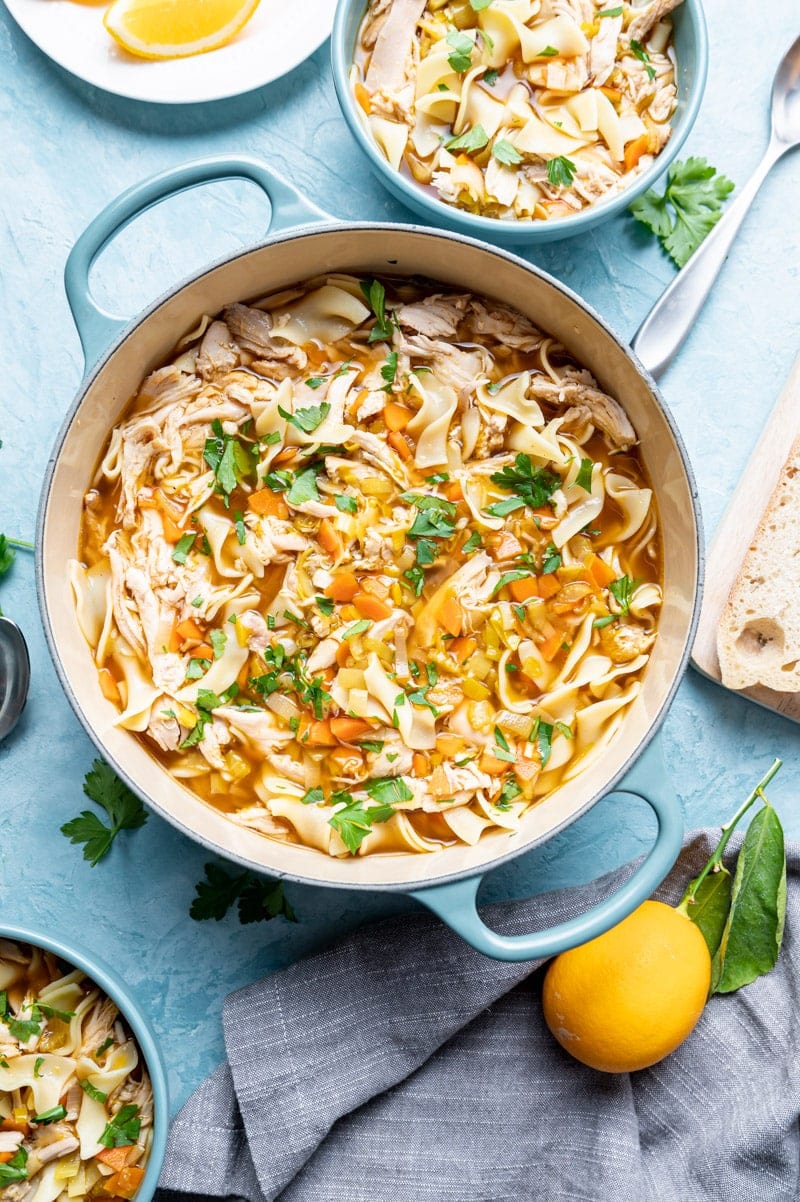 Chicken soup is one of those classic recipes that everyone knows how to make. Or at least should. Its warm, comforting and great when not feeling 100%. It's also great to have anytime you want. We love making soups for dinners and chicken noodle soup is in regular rotation at our house. We got a new smoker a little while ago since our old one had broken and to break it in we made ribs and smoked a chicken. We made soup with the smoked chicken and the flavor was so good. I had to make it again.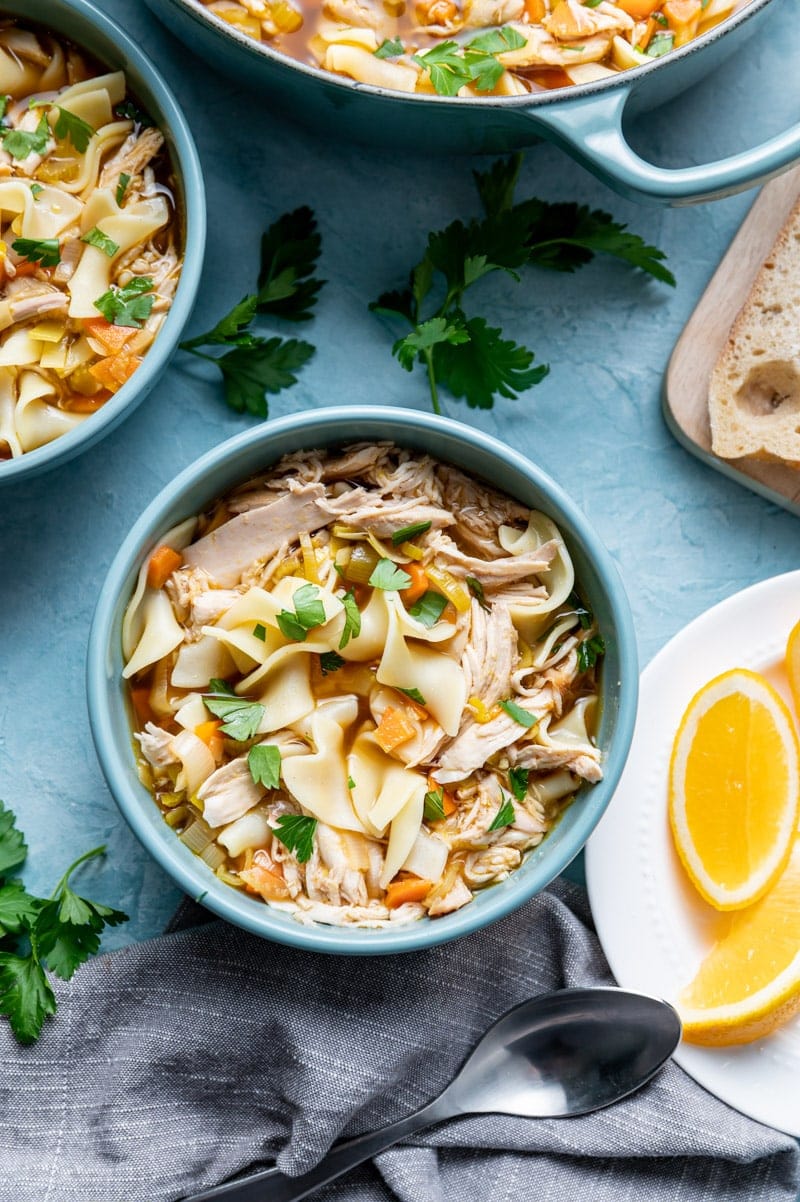 Along with using smoked chicken and smoky broth I love adding in lemon to my chicken noodle soups. I use lemons from my meyer lemon tree of course. That little bit of tart lemon juice brightens up the soup. I am a fan of using traditional wide egg noodles, or extra wide, in this soup. Feel free to use any noodles you like. Or no noodles at all.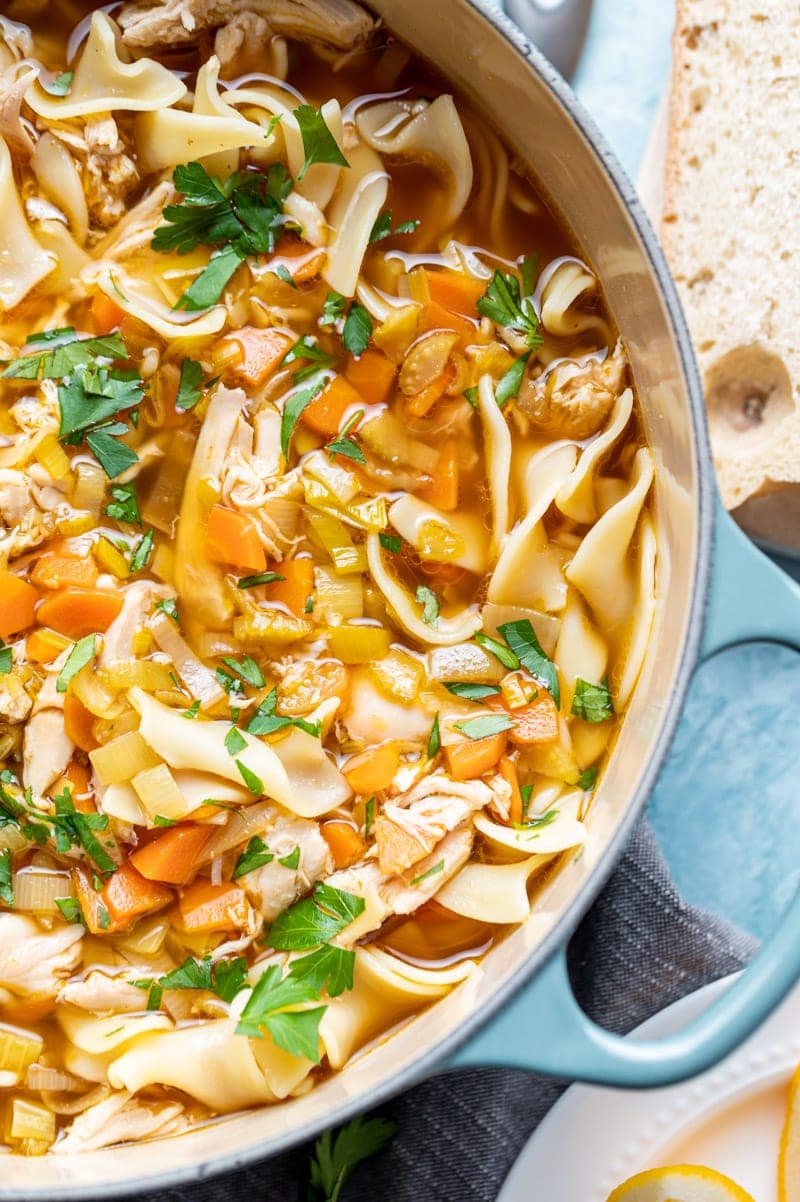 A few notes about the recipe first:
This recipe can be as intensive or as simple as you want. If you make smoked chickens and smoked chicken stock from my recipes it will take a little longer. However you will have extra chicken and stock on hand after making those recipes first.
Feel free to use store bought chicken broth or stock or your own recipe in place of mine. I love

Pacific Foods

brand when I don't have any homemade stock.
Another way to make this recipe simple and quick is to use store bought pre-cooked chicken such as rotisserie chicken. Rotisserie chickens are great to use in a pinch when needing cooked chicken. Save the bones in your freezer to make your own broth later.
Can you freeze this? Yes. But freeze the broth separate from the noodles. The noodles tend to get soggy on reheat after being frozen. I actually keep the noodles separate from the broth when saving leftovers.
What is the best way to reheat the soup? I reheat on a pan on the stove. The broth first then I will add noodles just before serving.
I don't like carrots ( or celery or whatever) do I have to add them? Nope. This is what I like. Use whatever veg you want!
I don't have a smoker, how do I get that smoky flavor? Season with a smoked sea salt or a few dashes of liquid smoke!
"Recipe"
Smoky Chicken Noodle Soup
A warm, comforting noodle soup made with shredded smoked chicken and smoky chicken broth. Serve with crusty bread and butter.
Ingredients
12

ounces

wide egg noodle pasta

or other soup noodle of choice- can also go up to 16 ounces if you like

1

tablespoon

butter

1

tablespoon

olive oil

1

cup

diced onion

yellow or white

½

cup

leeks

white and light green part only, rinsed well and diced

1

cup

carrot

peeled and diced

1

cup

celery

diced

5

cloves

of garlic

peeled and minced

Juice of one lemon

about 2 Tbsp

1-2

teaspoon

kosher salt

½-1

teaspoon

ground black pepper

8

cups

smoky chicken stock *

2-3

cups

smoked chicken

shredded*
Garnish:
Fresh Italian Parsley

chopped
Instructions
Cook the pasta according to package directions. Drain and set aside. This can be cooked while the rest of the soup is cooking. 

In a large stock pot or dutch oven, heat the butter and oil. Add the onion and leeks and sauté for 3-4 minutes until starting to soften and turn translucent. Add in the carrot, celery and garlic. Saute another 3-4 minutes until the veggies are starting to turn soft.

Add in the lemon juice and season with one teaspoon salt and black pepper. Add in the chicken stock and bring to a simmer.

Add in the shredded chicken and stir until heated through. Taste and season with more salt and pepper if needed. This should all take about 20-25 minutes. 

Divide noodles amongst bowls and top with a few ladles full of soup. This will depend on the size bowls. Top with some chopped fresh parsley and serve. Serve with some crusty bread and butter. 
Notes
I like to keep the noodles separate from the soup so they don't get soggy when stored as leftovers so I don't add them into the pot of soup. 
*You can sub any chicken and chicken stock you like if you don't make my smoky chicken and stock. To make this quicker you can use pre made stock in cartons ( I like Pacific brand) and pre-cooked chicken. Rotisserie chickens are great for shredding and adding to soups. Save the bones from the rotisserie chicken to make your own stock if you like.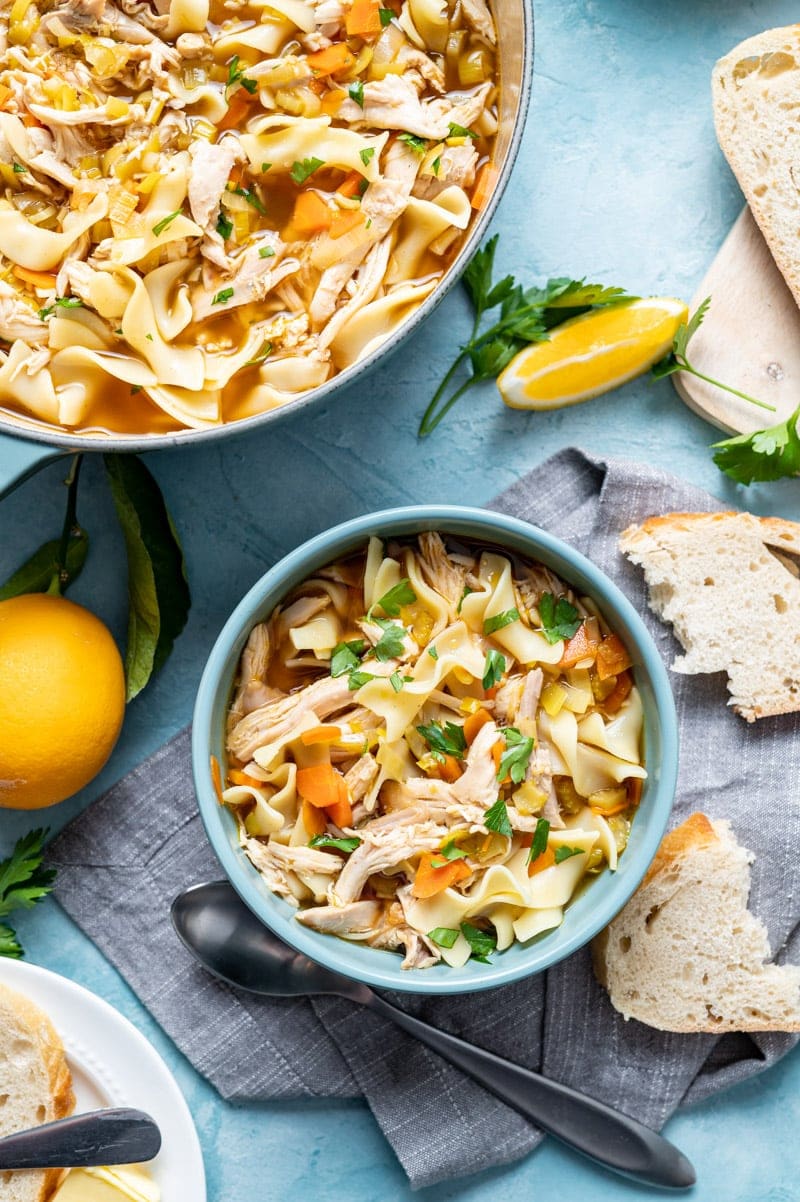 Enjoy!