Spicy Furikake Salmon with Quinoa and Quick Pickled Cucumbers. Another super fast and healthy dinner recipe for you all.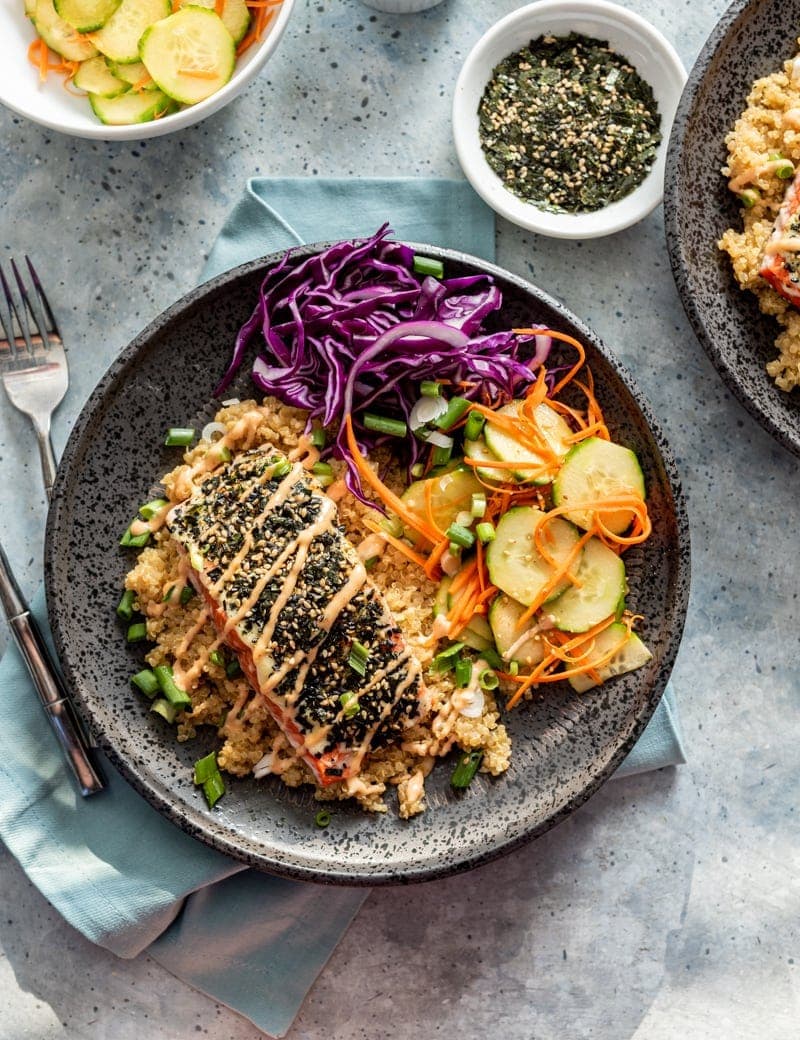 You know how much we adore salmon in my house, especially my kids. It is their favorite thing to eat which is amazing given that many kids, and well let's face it, adults don't care for fish. I am fortunate to have grown up in a beach town in California where I was introduced to fish and seafood at a very young age and it has alway been a staple in my diet in my life.
Salmon is one of those "training-wheels" type of fish for many people. Very mild, non-fishy taste and super easy to cook. And the variety with ways to prepare and season salmon are endless. We often prepare salmon with various Asian/ Pacific Island flavors such as Japanese, Thai, Korean Vietnamese and of course Hawaiian. Furikake Salmon is very popular in Hawaii. Sometimes it is marinated in teriyaki sauce first. I skipped that step this time.
I often serve salmon with white rice, since it is another staple food item we always have. I get a 50 pound bag of jasmine, basmati or cal-rose rice one to two times a year. We love our rice. I decided to switch it up this time and go with quinoa, another pantry staple item. I will cook the quinoa while I prep the rest of the meal to get this on the table in around 30 minutes.
Quick pickled cucumbers is a fave dish of mine to make and eat that goes so well with many recipes. My kids love to snack on them as well. It's kind of my cheater Namasu recipe. Not quite as involved. Sometimes I only make it with cucumber, other times I will add in shredded carrot and or thinly sliced radishes. It is as simple as thinly slicing English or Persian cucumbers, shredding carrots ( I have this funky shredder peeler that I use instead of a box grater or food processor) and pouring seasoned rice vinegar and Tamari ( which is gluten free) or soy sauce over the top. This takes me a few minutes to make and I pop it in the fridge until the rest of dinner is ready.
If I make these pickled cucumbers as a side dish instead of with a recipe I will just put the bowl on the table and hope my kids don't eat them all before I get a chance. Traditional Namasu salad is a little more involved. Its very popular in both Hawaiian and Japanese cuisines. It is also known as Sunomono salad in Japan.
Namasu usually consists of cucumber and carrot along with Daikon radish, sugar, salt, ginger, sesame seeds, and sometimes kombu flakes are added in. Often times it is with more vinegar and soy sauce than I use. I have also seen it with green papaya, green mango, crab or octopus added in. You can make this up to an hour or so ahead of time for a stronger, more infused flavor. I usually forget to make it that early.
Once the quinoa is cooking and the cucumbers are prepped I get the salmon going. The salmon only takes 8 minutes to cook so it's the last thing I make before plating up the whole meal. I cut the salmon into 4 or 6 ounces pieces, check for bones and remove any I find with tweezers, rinse, pat dry and squeeze a little lemon juice on the fillets.
This recipe is something I have had in Hawaii many times with salmon and other fish, such as Ono or Mahi, and it is reminiscent of flavors you would find in a spicy tuna or spicy salmon roll as well as a poke bowl. Furikake is a seasoning consisting of dried fish, salt, toasted sesame seeds, thin strips of seaweed, usually kombu, sugar and sometimes MSG. It adds a bit of crunch we well as umami flavoring to many dishes. We love sprinkling it over rice, eggs, popcorn, fish. You name it. I find it online, at any well stocked Asian grocery store. It has become so popular that even Trader Joe's carries it. I was first introduced to it in Hawaii in my teens and have loved it ever since.
For basic furikake salmon it is just mayonnaise and furikake seasoning. I like to spice it up a bit. There are several levels of heat you can make with these if you like. A choose your own spice adventure. For this spicy furikake salmon recipe you can do one of several ways
Spread the mayo on, sprinkle

Shichimi Togarachi

spice then add the furikake. Togarachi is a popular Japanese chile spice blend that is often used in spicy tuna or spicy salmon rolls one would see at a sushi restaurant. If you love spicy tuna or spicy salmon rolls, you will love this spice blend. I keep a container of it in my spice cabinet at all times.

You can mix some prepared wasabi with the mayo, spread it on the salmon then top with the furikake. This is a very popular method of making this dish

You can also mix sriracha in with the mayo before spreading it on. This method I don't always do since I also make a mayo/sriracha sauce to drizzle over the top of the cooked salmon
Ready for the oven. This recipe seriously couldn't be easier. Preheat oven to 400 Deg F. Line a baking sheet with foil and place the salmon on the sheet. You could even prep the salmon with mayo, spice and furikake on the baking sheet to save even more time. I just did it on my fancy plates for these pics.
8 minutes at 400 Deg F. That's all it needs. Drizzle with the sriracha mayo sauce for even more spice. I serve this with some shredded red cabbage. I love the crunch along with the pickled cucumbers and carrots.
"Recipe"
Spicy Furikake Salmon with Quinoa and Quick Pickled Cucumbers
Wild copper river sockeye salmon Hawaiian style. Mayo and Furikake seasoning with your choice of spice make for a tasty, quick dinner served with quinoa, shredded red cabbage and quick pickled cucumbers.
Ingredients
For the Quinoa:

1 ½

cups

quinoa*

3

cups

chicken or vegetable broth/water

½

teaspoon

salt

if using all water
For the Pickles:
1-2

large Japanese/English/Persian cucumbers

washed and sliced. Peeled optional (3-4 cups sliced cucumbers total)

1

large carrot

peeled and shredded

2

tablespoon

seasoned rice wine vinegar

2

teaspoon

Tamari or soy sauce
For the Salmon:
2

lbs

wild Copper River sockeye or coho salmon

lemon wedges

Mayonnaise

Furikake seasoning**
Spices:
Prepared wasabi

Sriracha

Shichimi Togarashi spice***
Additional items :
⅓

cup

Mayonaise

2-3

teaspoon

sriracha

2

cups

shredded red cabbage

½

cup

diced scallion

lemon wedges
Instructions
1. Preheat Oven to 400 Deg F. Line a baking sheet with foil. Set aside. While the oven is preheating prepare the quinoa and cucumbers. 

2. For the quinoa  - rinse the quinoa for a few min under cool water in a strainer and let drain. Add it to a medium saucepan with the broth or water. Add salt if only using water. Bring to a boil then lower to a simmer. Place a lid on the pan and cook for 15 minutes or until all the liquid is absorbed. Remove from heat and slide the lid off just slightly to allow steam to escape. 

For the cucumbers - you can peel all the way, in strips or leave peels on. Wash the cucumbers then thinly slice. Peel and shred the carrots. Place into a bowl and add in the vinegar and tamari or soy sauce. Chill until ready to use. 

Cut salmon into 4-6 ounce pieces. Check for any bones and remove with tweezers, rinse then pat the fillets dry. Place the salmon fillets a few inches apart on the foil lined baking tray. Squeeze a little lemon juice over the top of the fillets. For less spicy salmon - spread about 2 teaspoons or so of mayo onto each fillet then generously sprinkle with the furikake seasoning, a tablespoon or so for each. 
To make these spicy there are several options:
1 - mix in some of the prepared wasabi with the mayonnaise before spreading over the salmon.

2 - mix the mayonnaise with sriracha then spread on the fillets.

3 - after you spread the mayonnaise sprinkle a half a teaspoon or so of the togarachi spice.

Choose any of these, then top with furikake. You can also use just the mayonnaise and furikake and serve the wasabi on the side or sprinkle with the togarachi after baking. 

Bake the salmon for 8 minutes. Remove from oven. Run a thin spatula under the salmon between the skin and the fillet to separate if you don't want to eat the skin. The skin isn't crispy in this recipe so I serve it without it.

Fluff the quinoa and divide amongst plates top with the salmon. Mix ⅓ a cup of mayonnaise with 2-3 teaspoon sriracha and drizzle over the baked salmon. Serve with shredded red cabbage, some of the quick pickled cucumber and carrots, a few teaspoons of diced scallion and a squeeze of lemon juice. 
Notes
*I highly suggest making the quinoa with broth. It has a much better flavor. Rinsing the quinoa is a must to rinse out any dust from the grains settling in the container/bag as well as take away the bitterness. I also suggest using broth for a better flavor. You can use any kind of quinoa you like. I happened to have white quinoa on hand. You can also serve with white or brown rice in place of the quinoa.
**Furikake has become increasingly popular. You can find it online ( I get mine at www.chefshop.com), Asian and international grocery stores and even Trader Joe's carries it now.
*** Shichimi Togarachi is a spicy Japanese chile seasoning blend and can be found various places online as well as well stocked Asian and international stores.
Spicy Salmon Furikake with quinoa and quick pickled cucumbers. A delicious and filling meal that is so easy to make!