Spicy Mango Sake Rum Cocktail. Hints of sweet, spicy, sour and tropical. My kind of drink.
Monday. First day of school for us. Summer is over. This calls for a cocktail. How about a Spicy Mango Sake Rum Cocktail made with Koloa Kaua'i Reserve Rum?
I had lots of time this summer to create new recipes for my blog since everyone was off for school. No summer school for my husband or kids so they had lots of free time and I had time to create and test. Lots of recipe testing happened. I will be making and posting a lot of recipes the rest of this year since everything was tested thoroughly this summer. Especially cocktails.
I LOVE sake in cocktails. First time I had it was in a mojito at a sushi place in Denver, Colorado years and years ago. It was a surprising addition and it worked so well. I am not a big fan of drinking hot sake on its own, mostly because I am not a huge fan of hot cocktails ( aside from adding in liquor to coffee or hot chocolate in winter), but I love sake in cold cocktails.
I have had it a few more times in various cocktails and when I ordered a sake mojito at a local Thai place earlier this summer I knew I wanted to make a cocktail with it at home.
I tinkered around with ingredients until I came up with this spicy mango sake rum cocktail.
I LOVE Koloa Kaua'i reserve rum. It's a wonderful aged sugar cane based rum that is excellent on its own over ice or in cocktails.
The flavors in this cocktail enhance the flavor of this rum and don't over power it at all. I love making my own syrup, seasonings for rimming the glasses and this time I decided to sprinkle the seasoning I made on top of the ice.
It slowly changes the color and the flavor of the drink as it makes its way into the cocktail as the ice melts.
I have come to realize that I have a specific aesthetic to all the cocktails I make. They are almost all shades of yellow-orange-pink.
I don't mean for them to all look like this but I suppose when I use tropical flavors like mango and pineapple and I have a fondness for using hibiscus in salts and syrups, they tend to all look alike. However, they don't all taste alike.
The cocktail starts out a gorgeous yellow. When testing this drink I had gone back and forth with using a hibiscus simple syrup, a passion fruit syrup and rich simple syrup. I landed on the third since the first one looked too much like my other drinks and I decided I didn't want to add in another flavor with the passionfruit. I didn't think about the hibiscus salt slowly changing the drink's color. I guess all my drinks are meant to look the same. But they don't all taste the same!
This cocktail here has hints of sweet and sour, from mango and lemon, spicy from Hawaiian chili water and Sichimi Togarachi spice used in the Hibiscus salt I made for this drink, as well as a touch of bitter from my fave - Tiki bitters. This cocktail has it all.
"Recipe"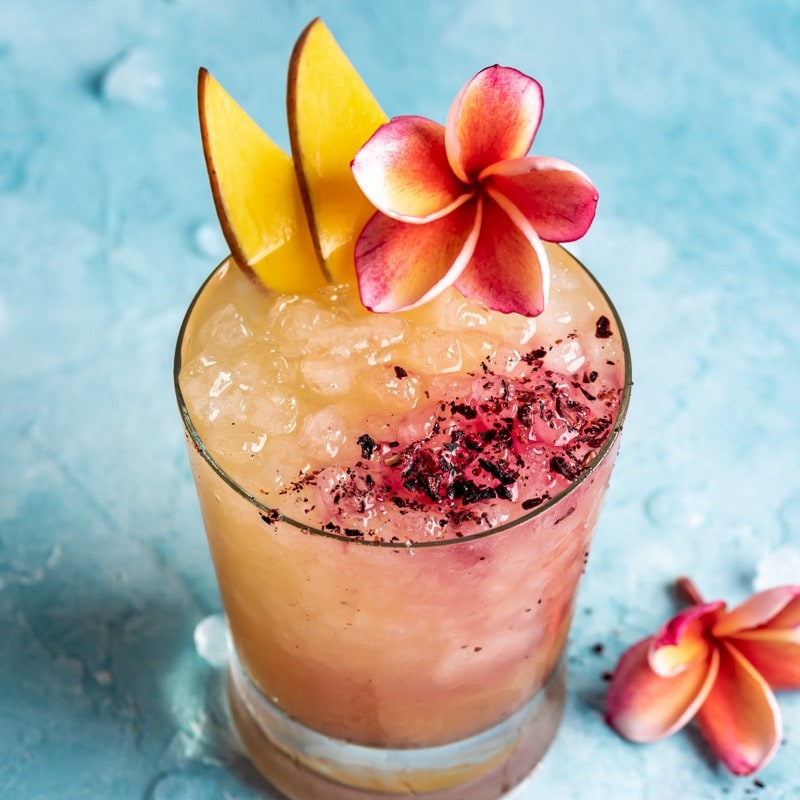 Spicy Mango Sake Rum Cocktail
Spicy, sour, sweet, bitter and tropical. What I love in a cocktail. Made with Koloa Kauau'i Reserve Rum
Ingredients
For one cocktail:
1.5

oz

Koloa Kaua'i Reserve Rum

1

oz

sake

I used Hakutsuru sake

.5 oz mango liqueur

.25 oz fresh lemon juice

.25 oz Hawaiian chili water

2

ounces

mango juice

bar spoon

about a teaspoon rich simple syrup*

Few dashes Tiki Bitters

For the Hibiscus Chili seasoning:

¼

C

dried hibiscus flowers**

2

tablespoon

flaky sea salt

Maldon or Falk salt

1 ½

tablespoon

coarse sugar

1-2

teaspoon

Sichimi Togarachi seasoning

Japanese 7 spice seasoning
Instructions
To make the hibiscus chili salt:
Combine all the ingredients in a small food processor or clean coffee grinder and blend until the hibiscus flowers are very small pieces. Keep in an air tight container. 

Combine the cocktail ingredients to a cocktail shaker and add ice. Fill a large rocks glass with pebble ice. Shake the cocktail well then strain into the prepared rocks glass. Garnish with a hefty pinch of the Hibiscus chili seasoning and two thin mango slices. 
Notes
* Rich simple syrup is a 2:1 ratio of sugar to water. Heat on a stove until sugar is dissolved. Keep in an airtight container in refrigerator. Should last about 2 weeks.
** You can find dried hibiscus flowers in seasoning sections of well stocked grocery stores, international stores or in bulk sections of Mexican grocery stores. Make sure they are dried and not just dehydrated where they are still chewy. You want the dried kind so they crumble when blended.
Sweet. Sour. Spicy. Bitter. Tropical. Spicy Mango Sake Rum Cocktail. Yum. Cheers!