Maple Cinnamon Sweet Potato Apple Bake with Pecans. A healthier twist to traditional holiday sweet potato casserole.
We will be going to my parents house for like the first time in 15 years for this holiday. My husband and I always end up working on Thanksgiving, the life of hospital employees, either working or on call for most holidays. I will be helping make a few dishes and this is my contribution for a less sugary sweet potato dish.
I figured one healthier side dish would be good to have considering all the desserts that will be there, that I may or may not be helping making some of those as well.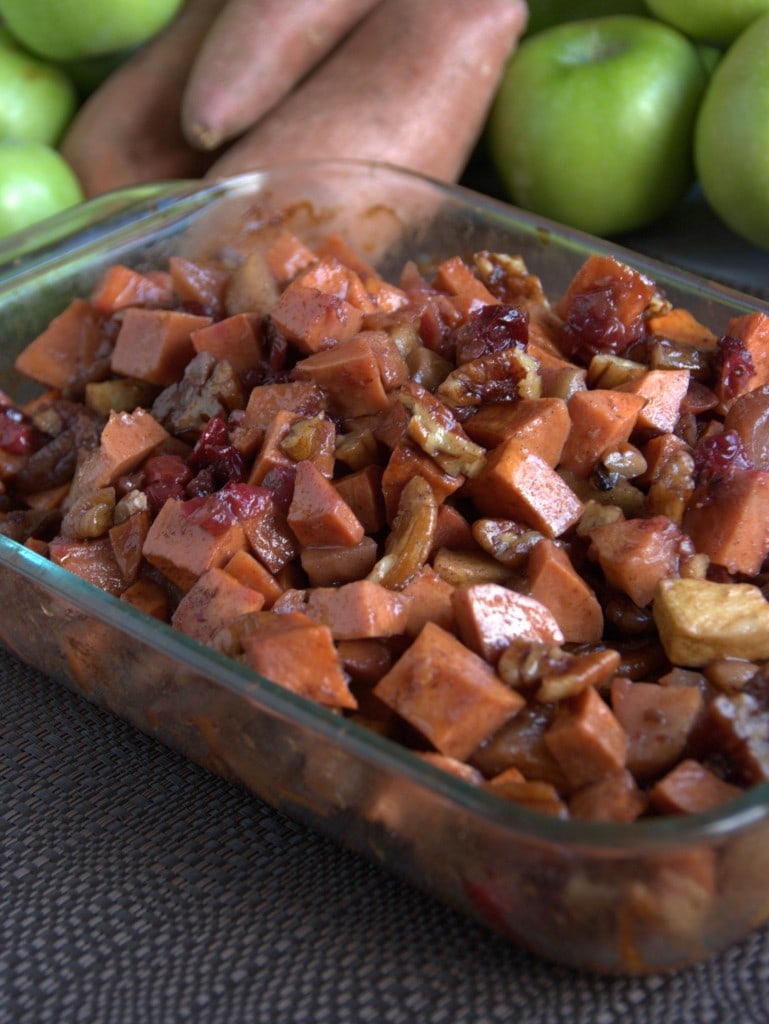 What I love about this dish is that is is relatively easy to prepare, bakes all in one dish and keeps really well for leftovers. I like to spoon some over oatmeal for breakfasts.
What ingredients are in Maple Cinnamon Sweet Potato Apple Bake with Pecans:
Sweet potatoes - I use the orange kind I prefer their flavor with apples
Apples - any good baking apple works from Granny Smith to Gala, Fuji or Pink Lady
Pecans - I use roasted for extra crunch
Dried cranberries - they plump up when baked. You can also use fresh, I would add a little more maple syrup to offset the tartness of fresh
Coconut oil - this helps roast the potatoes and apples nicely, can also use a neutral vegetable oil
Maple syrup- I use A or B grade, whichever I have on hand. Make sure it is pure maple syrup and not pancake syrup with other ingredients
Spices - cinnamon, nutmeg, allspice
Pinch of salt - salt to offset the sweetness and round out the flavor of the dish
The sweet potatoes get baked in the pan first since they take longer to bake than the apples. You don't want to end up with mushy apples before the sweet potatoes are finished baking.
After thirty minutes of baking the rest of the ingredients get added in with the pecans being added in during the last few minutes of baking to stay crunchy.
This maple sweet potato and apple bake is really easy to make and the house smelled amazing while it was baking.
And you won't feel guilty for eating half a pie later on in the day when you know at least one of the side dishes at the big meal next Thursday was healthy. At least I know I wont!!
"Recipe"
Maple Cinnamon Baked Sweet Potatoes And Apples
Ingredients
3

granny smith apples

peeled, cored and chopped into ½" pieces

4

small orange sweet potatoes

peeled and chopped into ½'" pieces (about 4 cups)

1

cup

dried cranberries

could also use fresh

⅓

cup

coconut oil

melted

¼

cup

plus 2 tablespoon pure maple syrup

room temperature

2-3

teaspoons

ground cinnamon

divided

1

teaspoon

ground nutmeg

1

teaspoon

allspice

¼

teaspoon

kosher salt

¾

cup

chopped toasted pecans
Instructions
Preheat the oven to 375 deg F. Set out a 9x13 inch baking dish

Mix together the sweet potatoes with half the coconut oil and place into the baking dish. Bake for 30 minutes.

Mix together the apples, cranberries, remaining coconut oil, maple syrup, spices and salt. Add this to the sweet potatoes in the baking dish.

Sprinkle the other teaspoon of cinnamon over the top. Bake for another 20 minutes stirring occasionally.

Remove the pan from the oven and stir in the pecans being careful since the pan is hot. Bake another 10 min or until sweet potatoes are fork tender. Remove from oven and keep warm until ready to serve.
Notes
The sweet potatoes take longer to bake than the apples do so you bake these first then add in the rest of the ingredients. I like to add in the pecans last to keep them crunchy.
Maple Cinnamon Sweet Potato Apple Bake with Pecans. This is such a good side dish for any holiday meal or throughout the fall and winter. Its cozy and delicious. You can use any apples you like, if you prefer walnuts to pecans you can make that swap too.
Recipe pairing ideas to go with this dish for a complete Holiday meal:
Pear Persimmon Salad with Maple Apple Cider Vinaigrette