Inspired by a recent trip to Southern California, these sweet potato breakfast bowls have it all - roasted sweet potatoes, beans, sautéed summer squashes and mushrooms, pepper jack cheese, eggs and homemade salsa. Topped with avocado or homemade guacamole and you have a hearty and healthy breakfast to give you enough energy for a full day of adventuring.
This page contains affiliate links. Affiliate links support Pineapple and Coconut at no additional cost to you. If you choose to make a purchase via these links, I earn a small commission to help keep this blog running and it is much appreciated. I am an Amazon and Adorama affiliate.
We went to San Clemente, Ca for our 15th wedding anniversary this past summer. I love San Clemente, it is my favorite beach town in Southern California, and we go there as often as we can. I spent a lot of time there as a kid, having grown up in So Cal. It is a very easy drive from Las Vegas and it has some of our favorite restaurants.
We decided to go out to breakfast one morning while there and after a quick Yelp search I came across Cafe Rae, a cute little breakfast and lunch only restaurant with a huge garden next door where they grow produce for their menu items.
Jump to:
Cafe Rae has a wide variety of Southern California style items from bowls to burritos and omelettes, and are known for their stuffed French toast and plate sized pancakes. I was bad food blogger and didn't take any pics of all the food we ordered. Which I should have, since the blackberry stuffed French toast and the blueberry poppyseed lemon curd pancakes my kids got looked and tasted incredible.
I might have to recreate those as well. I got the Mexican breakfast bowl and I knew I wanted to recreate it when we got back home with a few of my own modifications.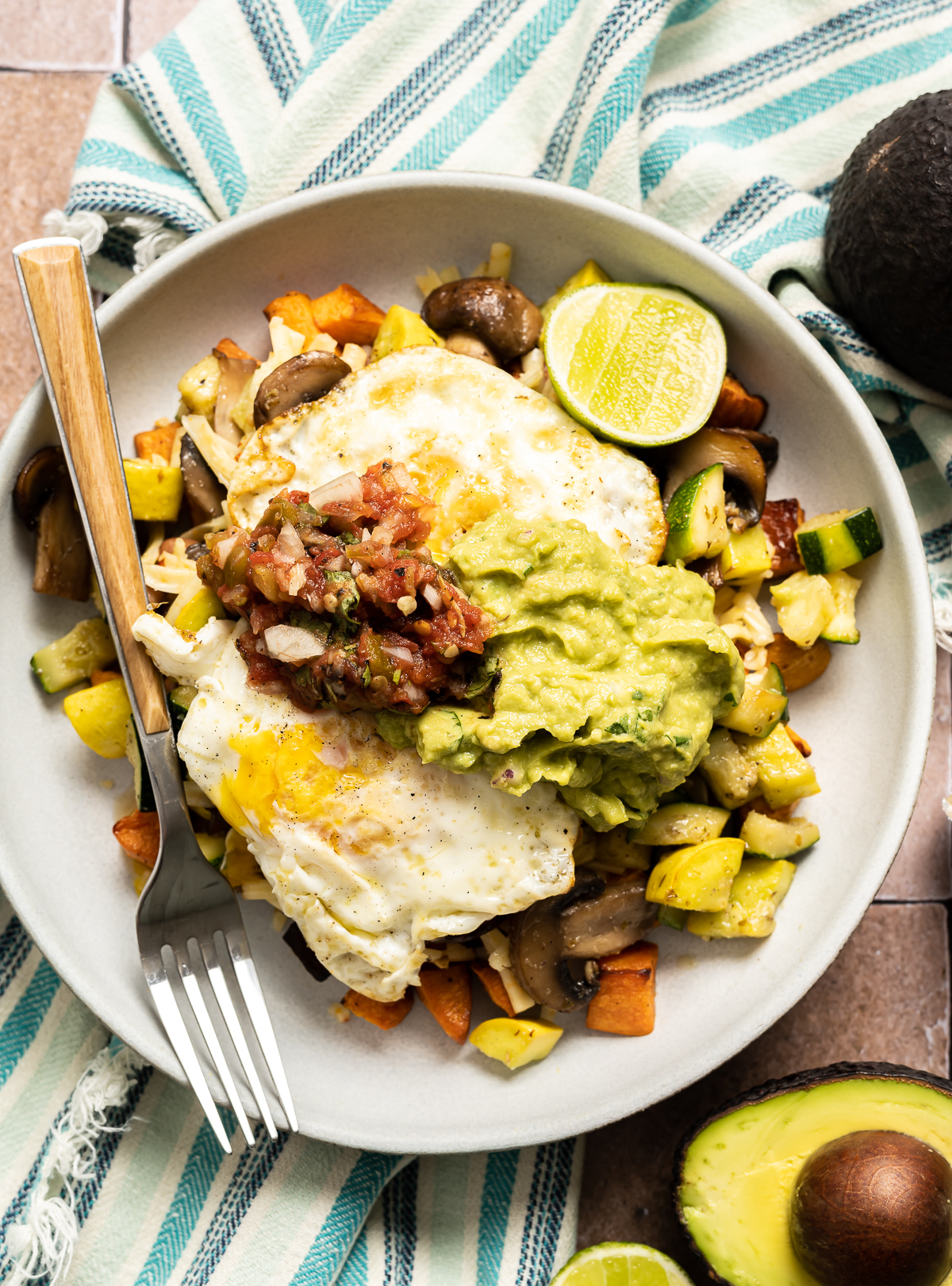 I love both sweet and savory breakfasts, depending on what I am doing later that day I will often choose a savory breakfast to keep me energized. I love anything with eggs, potatoes, avocado and salsa and even veggies. This breakfast bowl fits the bill perfectly.
Ingredients needed:
Sweet potato - peeled and diced into one inch (2cm) pieces
Pinto Beans - I used canned to save time
Summer squash and zucchini -diced or sliced
Mushrooms - I used white mushrooms, you can use any kind you like
Cheese - I used pepper jack for a little kick of spice, use any melty cheese you like
Eggs - I made mine fried, you can make them any way you like
Salsa - I made a roasted jalapeño salsa to go with these bowls, you can use any salsa you like
How to make these sweet potato breakfast bowls:
Prep everything ahead of time - this does take a little bit longer than a typical breakfast but it is worth it.
Get the sweet potatoes roasting - toss the diced sweet potato in a bowl with the oil and seasonings then place them on a sheet pan with parchment paper, pop in the oven and roast while you prep and cook the rest of the ingredients.
Prep the zucchini and mushrooms, heat up the beans, shred the cheese, get the eggs ready to fry ( or scramble - or however you like your eggs).
If you are making homemade guacamole or a salsa do this now as well OR make a day ahead of time and keep in deli containers. Guacamole stays nice and fresh and green in deli containers.
To assemble these breakfast bowls:
Start with the fresh out of the oven potatoes, layer on some of the beans and the cheese. The cheese will melt as soon as other items are added.
Next comes the sautéed mushrooms, zucchini and squash.
I go with a healthy portion of the veg to really fill me up, plus they taste so good!
Next top with your eggs, avocado ( either in slices or guacamole) and salsa.
Serve with some slices of lime and your favorite bottled hot sauce.
Cafe Rae serves their breakfast bowls with hot tortillas, to take some of the bowl and make a little taco with them. Optional of course. This is a BIG meal - you can make it as much or as little as you like depending on what serving size you like.
These sweet potato breakfast bowls are also great for lunch or dinner, left overs heat up nicely. Just make fresh eggs with them before serving.
A few notes about this breakfast bowl recipe:
This recipe is a pretty loose recipe. No specific rules. Roast sweet potatoes, sauté veggies, heat up beans, shred cheese, cook eggs.
You can make the recipe how you like, cooking in whatever order you like depending on time.
Sweet potatoes take the longest to cook so I get everything else done once they are in the oven.
Use store bought salsa and guacamole to save time. Or make a homemade salsa a day ahead of time if you have a recipe you like.
You can also leave out any ingredient you don't care for. Don't like mushrooms? No big deal to leave them out.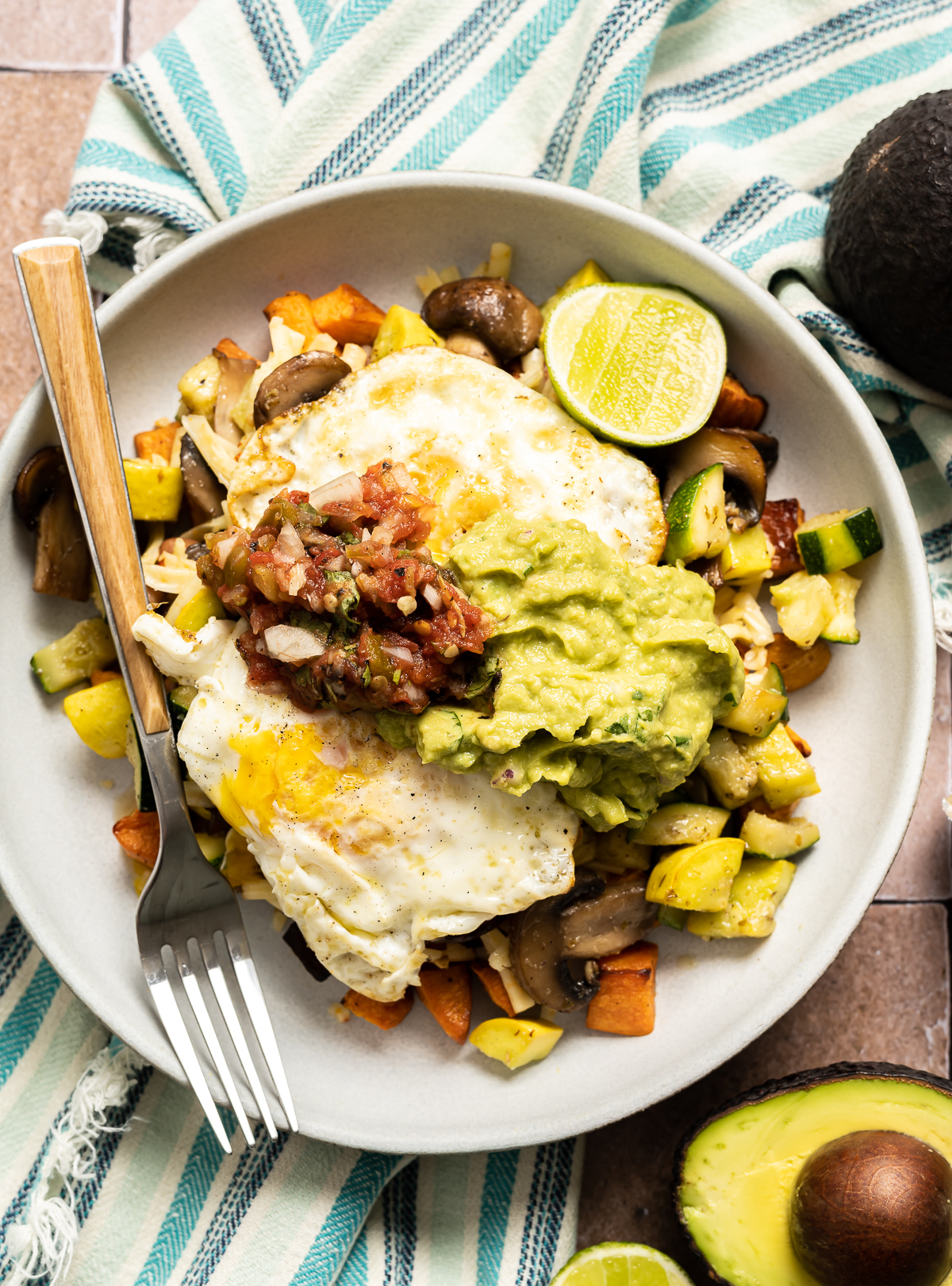 Sweet Potato Breakfast Bowl Recipe:
California Sweet Potato Breakfast Bowls
California inspired sweet potato breakfast bowls loaded with sauteed veggies, beans, eggs and topped with salsa and avocado. Healthy and filling.
Equipment
1 baking sheet

1 cast iron pan

3-4 mixing bowls

Or smaller bowls for individual ingredients
Ingredients
High heat oil for roasting potatoes

sautéing vegetables and mushrooms. Butter or oil for eggs.

2

large sweet potatoes

900g, peeled and diced into one inch pieces (2 cm)

1

teaspoon

each kosher salt

ground black pepper

One 15 ounce

425 g can of pinto beans (not refried)

½

teaspoon

each: ground cumin

kosher salt (spices for the beans)

½

teaspoon

ground black pepper

2

each zucchini and yellow summer squash

washed, ends trimmed off, sliced

1

teaspoon

each: kosher salt

oregano, onion powder

½

teaspoon

black pepper

8-10

ounces

mushrooms

I used white button, you can use any kind you like washed and sliced

4

ounces

pepper jack cheese

or any melty cheese you like shredded (117 g)

8

large eggs

Salsa

Avocado or guacamole

Tortillas

Hot Sauce

Lime slices
Instructions
Preheat oven to 400 Deg f. Toss the diced sweet potatoes in a bowl with a tablespoon or so of oil, salt and black pepper. Roast for 25-30 minutes, stirring occasionally until roasted and starting to get crispy.

While the potatoes are roasting prep and cook the zucchini, squash and mushrooms. You can do this in one pan or cook the mushrooms in a separate pan. I will cook the squash and zucchini first for a 5-8 minutes, then remove to a bowl, cook the mushrooms in same pan.

Either heat up the beans in a microwave ( beans and liquid) or in a pan on the stove until hot, add in the spices and stir. Keep warm until ready to use. Strain out the liquid before serving.

Once the potatoes, vegetables and mushrooms are cooked start assembling the bowls and heat a pan for the eggs

Layer the bowls starting with the beans and cheese then the sweet potatoes. Next layer is the zucchini and squash along with the mushrooms.

Cook your eggs however you like and add them to the top of the bowl. Top with avocado slices, a spoonful or so of salsa and add some lime wedges.

Serve with hot sauce and warm tortillas if you like. I like using small taco sized flour tortillas.