Ube and coconut make up the flavors of this yummy sandwich cookie. Ube sandwich cookies filled with coconut frosting and a dollop of ube halaya jam. And I got fancy with a tropical embossed rolling pin for the cookies. Pretty and tasty!
This page contains affiliate links. Affiliate links support Pineapple and Coconut at no additional cost to you. If you choose to make a purchase via these links, I earn a small commission to help keep this blog running and it is much appreciated. I am an Amazon and Adorama affiliate.
I love making cookies with interesting flavors and I love the pandan coconut cookies that I made during Christmas time so much I wanted to make them in an ube version.
I made these pretty close to the pandan cookies, even using an embossed rolling pin - this time with a tropical flower and leaf pattern. I got the embossed rolling pin from Carving Rolling Pin Seller on Etsy.
Jump to:
What is Ube?
Ube is a purple tuber ( ube means tuber in Tagalog) that comes from the Philippines. It is different from the purple sweet potatoes we see more commonly in stores here ( Stokes, Okinawan). It is sweeter, creamier and can be used in a variety of applications from sweet to savory but is more often seen in sweets.
This ube cookie recipe uses ube in the form of powder and extract. You can find both ube powder and extract in well stocked international or Asian grocery stores that carry Filipino foods as well as several different online merchants.
What is Ube Halaya?
Ube Halaya is a pudding like ube jam. Also known as purple yam jam. It has a little bit thicker consistency than a traditional fruit or berry jam or jelly, more like peanut butter consistency. It has a rich, deep purple color from the ube and has hints of vanilla and coconut since coconut is used to make it. You can buy this online, at any well stocked international grocery or Asian grocery store in jars. If you have access to fresh ube ( harder to find in the US) you can make your own homemade ube halaya.
Ube sandwich cookie ingredients:
Confectioners sugar ( aka powdered sugar), important to whisk/sift to get out any lumps
Butter - I use unsalted butter.
All purpose flour - I use 130 grams of all purpose flour equals a cup
Egg yolks - save the whites for another recipe such as meringues
Salt - I prefer Diamond Kosher
Ube Powder - You can find this in any well stocked international or Asian groceries that carry Filipino foods, and can also be found online.
Ube extract - I like Butterfly brand
Filling - Coconut buttercream (same one as my Coconut Pandan Cookies) which uses unsweetened coconut cream, coconut extract and sweetened coconut cream - the kind used in cocktails.
Ube Halaya jam - found in well stocked international or grocery stores, also online.
How to make embossed cookies:
Since these are no ordinary roll out cookies, they take a few extra steps with embossing and making sure the embossed design doesn't disappear during baking.
Chill, chill, chill is the name of the game. I will roll out the dough between sheets of wax paper and place on a baking sheet to chill until firm enough to emboss without the dough sticking to the embossing roller.
Brush flour over the embossing roller, not the dough. I have tried both ways and have had better success with just brushing the rolling pin.
Chill after embossing, before cutting out shapes
Cut out shapes and chill again before carefully lifting out the cut shapes with a thin spatula and placing on baking sheet to bake.
If you do that step quickly enough you can bake right away, if not chill again
For the chilling I am talking about like 2-3 minutes in the freezer each time. I always pop in the freezer to make the chilling steps faster. If you don't have the freezer space you can chill in the fridge and it will take longer that way. I always try to make space before I start making cookies that require chilling.
Pro tip:
I wanted to show a picture of how tricky it is to roll out with the embossing pin IF you don't chill the rolled out dough first and don't brush flour all over the embossing pin. If dough sticks, gently remove it with a toothpick being careful not to scrape the embossing pin.
Of course you can use just a plain rolling pin, it will be less steps and less fussy. I don't mind fussy when the result is so pretty.
It is important to roll out the dough between two pieces of wax paper first, using flour to roll out every time will only add more flour to the dough and make it tough and crumbly. It is already a delicate dough to begin with so adding flour each time it is rolled out will not result in a tender cookie.
Flour is lightly brushed onto the embossing pin, I use a small pastry brush for this step and I make sure there is no excess. Once embossed I chill the dough again and then brush the flour off the embossed dough to get rid of excess.
After cutting the dough into disks, if there is any more flour left, I will brush off again but this isn't as necessary since this dough isn't getting rerolled again.
Ube cookie questions:
Can I make the dough ahead of time?
Yes since it needs to be chilled before rolling. The dough is made then split in two before forming two discs, wrapped in plastic wrap then chilled. You can even freeze the dough then thaw until soft enough to roll.
What does ube taste like?
Ube has a unique flavor, a nutty flavor, almost like a hint of coconut without any coconut in it and has a hint of vanilla. Ube extract is used in these cookies so the flavor is a bit more concentrated.
Is ube the same as purple sweet potato?
No. They are often confused for one another but ube is a yam and purple sweet potato ( such as Stokes and Okinawan) are sweet potatoes. They can be interchanged but since this recipe doesn't call for whole fresh ube it doesn't matter.
How do you store ube cookies?
I keep the ube sandwich cookies in an airtight container in my freezer. This keeps them the freshest the longest. Because they are sandwiched with buttercream and jam they will get pretty soft at room temperature. I
Making the sandwich cookies:
Once the ube cookies are baked you can leave them at room temperature if filling and sandwiching the same day. If not, go ahead and keep then in an airtight container and pop in the freezer until ready to assemble.
Make the coconut buttercream and have the ube halaya jam ready to go. You can use a pastry piping bag to pipe a circle of of the buttercream around the edge of the non-embossed side of one cookie, you want to leave a space in the middle for the jam.
Spoon in about a half a teaspoon or so of the ube halaya then sandwich with another cookie half.
Once the cookies are all assembled chill until set and keep chilled in refrigerator or in the freezer until ready to serve. These do get pretty soft if out at room temperature for several days.
Weighing ingredients Vs using cups:
I use my food scale and weigh out ingredients in grams because this is the most accurate way to get the best quality baked goods. Cups aren't accurate because not only are all cups not the same the sizes vary from brand to brand as well as from different countries. I have done tests with different brands of measuring cups and they all came out with different weights after I did the spoon and level as well as scoop method and then weighed in grams.
Baking is a science and science needs accuracy. Weighing is accurate and precise. Not to mention a lot easier. Another issue with cups is that I have no control over how people use measuring cups to measure dry ingredients especially flour. You could pack in way too much which would result in a sub-par baked good. Too much flour could throw everything off. Same with not enough. Not to mention also some ingredients are difficult to measure in cups such as nuts, dried fruit, chocolate etc. This is why weighing in grams is the most accurate.
I also use grams for most liquid measure since 100 grams equals 100 ml of water. Smaller amounts of items measured in teaspoons I usually leave as teaspoons, tablespoons are sometimes listed in grams as well but for the most part the different tablespoons I have used have all resulted in the same amount. Aside from cute, decorative ceramic tablespoons and teaspoons are never accurate. Those are better as decoration than for being used for baking.
Similar recipes you may like:
Ube sandwich cookies recipe: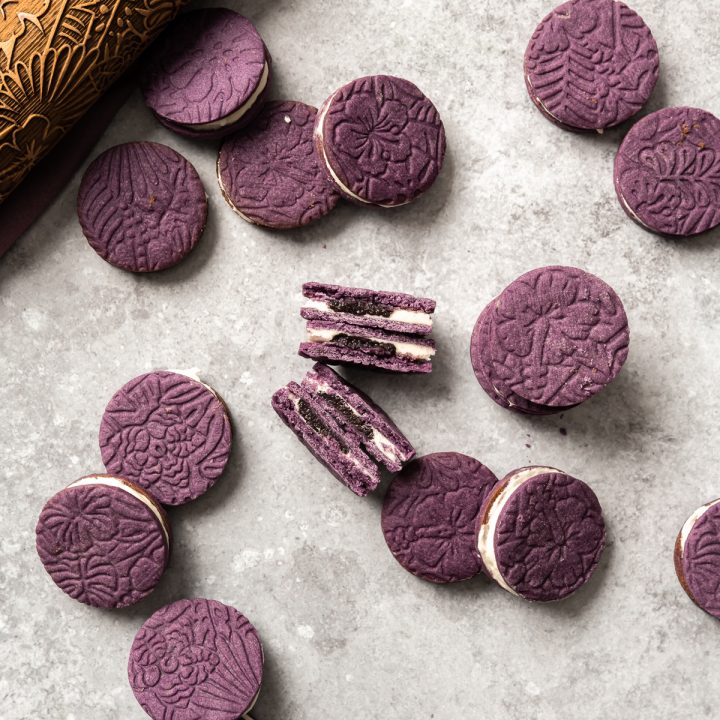 Ube Sandwich Cookies with Coconut Frosting and Ube Halaya Jam
Ingredients
For the cookies:
360

g

all-purpose flour

¼

teaspoon

kosher salt

32

g

ube powder

120

g

confectioners sugar

powdered sugar

240

g

unsalted butter

room temperature

2

yolks from large eggs

save the whites for another recipe

½

teaspoon

ube extract
For the coconut buttercream:
113

g

unsalted butter

room temperature

260

g

confectioners sugar

powdered

Pinch

kosher salt

3

Tablespoons

unsweetened coconut cream

1

teaspoon

coconut extract

2

Tablespoons

sweetened coconut cream
Instructions
Set out two baking sheets and line one with parchment paper, have parchment paper ready for the other. Cut a few long pieces of wax paper for rolling out the cookies.

Get a medium sized bowl and weigh the flour into it then whisk in the salt and ube powder and set aside

Using a large mixing bowl and a hand mixer or a stand mixer, cream the butter and sugar together until light and fluffy, scraping down the sides when needed. Add in the egg yolks one at time, mixing well between additions, again scraping down the sides of the bowl when needed.

Add in the ube extract and mix well then add in the flour mixture and mix until the dough is evenly mixed and colored.

Divide the dough into to pieces then shape into disks and wrap well with plastic wrap then place in a resealable bag. Chill for at least 4 hours.

Preheat oven to 350 Deg F ( 160C) and set out a couple baking sheets and line with parchment paper.

Working with one disc at a time carefully roll out between two sheets of wax paper, do not flour the wax paper or the dough. You want the dough rolled out to between ⅛th and ¼th of an inch (3-6 mm).

Transfer the rolled out dough still on the wax paper to a baking sheet and chill for about 5 minutes until firm.

If using an embossing roller, dust the roller with flour using a pastry brush. Transfer the rolled out dough from the baking tray to a flat surface ( kitchen counter). Take the embossing rolling pin and press down into the dough and roll away from you. Do not roll back if you missed any of the dough. You want to press down firm enough to emboss the dough but not so firm that it sticks to the roller. If it does stick, gently remove the stuck dough with a toothpick, reddest the roller and start rolling again from where you stopped, not from the beginning again. This might take a time or two to get the hang of it.

Carefully transfer the embossed dough back to the baking sheet and chill again until firm. Each chilling step just takes a few minutes.

Once again transfer the chilled, embossed dough to the kitchen counter and cut out your cookies with a 2 inch circular cutter, dipping the cutter in flour between each cookie so the dough doesn't stick to it. Using a thin spatula carefully transfer the cut out cookies to a baking sheet lined with parchment paper.

And back to chilling again before baking since the dough thaws pretty quickly due to being rolled out somewhat thin. Just a few more minutes until firm.

Bake the chilled cookies for 8-9 minutes until looking dry and set, you don't want them to brown.

Cool on the baking sheet for 5 minutes then carefully transfer to a wire cooling rack to cool completely. Since these are more on the fragile side for cookies, I suggest to freeze them before filling.
For the frosting:
Combine all the ingredients in a large bowl and mix until smooth using a hand mixer or this can be done in a stand mixer.

Transfer to a pastry bag and cut off the tip so you have a big enough opening to pipe a circle around the edges.

Spread a teeny bit of the frosting on the bottom of one cookie, then pipe frosting around the edge to make a little well for the jam. Spoon in about a half a teaspoon or so of jam then top with another cookie. Repeat until all cookies are filled.

Keep cookies in an airtight container in the freezer. These soften up with the filling and will be very soft and crumbly at room temperature.
Notes
If it's your first time making this recipe then make sure you read all of the information in the main post as it includes lots of additional tips, as well as the answers to some common questions.
If you have any further questions then do let me know in the comments and or email me

[email protected]

and I'll do my best to help.
If you choose to make substitutions to the recipe that I have not tested yet please do so at your own risk. I cannot guarantee the same results if you change a lot of the ingredients or method. However, if any of your changes are successful I would love to hear about it and will add to my recipe notes for other readers to try as well.