Artichoke Meyer Lemon Quinoa Salad with Arugula and Crispy Chickpeas. I love this salad and the Meyer lemon vinaigrette that goes with it.
I love salads with a mixture of texture as well as flavors, a mixture of greens as well as grains, some salty cheese, fresh herbs and a little crunch. This quinoa salad has it all plus a tangy Meyer lemon vinaigrette. I make homemade vinaigrettes all the time, and many lemon based ones this time of year because of my prolific Meyer lemon tree.
Whatever I can find for aromatics, spices, herbs, some vinegar or lemon juice and high quality olive oil, it gets blitzed together and we will use it for a few days for salads. Sometimes I will add a little sweetener such as honey or maple syrup.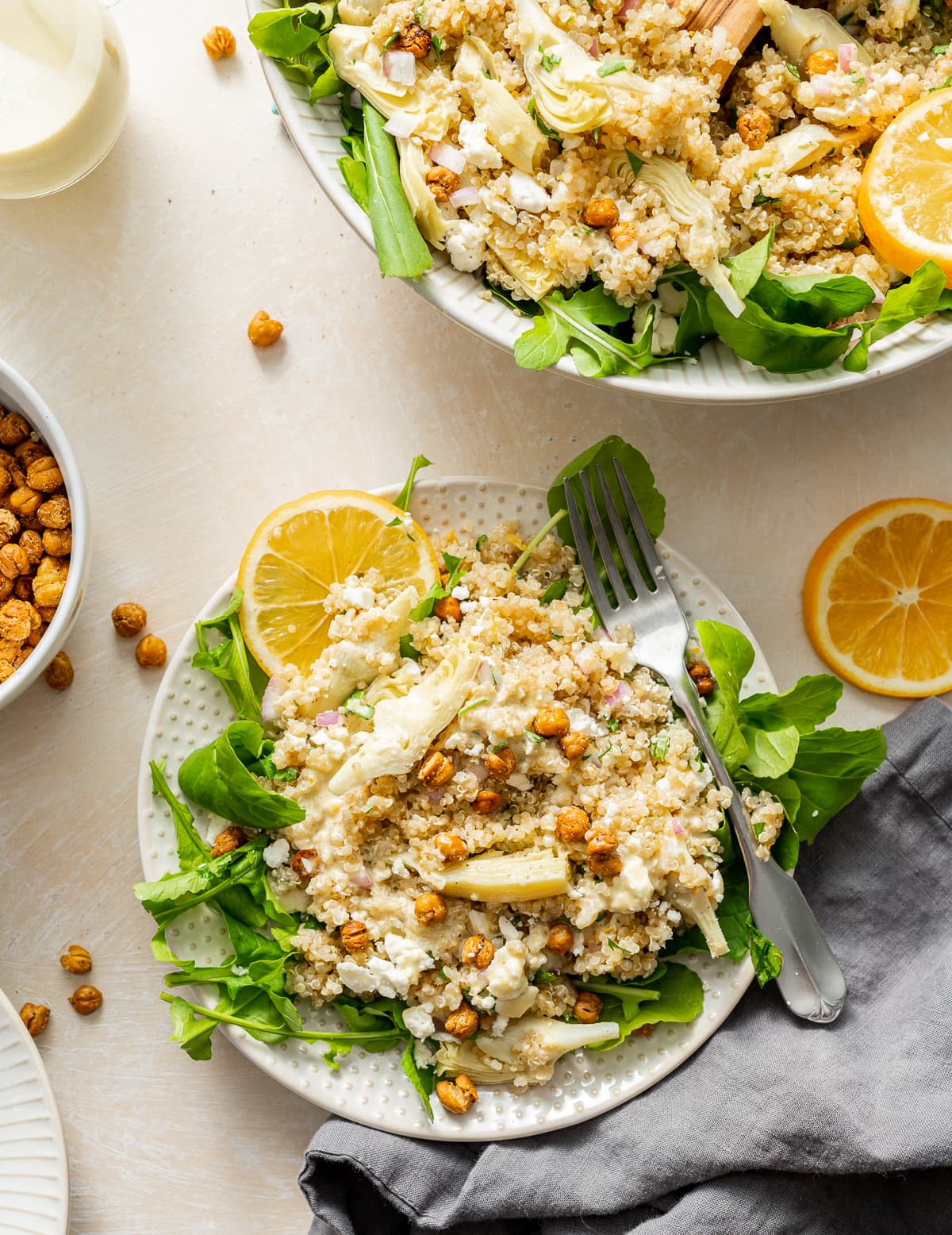 This quinoa salad recipe is another pantry staple meal that I make often. I always have quinoa, artichoke hearts and chickpeas in my pantry. I usually make a quick homemade hummus with the chickpeas or add them to soups, artichoke hearts are a must for salads and pastas and quinoa is a great alternative grain that is hearty and healthy.
I love to make a grain salad and add to greens, this time fresh arugula from my garden.
I made the chickpeas the day before making this salad. I originally intended to just have them for a snack for my kids, and then decided last minute to add to this salad. So needless to say half the chickpeas had already been eaten and there are no step-by-step images of the process.
The process for making crispy chickpeas is quite easy, the longest part is prepping them to remove the skins. You can roast them with the skins on but they won't be as crisp. I multi task and alternate skinning the chickpeas while the quinoa is soaking then, rinsing, cooking and then cooling.
I spread the quinoa out in a large tray to cool faster and I add the lemon zest and parsley to it and stir together before scraping into a mixing bowl to add the rest of the salad ingredients.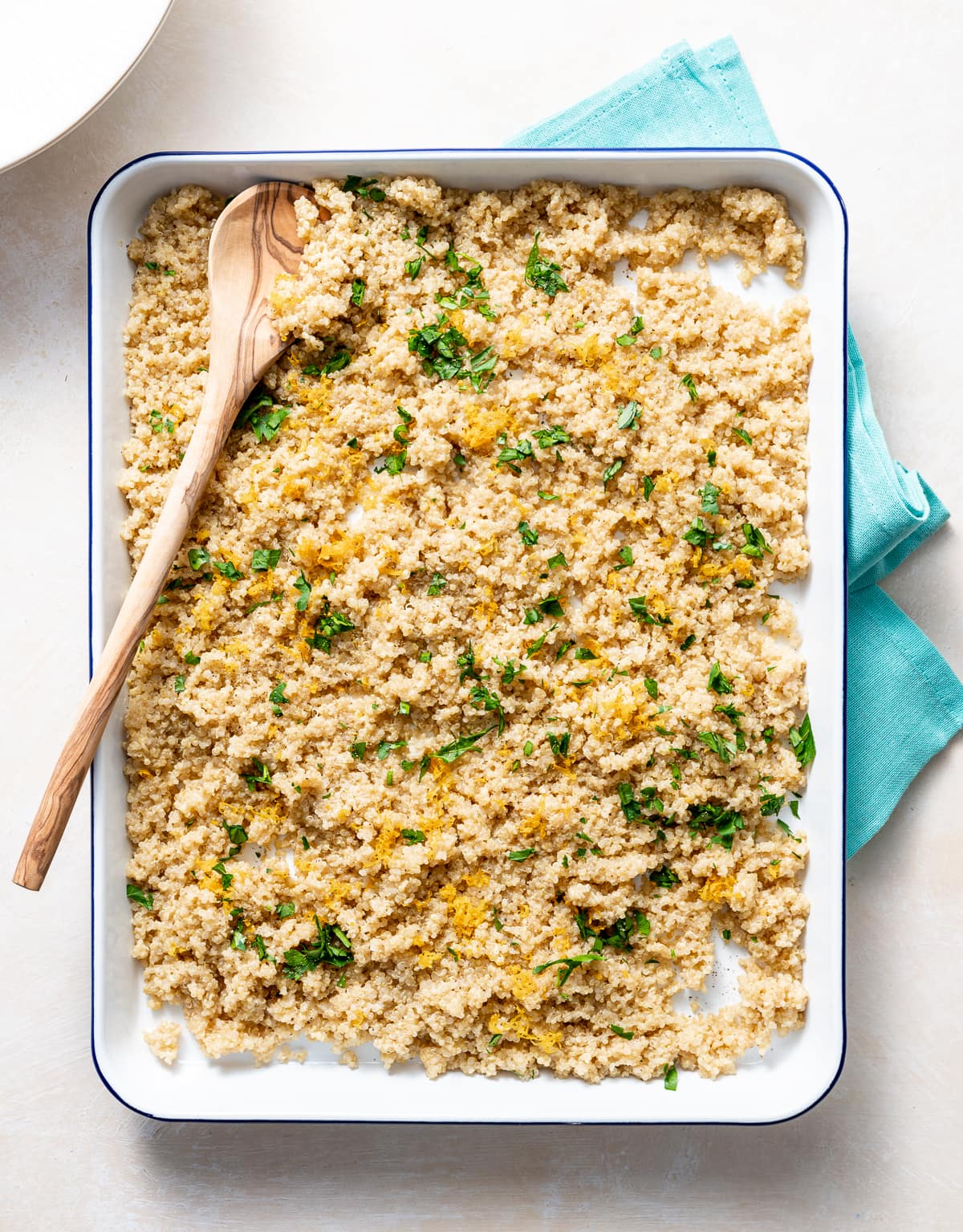 This Meyer lemon quinoa salad is pretty simple as far as salads go, with the most time spent rinsing and then cooling the quinoa post cooking and prepping and roasting the chickpeas. If you want to save time you can omit the chickpeas or buy pre-roasted ones from the store. My feelings won't get hurt.
The crispy chickpeas do add a nice texture to the salad. I think of them as grown up version of corn nuts. I loved corn nuts when I was a kid. SO hard to chew. Amazing I still have teeth. Ha!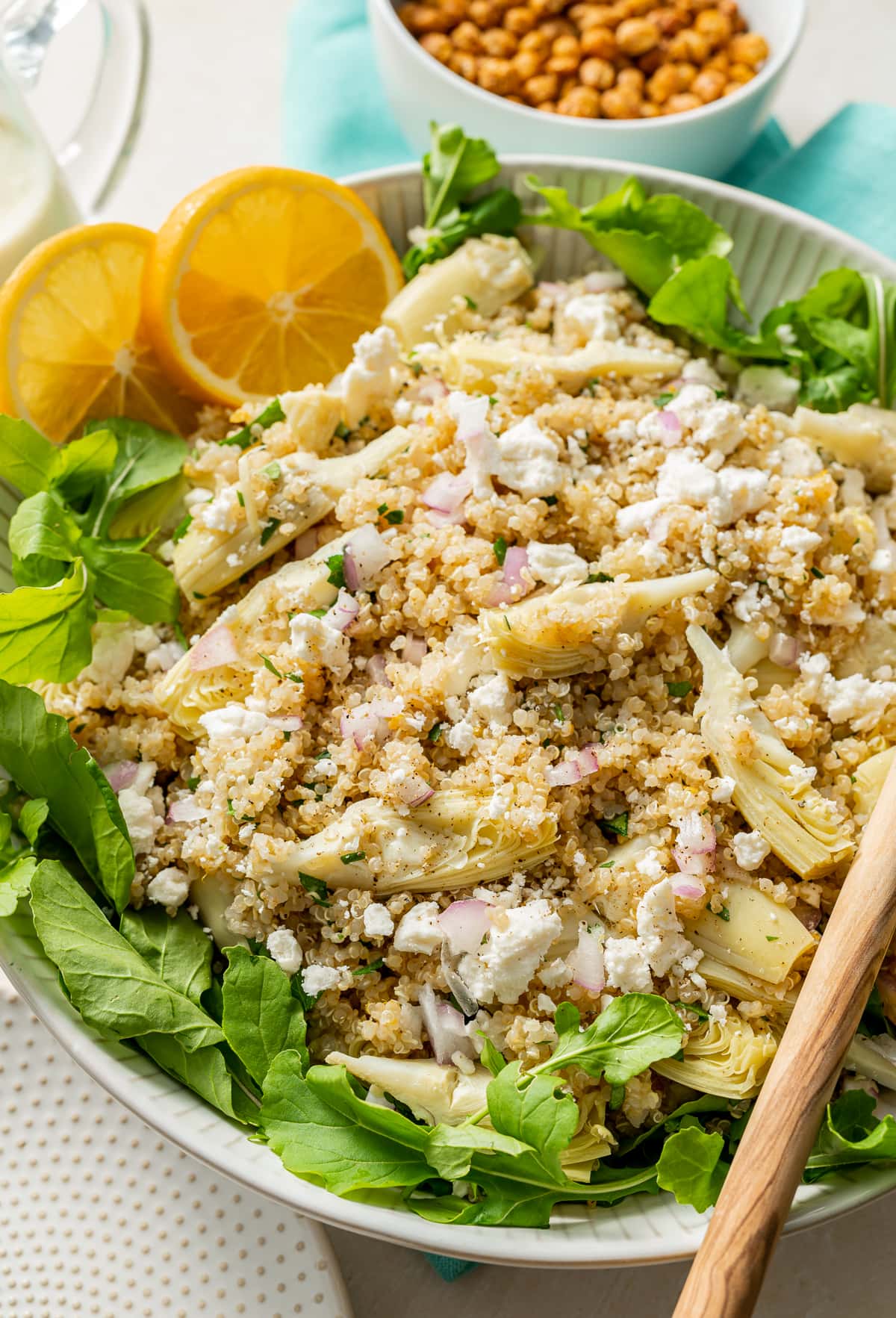 A few notes about this Artichoke Meyer Lemon Quinoa Salad with Arugula and Crispy Chickpeas recipe first:
The chickpeas are optional but add a wonderful crunchy texture. If you are short on time, make them a day ahead. They stay crunchy once roasted
I used organic white quinoa since it is what I had in my pantry, feel free to use any kind of quinoa, if you use pre-cooked omit the broth.
I use broth or stock in place of water when cooking quinoa since it gives it a better flavor.
Rinsing and soaking the quinoa is a must to get rid of the bitter saponins. Similar to rinsing rice for sticky rice. I always rinse in a fine mesh strainer, set in a bowl of cool water while still in the strainer to soak for 30 minutes, then rinse more until the water runs clear.
Spread the quinoa out on a tray to cool/dry out faster once cooked.
The vinaigrette is fantastic and I always make a double batch to use throughout the week. I blend it in a bullet type blender since its smaller than my Vitamix. Better for smaller recipes such as vinaigrettes. I prefer blending when I have ingredients such as garlic, onion or shallots instead of just whisking. Use regular lemons if you don't have

Meyer lemons

.
If you are not a fan of feta cheese you can use goat cheese. Also excellent in a salad such as this one.
Feel free to use any lettuce you like for the base, we happened to have a ton of arugula growing in our garden at the moment so that is what I used.
Artichoke Meyer Lemon Quinoa Salad with Arugula and Crispy Chickpeas
A hearty salad with artichokes, quinoa, red onion, feta cheese, herbs and a tangy meyer lemon vinaigrette garnished with crispy chickpeas.
Ingredients
For the Chickpeas
Two 15 ounce cans of chickpeas

garbanzo beans drained and rinsed

1

tablespoon

olive oil

1

teaspoon

Kosher salt

1

teaspoon

ground black pepper

1

teaspoon

garlic powder/granules
For the Vinaigrette:
3

large cloves garlic

peeled and minced

⅓

cup

plus one tablespoon Meyer lemon juice

¼

cup

high quality olive oil

2

teaspoon

dijon mustard

2

teaspoon

honey

1

teaspoon

kosher salt

½

teaspoon

ground black pepper
For the Salad:
1 ½

cups

white quinoa

uncooked

2 ½

cups

broth or water

1

teaspoon

kosher salt

1

teaspoon

ground black pepper

2 15

oz

cans artichoke hearts

drained and quartered

¾

cup

diced red onion

⅓

cup

chopped fresh parsley

divided

2

tablespoon

Meyer lemon zest

½-3/4

cup

feta cheese crumbled

4-6

cups

arugula
Instructions
Roast the Chickpeas:
Heat oven to 400 Deg. F. Set out a baking sheet with parchment paper. 

Rinse and drain the chickpeas well then spread out on paper towels to dry as best you can, removing the skins by rolling around between paper towels or removing with your fingers. This takes a bit of time to do, but results in crispier chickpeas when the skins are removed. 

Place the chickpeas in a bowl and toss with oil, salt, pepper and garlic powder. Spread out on the prepared baking sheet and roast until crispy, about 30-40 minutes. Stir every 10 min to ensure even roasting. Let cool complete before using. These can be made a day ahead of time. 
Make the Vinaigrette: 
combine all ingredients in a blender and blend until smooth. Can also be made a day ahead of time and kept chilled until ready to use or kept at room temperature if made the same day. Recipe easily doubles for more vinaigrette. 
Make the quinoa salad:
Rinse the quinoa until the water runs clear. You can soak for a while in cool water then rinse. I let the quinoa soak while the chickpeas are roasting.

Once the water runs clear from the quinoa let it drain completely. Combine the quinoa with the broth or water in a 4 qt sauce pan and bring to a boil, lower heat to a simmer, cover the pan and cook for 15 minutes or until all the liquid is absorbed. Let sit in pan off the heat for 15 minutes. To cool even faster you can spread out on a tray.  Stir in the lemon zest and parsley. 

When the quinoa is completely cool, fill a large bowl and add in the artichoke hearts, red onion and feta cheese, leaving a little feta to sprinkle over the top. 

If using a large serving bowl add in the arugula then top with the quinoa mixture. For individual salads place arugula on the plate or in bowls then add the quinoa salad. 

Drizzle with vinaigrette and sprinkle with a few tablespoons of the crispy chickpeas. This salad is great served warm or cold. 
Notes
Prep and cook times are going to vary depending on if you make the chickpeas and salad same day. Most of the time goes into prep for the chickpeas since removing the skins takes a little bit of time, and hands off time for soaking, rinsing and cooling the quinoa. The rest of the salad comes together pretty quickly.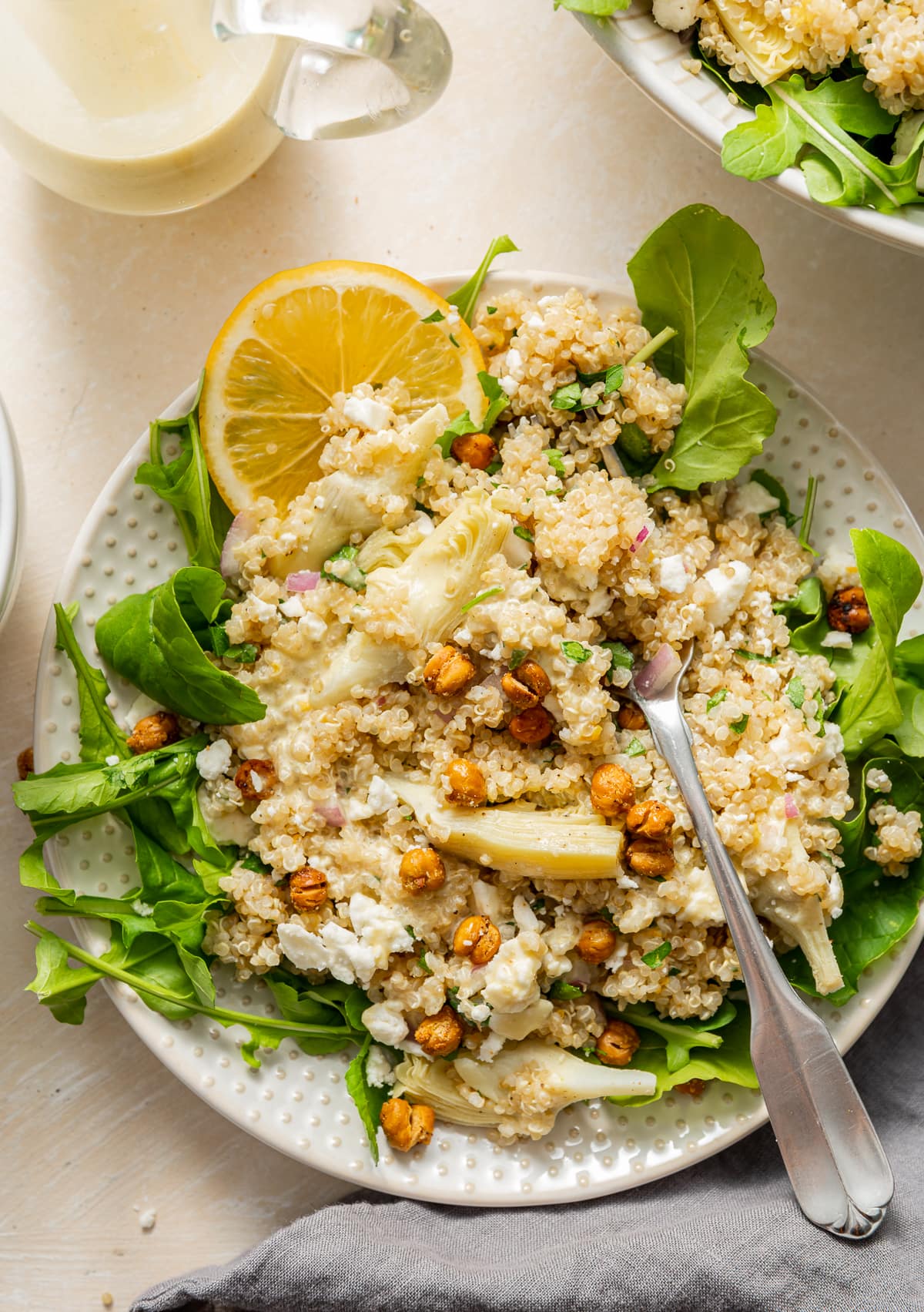 A few more question and answers about this quinoa salad recipe:
How do you prepare and cook quinoa? Quinoa is rinsed well then cooked with either broth or water. It is rinsed to get rid of the bitter saponins
What is the ratio of water to quinoa? Most brands of quinoa state 1 cup quinoa to 2 cups liquid. I find this to be very water and take a lot longer to cook. I go with just a little less liquid especially since I rinse and soak the quinoa. You can go with anywhere from 1.5 to 2 cups liquid per one cup of quinoa.
How do you cook crispy chickpeas? I roast in the oven at 400 deg F for at least 30 minutes. Olive oil is a must so is removing the skins after they have been drained and rinsed. Any dried seasonings you like will help flavor them and keep them crispy.