Fresh Lime Avocado Crema sauce. A perfect sauce for dipping, tacos, enchiladas etc.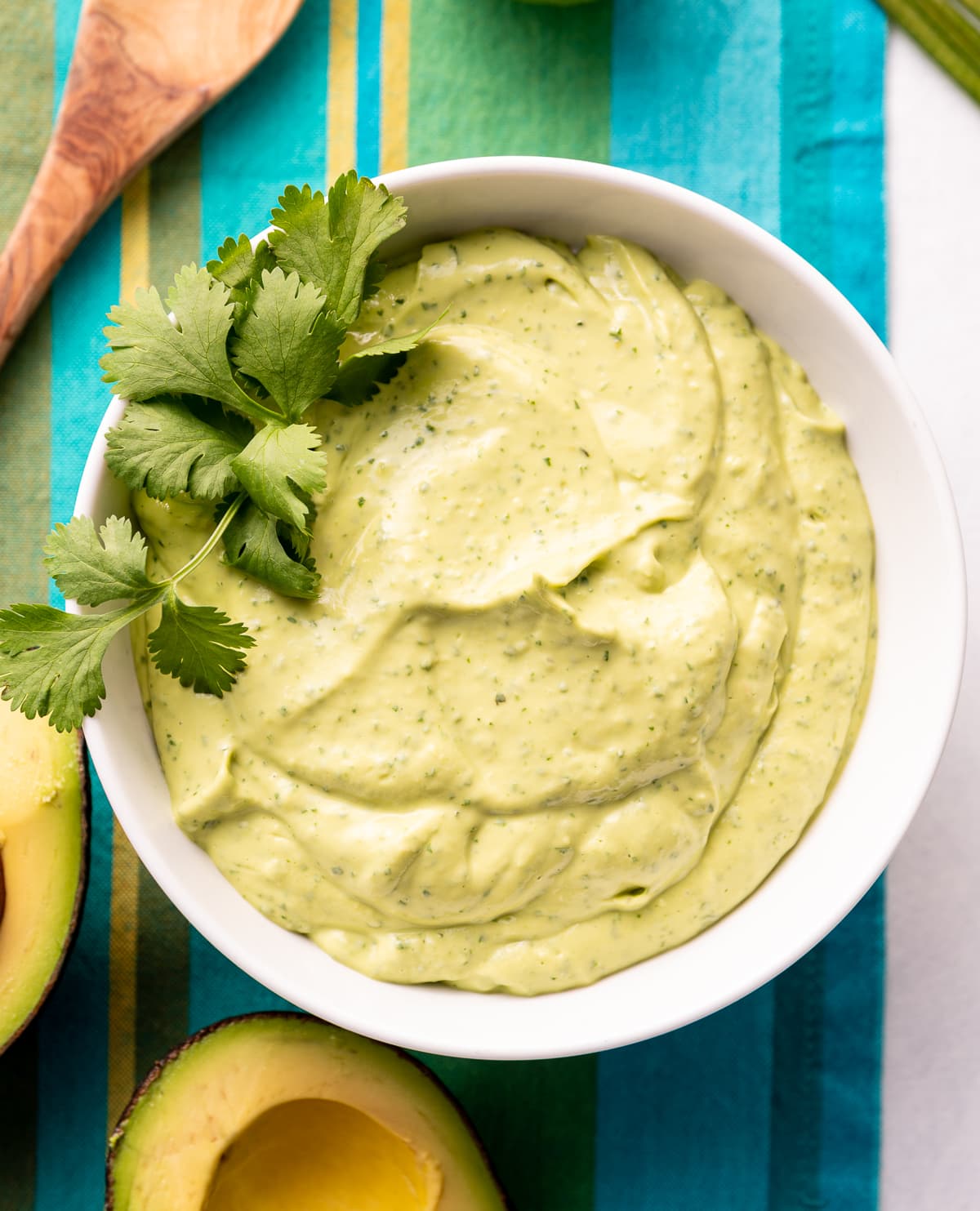 When life gives you avocados, make lime avocado crema sauce. This sauce couldn't be easier to make, its so incredibly flavorful and it goes great with a variety of dishes.
I love making an avocado sauce when I have extra avocados, especially when the avocados are super ripe.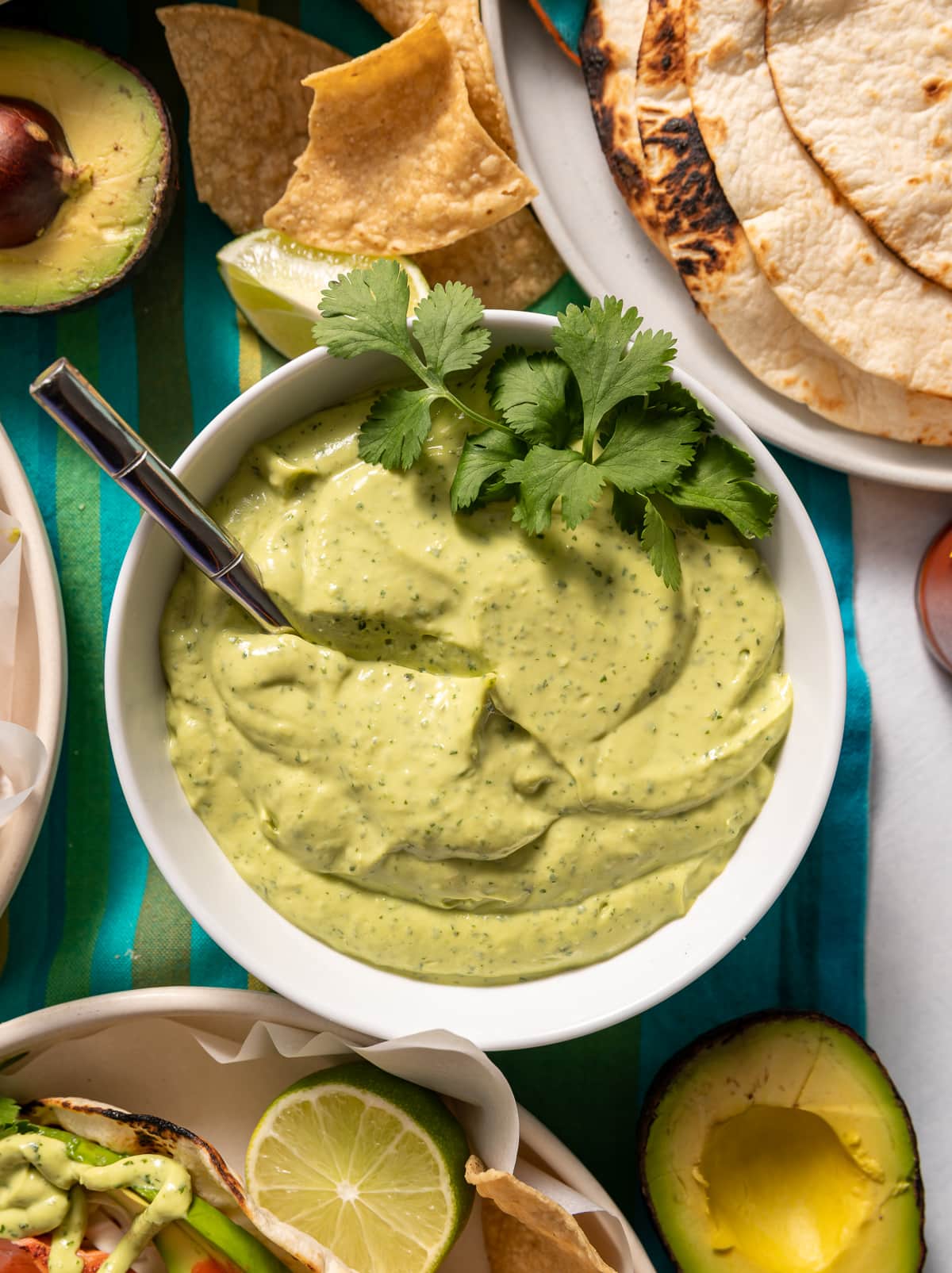 What ingredients are in avocado crema?
These are the ingredients I use:
Avocados - medium ripe to ripe is great, too ripe and you can end up with brown spots to cut out and fibers that have developed. 2-4 avocados depending on how much crema you want to make
Limes - I use regular limes, roll on table or counter with hand to release juice before cutting. I use half a lime per avocado. I use the juice and the zest. Zest limes before cutting in half to juice.
Garlic - Since the garlic here is raw I use 1-2 large cloves, I don't want raw garlic to be the overpowering flavor in this sauce, just a hint. This is the the kind of recipe where you follow the directions for the amount of garlic, don't add as many as you want. It will be way too overpowering with raw garlic and the sauce won't taste good at all.
Sour cream or plain Greek style yogurt - you can go with a non-dairy option here if you like. I love the tang from sour cream, Crema Mexicana, also known as table cream, would also be good, it is a little thinner in consistency from sour cream or yogurt so start with a little less if you use it.
Cilantro - I love adding cilantro for the herby notes as well as color. You can omit this if you aren't a cilantro fan. You could substitute with some Thai basil, Italian parsley or epazote if you like.
Salt and pepper - I like Diamond Kosher salt and just use my pepper grinder for freshly ground pepper.
Water - if you go with sour cream or greek style yogurt and want a thinner sauce you can add a little water to thin it out. Add water a teaspoon at a time until you reach desired consistency. You can leave it as a thick sauce and not use any water if you want.
How do you make avocado crema?
I make avocado crema with a food processor. A blender would work just as well, make sure it is high powdered to make the sauce super smooth.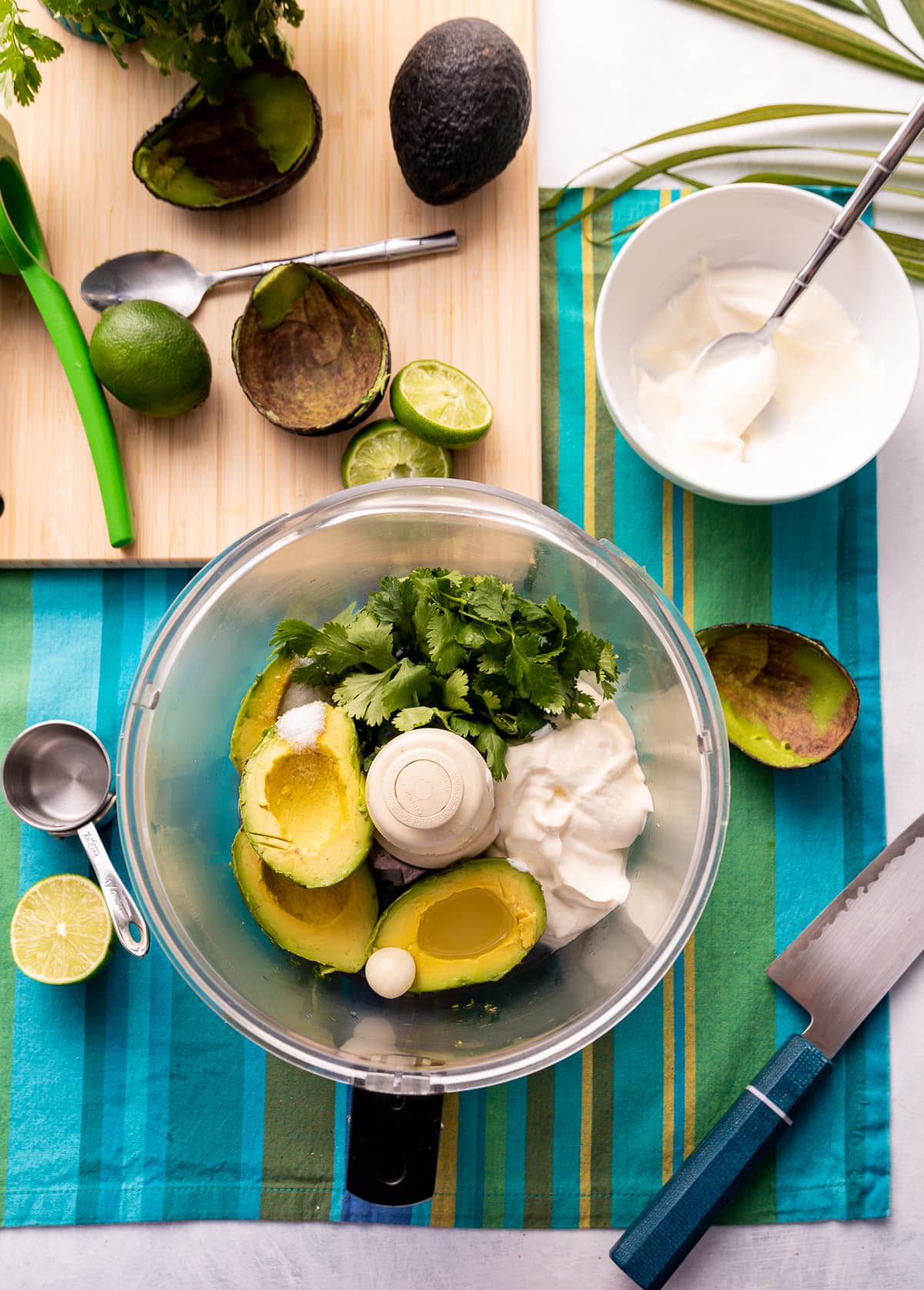 And that is it. Lime avocado crema is so easy to make. Here are a few suggestions on how to use this sauce:
Tacos - drizzle over any kind of tacos such as salmon tacos or even breakfast tacos would be good
Enchiladas - You can use this as a drizzle over enchiladas or thin out with chicken or vegetable stock for an enchilada sauce. When I do that I will add in some roasted tomatillos to the food processor.
Sandwich spread - instead of slices of avocado that often fall out, switch it up and spread some of this sauce on one (or both!) slices of bread
Dip - have at it with chips or even fresh cut veggies. I love dipping carrots or cucumber into this sauce
Burrito bowls - add a heaping spoonful or two or get fancy and drizzle over the top.
A few more notes about this fresh lime avocado crema sauce recipe first:
This sauce stores well in the refrigerator in an airtight container. You can use the same

containers

that I use for keeping my

guacamole

super fresh and staying green for a long time.
If you want a spicy sauce feel free to add in a jalapeno or serrano chile, or some cayenne or ancho chile powder to the sauce before pureeing.
"Recipe"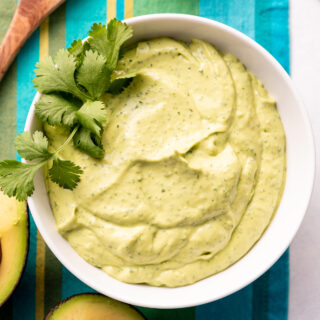 Fresh Lime Avocado Crema Sauce
A simple easy to make avocado crema with limes and cilantro that goes well with anything from tacos to sandwiches, dips and more.
Ingredients
2-3

medium avocados

medium ripe to ripe

2

medium limes

zest and juice

1-2

medium garlic cloves

don't use more or the garlic flavor will be overpowering

1

cup

sour cream/Greek Style yogurt (can substitute non-dairy sour cream/yogurt or crema Mexicana

½

bunch cilantro

1

teaspoon

kosher salt

I use Diamond crystals kosher salt

½

teaspoon

freshly ground black pepper

Water to thin
Instructions
Cut the avocados in half, remove the pits and scoop out the flesh into a food processor or high powdered blender. 

Roll the limes between you hand and counter to release the juice. Zest first then cut in half and juice. I go with half a lime per avocado. I like this sauce to be on the limier side so I usually go with 2 limes for 3 avocados.

Add in the remaining ingredients except water and puree until smooth. Taste and add more salt, pepper or lime juice if you like. 

If you want a thinner sauce add water a teaspoon at a time until you reach desired consistency. Scrape out of the food processor or blender into a serving bowl. Garnish with cilantro. Serve as is or chill before serving. Tastes great both chilled and at room temperature.

Keep leftover sauce in an airtight container in the refrigerator. Will last a few weeks kept very airtight and cold. 
Notes
I don't have any suggestions on substitutions other than making this non-dairy. Use a good airtight container to keep it fresh for longer in your refrigerator.