Punch time again! This time it is a Coconut Rum Milk Punch that can be served hot or cold and it is made with the BEST coconut rum on the planet, Koloa Rum Company Kaua'i Coconut Rum. Thank you to Koloa Rum for sending me a bottle of this amazing rum to make this cocktail to share with you all!

I have had many coconut flavored alcohols before, rum, vodka and tequila, and a lot of them seem like I am drinking suntan lotion the coconut flavor is so intense and fake. Not with Koloa Kaua'i coconut rum. This tastes like the freshest coconut ever. Its light, the flavor doesn't linger and it is so perfect for that extra tropical hit to to cocktails. I am instantly transported to Hawaii with every sip.
The Spiced Pineapple Rum Punch I made a few days ago is a cold, or serve on ice punch so for this coconut rum milk punch I decided to make it hot. Think of steamed milk drank as a kid now made into a decadent tropical adult version. Coconut milk is steeped with vanilla and coconut sugar first before adding the rum.
I add the rum to the glasses instead of mixing with the hot coconut milk mixture. This way each glass gets an equal amount of rum. And of course you can always add more!
Fill the glasses most of the way up with the coconut milk but leave room for a generous amount of whipped cream.
Garnish with freshly grated nutmeg and freshly shredded coconut. I have this nifty tool for shredding fresh coconut.
I got this years ago off Amazon, I think. and it grates and shreds fresh coconut so quickly. My kids told me it looked like snow and that I should sprinkle it all over the table with my drinks. My 8 year old said "shredded coconut is Hawaiian snow". I love it!
My kind of snow. My husband and I used to live in the snow years ago. We met in Vail, Colorado where we both worked and on our days off snowboarded until we dropped. It was so much fun but I hated shoveling snow, scraping snow and ice off my car and driving in it wasn't my fave. Aprés ski drinks were my fave though. Especially ones like this coconut rum milk punch to warm me back up!
I did love snowboard and snowshoeing too. I haven't done either in years now. Not since before kids. And since having moved to Las Vegas 5 years ago now, my tolerance for cold has gone way down. My husband used to make fun of me for being freezing at 60 deg out. Being the native Californian that I am I told him anything under 60 is freezing. Now being acclimated to Las Vegas I feel that way about anything under 80. 82 with tropical humidity and trade winds is my favorite climate. Although, it does snow on Hawaii. Mauna Kea and Mauna Loa on the just got a bunch of snow - which makes Hawaii the neatest place on the planet. You can ski and surf all on the same day!
Hawaii doesn't get enough snow to have a ski resort, but locals will head up to attempt a few runs, if only for viral video fame. I still prefer shredded coconut as "snow"over the real thing these days. Real snow is pretty to look at but I wouldn't want to live in it again. For real snowy days you can make this coconut rum milk punch hot, for hotter summer days you can make it over ice. This coconut rum milk punch is excellent hot or cold. This recipe makes enough for 8 large glasses of punch. Can be doubled and tripled for a big party, scaled down for just a couple cocktails.
"Recipe"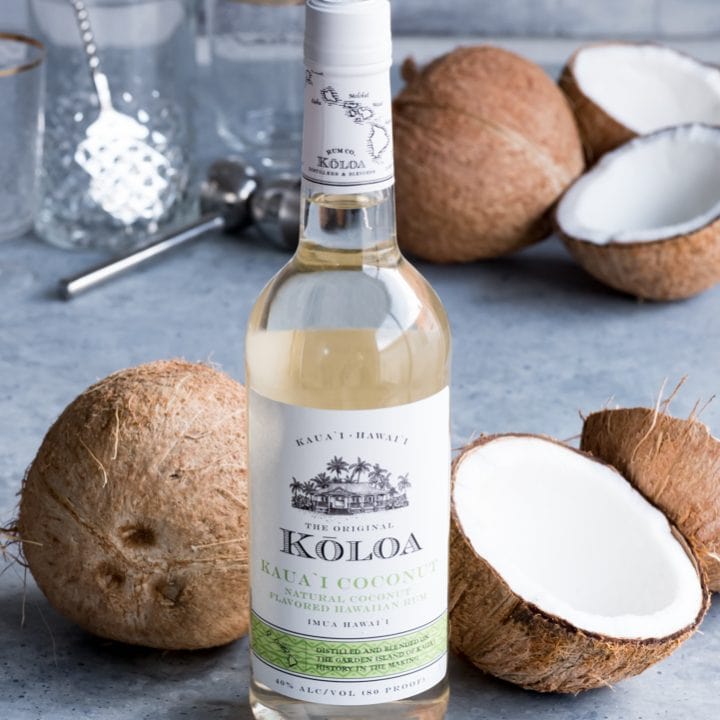 Coconut Rum Milk Punch
Coconut Rum Milk Punch www.pineappleandcoconut.com #Drinkmas Makes 8 servings
Ingredients
28

ounces

Cups Coconut Milk

3.5 ounces per cocktail(carton not canned)

1 ½

C

Koloa Coconut Rum

⅓

C

coconut or cane sugar

1

tablespoon

vanilla extract

Garnish:

Sweetened whipped cream

Freshly grated Nutmeg

Shredded coconut
Instructions
In a saucepan heat the coconut milk with the vanilla and sugar, stirring well until sugar is dissolved and the mixture is hot and simmering, about 5 minutes. Taste and add more sugar if a sweeter drink is desired.

Remove from heat. Divide the coconut rum amongst 8 glasses, 1.5 ounces of rum per glass, top with the hot coconut milk. Top with sweetened whipped cream and garnish with ¼ teaspoon of freshly grated nutmeg and a tablespoon or so of shredded coconut. Serve immediately

You can also serve this cold or over ice. Heat the coconut milk as stated above then let chill completely. Add the rum and pour into glasses with ice or without ice. Garnish the same way as above.
Coconut Rum Milk Punch should be your holiday party punch this year. For a hot cocktail that is, and why not go for the spiced pineapple rum punch for your cold cocktail. Two party punches to choose from makes an awesome party! Plus no actual snow to shovel up. At least not inside the house. I hope.

Thanks again to Koloa Rum Company for sending me a bottle of their Kaua'i Coconut Rum to make this coconut rum milk punch. And more cocktails to come!!