Apple Cinnamon Cottage Cheese Breakfast Bowls. Easing into fall with a simple and healthy breakfast.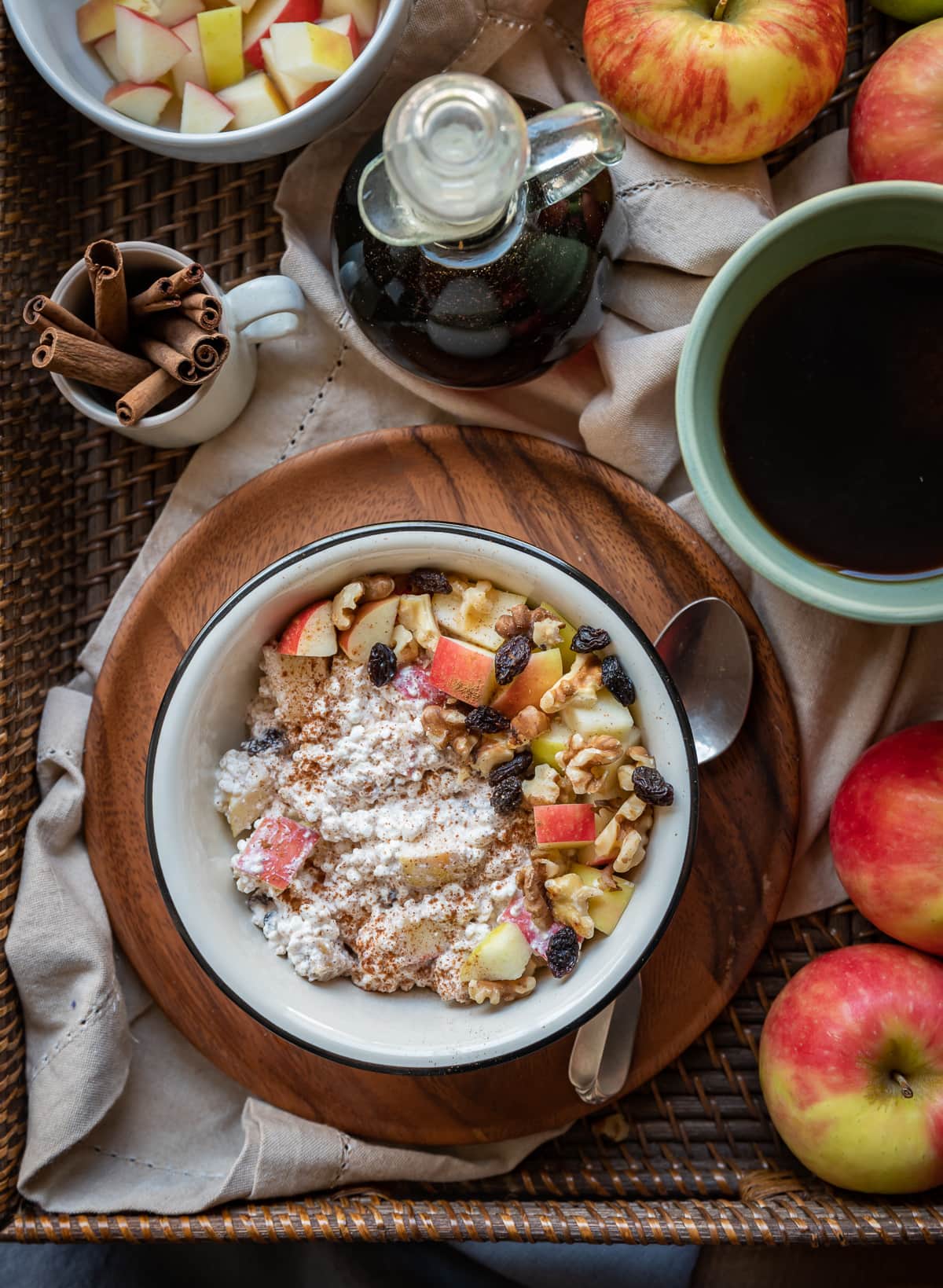 This page contains affiliate links. Affiliate links support Pineapple and Coconut at no additional cost to you. If you choose to make a purchase via these links, I earn a small commission to help keep this blog running and it is much appreciated. I am an Amazon and Adorama affiliate.
Why this recipe is good:
I have been eating these cinnamon apple cottage cheese bowls ever since I can remember.  It has been a staple breakfast or mid morning snack of mine since forever, a nice change up from eggs, oatmeal, smoothies etc.
I did figure bodybuilding a gazillion years ago and we had options for some of our diet meals as long as we met our macro goals with carbs, fats and proteins. I calculated to make this cottage cheese breakfast bowl work for me so I could eat it a few times a week.
Now, I no longer count macros that strictly, competitive bodybuilding is no longer in my life, but eating healthy is.
Jump to:
My favorite cottage cheese:
I love using cottage cheese in sweeter applications since it adds a hefty dose of protein as well as balances out the flavors since it tends to be more salty/savory than yogurt. I like cultured cottage cheese best, and I found a brand that I really love called "Good". Of course we make all the jokes about the name -"hey mom, is that cottage cheese good?" "why yes, it is really GOOD".
So yeah, puns aside it really is good. This Good brand of cultured cottage cheese is a thicker, dryer cottage cheese, a perfect consistency for mixing in chunks of apple, raisins, toasted walnuts etc.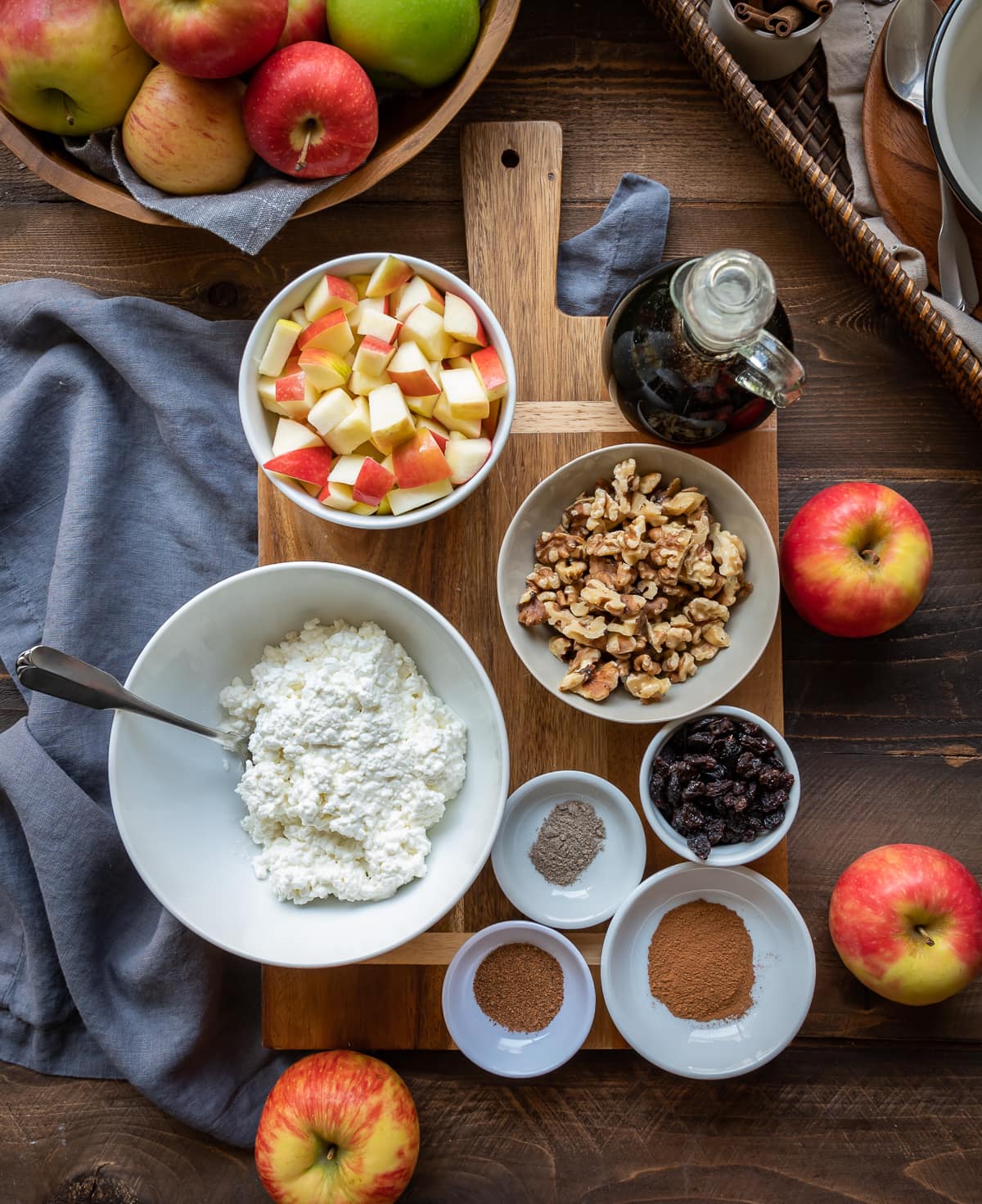 Ingredients:
Cottage Cheese - I use

Good brand

cultured cottage cheese either 2% or 4% milk fat. I don't care for non-fat dairy of any kind, I prefer culture for the probiotics. You can use what ever brand and % of fat you like. 
Apples - I love sweet-tart apples best such as Pink Lady, Honey Crisp, Gala. You can use any apple you like, one that is a firmer, sweet-tart apple works best. You can even combine two different apples if you like. 
Walnuts - I lightly toast them on a pan on the stove for a little extra crunch. Almonds or pecans would work well here too. 
Spices - I use cinnamon, nutmeg and cardamom. I love fall for all the warm baking spices the most. Definitely use cinnamon, the rest of the spices are up to you. Ginger, all spice, clove etc would also be great additions. 
Raisins - I love the taste and chewy texture contrast raisins add to this breakfast bowl. Feel free to use golden raisins instead or another dried fruit or berry. Cranberries would be good too. 
Maple syrup - I use just a touch of maple syrup to balance out the flavors and add sweetness.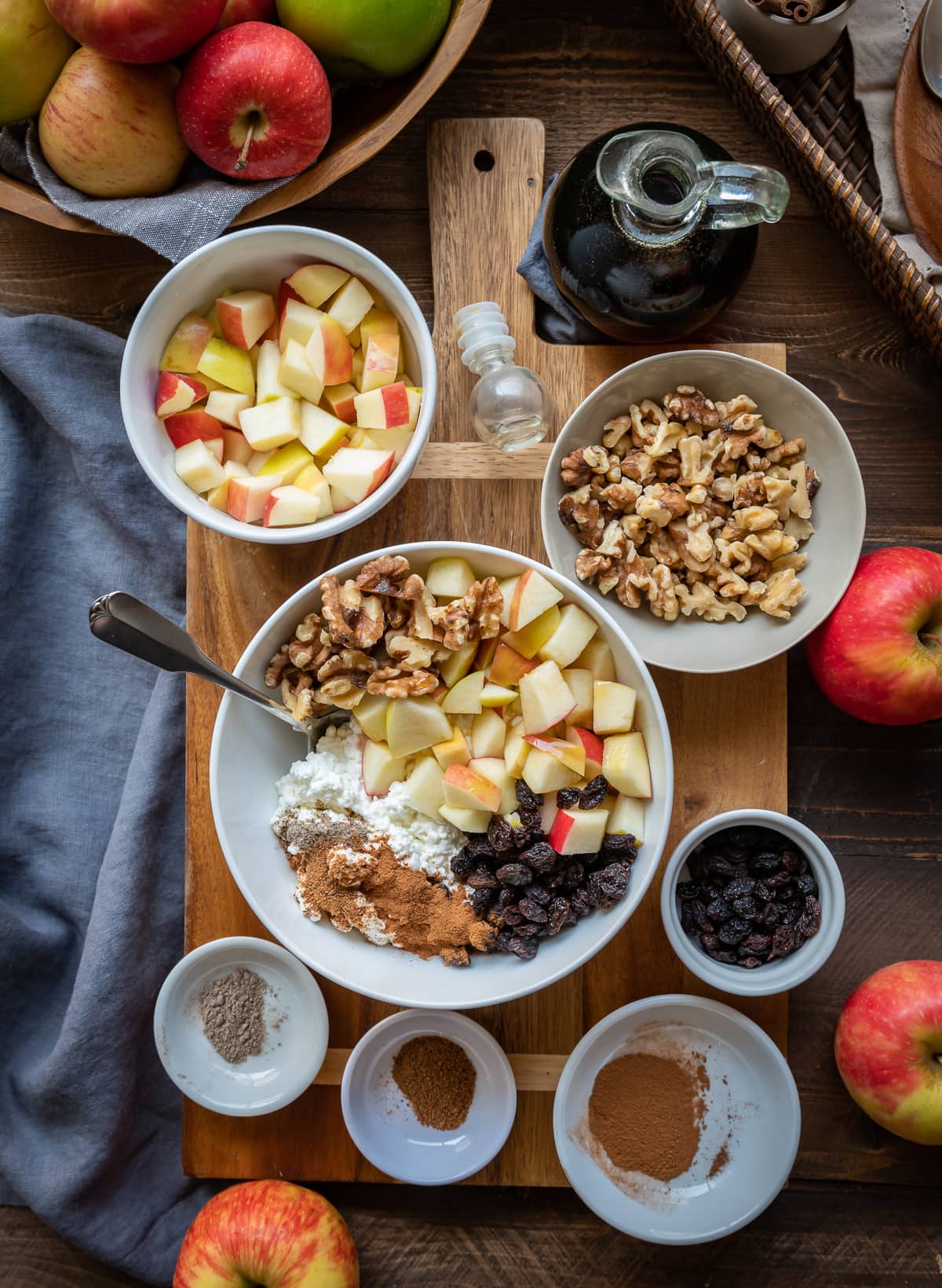 These cottage cheese breakfast bowls are so easy to make. Mix it all up in one bigger bowl, divide between smaller bowls. Save some apple pieces, chopped walnuts and raisins for garnish as well as a sprinkle of cinnamon and drizzle of maple syrup.
Can you make more for leftovers?
Yes! I will make 4 servings at once, leaving out the walnuts and only mixing those in right before I eat since those tend to get softer while refrigerated. I usually only make 4 days at a time's worth since around the 5th day the apples aren't as crisp.
Can this be saved for later? 
I will also dice up the apples and squeeze a little lemon juice over them before adding into the this recipe ( or for storing chopped apples in my refrigerator to use later) because this helps keep them from browning. Pineapple juice also works!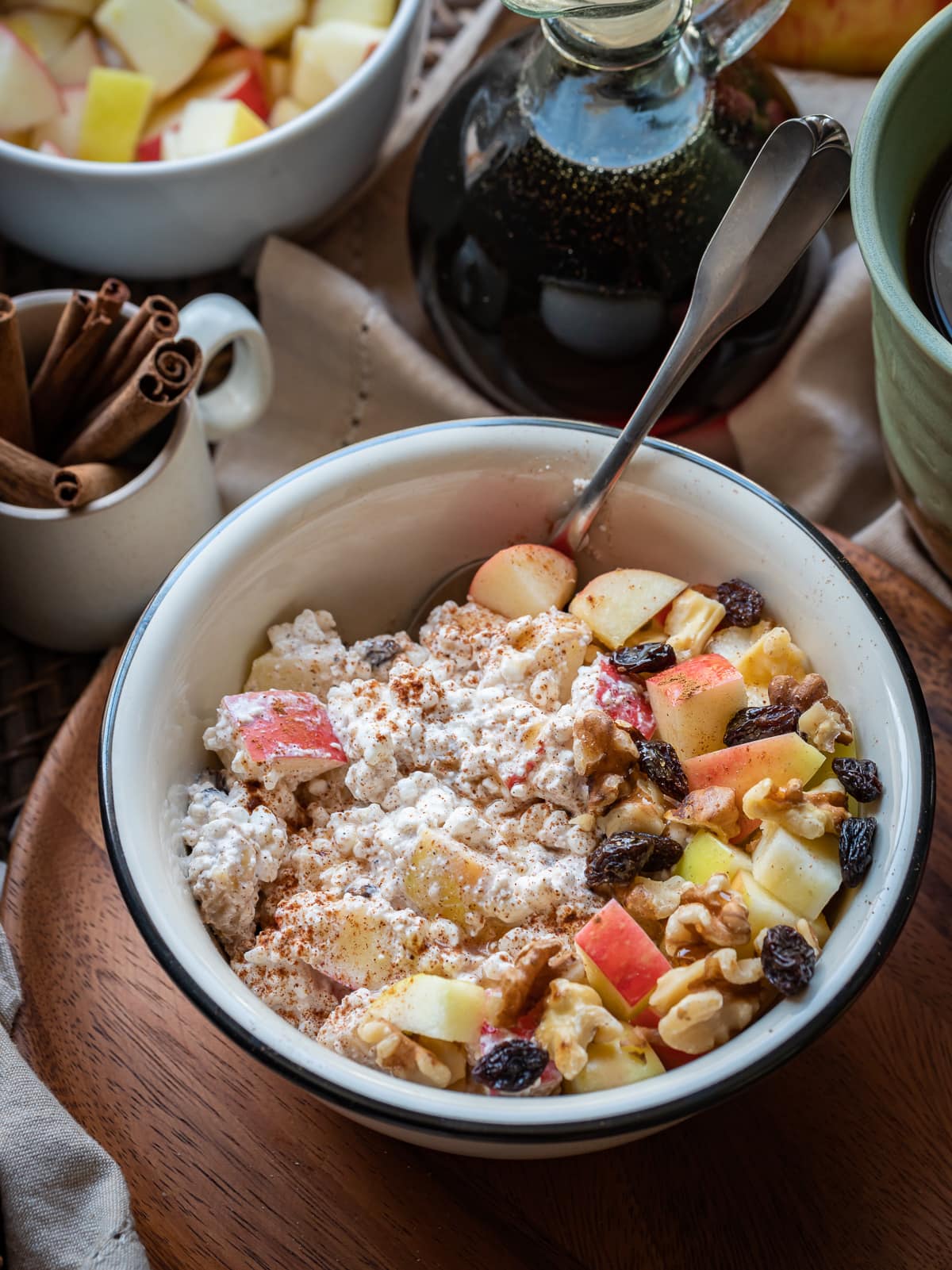 A few more notes about these maple cinnamon cottage cheese breakfast bowls first:
I don't peel the apples, but you can if you like. I just remove the core ( either using an

apple corer

or cutting in quarters and cutting out the core with a knife then cutting into chunks) and cut.
If you don't care for walnuts feel free to use almonds or pecans or whatever you like.
Try to find a dryer brand of cottage cheese, one that doesn't have a ton of liquid on the top when you open it. This recipe works better with a thicker, dryer cottage cheese. Ricotta would also work well so would a thicker style yogurt if you go with yogurt instead of cottage cheese.
Don't care for maple syrup? You can use honey instead if you like.
I have only eaten this as a cold dish, not warmed up. I honestly don't know how good this would be warm.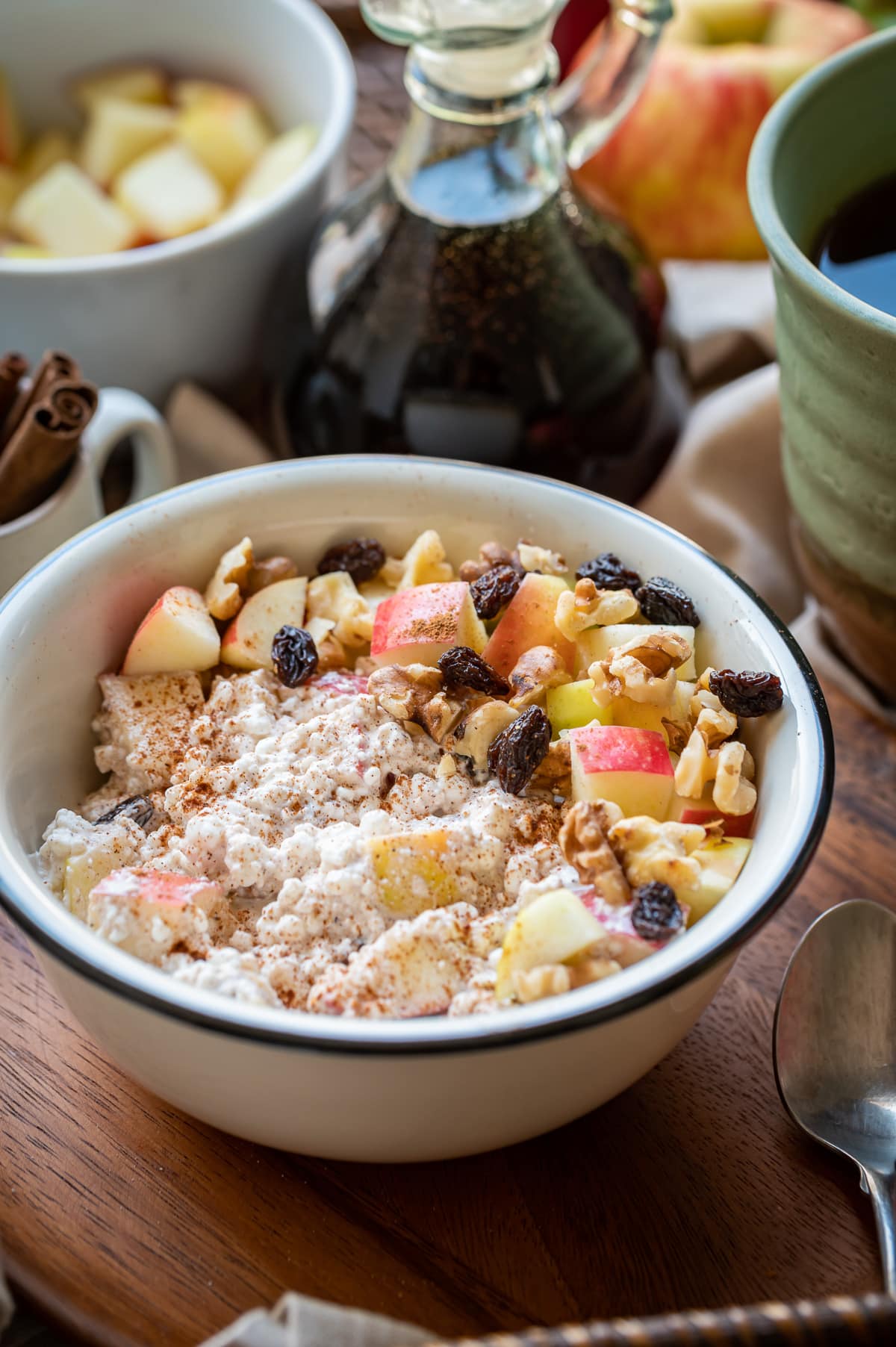 More apple recipes to try:
Recipe:
"Recipe"
Apple Cinnamon Cottage Cheese Breakfast Bowls with Maple
Ease into fall with this delicious and healthy cottage cheese breakfast bowl filled with juicy apples, crunchy walnuts, chewy raisins and warm fall spices.
Ingredients
2

cups

dry cottage cheese

453g (any % fat you like, I prefer 2%-4%)

2 ½

cups

chopped apples

295g ( core removed, can peel if you like), divided

6

tablespoons

lightly toasted walnuts

chopped, divided

6

tablespoons

raisins

Thompson, golden etc, divided

2

tablespoons

maple syrup plus extra for drizzling on top

2

teaspoons

ground cinnamon

1

teaspoon

ground nutmeg

1

teaspoon

ground cardamom
Instructions
Combine everything in a medium bowl, except for ½ cup chopped apple, two tablespoons each walnuts and raisins. Mix well. 

Divide amongst bowls and garnish with the remaining half a cup of apples, walnuts and raisins. Add a sprinkle of cinnamon and a little drizzle of more maple syrup if you like. Serve. 

If only making one bowl and saving the rest for later only add walnuts to one serving, add the walnuts to the remaining servings just before eating so they stay crispy. 
Notes
You can peel the apples if you like or keep the peel on. After chopping drizzle a little lemon juice over them to keep from browning.
This keeps well in an airtight container in the refrigerator up to 4 days. 
If you choose to make substitutions to the recipe that I have not tested yet please do so at your own risk, if they are successful I would love to hear about it and will add to my recipe notes for other readers to try as well.