Late Summer Frozen Rum Runner Cocktails
The perfect way to celebrate these last few fleeting weeks of summertime before it is officially fall is with one of my fave tiki drinks, frozen rum runner cocktails.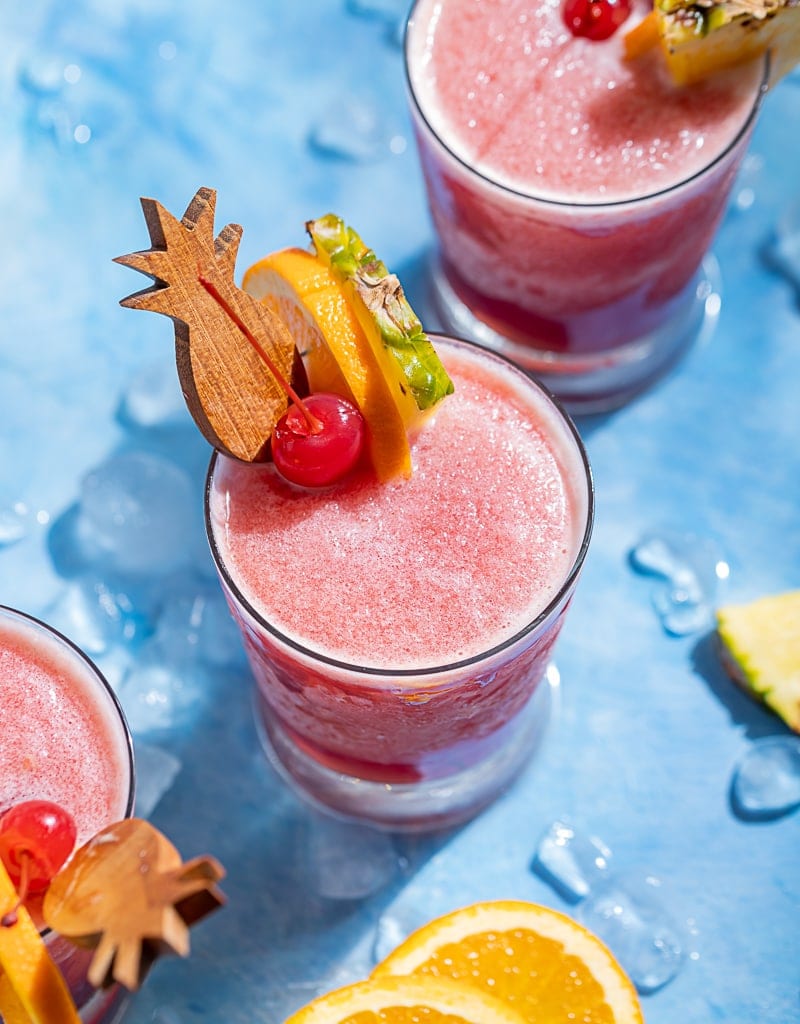 I used to live in Summit County, Colorado. High country, ski country. Where a lot of the famous Colorado ski resorts are. There was a pub we used to go to called, Pug Ryans, friends worked there as wait and bar staff. Great place. Great food and drinks. In the summertime they had a little popup restaurant overlooking Lake Dillon called the "Tiki Bar".
One doesn't usually associate Colorado ski towns with tiki bars, but anyone who knows or has lived in Summit Co. knows all about summers spent on the tiki bar deck drinking their famous frozen rum runners. Late July to early September was the best time in summer in Colorado high country. Still very warm, no signs of snow just yet, perfect weather for drinking frozen rum runners.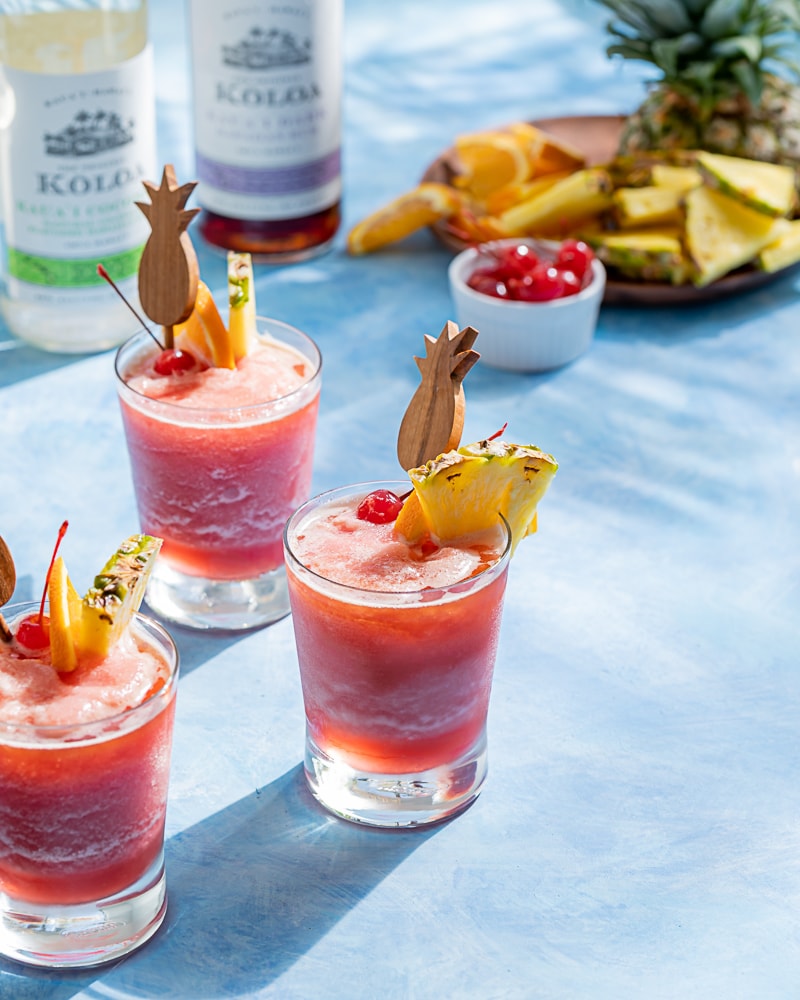 Boozy, fruit, refreshing frozen rum runners. The "Tiki Bar" had their own secret recipe. They wouldn't ever divulge, as they had it in a frozen drink machine to dispense, load up the top with a generous float of 151 rum and off you went to sip on your cocktail. Some of the bartenders would pour the 151 rum into the straw so your first sip was crazy. I prefer just to float some dark rum on top of the cocktail.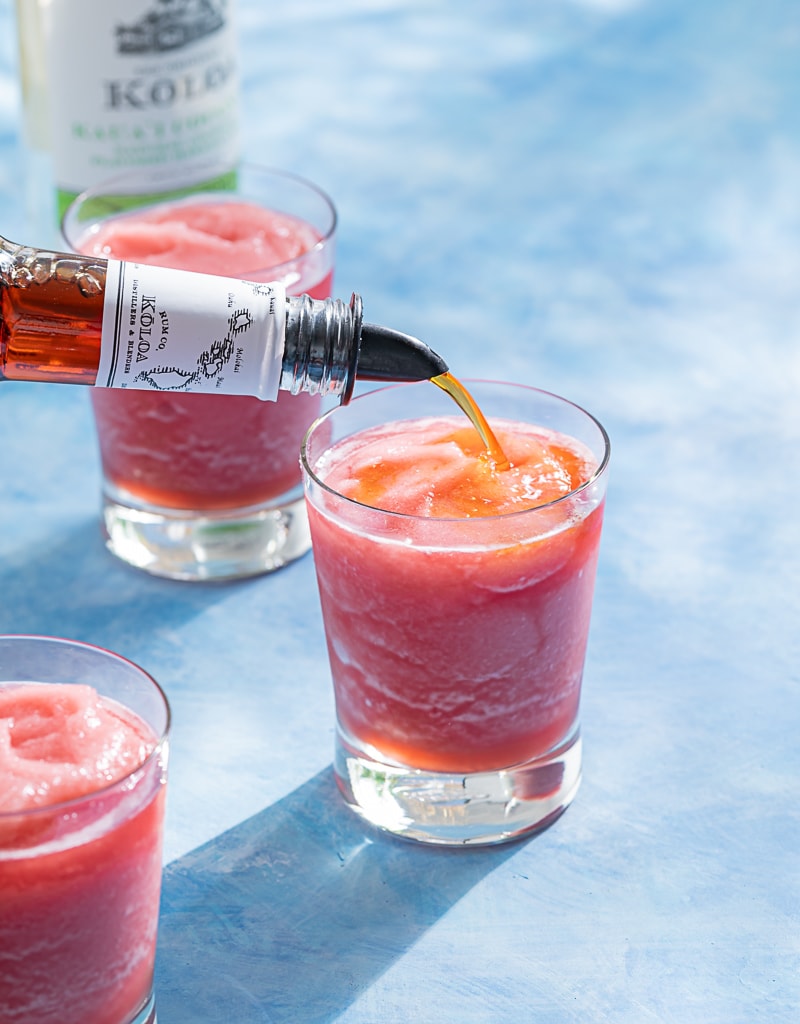 A classic rum runner can be made a variety of ways. The origin of the drink dates back to the late 1950s at the Holiday Isle Tiki bar in Islamorada Florida.
The drink was named after the rum runners of prohibition era.
When alcohol became illegal, but people still found a way. Bootlegging was the term for alcohol smuggled over land, rum running was the term for those who traveled by water.
Rum runner boats were small, fast and maneuverable, which made the smuggling easier to do. Rum-runners often kept cans of used engine oil handy to pour on hot exhaust manifolds in case a screen of smoke was needed to escape the Coast Guard ships. Sounds like something out of a James Bond movie!!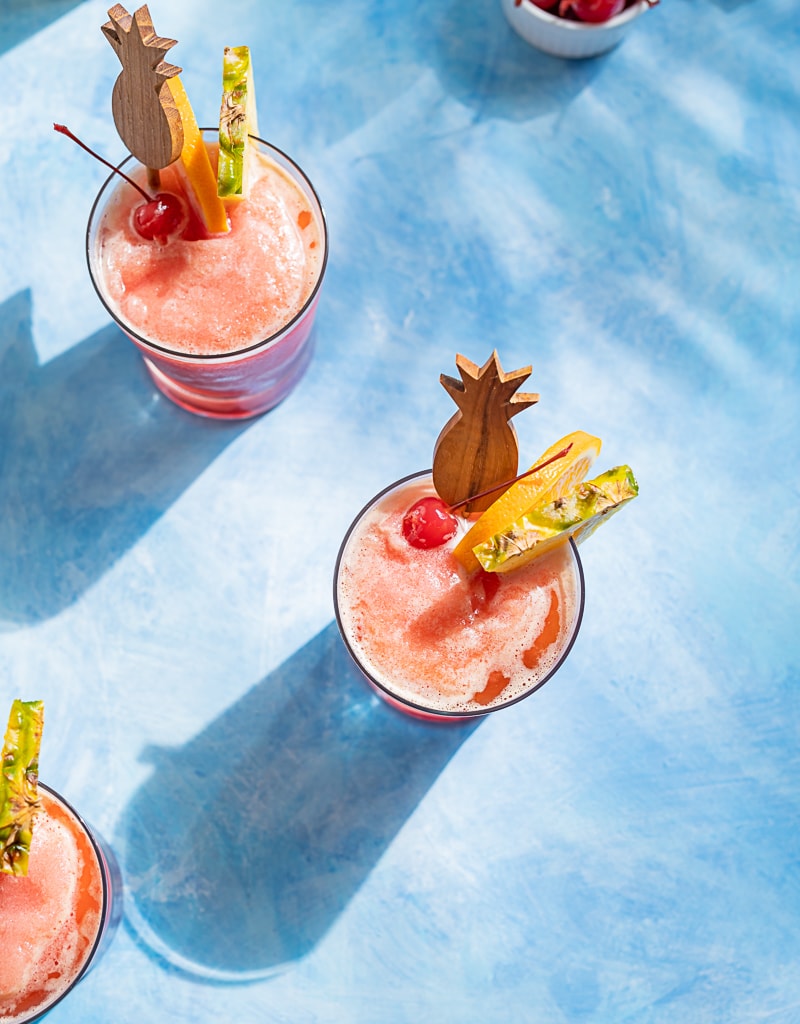 So what exactly are frozen rum runner cocktails?
It is a fruity, boozy tiki cocktail. Rum is the the base liquor - anything from gold, spiced, dark or flavored such as coconut like I have used in my version. Blackberry and banana liqueurs are added in equal amounts. Some recipes use a blackberry brandy others use a liqueur.
I am not hugely fond of strong banana flavor so this is a liqueur I will splurge on for a higher quality. I find the cheaper brands have a very off-putting banana flavor.
Various juices are used , pineapple, orange and lime are most common and to round out all this booze and juice a splash of grenadine is added for flavor and color. The most important part is the float of rum on the top and the tropical garnishes.
A few ingredient swaps were made with this version of a rum runner. I used hibiscus simple syrup in place of the grenadine, coconut rum in place of white or gold and to keep the ice to a minimum so it wouldn't water down the drink I swapped the pineapple juice for frozen pineapple chunks.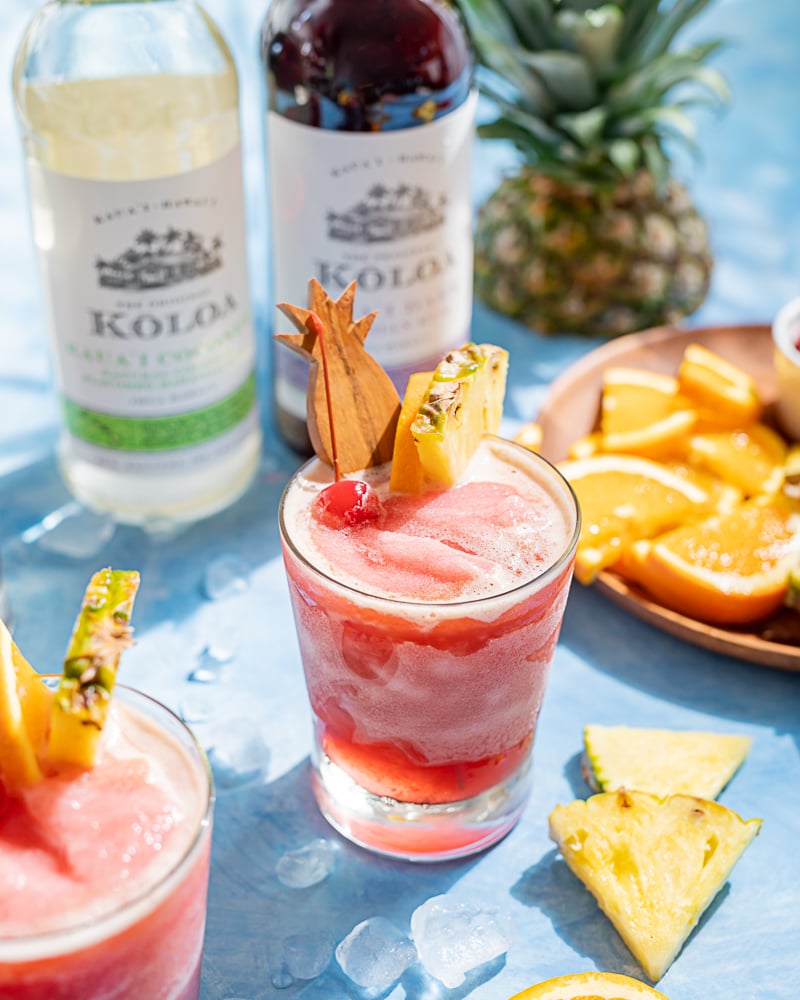 A few notes about this Late Summer Rum Runner Recipe First:
I prefer these

cocktails

served frozen. You can make it on the rocks if you like. Shake everything in a cocktail shaker tin filled with ice, strain into ice filled glasses. Float the dark rum on top then garnish.
I like to use just enough ice to float the liquid in the blender for thicker, frozen cocktail. You can use more or less ice if desired
In place of pineapple juice I used frozen pineapple. This adds to the frozen slushy texture of the drink, allowing me to use less ice
You can either use grenadine or like I used, Hibiscus simple syrup. Recipe for the hibiscus simple syrup is in the recipe notes
Go for good quality ingredients in this drink. Use a cheap, generic brand and you will taste it. And that isn't a good thing. Splurge on a high quality banana liqueur such as Giffard.
I use

Koloa

Coconut and Koloa dark rums. These Hawaiian rums are perfect in my version of this tiki drink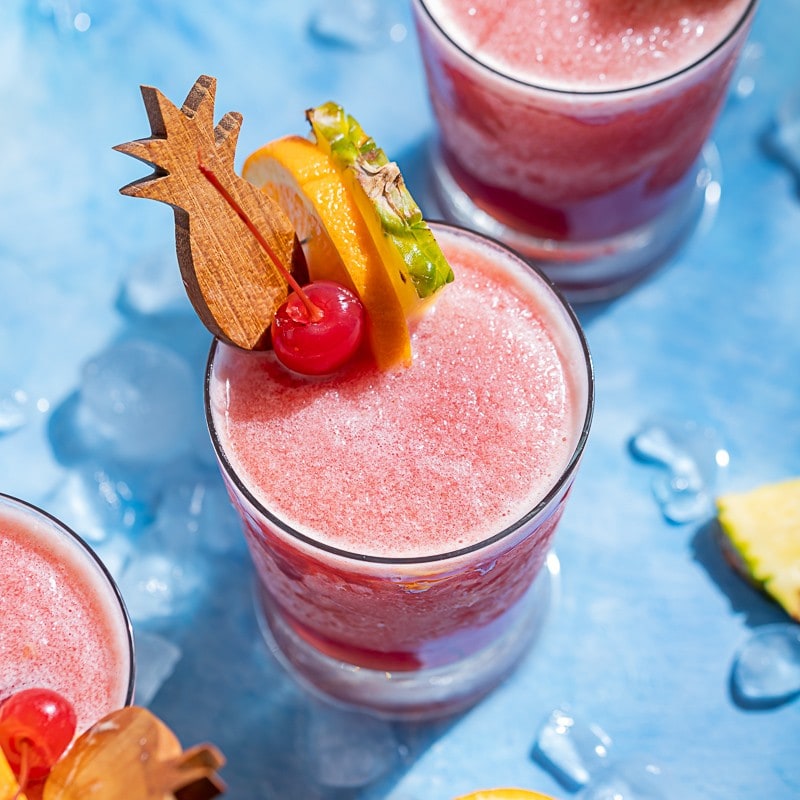 Late Summer Rum Runner Cocktails
Fruity, boozy, frozen, rum runner cocktails. Perfect tiki drink for sipping during these last few days of summertime.
Ingredients
For the Cocktails
4

oz

Coconut Rum

4

oz

Dark Rum

2

oz

Blackberry Liqueuer

2

oz

Banana Liqueur

4

oz

Pineapple Juice

or 1 cup frozen pineapple chunks

4

oz

Orange Juice

2

oz

Lime Juice

2

oz

Grenadine

4

cups

ice
Garnish:
2

ounces

dark rum

Pineapple wedges

Orange slices

Maraschino cherry
Instructions
Combine all the cocktail ingredients into a high powdered blender. Blend until thick and smooth, add a little more ice if desired. Divide amongst glasses, float a half an ounce of dark rum on top of each cocktail, then garnish with a pineapple wedge, orange slice and a cherry. Add in a fun cocktail pick as well. Drink!
Notes
Hibiscus simple syrup:
Combine 1 cup sugar ( 7 ounces) to 1 cup water ( 8 ounces) in a saucepan. Heat until the sugar is dissolved. Add in 1 ounce dried Hibiscus flower ( can be  found at any well stocked international or Mexican grocery store. Can use 100% hibiscus flower tea bags as well. Bring to a simmer, simmer for 5 minutes. Remove from heat and place a lid on the pot. Let steep 30 minutes. Strain into a jar or resealable container. Chill until ready to use. Should last 2-3 weeks well refrigerated. 
To make just one one cocktail:
1 oz coconut rum 
1 oz dark rum
.5 oz blackberry liqueur
.5 oz banana liqueur
1 oz pineapple juice ( or frozen pineapple chunks)
1 oz orange juice
½ ounce lime juice
½ ounce grenadine
1 cup ice
Add to a blender and blend until smooth. Top with a half ounce of dark rum, garnish with pineapple wedge, orange slice and maraschino cherry.