Soft Spiced Gingerbread Cut Out Cookies are one of my favorite cookies to make. The way they make my house smell when baking are worth the work to make them.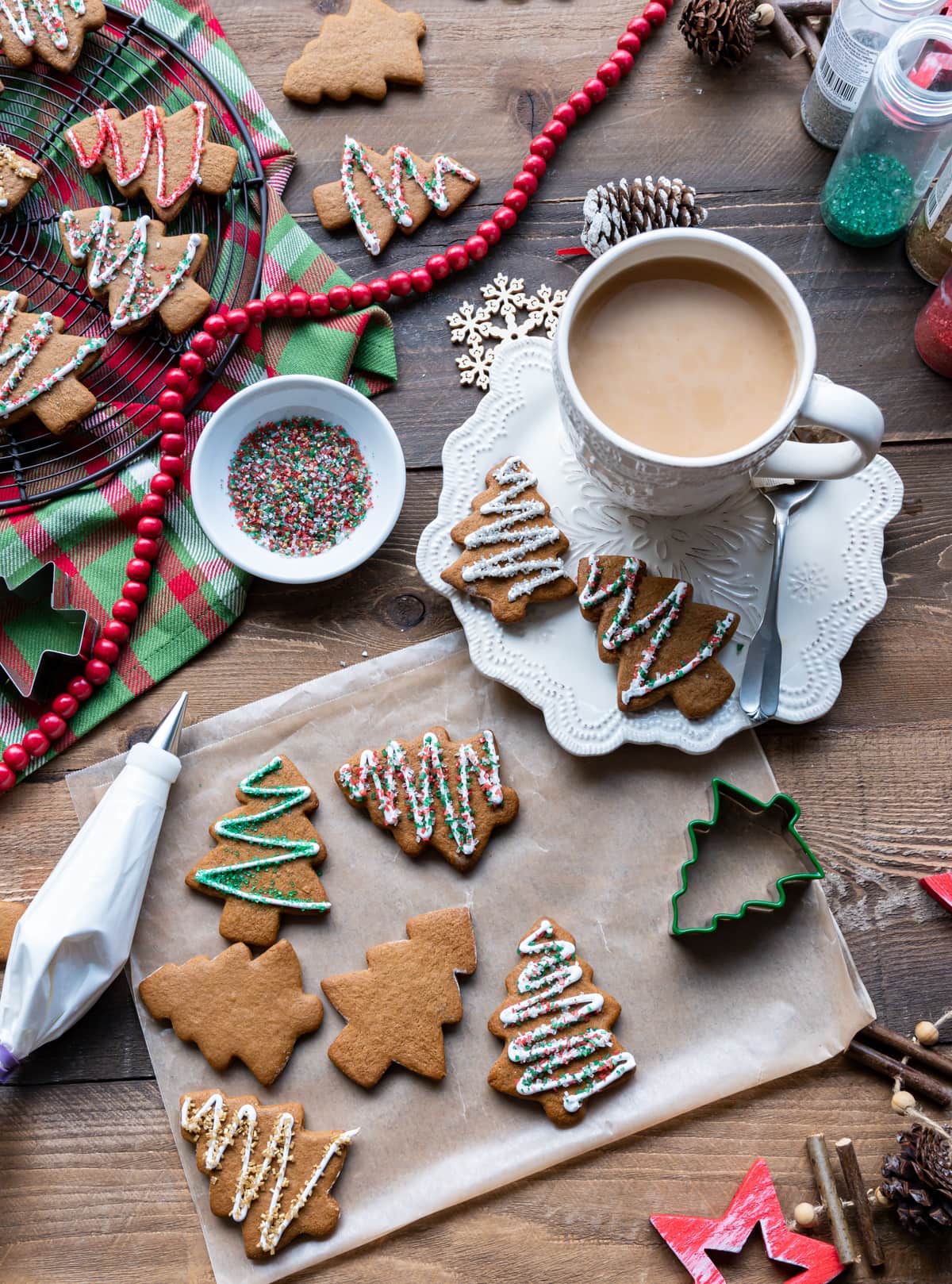 This page contains affiliate links. Affiliate links support Pineapple and Coconut at no additional cost to you. If you choose to make a purchase via these links, I earn a small commission to help keep this blog running and it is much appreciated. I am an Amazon and Adorama affiliate.
These cookies really aren't all that hard to make. And the flavors develop when you let the dough sit for a while before you bake them. I make the dough and wrap well in plastic wrap then in a resealable bag and toss in my fridge for a couple days before baking. I make all my doughs that need at least a day to chill on the same day. Then the next few days I bake like crazy. 
Jump to:
I have had these gingerbread cut out cookies on my blog for years but like some other cookies I have made recently, they too needed updating, mostly for photos. And this time I decided to decorate with a little bit of royal icing and colored sugar. I used to make them with the colored sugar pressed into the cut out dough before baking.
I find cut out cookies to be relaxing to make. I will roll out the dough, bake, let cool then make myself a cup of tea to drink while decorating. I like to pretend I am on the Great British Bake Off. But with a lot more time to make my creations. And no clean up crew, since I have to do all my own dishes.
Tips for making amazing soft spiced gingerbread cut out cookies:
These are a soft gingerbread cut out cookie recipes. There is a secret ingredient to making these amazing cookies. White vinegar. It helps keep them so they are soft. Omit if you want a more gingersnap like cookie
Chill the dough well before baking to let the flavors develop. I make this dough and chill well wrapped in my refrigerator for two days.
Roll out dough between two pieces of wax paper or on a silicone bake mat. You don't want to overwork the dough and you don't want to use flour to make the dough tougher every time you reroll it out
Use two cutters to help map out where you cut out your cookies so you can get the most cut out everything you roll the dough. I usually go for 3 roll outs of the dough and either bake the scraps for taste test samples or throw out the remaining dough if there is only a little left. I love to crumble up the baked scraps and use as an ice cream topping.
These cookies freeze well in airtight container or bags. You want to keep these fresh, they will last a few days at room temperature in an airtight container, but last longer in the freezer
"Recipe"
Soft Spiced Gingerbread Cut Out Cookies
Soft spiced gingerbread cut out cookies in Christmas tree shapes decorated with royal icing and colored sprinkles. A must bake every Christmastime.
Ingredients
390

g

unbleached all-purpose flour; more for rolling

(3 cups plus more for rolling)

2

teaspoons

ground ginger

can add another teaspoon for stronger ginger flavor

¾

teaspoon

baking powder

¼

teaspoon

baking soda

½

teaspoon

kosher salt

½

teaspoon

ground cinnamon

¼

teaspoon

freshly grated nutmeg

⅛

teaspoon

ground cloves

156

g

dark brown sugar

(¾ cup)

85

g

unsalted butter, cool room temperature

165

g

unsulfured molasses

(NOT blackstrap) ( ½ cup)

1

large egg

at room temperature

1

teaspoon

vanilla extract

1

Tablespoon

white vinegar

Royal Icing

see notes

Coarse colored sugar for sprinkling on cookies

see notes
Instructions
In a large bowl, whisk the flour, ginger, baking powder, baking soda, salt, and spices and set aside.

In a stand mixer beat the sugar and butter on medium speed until light and fluffy, about 3 minutes. Beat in the molasses, egg, vanilla and vinegar until thoroughly combined, about 1 minute. On low speed, gradually add the flour mixture until just combined.

Divide the dough in half, shape into two balls, and wrap each in plastic. Refrigerate for at least 2 and up to 2 days.

Position a rack in the center of the oven and heat the oven to 375°F. Line 2 cookie sheets with parchment.

Working with one piece of dough at a time, roll it on a lightly floured piece of parchment until it's about ⅛ inch thick. Put the parchment and dough onto another cookie sheet and refrigerate for 30 minutes. Remove excess dough from around the cutouts and transfer them with a spatula to the prepared sheets, spacing them about 2 inches apart. 

Bake one sheet at a time until the cookies begin to darken around the edges, 6 to 8 minutes. Do not over bake.

Cool on the sheet on a rack for about 15 minutes. Transfer the cookies directly to the rack and cool completely.

Decorate cooled cookies with royal icing and colored sugar. 
Notes
Royal Icing
240 g powdered sugar ( 2 cups)
1 Tablespoon meringue powder ( or 2 pasteurized egg whites)
3  Tablespoons warm water
2 teaspoons lemon juice
Whisk together the powdered sugar and meringue powder in a very clean, grease free bowl of a stand mixer.
Add the lemon juice and water and whip until thick, 6-7 minutes. Add in more warm water a half a teaspoon at a time until thin enough to pipe but still thick enough to hold shape. 
Transfer to a piping bag fitted with a small round tip (#2 or #3) and pipe on lines to look like a garland or any shape you like. Sprinkle immediately with sugar and shake off excess sugar once dried.
Royal icing will dry quickly so keep in a bowl covered with a damp paper towel after making before spooning some into a piping bag to use. You can also use this royal icing for gluing together a gingerbread house. Just don't add as much water to keep it thick.
I love to dip gingerbread cookies in hot tea or coffee. So good.