Homemade Hibiscus Vinaigrette Recipe. This vinaigrette recipe has two versions, one traditional and one a little more creamy. Both are excellent.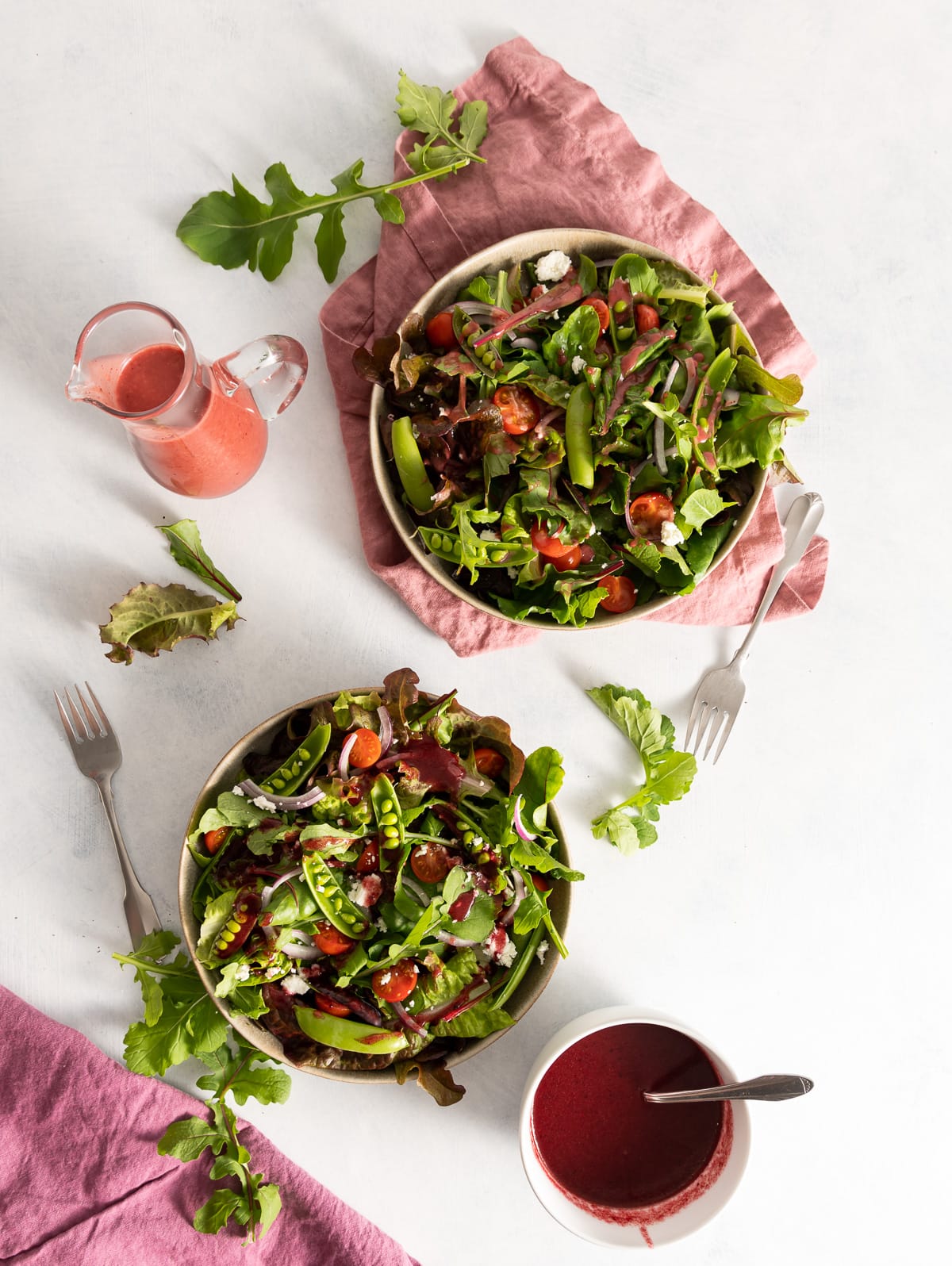 I am a huge fan of making homemade vinaigrettes and salad dressings. Just a few ingredients and you can make any way you like. There are some dressing brands that I love so I will buy them at a store but when it comes to a simple, quick vinaigrette I make at home.
I had a salad with a hibiscus vinaigrette years ago on a vacation to Hawaii, Maui to be exact, and its been on my list to try to recreate at home since then. I love trying to recreate vacation meals at home, and I have a folder full of pics of menus from various restaurants over the years.
Some I get close to the recipe, some not so close. But it's fun to try to make my own versions at home.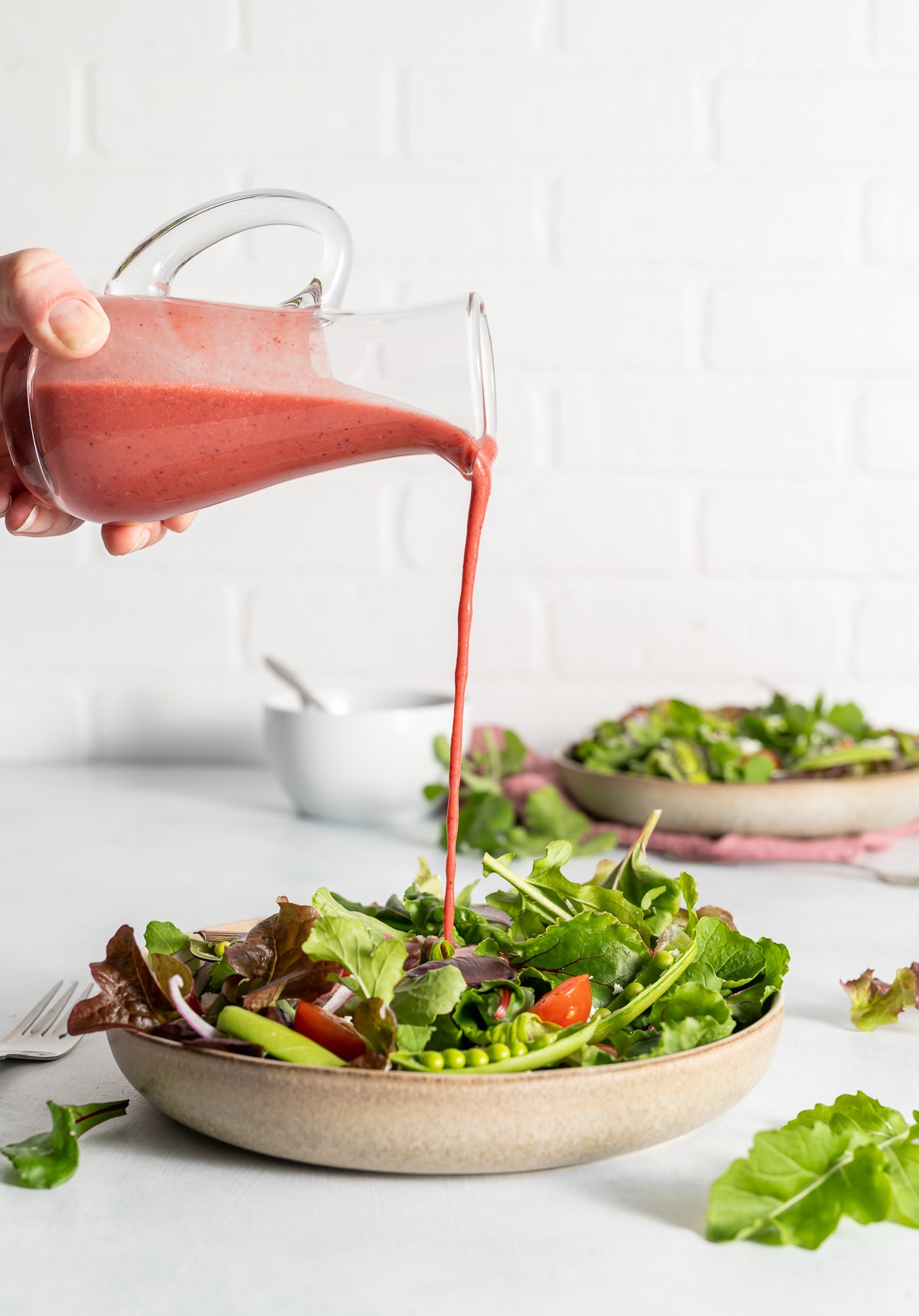 For this vinaigrette I made it two ways - one a traditional vinaigrette, the other more creamy. Both are excellent.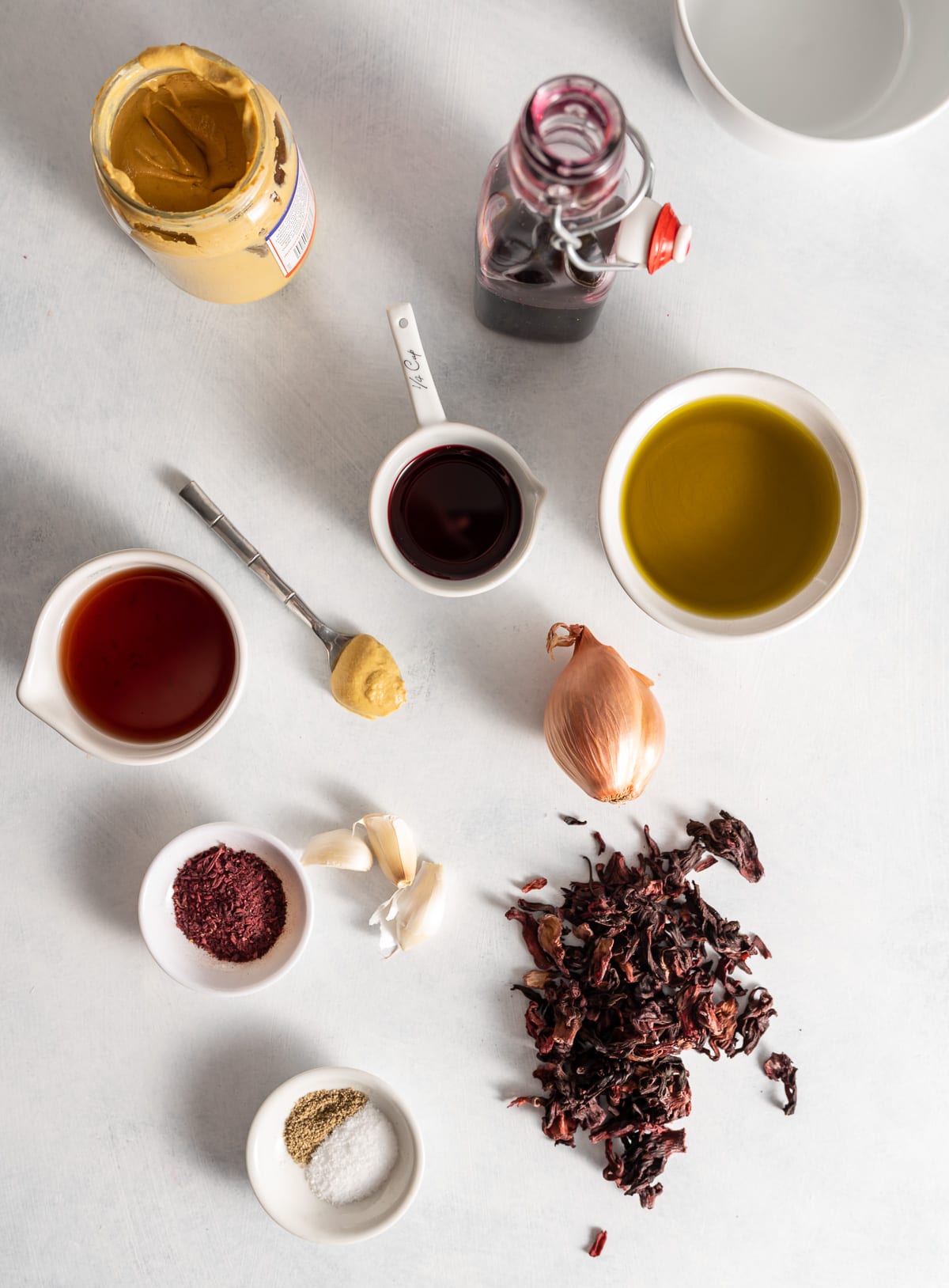 The ingredients for this hibiscus vinaigrette recipe are as follows:
Hibiscus - dried flowers ground up and

hibiscus simple syrup

Red wine vinegar
Olive oil - good quality ( I use

Luigi Tega

)
Shallot
Garlic
Dijon mustard
Kosher salt ( I use Diamond, it is less saltier than Morton's)
Ground black pepper
Mayonnaise or Yogurt - to make it creamy ( which I forgot to add to the photo, oops!)
Honey - optional, to make it sweeter if desired. Also not pictured.
These are all pantry items that most people have on hand or are easy to get. The hibiscus flowers can be found at well stocked Mexican and International grocery stores or purchased online. They last a long time. If you get dried make sure they are just dried and not candied. Way different texture and taste.
If you use hibiscus tea bags in place of the flowers make sure the tea is 100% hibiscus or else you will get a different flavor. Find loose leaf tea or cut open a few tea bags. This way is more costly however, loose hibiscus flowers are the cheapest option.
Just look at that color!! No artificial food dyes needed here, hibiscus is a natural food dye.
For the non-creamy vinaigrette, which is more like a traditional vinaigrette I blended together all the ingredients except for the oil. I poured the ingredients from the blender into a larger bowl and whisked in the oil. This makes for a much thinner consistency.
If you want larger pieces of the shallot and garlic, finely dice those then whisk everything together. I like to partially blend everything.
Traditional oil to vinegar ratio in a vinaigrette is 3:1. Three parts oil to one part vinegar. I find that for some vinaigrette recipes this is too much oil. I give you the option of a 2:1 and a 3:1 ratio in the recipe.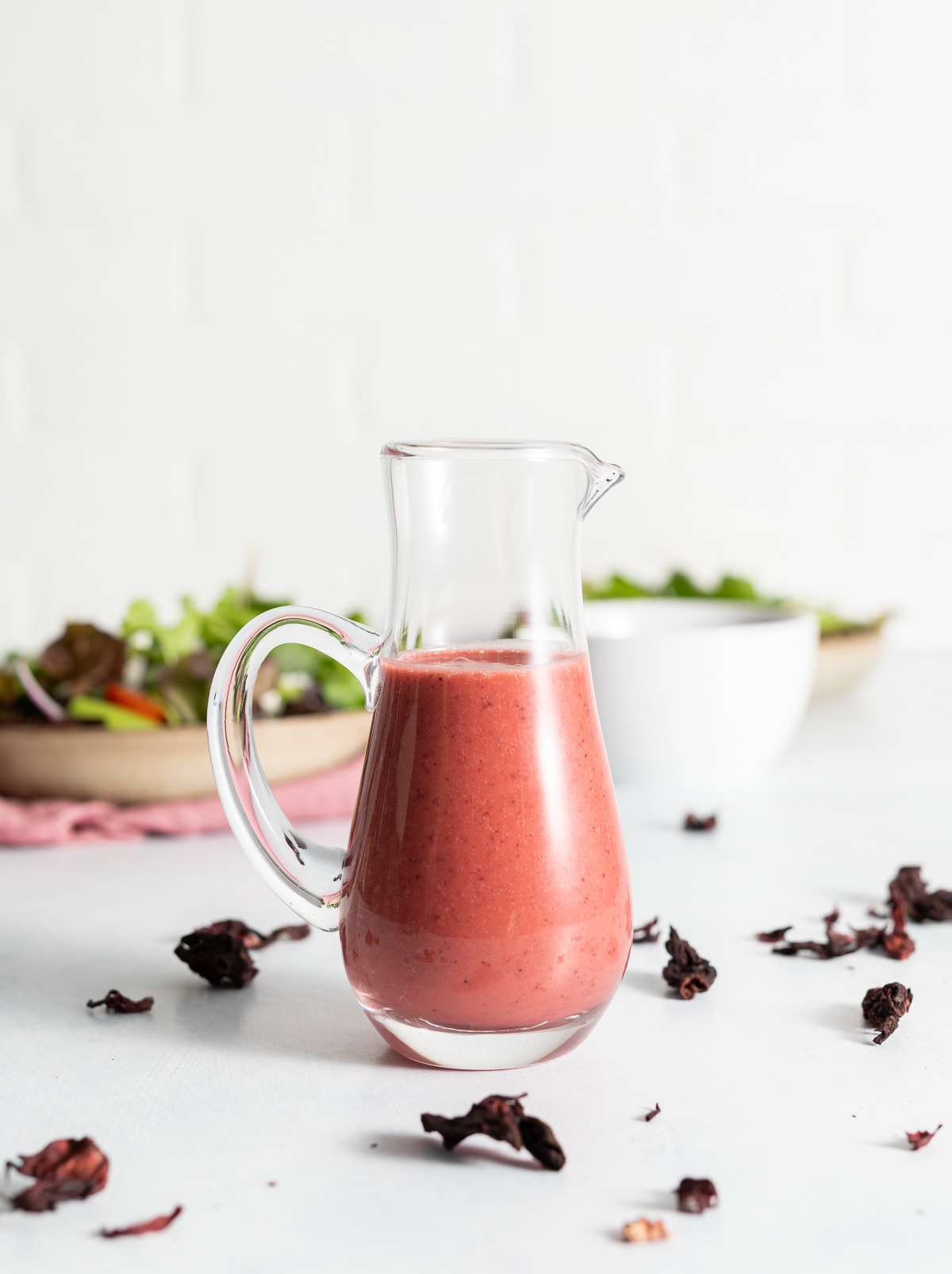 For the creamy version of the recipe you can use a little mayonnaise or plain yogurt, the thicker consistency works great, and everything goes into the blender including the oil. This way emulsifies the oil and makes for a much thicker dressing. I love both ways so that is why I am sharing both ways with you all.
A few commonly asked questions about homemade vinaigrette:
How long does homemade vinaigrette last? Do you have to refrigerate homemade vinaigrette?
Properly stored, an airtight container kept clean, should last a few weeks. If you use all dried ingredients in a vinaigrette - dried herbs, garlic and onion powder, the vinaigrette can be kept at room temperature.
Any fresh ingredients such as fresh shallot and garlic are more likely to spoil, even with the vinegar that acts as a preservative, better to be safe and keep in the refrigerator. I keep my dressings either in a mason jar with a lid or a glass, reusable salad dressing bottle.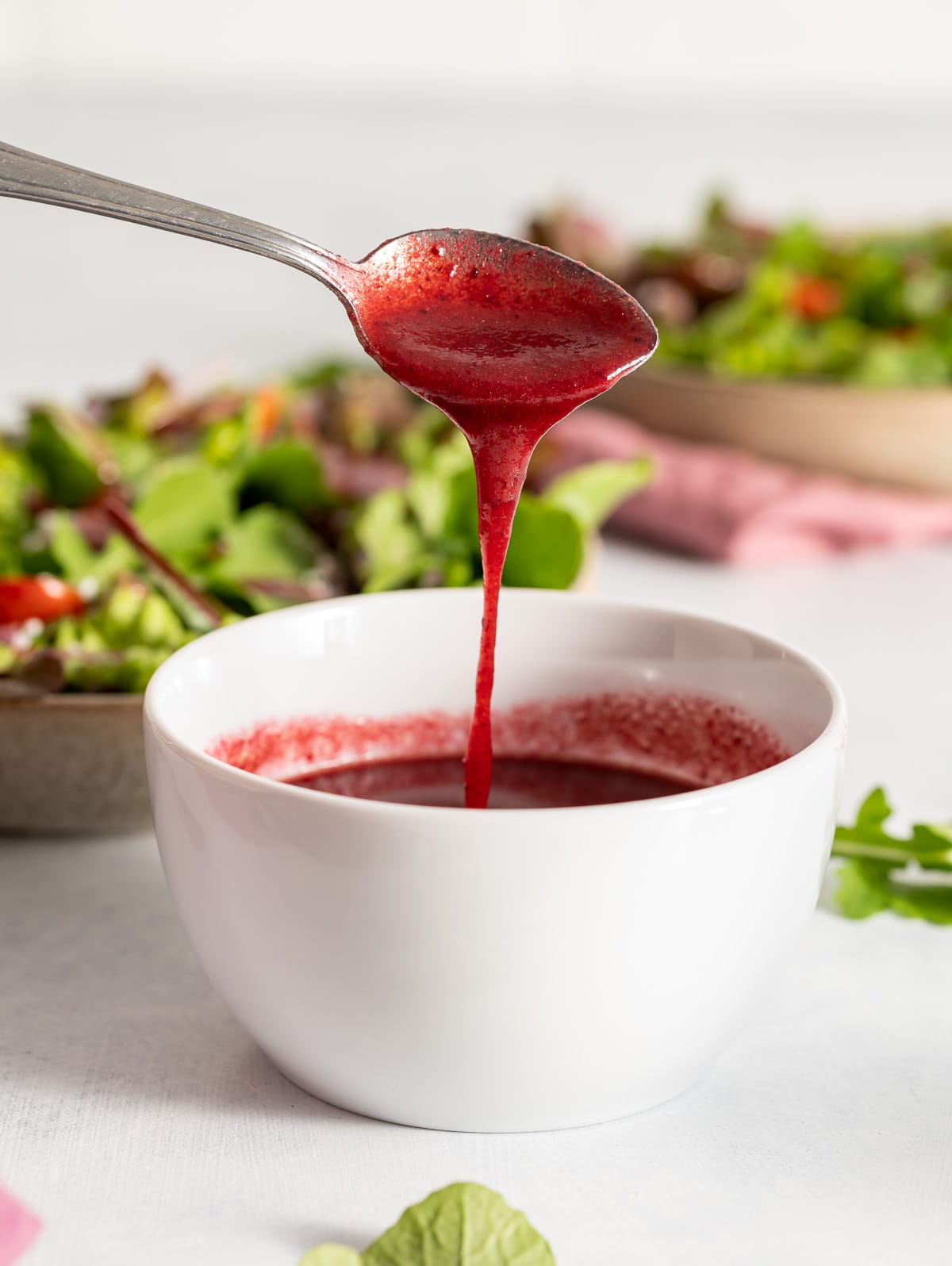 "Recipe"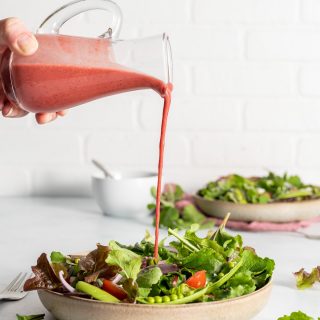 Homemade Hibiscus Vinaigrette Recipe
A sweet, tropical, and tangy hibiscus vinaigrette that is super easy to make and delicious on any kind of salad. Ready to use after making or chill before using.
Ingredients
1

large shallot

peeled and diced (a little over ¼ cup)

2-3

large garlic cloves

peeled and minced (2 Tbsp)

⅓

cup

red wine vinegar

3

tablespoon

hibiscus syrup *

2

teaspoon

dijon mustard

½-1

teaspoon

kosher salt

½-1

teaspoon

ground black pepper

2

teaspoon

dried hibiscus flower powder

⅔-1

cup

high quality olive oil

I use Luigi Tega
Optional ingredients:
1-2

tablespoon

Mayonnaise or thick plain yogurt

optional for creamy style vinaigrette

1

tablespoon

honey - to make it sweeter
Instructions
Combine the shallot, garlic, red wine vinegar, hibiscus syrup, dijon mustard, salt and pepper ( start with ½ teaspoon each then add more if desired), hibiscus flower powder and blend well. Pour into a larger bowl and slowly whisk in ⅔ cup of the olive oil. You can add the additional ⅓ cup of olive oil if you like a 3:1 ratio of oil to vinegar. 

To make the dressing creamy add everything to the blender including the oil and the mayo or yogurt and blend until thick. 

To make the dressing sweeter add up to a tablespoon of honey. Blend with the ingredients in either version. 

You can use the dressing immediately or you can chill it overnight.

Keep the vinaigrette in an airtight jar or salad dressing bottle with a lid in the refrigerator up to three weeks.

Shake either versions of the vinaigrette well before using, if the creamy version of the dressing gets thin at room temperature, blitz it in a blender for a few seconds to thicken it back up. 
Notes
*I have linked to my hibiscus simple syrup recipe in my post as well as places to buy hibiscus flowers. You can also find it by searching "hibiscus" in the search bar. 
For the hibiscus flower powder just blend some of the dried flowers until finely ground. I use a magic bullet type blender for grinding  up whole herbs and spices. A small food processor will work too. 
All the veggies in the
salad
except for the red onion came from my garden! We have a ton of different lettuces growing, tomatoes still hanging on from last years plants, sugar snap peas - both green and purple, and peppery arugula. I added in a sprinkling of goat cheese for this salad as well.