Guava Macadamia Nut Linzer Cookies. Traditional Austrian Linzer cookies made tropical with macadamia nuts and guava jam.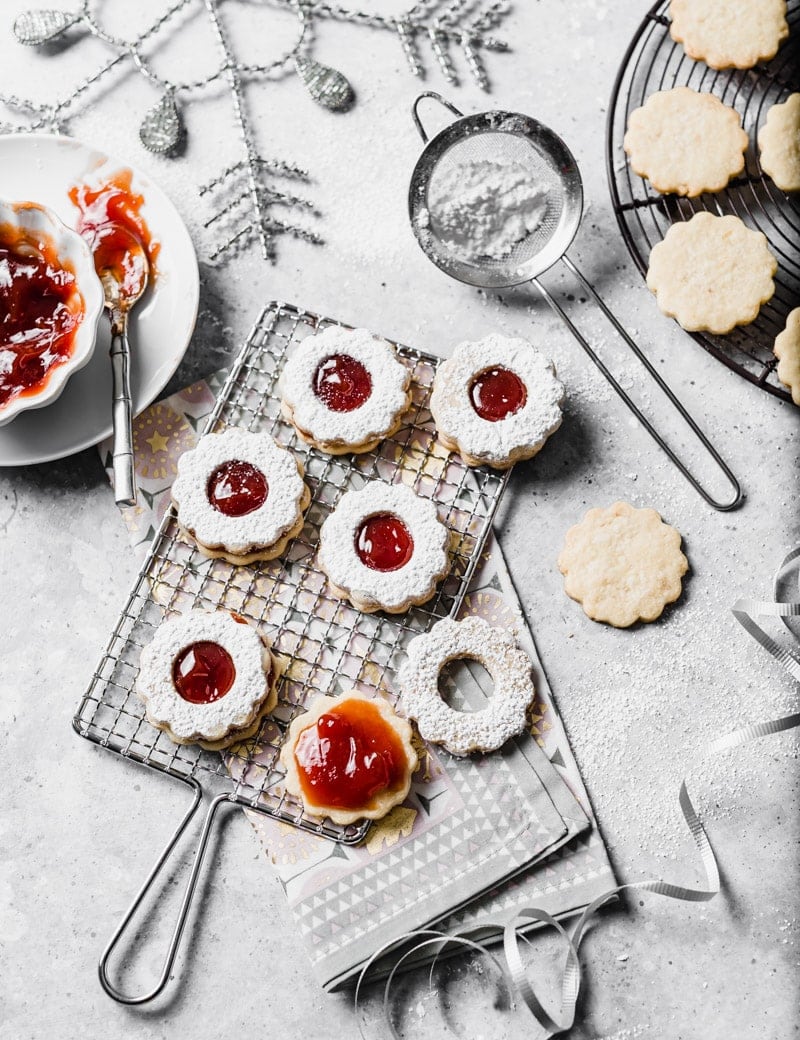 Linzer cookies are perhaps my favorite Christmas cookie and I had to make them tropical this year. Linzer cookies are such a great cookie; a buttery shortbread sandwiched with jam and dusted with powdered sugar.
I love the variety of Linzer cookies I see every holiday season from traditional with hazlenuts and apricot jam to tropical versions like mine here and everything in between. I think the sky is the limit with the flavor combinations.
I debated making these freeform or using one of my linzer cutters. I made a batch free form (using a two circle cutters) but the ones with the hole in the middle for the jam were bad. I couldn't center any to save my life. So I went with my linzer cutter and that made it so much easier to make.
For cutting these I alternated between cutting 4 solids bottoms and 4 tops with the hole in the middle. This helped me keep track of how many pairs of cookies I was cutting out so I would have an even number. I still ended up with 3 leftover solid bottoms. Those were great for taste testing.
These are quick baking cookie. Only 9 minutes in a 325 degree oven. The most time consuming part is the chilling. I roll out the dough to over ¼" thick, between a piece of parchment and wax paper. This keeps me from dusting the dough with flour everytime I roll it out which makes the dough super stiff after a few batches.
The cookies are baked until just set. You don't want them becoming too dark. They will go from baked to burnt really quickly.
I dust the tops of the cookies with powdered sugar before filling with jam so you can see the jam once the cookie sandwiches are made. You can dust with powdered sugar after you have made all the sandwiches if you like.
I got a little carried away and really dusted the tops. Oops. You don't have to be as heavy handed as I was.
I heated the guava jam, since it was pretty thick, to help spread it a little better. You can find guava jam in any Hawaiian or Mexican section of well stocked grocery stores ( Hawaiian sun or Goya brands) or any international or Mexican grocery store.
I adore guava jam and guava jelly and always have a jar of each in my pantry.
What are linzer cookies:
Linzer cookies are typically made with almond or hazelnuts in the shortbread. I went with macadamia, since those are my favorite nuts to eat and use in baking.
I also added in some lemon zest for a zing of citrus in the cookies. I grabbed a meyer lemon off my tree for this, you can use regular lemons if you like but I highly suggest using meyer lemons if you can.
A few notes about the recipe before you get started:
The biggest part of these cookies is the chilling time. Make the dough - chill. Roll out the dough and cut - chill. Place on cookie sheet - Chill. It is very important to keep this dough as cold as possible the whole process.
Roll the dough out between sheets of parchment or a piece of parchment and wax paper. Only use flour if absolutely necessary. Using too much flour between each time you roll the cookies out results in a very stiff and crumbly dough by the last few batches. Not good.
Roll these out thick, just over ¼". You don't want them too thin or they will burn when baking and break when pressing into sandwiches.
I tested these at a 350 Deg F oven and 325. I liked the results from a 325 oven best. I also baked each batch for 9 minutes each. Let cool for 2 minutes then transferred to a wire cooling rack to cool all the way. I prefer my linzer cookies to be more pale in color.
Do you have to use macadamia nuts? Nope. You can use any nut you want. I just love the combo of guava with macadamia nuts
Do you have to use guava jam? Nope. You can use any jam you want - these would be amazing with mango or passion fruit jam.
"Recipe"
Guava Macadamia Nut Linzer Cookies
Classic Christmas Linzer cookies made tropical with macadamia nuts in the shortbread dough and filled with tangy guava jam
Ingredients
200

g

granulated sugar

1 cup

276

g

flour

divided (2 cups plus 2 tablespoons)

1

teaspoon

corn starch

½

teaspoon

kosher salt

125

g

macadamia nuts

1 cup

226

g

unsalted butter

cool room temperature

2

teaspoons

lemon zest

2

large egg yolks

cool

1

tseaspoon vanilla extract
Instructions
1. Grind macadamia nuts with the two tablespoons flour in a food processor until it is a coarse flour. Set aside. ( Don't over mix this or else you will have macadamia nut butter and will have to start all over)

2. Combine the rest of the flour with cornstarch and salt and set aside. 

3. Cream sugar and butter in a bowl of a stand mixer with paddle attachment until light and fluffy, 2-3 minutes.  Add lemon zest, vanilla, and egg yolks. Mix again, scraping down sides of bowl when needed.  

4. Add in flour mixture then macadamia nut flour, mix on low until just combined. 

5. Using your hands shape the dough into a ball then divide dough in half. Press into discs, wrap in plastic wrap.  Chill for 4 hours up to two days

6. When ready to bake heat oven to 325 Deg F. Prepare baking sheets with parchment paper. 

7. Roll out dough between parchment paper and or wax paper sheets. Lightly dust bottom paper and top of dough with flour if necessary to keep from sticking.  Cut out circles using a linzer cutter or a 2 inch round cutter and a smaller round cutter for the top cookie. Cut one solid cookie and one with a hole in the middle for every pair of cookies. Place cut out cookies on baking sheet two inches apart. Chill for another 20 min. Bake for 9 minutes until cookies are barely golden and centers are set. 

8. Let cookies cool for 5 minutes on the cookie sheet then transfer to cooling rack, cool completely. 

9. Dust the tops of the cookies ( the ones with a hole in the middle) generously with powdered sugar.

10. Spread a thin layer of jam on bottom half with a little more jam in the middle (about two teaspoons), gently press top of cookie onto the bottom, add more jam in the hole in the middle if needed. Chill until cookies are set. Keep in a resealable bag or airtight container with sheets of parchment between layers of cookies, in the fridge or freezer until ready to serve. 

11. Store in fridge or freezer to keep cookies firm.
Notes
If the dough is sticking to the parchment when you are cutting out the cookies just cut them out and chill for 10 minutes. Carefully slide a thin spatula under the cut out dough and place the dough on a prepared cookie sheet. Chill another 20 minutes before baking. Gather up the scraps of dough and press into a disc again and chill while the cut out cookies are chilling. Repeat until all the dough is used up. The name of the game for these cookies is to keep everything as chilled as possible until ready to bake. 
I always make such a huge mess when I make these guava macadamia nut linzer cookies but they are oh so worth it.