Malted Macadamia Nut Mango Crumb Bars. Mango bars just got a whole lot better with macadamia nuts in the shortbread base and in the malted crumb topping. Tropical goodness in a tasty dessert.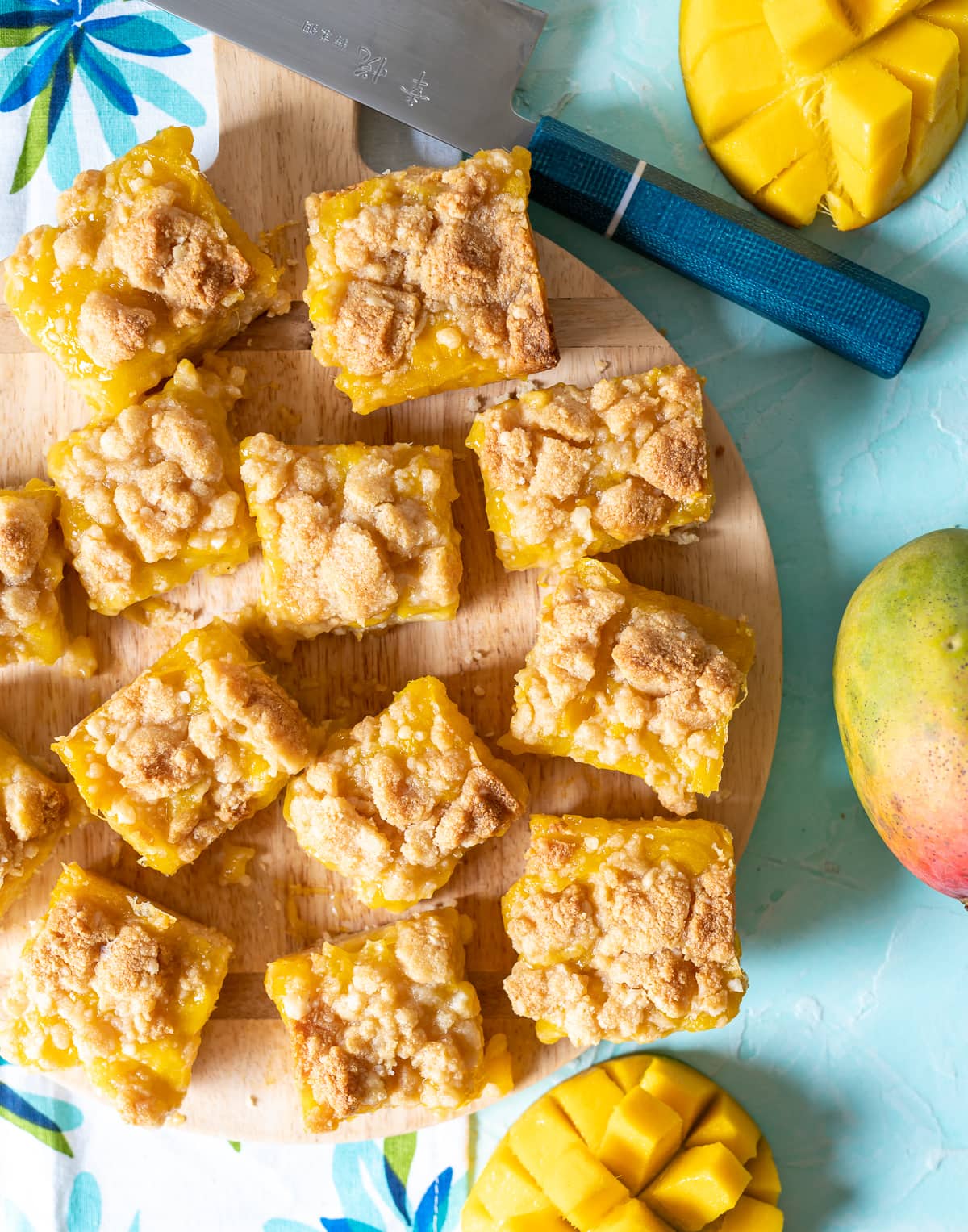 I love making bars and brownies. Make it all in one pan and its done a lot quicker than batches of cookies. Not that I don't love making cookies, a pan of bars or brownies can satisfy that sweet tooth a whole lot faster.
I have made tropical crumb topped bars before with my tropical jammy pie bars from Hummingbird High's baking book, which are awesome, but these take advantage of fresh, seasonal mangoes instead of a store bought jam.
I did many tests of these mango crumb bars to get to exactly what I wanted :
Thick, buttery shortbread base with macadamia nuts. Shredded coconut also works great.
Gooey, almost jam like filling with chunks of fresh mango.
Buttery, crumb topping with a hint of malty goodness. I got the idea for adding malted milk powder from my friend Holly of the fab

It's Holly

recipe blog.
Holly posted malted strawberry crumb bars on her instagram and I knew I needed to add it to my mango bars. I am so glad I did.
You can find malted milk powder in the baking sections of well stocked grocery stores, specialty bake shops as well as online baking retailers. I love adding it to waffles and ice creams.
How do you make mango crumb bars?
Mango crumb bars have three components, the base the filling and the crumb topping. You can make each component in the same bowl if you like, to keep clean up to a minimum. If you buy pre-chopped macadamia nuts or chop them yourself you can either do so with a knife or a food processor.
If you go the way of the food processor, blitz them with some of the flour so they don't turn into macadamia butter.
To make the shortbread base as seen above:
Mix the ingredients for the shortbread base together in a large mixing bowl. You can use a pastry blender like I did or use a fork or your hands. It will be a loose mixture.
Pour the base into the prepared pan. I use large binder clips to0 hold the edges of the parchment paper down, don't forget to remove them before baking the bars.
Press the base down as best and evenly as you can using your hands. I will place a piece of parchment over the top then smooth with the back of a measuring cup.
Once the base is pressed down evenly, lightly pierce all over with a fork then bake for about 20 minutes until starting to turn golden.
Let the base cool for 10 -15 minutes before adding the mango layer and the crumb topping.
I actually make the crumb topping first, because I keep it chilled before adding to the pan.
With the crumb topping I will squeeze a bit in my hands then break into pieces, some larger, some smaller
The bars get baked until bubbly and the top is golden brown. Usually about another 30-35 minutes. Since the base is already partially baked I don't worry about the base not baking enough. When the top is nice and golden brown, I know they are done.
I let the mango bars fully cool in the pan before removing. The filling is quite gooey, but it sets up nicely once cooled. If I have the space, I will pop them into the fridge or freezer to cool before cutting.
A few notes about this Malted Macadamia Nut Mango Crumb Bar recipe first:
You can make these bars mostly in one bowl. I make the crumb topping in the larger mixing bowl but transfer to a smaller bowl to chill. The rest can be made in the bigger bowl.
The shortbread base can be mixed together with a pastry blender, a fork or your hands even. No need for a mixer of any kind.
I have made this recipe with a thicker shortbread base and a slightly thinner, both versions are great, and I am including measurements for both in the recipe.
I also made these bars using unsweetened coconut flakes in the base and crumb topping as well as macadamia nuts. Both versions work great, and I have added both versions to the recipe card.
The filling has both mango puree as well as chopped mango. I like the jam-like texture from the puree so I have both in. If you want to just do all chopped mango, that works too.
No malted milk powder? It's ok. Just omit it, but you won't have that malty flavor.
These are amazing frozen. Like a mango sorbet bar. And the crumb topping stays crunchy!
Do not use frozen mango in the topping, it will be way too watery once baked. Use fresh.
Malted Macadamia Nut Mango Crumb Bars
Buttery shortbread studded with macadamia nuts, sweet and tangy tropical mango and a crunchy malted crumb topping. These mango bars are crazy delicious.
Ingredients
Shortbread base:
1 ¾

cups

ap flour

195 g*

⅔

cups

granulated sugar

134 g*

¾

cup

butter

cubed (170 g)*

½

teaspoon

Kosher salt

1

cup

unsalted macadamia nuts

finely chopped (or 1 cup unsweetened, dried coconut).
Crumb topping:
⅓

cup

ap flour

43 g

⅓

cup

sugar

66g

⅓

cup

malted milk powder

60 g

5

Tablespoons

butter

cold, cut into cubes,

¼

cup

macadamia nuts

finely chopped
Mango filling:
1

cup

mango puree

500 ml

2

cups

diced mango

½

c

sugar

100 g

2

Tablespoons

lemon juice

1

Tablespoon

cornstarch

10g
Instructions
Preheat oven to 350 Deg F. 

Prepare an 8x8 inch pan (or 9x9/10x10) with parchment paper hanging over the edges. Spray lightly with cooking spray. 

Combine half a cup of flour with the macadamia nuts and pulse in a food processor. Combine the rest of the shortbread base ingredients in a large bowl and mix together with a pastry blender or your hands. 

Press into the prepared pan as firmly as you can. You can place a piece of parchment over the top and smooth out with a measuring cup to make sure it is evenly pressed into the pan. Lightly mark the top with a fork then bake for 20 minutes.  Let cool for a few minutes

While the pastry base is baking, using the same bowl as you made the base in, combine the crumb topping together until it's one solid mass. Let chill until ready to use. Once ready you will crumble it into large pieces.  

Wipe the bowl out and mix together the mango filling ingredients. Spread this over the pre-baked shortbread base then add the crumble topping. 

Bake for 30-35 minutes until bubbly and the crumb topping is golden brown. Let cool before cutting. 
Notes
If using a 9x9 or 10x10 pan OR wanting a thicker shortbread layer in an 8x8 pan use these measurements:
Flour - 2 cups (260g)
Sugar ¾ c ( 150g)
Butter - 1 cup (226g)
Those are the only changes. The rest of the recipe is the same. I tested it this way and this made for a thicker base in an 8x8 pan or a base for a 9x9 or 10x10 pan. The filling and crumb topping amounts stay the same.  I did not test this in any other size pan. 
To use coconut in place of macadamia nuts, just swap out even amounts for unsweetened, shredded coconut. You can toast the coconut before adding to the crumb topping and shortbread base if you like. 
Meal pairing ideas: