Kalua pork. Hawaiian style kalua pork made in a slow cooker, so easy, so tasty and just a few ingredients.
My favorite Hawaiian pork dish ever. Typically seen at Luaus in Hawaii this amazingly easy and incredibly delicious Hawaiian style slow cooker Kalua pork is a mostly hands off recipe, my favorite kind of recipe.
This is also called crock pot kalua pork, kalua pig, luau pork. However you call it or make it, anyway is delicious. I have also included instructions on how to make it in the oven, smoker and instant pot.
And if you ever get the chance to cook it in a traditional imu pit in your yard, invite me over. I will bring the mai tais.
Kalua pork history:
There is some back story to this recipe. If you wish to skip this part, scroll down to the recipe. ( I promise I won't be offended, just don't forget to check recipe notes for lots of details).
I have a fun story about this Kalua pork recipe: We were in Hawaii a few years ago hanging out on a gorgeous beach in near Poipu, Kauai on a Sunday, when all the locals are out having their weekend Luau. There were all kinds of yummy smells coming from the picnic areas at the beach.
I adore Hawaiian food, and this was making us really hungry! We happened to be near one couple that had some little kids that were playing near our little girl. So we started chatting with them. Our daughter hit it off with their kids, we hit it off with the adults.
This is what I love about Hawaii, that Aloha spirit, everyone is like family.
We were asking them what they were cooking etc. and they showed us all what they had. So much amazing food! They had a small hibachi grill and were cooking whole prawns first, then they were going to cook some reef fish they had just caught themselves! The conversation turned to Kalua pork and I told them how it was my favorite dish.
They said they only brought their small hibachi grill to the beach. No time to dig an Imu. So prawns and reef fish it was for them that day. It was pretty cool watching the dad spearfish with a three prong spear for reef fish off the jetty.
How is Traditional Hawaiian Kalua Pork made?
Traditional Hawaiian Kalua pig is cooked in an underground oven called an Imu. An Imu is a 2- 4 foot deep pit dug and filled with kindling and rock, most often lava rock or basalt, and lit on fire. It takes a few hours for the kindling to turn to coal and the stones to get to an even heat and once they are ready to cook the pig, tropical leaves are placed on top to steam cook the pork.
Hawaiians would traditionally use anything from coconut palm fronds to grasses, ti leaves or banana leaves.
The prepared whole pig is then laid on top of the bed of greenery, covered with more leaves or greens then the dirt that was dug out of the pit is used to cover it back up to keep the heat in. Its cooked at least 8 hours, depending on the size of the pig.
Similar amount of time it takes to cook a 4-6lb pork shoulder in a crock pot, but without having to dig a hole in your hard and find banana leaves. Or climb your neighbors palm tree to harvest leaves.
Traditional Kalua pork is seasoned with Hawaiian salt, rock or red salt. I always buy a bag of Red Alaea salt when we go to Hawaii on vacation. I also find it at Cost Plus World Market. There are several other places mention in comments on where to buy the salt too.
Substitutions for red salt in Kalua pork:
Kosher salt - it will be saltier so use less. Diamond kosher is less salty than Mortons.
Sea salt.
Smoked salt of any kind - you can use this then use a little less liquid smoke.
Himalayan salt - isn't very salty so you will have to use a lot more. This is a salty pork dish, it is meant to have a generous amount.
PLEASE READ KALUA PORK RECIPE NOTES:
There are lots of options in the notes but the most important is how much salt to use which is dependent on how much pork you cook. There has been confusion from several readers. Smaller roast less salt. (4-6 lb roast) Larger roast more salt. (10-12 pound roast). And as always adjust to your own taste. I prefer saltier Kalua pork, some might not like it as salty. As a general rule ¾-1 teaspoon of salt per pound of pork is suggested, depending on kind of salt used. Some salts ( table salt) are saltier than others ( Hawaiian sea salt, diamond Kosher salt).
The smoke flavoring comes from the style of the cooking in the underground oven. Digging that pit on my backyard for the imu to get that smoky flavor isn't happening anytime soon, although our puppy has dug some nice holes in the backyard for us the past few months, liquid smoke is the next best thing.
The Hawaiians we were talking to on the beach told us that for making Kalua pork in the oven or crock pot that hickory flavored liquid smoke was better to use than mesquite.
We also own a smoker and have made the Kalua pork in our smoker as well and it comes out just as good. The smoker is my husband's "baby" so when I make the Kalua pork I make it in the slow cooker, he makes it in the smoker. Recipe instructions for making in an oven as well as smoker are in the recipe notes.
Hawaiian Kalua pork recipe shared by a local Hawaiian:
So back to this story from the beach. The guy was telling us that the best way was either in an oven in a pan with the pork wrapped in banana leaves after being smothered in liquid smoke and Hawaiian sea salt or to use a slow cooker but he had never used a slow cooker, just had many cousins that had. And that either recipe would work.
Hawaiians call each other Aunty and Uncle and Cousin. No matter what, blood relation or just friends. He told us to call him Cousin Ben and that we were now his "Cousins" and to come visit any time.
Aloha spirit, again.
Ben's wife was super nice and their kids were so adorable. They played with our baby girl on the beach that day. I am forever thankful for being on the beach that day for this recipe and new friends.
I know there are many variations of kalua pork recipes online, I heard it first from a local Hawaiian so my recipe is courtesy of " Cousin" Ben of Poipu, Kauai, Hawaii circa 2012.
How to make Hawaiian Style Slow Cooker Pork:
First you want to get anywhere from a 4-6 lb boneless pork shoulder roast or "Boston" butt. That is what will fit best in most slow cookers.
We get our boneless pork shoulder roasts from a small Utah pig farm that delivers to Vegas through the food co-op. Sustainably and humanely raised and so incredible tasting.
We have also gotten pork shoulders from Whole foods and Costco. Since we place a huge emphasis on where our food comes from and how its raised, we mainly use pork from the farm that we buy from.
You can get a bigger pork shoulder roast if you have a bigger slow cooker. Ours is pretty good sized and I have had as big as a 10lb roast before. But we usually make a 4-6lb roast.
I would go with 8-12 lbs if you are making for a luau, potluck, party or even to freeze and save for later. Thaw in fridge before reheating.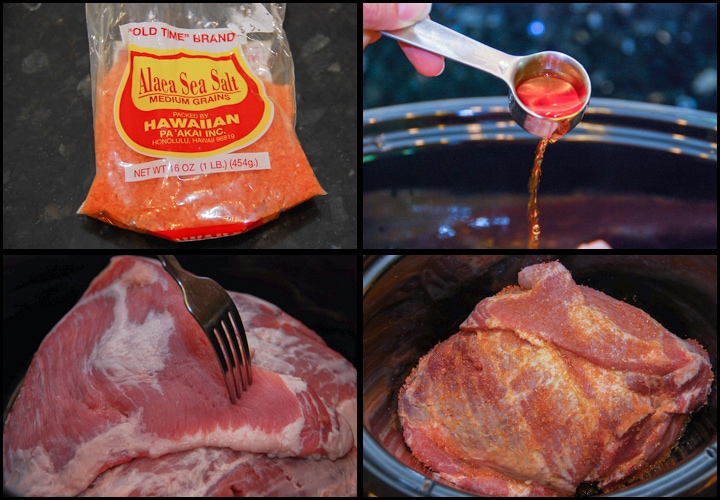 What else do you need besides pork shoulder?
That lovely red Hawaiian alaea salt and liquid smoke. You can also use smoked salt if you like.
Pierce the shoulder all over with a fork. Cover with the salt. Depending on how much fat is on the roast you get you will want to trim some off before you place in slow cooker and season it. Don't trim all of it off, but trim off the bigger amounts of fat so the pork isn't totally submerged in liquid fat as it cooks. You still want some to keep it from drying out.
How long does it take to cook Kalua Pork?
Time cooking depends on size of roast and temperature. Keep an eye on your roast depending on the size when it gets close to being done.
Once done the slow cooker Kalua pork is so tender you can shred with the back of a spoon. So ono as the Hawaiians say, meaning so GOOD!!!
So many friends ask me for this recipe and since we make it so often, and it's so simple with few ingredients, 3 exactly, that I tell them verbatim and never email the recipe. This is also a base for so many recipes we make and it freezes really well. It's also great in burritos, tacos, sandwiches and more!!
How to cook Kalua Pork:
This recipe is made in the slow cooker, it realls is an easy kalua pork recipe. I have included options for other cooking methods since not everyone has a slow cooker.
Oven Kalua pork:
No slow cooker? No problem. You can make this recipe in the oven.
For the oven wrap the prepared pork shoulder ( pierced all over, salt, liquid smoked as stated in recipe) in foil and place in a heavy duty roasting pan. You can also wrap in ti or banana leaves then in foil. The Ti leaves are harder to find in stores. Banana leaves you can find in well stocked international or Mexican grocery stores. Ti and Banana leaves aren't edible, the just help keep in moisture and lend to a more traditional flavor. You want to discard those after cooking. You can also have some extra banana or Ti leaves to serve the pork on top of. It looks really nice and authentic.
You want the kalua pork to steam as it cooks. If making in an oven, the leaves and foil help steam it. Oven temperature for kalua pork should be 275-325 Deg F. Cook low and slow just like a slow cooker. This again will depend on the size of the roast you get. It should take around 6 hours, but check internal temperature, it should get to 180-190 Deg F. 165 Deg F is the temperature you want to reach for cooked pork but it won't be falling apart properly at that temp. You want to cook it until the pork is so tender you can separate it with a spoon, so go for the higher temp.
Kalua pork in a smoker:
With a smoker you can cook a much larger piece of pork than you would in an instant pot or even a slow cooker ( depending on the size of your slow cooker).
Prep your wood chips - you want to go for a stronger smoky flavored chip such as hickory, mesquite or if you can find it, Hawaiian Kiawe wood.
Set smoker to 275 Deg f. Set out a large pan (that fits in your smoker) and line the bottom with banana leaves or Ti leaves. You could even do foil or parchment.
Prep the pork with piercing all over with a fork and salting. Place on the prepared pan.
You can do one of two things at this point - smoke uncovered/unwrapped for 3 hours, remove then wrap and continue smoking for another 5-7 hours. Or wrap up and smoke uninterrupted for 10 hours. I prefer to wrap first then smoke because handling the hot pork to wrap up after 3 hours isn't much fun.
Again, reach an internal temp of 180-190 ( you can pierce the pork through the foil/banana leaves or unwrap slightly to check temp.
Let the pork shoulder rest still wrapped up for an hour before shredding. Keep any pan juices with the shredded pork for the smoky flavor and to keep it from drying out.
Instant pot Kalua pork:
This is probably my least favorite method only because instant pots/pressure cookers tend to not hold as much, you start with satueeing to brown the pork and while it does cook faster, kalua pork is a slow cooked recipe to get that flavor and super tender texture.
For instant pot kalua pork the size of the roast will depend on how big your pot is, I wouldn't go any smaller than 4 pounds of pork shoulder. Cut your pork shoulder in half.
Set the pot to sautee, add a few tablespoons of oil and brown both halves of the pork all over, for just a few minutes. remove the pork from the instant pot, place on a plate, and turn off the pot from sautee.
Pierce the pork shoulder with a fork and season with salt ( amount and kind stated in original recipe).
Add in a half a cup (120ml water) and the liquid smoke to the instant pot and scrape up any browned bits from the bottom. Add the pork halves back in and add a little more salt.
Set your pot to high pressure for 90 minutes ( more if using 6 pounds or more of pork).
Let the pressure release and once safe to do so, open the lid and check the pork for tenderness. You can shred in the pot or remove and shred then return it. You want to keep the the pork resting in its juices to not dry out.
Please check my notes section in my recipe for options on salt, etc. I have had so many questions over the years about the recipe that I add answers to the notes section from time to time!
Hawaiian Style Slow Cooker Kalua Pork
Hawaiian Style Slow Cooker Kalua Pork. Easy to prepare and no hands on cooking make this pork recipe a breeze to make and turns out perfect every time. Serve with sticky rice and sautéed baby bok choy or cabbage.
Ingredients
6-8

pounds

pork shoulder or Boston butt roast*

1

Tablespoon

liquid smoke

Hickory or Mesquite flavor

2-3

teaspoons

red Hawaiian Sea salt

2-3 Tablespoons for a larger roast- over 6 pounds***see notes

Banana leaves - optional

I personally don't use them in the slow cooker, but I do when we cook it in our smoker - see notes for smoking instructions
Instructions
Rinse and pat the pork shoulder dry with paper towel, do not trim off excess fat and place in the slow cooker.

Pierce all over with a fork, pour the liquid smoke evenly over the roast and sprinkle liberally with the sea salt.

Place the lid of the slow cooker on and set the time for eight to twelve hours on LOW.

Check at about eight hours for doneness. If not done let go the full 12 hours, checking every hour.

If you have used banana leaves you can remove them before shredding the pork.

Remove around 2 cups of liquid (500ml) and set aside. This should be most of the cooking liquid removed. Shred the pork with forks and then add some of the liquid back in to keep the pork from drying out. You might not add all the liquid back in, save it for storing the pork if there are leftovers. 

The pork should be kept warm-hot in the liquid before serving. You can place the banana leaves on a platter then serve the pork on top of them or use fresh banana leaves for serving. Do not eat the banana leaves.

The pork saves well kept in an airtight container in the refrigerator or freezer, keep some of the cooking liquid with it. Thaw in refrigerator if frozen. It can be reheated on low in the slow cooker.
Notes
1. If using banana leaves, which can be found at any well stocked Asian grocery store, international store or Mexican grocery, place some leaves in the bottom of the pot reaching up the sides. Place the roast on top of the leaves, then add the liquid smoke and salt and wrap tightly with the leaves tucking them back under the roast. you can tie with cooking twine if wanted but its not necessary if the leaves are wrapped tightly enough. Cook the same as a non wrapped roast. This will give the pork more of a Lau Lau style flavor. You can also use Ti leaves, although those are harder to source. Both the banana leaves and ti leaves aren't edible so discard before shredding the pork. You can use fresh banana leaves on your serving platter under the pork if you like.
2. The reason the roast is pierced with a fork is to get the flavor from the salt and smoke deep into it, it won't dry it out. There is no extra liquid needed since this is made in a covered crock pot.
3. If cooking the Kalua pork in a conventional oven instead of slow cooker, place the roast on a large piece of foil, pierce all over, add the liquid smoke and salt and wrap tightly with foil, place in a roasting pan and pour ¼ water in the pan. Roast at 325 deg F for about 5 hours for 3lbs of pork shoulder, and longer for bigger pieces up to 8 hours. Checking every 30 min for doneness after the original 5 hours. Shred as stated above. You can also wrap the pork in banana leaves and then with the foil.
4. We have also made this recipe in our electric smoker. Set temperature to 275 Deg F. Our smoker has a water tray that we keep an eye on to make sure that it is filled the whole time. Prep the roast as above but tightly wrap in banana leaves. You can place the wrapped roast in an aluminum pan and place in smoker ( we place it in the middle) or you can place it just on the smoker rack, not in a pan. Smoke until the pork is easily falling apart when shredded with a fork and internal temp is around 190 Deg F. We time it with an hour to an hour and a half of cooking per pound of meat. Usually start with an hour a pound then check it ( say a 6 lb roast we check at 6 hours) then determine from there how much more time to smoke it.
5. This pork can be frozen after cooking! Keep in airtight freezer bags with the cooking liquid. We use a vacuum sealer which keeps the pork fresher longer. Thaw in refrigerator, reheat in the slow cooker, oven or in a pan on the stovetop, don't microwave.
6. Another popular way to make Kalua pork is with the addition of green cabbage. Depending on how much cabbage you like or how large of a roast you are making usually 1-2 heads of green cabbage is best. Wash and chop into bite sized pieces. When the pork is done cooking - add some of the liquid released from the pork to a large sauté pan over medium high and add the cabbage. Sauté until soft. You can place the cabbage first on a serving platter and top with the shredded pork or you can mix the cabbage in with the pork before serving.
**** I have had so many comments on the amount of salt used. IF the roast is smaller, UNDER 6 pounds ( 4 pounds is usually smallest I find in the store or from my butcher) use less salt, 2-3 teaspoons, UP to a tablespoon if desired. If you have a larger roast OVER 6 pounds up to 10-12 pounds use 1-3 Tablespoons. The only seasoning the roast gets is from the salt and I personally like to err on the side of saltier. If you don't want it as salty, use less. You can always add more salt at the end of cooking. But please don't yell at me in the comments that I ruined your dinner. Unless I am physically in your kitchen, the cooking is all on you.
Lets make it a luau with these other recipes to go with the slow cooker Kalua pork:
Aloha and enjoy my favorite easy kalua pork recipe.