Hawaiian Wedding Mai Tai Cocktails. These are the mai tai cocktails we had at our wedding on Kauai 11 years ago and I am finally sharing for National Mai Tai day!!
I love a good Mai Tai. I have had them on every Hawaiian island, and have yet to pick a fave. Each one has all been so different. When we got married 11 years ago ( June 1st was our anniversary) we knew we wanted Mai Tai cocktails as our signature wedding drink. I mean, you can't get married on Hawaii and NOT have a mai tai! We wanted to make it a little different from the traditional version too.
I love the original Mai Tai. The Mai Tai has a bit of history as to who invented it. Trader Vic in 1944 or Donn The Beachcomber in 1933. Whomever invented it I am glad they did. Tiki drinks are so fun and delicious and the Mai Tai is perhaps the most quintessential of all tiki drinks.
I make my Hawaiian Wedding Mai Tai cocktails with Koloa Rum. While traditional Mai Tais have light rum mixed with lime juice, rock candy syrup, orgeat syrup, orange curaçao then topped with dark rum, I like to do a combination of light and coconut rum. I also use lime juice but I add in pineapple and guava juices, amaretto instead of orgeat and pineapple gum syrup.
Tiki drinks are often combinations of many ingredients that lend to their complex tastes. Another distinction of tiki drinks are their fun garnishes. I am all for several items to garnish a tiki drink. Pineapple, limes, mint, cherries and of course a paper umbrella. Paper straws too!
How cute are these surfer dude and surfer chick salt and pepper shakers? These were actually our wedding cake toppers. I glued the surfers to the surfboards, so I can't really use them as salt and pepper shakers, and I painted them to try to match my husband and I a little better. Blonde hair for me, a beard for him. They were perfect for our Hawaiian wedding. We were married barefoot on the beach in front of a plantation estate we had rented for the occasion. In front of the house was a local surf break and there were people out surfing when we got married, so the surfer dude and surfer girl wedding cake toppers were perfect for us. Our reception was a small, intimate affair on the lanai of the estate. We had traditional luau food, more mai tais and our wedding cake which was a cute two layer cake with one layer a vanilla guava cake and the other was a chocolate macadamia nut cake.
One of our first dates was a trip to Maui where my husband learned how to surf, and I introduced him to my love of all things Hawaiian from the scenery, the beaches, surfing, the drinks and food.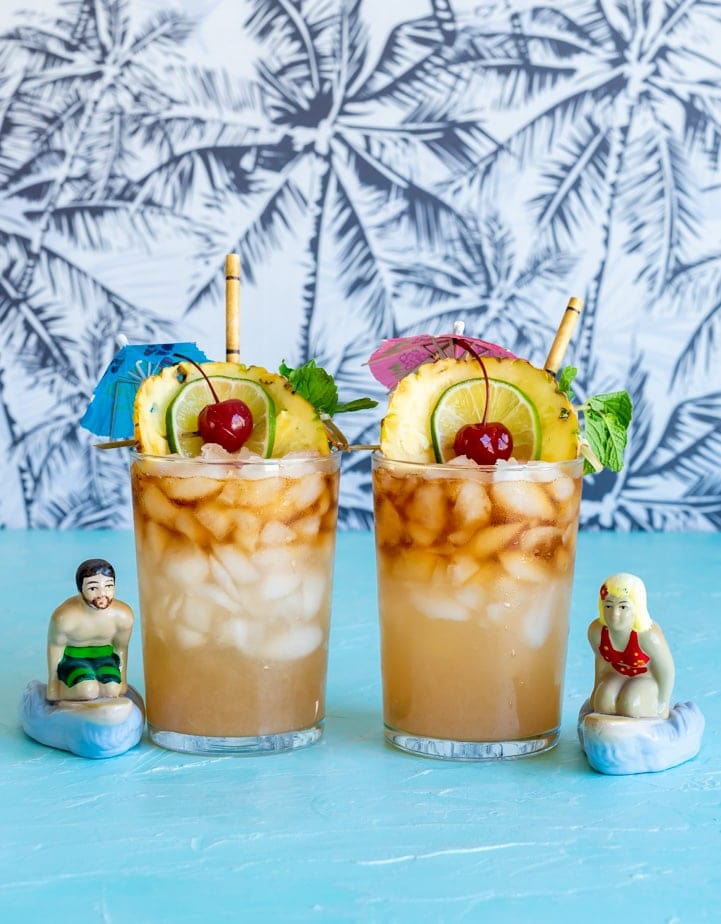 Every year on our anniversary we make these mai tai cocktails. It's amazing to me that we have been married for 11 years already. It seems like forever but it also doesn't seem like that long. My best marriage advice I have is marry your best friend. We are each other's best friends and we really have a great time together. Laughter is good too.
We know how to make each other laugh which helps us get through the harder times in life. Especially when we are super busy and don't get as much time together as we would like. School and work full time for him, work for me, and two very busy daughters with their school, sports etc. So to get to relax and have a mai tai now and then to remind us of how awesome our wedding day was is a great thing.
My husband actually found a recipe similar to these online before our wedding. We tweaked them a bit to our liking and once we discovered Koloa Rum we started using their rums for the drink and have ever since. We got married the year before Koloa Rum company began. Their rums are amazing. Distilled from sugar cane on the island of Kauai. They have a fun tasting room at the Kilohana Plantation and many restaurants all over Kauai serve cocktails with their rums. Koloa generously sent me some bottles of rum to create cocktails with this summer and I figured why not start with my Hawaiian Wedding Mai Tai Cocktails?
Hawaiian Wedding Mai Tai Cocktails
The best ever Mai Tai recipe inspired by the signature cocktail at our wedding in Hawaii and made with rum distilled on the island of Kauai. It doesn't get more Hawaiian than this.
Ingredients
2

oz.

Koloa light Rum

1.5

oz

Koloa Coconut Rum

1

oz.

Mango Patron Citronage

2

oz.

pineapple juice

fresh is amazing if you can do it

2

oz.

Hawaiian Sun guava juice

2

oz.

fresh squeezed lime juice

1

oz.

amaretto

1

oz.

pineapple gum syrup

Small Hand foods

Barspoon Koloa Dark Rum

Garnish

Pineapple wedges or slices

Lime slices

cocktail cherries

mint
Instructions
1. Put all liquid ingredients in cocktail shaker.

2. Fill two high ball glasses with crushed ice.

3. Shake cocktail shaker thoroughly

4. Strain into two glasses.

5. Top with dark rum, Garnish with pineapple, cherry, mint and lime wedges.

6. Drink
Notes
I like to measure out the juices separately then the alcohols before adding to cocktail shaker. I tend to make more juice mixture than called for in the recipe for when I want a slightly less strong cocktail, I just add more juice mix.
Happy National Mai Tai Day!
Thanks to Koloa Rum for sending me rum to create cocktails.