If you drink only one fruity beverage this summer, this Mango Pineapple Agua Fresca should be it.
This refreshing beverage is super easy to make and it is something I crave during the hot summer months.
This agua fresca recipe is non-alcoholic so my kids can enjoy it as well. I will tell you, however, that it is tasty as a cocktail with vodka, rum or tequila...
I have never really been a big fan of drinking juice as is because of how sweet they are so I have always watered them down or added mineral/sparkling water to them for a slightly less sweet taste and added fizz.
When I first discovered agua fresca years and years ago at the Fiesta celebration in the town I grew up in, I fell in love. Light, fruity and not too sweet. My kind of drink.
The flavor combinations are endless and many times its a solitary fruit that makes up the agua fresca, pineapple agua fresca is my fave but adding in mango takes in to a whole new level of deliciousness.
I love doing a combo of two or three fruits and some lime juice to add that hint of sour.
Watermelon is another fruit I love using to make agua fresca. I also love watermelon lemonade and 'Otai, a Tongan watermelon drink I learned how to make years ago from a friend's mom in Hawaii.
I love using strawberries too. Agua fresca is traditionally made with adding in granulated sugar to the drink. This is my version of the beverage with using a little simple syrup rather than adding in granulated sugar to the mixture. Either way works.
I prefer drinks on the lighter side of sweet so I will usually wait until the end of making the recipe to add a little sweetener in, if needed.
It really depends on the ripeness and sweetness of the fruits I use. I always have a jar of simple syrup on hand for sweetening drinks. You can adjust the sweetness to however you like it.
I always make a big batch of agua fresca to last me a week. I will fill up a big glass or jar and sometimes top with fizzy water if I am feeling fancy that day.
I am not a soda drinker at all but I still love a little fizz, and I love how many options there are now for flavored, no sweetened sparkling waters there are these days. Hello La Croix! ha ha
Often times when I make a batch of mango pineapple agua fresca, or any flavor combination, I will make popsicles out of some of it. Just fill molds and freeze.
Easy peasy and just as refreshing and delicious. Pretty sure I have about 10 different flavors of popsicles in my freezer right now. My kids love them as much as I do and we eat about 2-3 a day in summer.
Summertime is the best. I would live an endless summer if I could. For endless agua fresca and popsicles.
A few notes about this mango pineapple agua fresca recipe first:
You can puree the juice all the way or leave some larger chunks of the fruit in the agua fresca. However you like it - there is no wrong way!
Adjust sweetness to your liking, the riper the fruit you use the less sugar or simple syrup you will need.
You can make this in large batches, just don't add ice until ready to drink or else you will water it down a lot
Feel free to use any combination of fruits that you like or add in whatever is seasonal.
This also makes for amazing popsicles, add to your favorite popsicle molds, add in sticks and freeze.
This drink is non-alcoholic, but you can add in vodka, rum or tequila for a refreshing adult beverage.
"Recipe"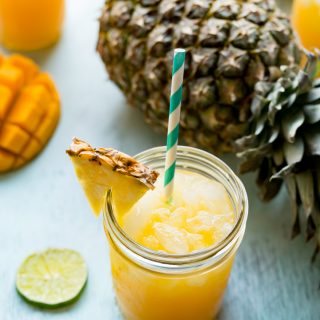 Mango Pineapple Agua Fresca
A popular Mexican beverage, this agua fresca uses fresh mangoes and pineapples for a tasty and refreshing alcoholic drink.
Ingredients
1

medium pineapple

peeled, cored and diced - about 4 cups

3

large mangoes

peeled, sliced, pit removed, about 3 cups

4

cups

water

2-3

tablespoons

simple syrup

2

tablespoons

lime juice
Instructions
Place the pineapple and mango in a blender with 2 cups of water and blend well.

Strain into a large bowl or pitcher and add the rest of the water. Stir in the lime juice then add simple syrup to desired sweetness. Add more water if a thinner consistency is desired.

Chill completely before serving. Keeps well chilled up to a week in the refrigerator. Makes awesome popsicles too.