Creamy Meyer Lemon Mascarpone Pasta with Hazelnuts and Fresh Garlic Breadcrumbs. Also known as, yum.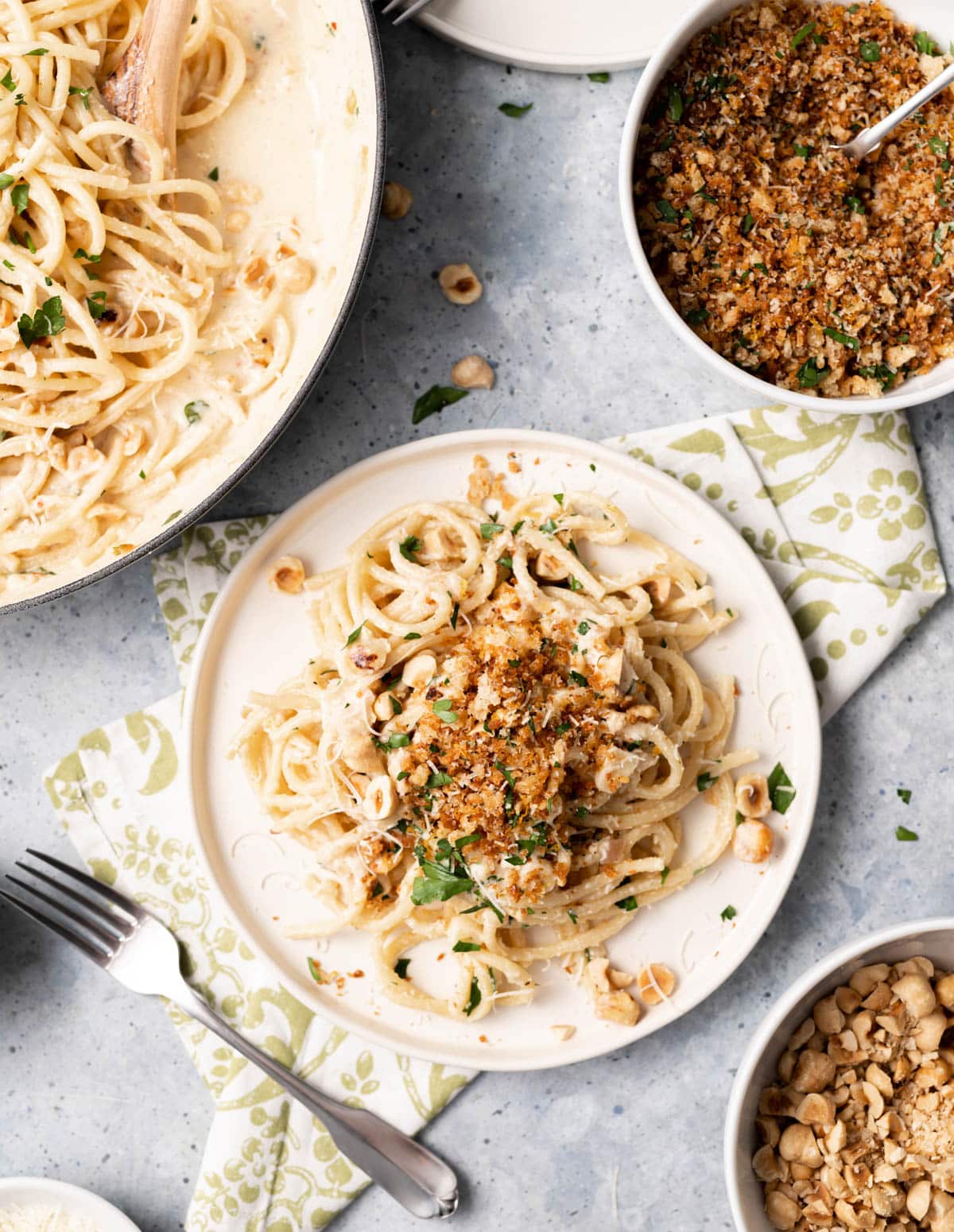 I love a good, creamy lemon pasta. It is one of my favorite dishes. Don't get me wrong, I do love tomato based sauces like for my spicy ragu, but there is something special about a creamy lemon pasta sauce.
Most cream sauces use heavy cream or half and half, I love to use mascarpone, an Italian soft cheese similar to cream cheese and is used in both savor and sweet recipes, most notably Tiramisu. It works wonderfully as a base for a cream sauce for pasta.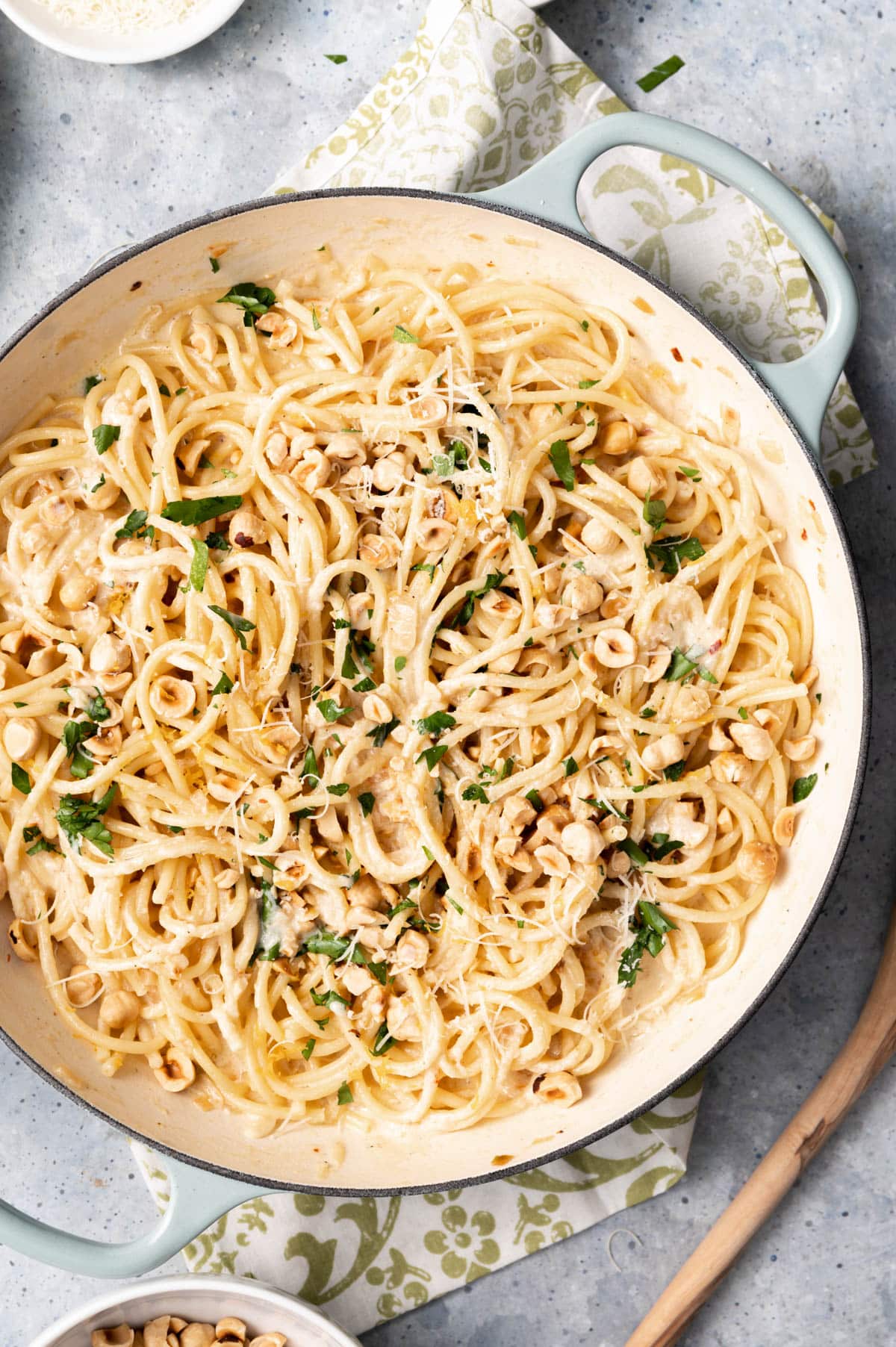 This lemon mascarpone pasta recipe first came about similar to my lemon potato leek soup where I wanted to use up some ingredients I had on hand. Meyer lemons, mascarpone cheese, shallots and a box of Bucatini pasta.
The first time I made it, I didn't include hazelnuts or breadcrumbs and while still good, the addition of the hazelnuts and freshly make garlicky breadcrumbs takes it over the top amazing.
Making your own breadcrumbs is really so easy. I make a huge batch of it to last for several recipes or to add into other recipes that call for breadcrumbs such as meatballs. This is how I make mine. I start with some day old ciabatta bread. Just a few slices.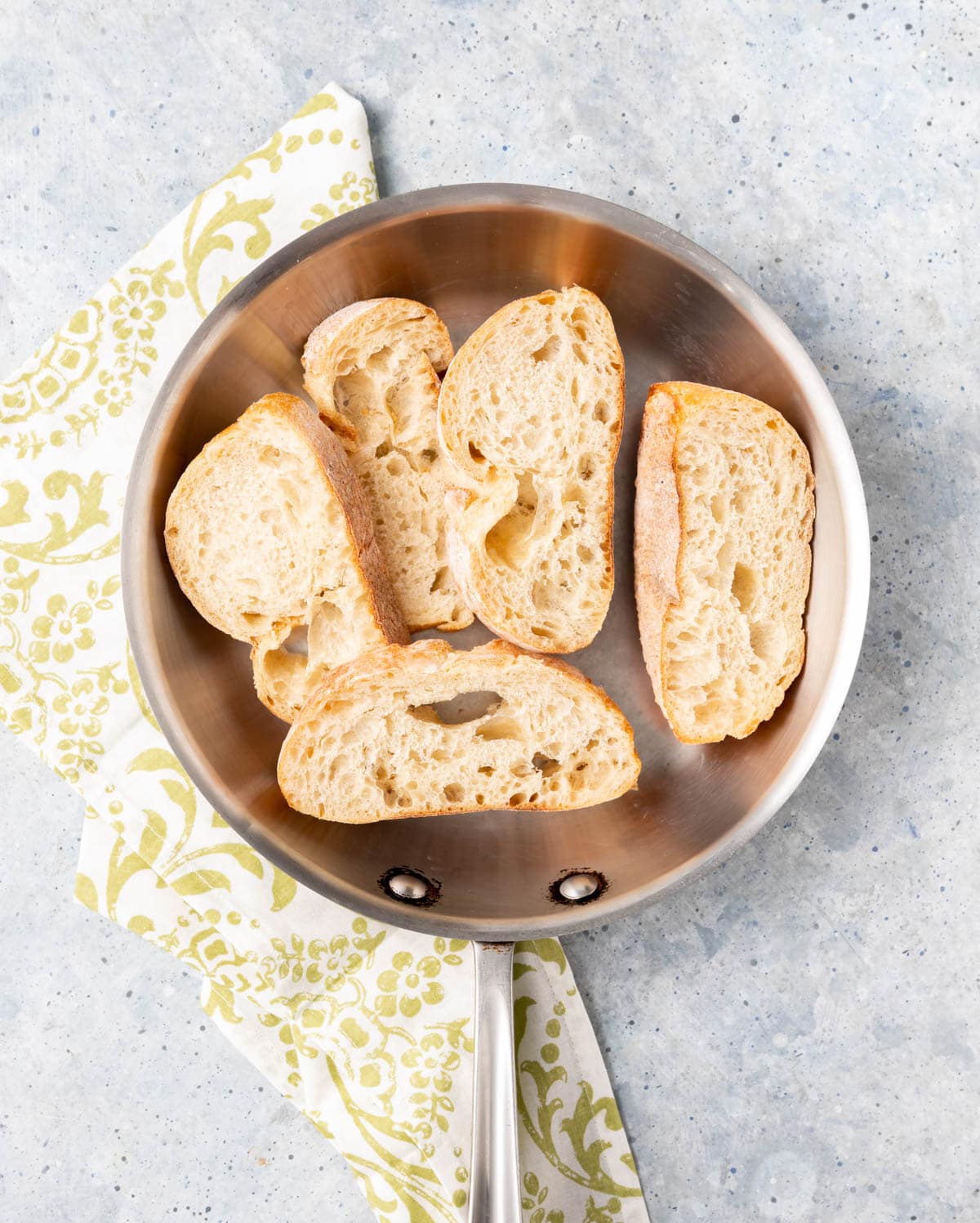 You want to keep the crusts one. Tear them up into larger pieces, then pulse in your food processor until you get small pieces and some finer crumbs. Varying size is fine, you just don't want crouton size.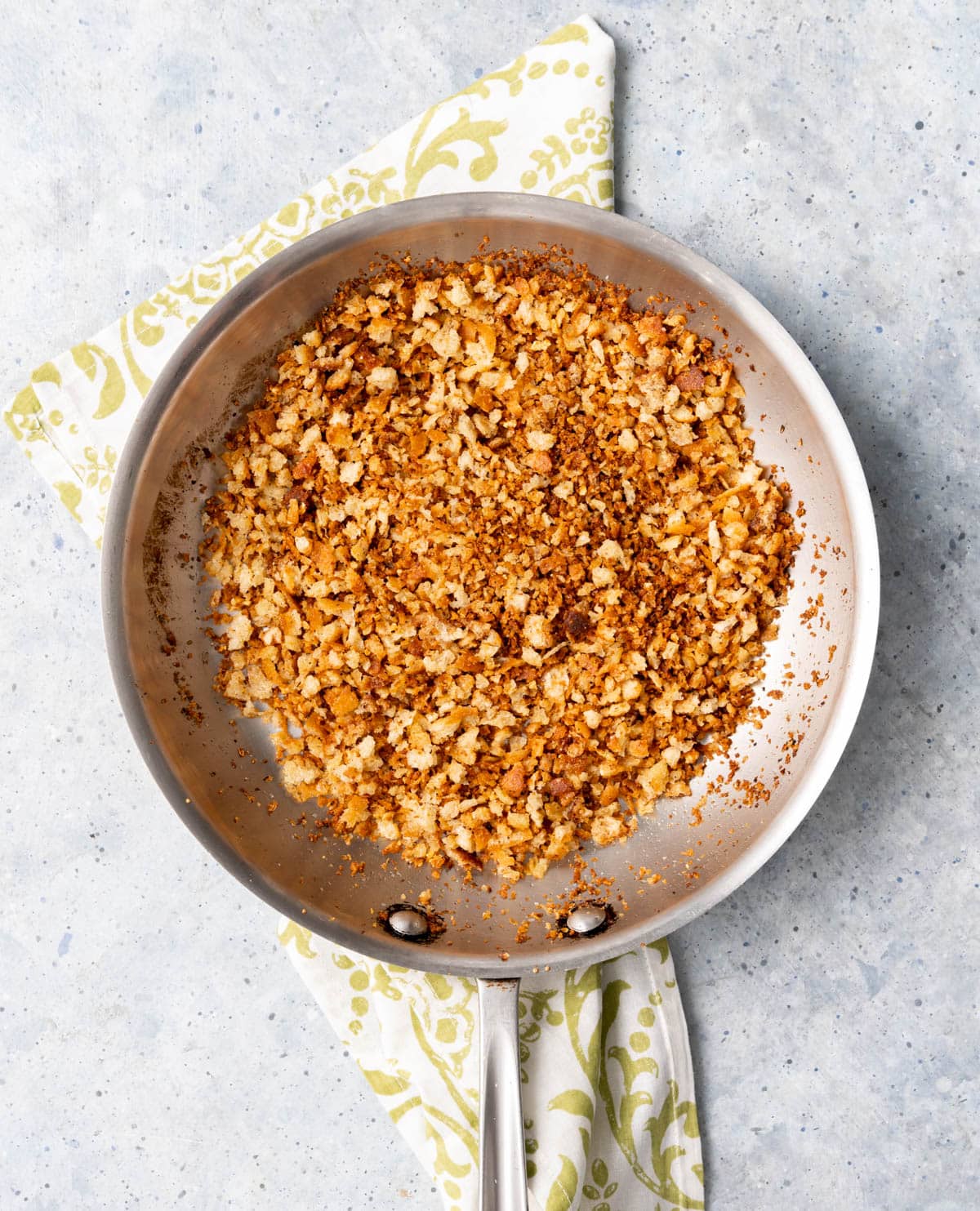 I toast with butter and olive oil until golden, add in minced garlic then continue stirring until deeply golden. Transfer to a bowl and once cooled I add in the rest of the ingredients. Thats it! Super easy and you can make a variety of ways wit different spices etc. I love to add in lemon zest and chopped, fresh, flat leaf parsley.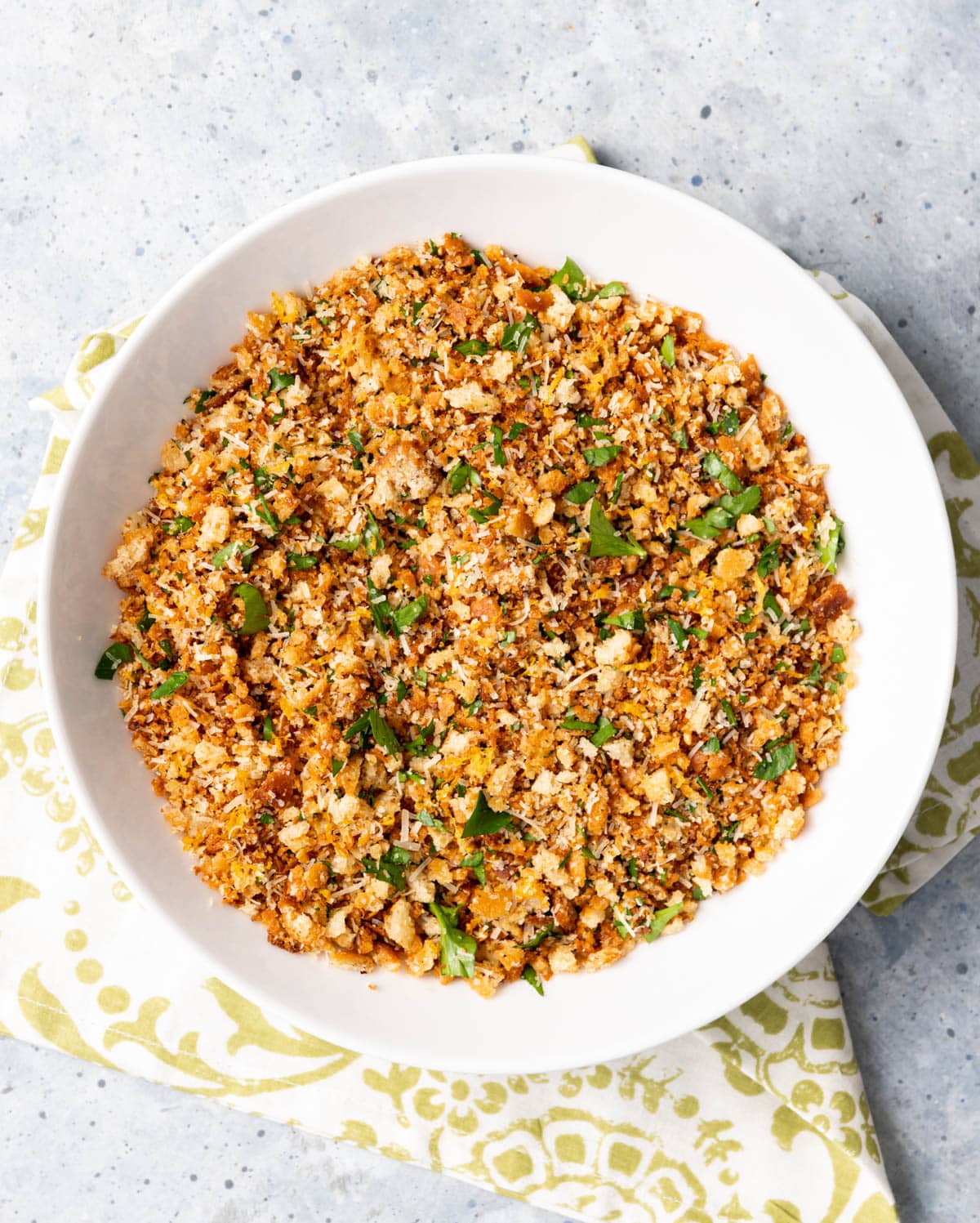 I love pasta with breadcrumbs sprinkled on top. They add another layer of flavor and texture to an already delicious dish. And of speaking texture, I still had some roasted Italian hazelnuts leftover that I used in a few Christmas cookie recipes, and figured why not add them in too. So glad I did. Love their creamy flavor as well as the added crunch.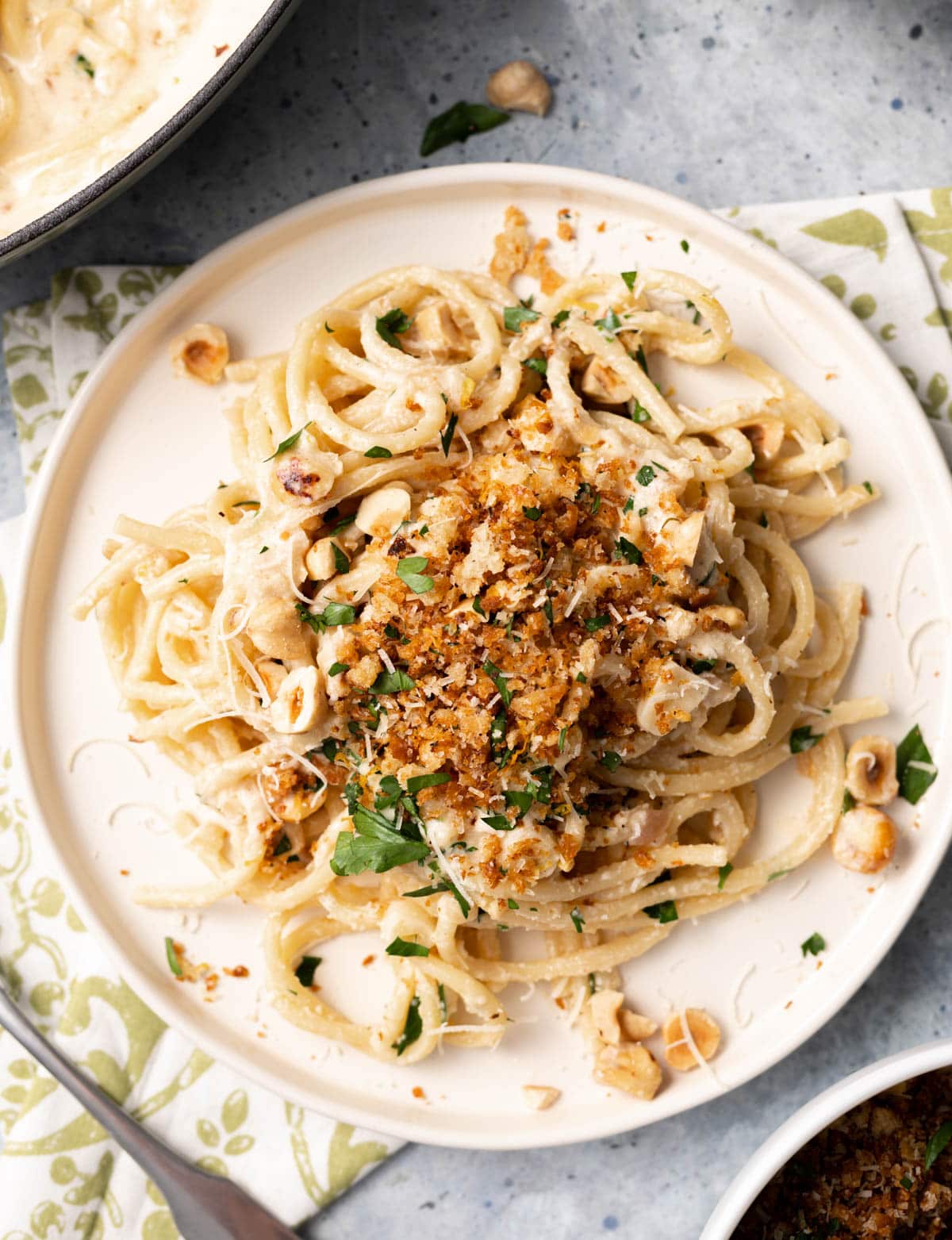 This creamy meyer lemon mascarpone pasta recipe is fairly easy to make. The step that takes the longest is caramelizing the shallots. But everything else for the pasta dish can be made while they are cooking.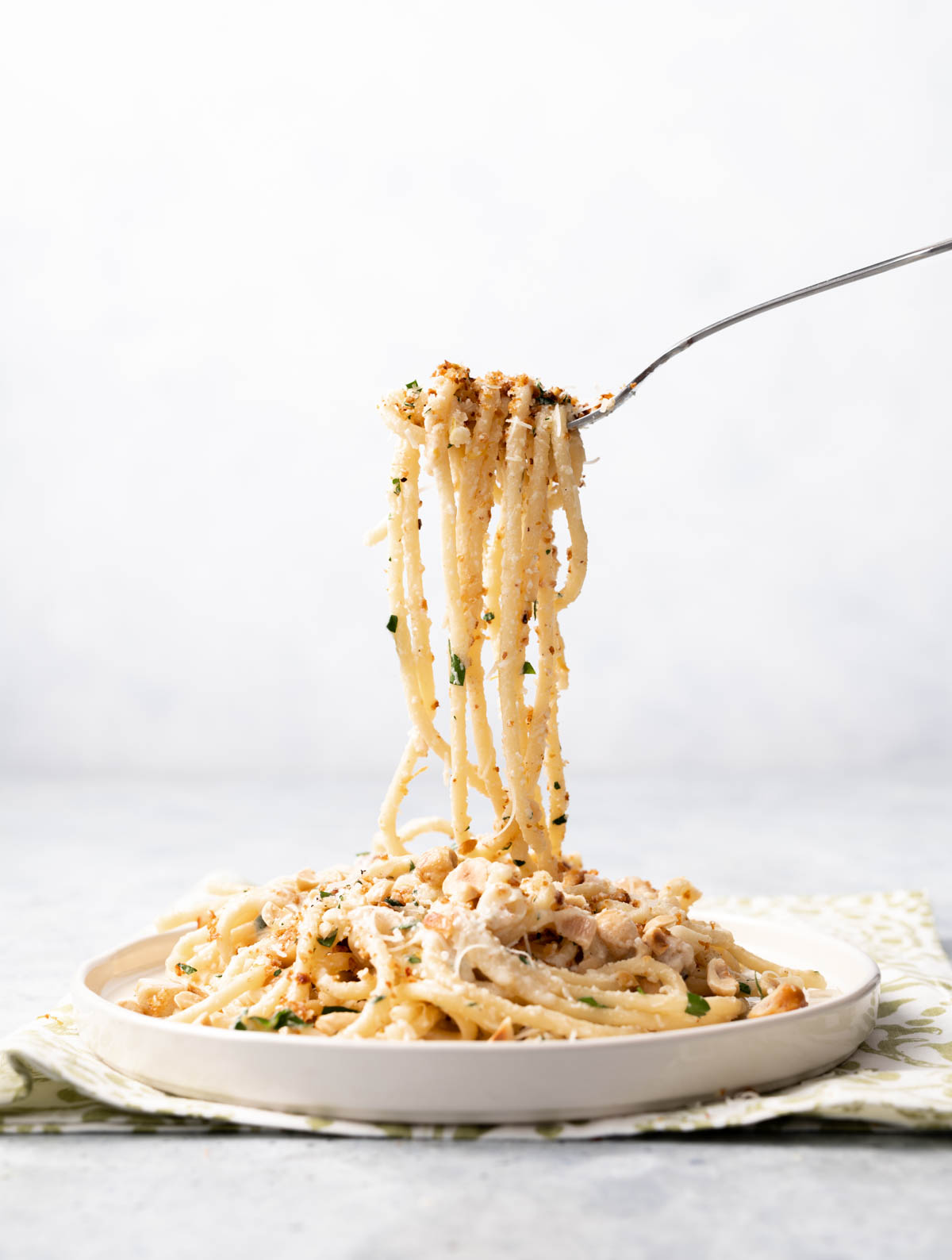 A few notes about this Creamy Meyer Lemon Mascarpone Pasta with Hazelnuts and Fresh Garlic Breadcrumbs Recipe:
I used

Bucatini

noodles for this recipe. Although some say there was is a

Bucatini shortage

, I was able to find them easily at a local grocery store. You can also use Linguine, Fettuccini or any other large, long noodle. I wouldn't use a thinner noodle such as Cappelini aka Angel Hair or small pasta shapes. A large Rigatoni would work too.
Don't substitute the mascarpone with cream cheese, it won't have the same flavor.
Two tricks for making this pasta taste awesome, one is thinning the sauce with salted pasta water the other us seasoning the cooked pasta with lemon juice before adding it to the sauce in the pan. The noodles soak up the lemon flavor really well this way.
If you don't want to make the garlic breadcrumbs from fresh bread you can make them from store-bought breadcrumbs. Use half traditional breadcrumbs ( unseasoned) and half panko for extra crunch. Follow the recipe as stated but leave out the part with making breadcrumbs in the food processor.
This creamy lemon pasta is best eaten the day it is made, it does reheat well, but the sauce will be a little thicker. You can add in a little cream or lemon juice when reheating it, or save some of the salted pasta water if you plan on having leftovers.
For pasta water I use two tablespoons for 4 quarts of water for a pound of pasta. You can opt to use a little less, I wouldn't go less than a tablespoon. I use Diamond Kosher salt which is less salty than Morton's Kosher and I never use iodized salt, way too salty.
You can find roasted hazelnuts in any well stocked store. If you don't want the skins on them, heat up for a few minutes in the oven or in a pan on the stove then rub in a kitchen towel to remove them. The nuts I used came without the skins, but I have made the recipe before with hazelnuts with the skins still on and both ways taste the same.
"Recipe"
Creamy Meyer Lemon Mascarpone Pasta with Hazelnuts and Fresh Garlic Breadcrumbs
A delicious, creamy lemon pasta, made with caramelized shallots, Meyer lemons, mascarpone, topped with hazelnuts and crunchy homemade garlic breadcrumbs.
Ingredients
For the bread crumbs:
1 ½

cups

fresh bread crumbs

sourdough or ciabatta pulsed in food processor

2

tablespoon

olive oil

1

tablespoon

butter

4

large cloves garlic minced

½

teaspoon

Kosher salt

½

teaspoon

ground black pepper

⅓

cup

Parmesan cheese

2

teaspoon

lemon zest

3

tablespoon

flat left parsley

chopped
For the Pasta:
2

tablespoon

olive oil

2

tablespoon

butter

1

cup

sliced shallots

4

cloves

garlic

sliced

½

cup

white wine

or broth

1 ½

cup

mascarpone

room temperature

⅓

c

freshly grated parmesan

1

tablespoon

lemon zest

½

cup

Meyer lemon juice

divided

1

teaspoon

Kosher salt

1

teaspoon

ground black pepper

½

teaspoon

red pepper flakes

or more if you like spicier

¼

teaspoon

ground nutmeg

1

pound

Bucatini pasta

16 oz ( linguine, fettuccini, tagliatelle or even rigatoni work well)

1 ½

tablespoon

kosher salt

1 ½

cups

reserved salted pasta water
For Garnish:
1 ½

cups

hazelnuts

roasted and chopped

½

cup

parsley

chopped

⅓

cup

shredded fresh Parmesan
Instructions
Make the breadcrumbs first:
Place the bread in a food processor and pulse until you have coarse crumbs

Heat oil and butter in a large pan and add the breadcrumbs, stirring until starting to turn golden. Add in the garlic, salt and pepper and keep stirring until deeply golden. Transfer to a bowl and stir in the grated parmesan, lemon zest and parsley. Set aside until ready to use. This takes about 10 minutes total.
Make the pasta and sauce:
Heat butter and olive oil in a large sauté pan on medium heat and add the shallots. Stir occasionally for 15-20 minutes until starting to caramelize. 

While the shallots are cooking set out a large pot for cooking the pasta, fill with at least 4 quarts of water and add one and a half to two tablespoons of Kosher salt. Bring to a boil and cook the pasta until al dente, according to package directions. Reserve a cup and a half of the pasta water, drain the pasta. Set pasta back in pan off the heat (or in a separate bowl) and mix with the one-fourth of a cup of Meyer lemon juice. 

In a separate bowl mix together the mascarpone, parmesan, remaining ¼ cup of Meyer lemon juice, Meyer lemon zest, salt, pepper, red pepper flakes and nutmeg. 

When the shallots are almost caramelized, about 20 minutes into cooking, add in the garlic and stir for a minute. Then add in the white wine and cook until reduced slightly. Then add in the mascarpone mixture and stir until heated through.  Add the pasta and stir to coat the noodles, adding in the reserved pasta water a few tablespoons at a time until the sauce is creamy but not too thin. You probably won't use the entire cup of water

Add in the parsley and hazelnuts, reserving a dew teaspoons for garnish, and stir. Divide amongst plates and top with the remaining hazelnuts, parsley, and some freshly grated parmesan.  Can add more red pepper flakes too if desired.