Meyer Lemon Rum Sour Cocktail. Taking advantage of the abundance of lemons on my Meyer lemon tree with one of my fave rums from Koloa, their Reserve rum, for my tiki riff on the classic sour cocktail.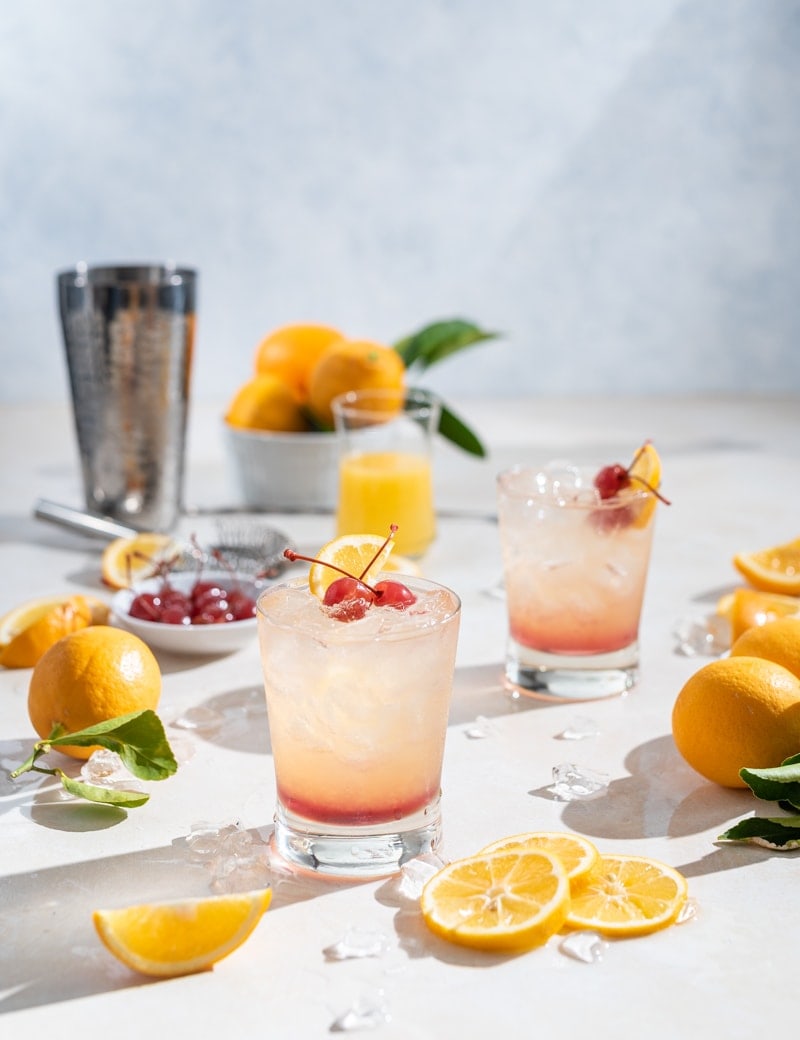 I love a good sour cocktail. Whisky sour, amaretto sour, rum sour. You name it, I love it. There is something so refreshing about fresh lemon in a cocktail especially when it is meyer lemon. They are on the "sweeter" side of lemons but really not sweet like an orange. Just not as mouth puckering tart like regular lemons. Their aroma is amazing and they add a perfect zing to these sour cocktails.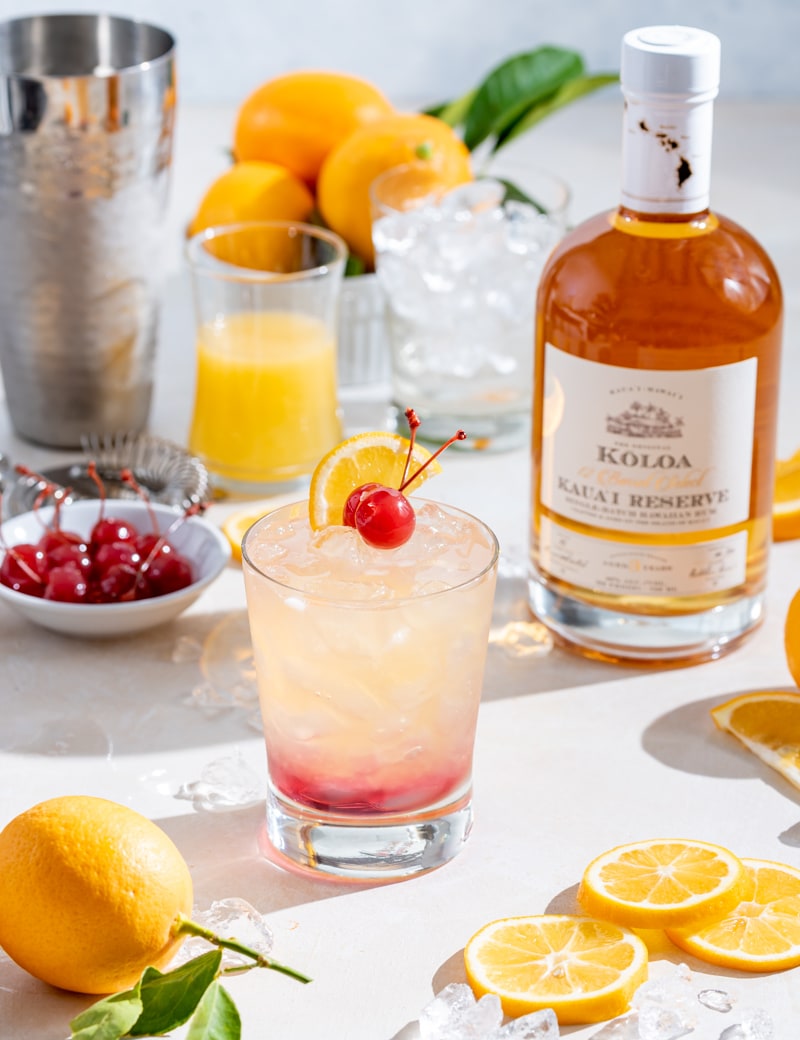 I played around a bit with the ingredients with these sour cocktails. I tried them both with Koloa Kaua'i gold rum and the reserve rum. Both are really good but the reserve has the edge over the gold. It is amazing rum all on its own but in a mixed drink? Wow!
A traditional whiskey or amaretto sour consists of the liquor, lemon juice, sugar and sometimes egg white. Garnished with a maraschino cherry. Simple, yet so tasty. I can't do simple when I create new or riff on classic cocktails for some reason. I always have to make it more complex. Like adding in flavored simple syrups and bitters. I have really gotten into craft bitters lately and am amassing quite the collection.
For these cocktails I tried a few different combinations of simple syrups when I was testing them. I used a cinnamon syrup, a spiced demerara, rich simple syrup and traditional. They all worked really well and added subtle nuances in flavor to the cocktail.
Since I love the color of pinks and yellows in my cocktails I decided to go with a bar spoon of the juice from the maraschino cherry jar along with traditional simple syrup for that sunrise/sunset color.
And seriously go look at all the cocktails I have made, they are all so similar in color. I like what I like I guess ha ha.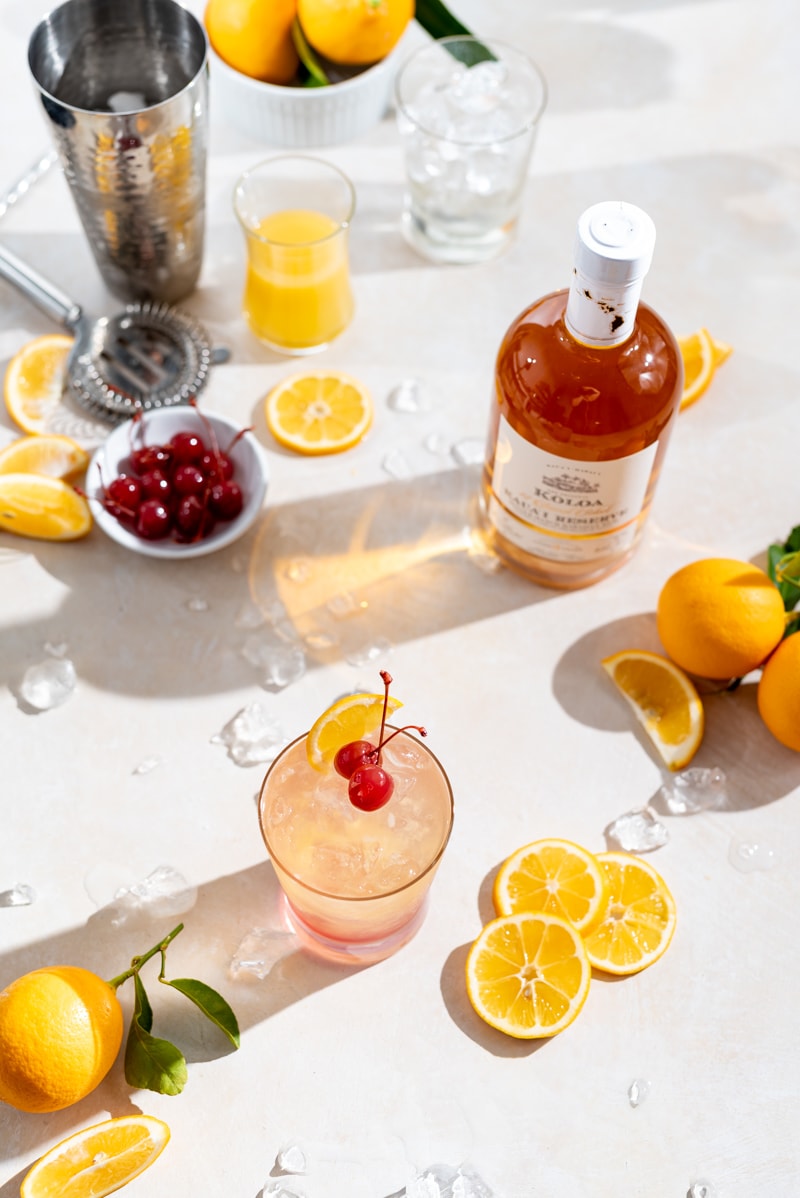 I know a lot of people don't care for maraschino cherries. They do tend to have that weird flavor, fake waxy texture. I found a few different organic and natural brands at some local stores and I like them a lot better. No artifical colors, flavors or corn syrup.
They aren't as sweet, lighter in color and the juice is great to use in drinks. Similar to grenadine but not as sweet. I also love Luxardo or brandied cherries and either of those would work well too.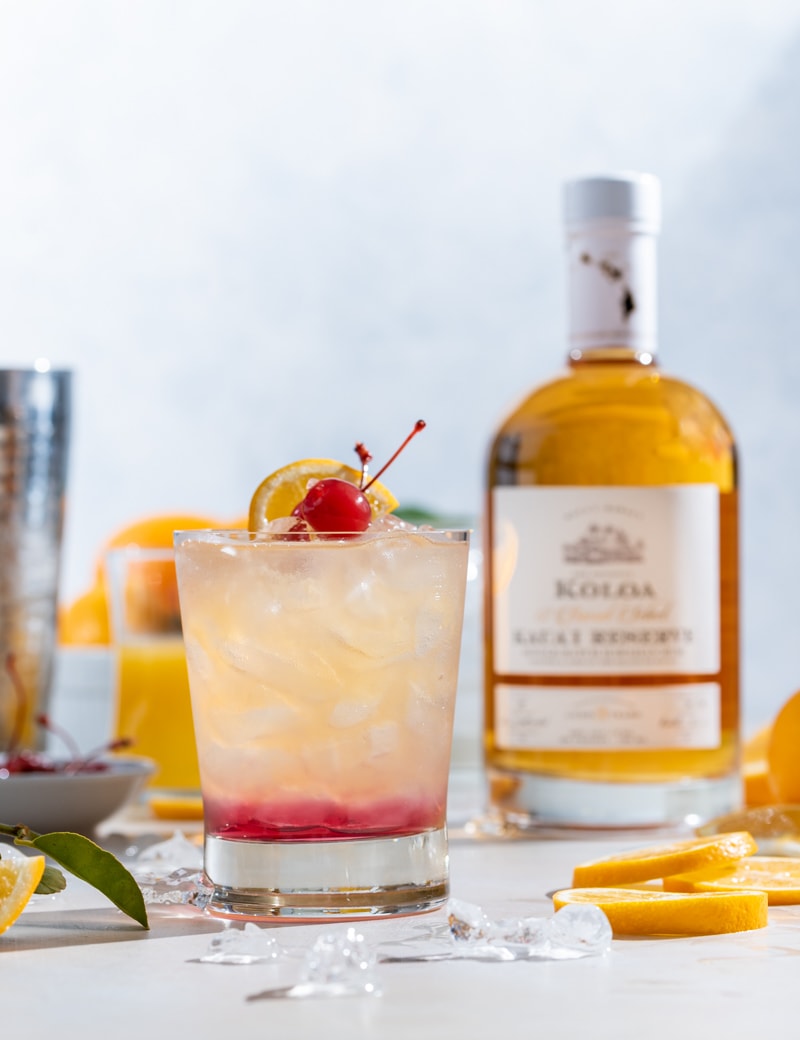 A few notes about the meyer lemon sour rum cocktail recipe first:
I used Koloa Reserve Rum for these drinks. You can sub Koloa Kaua'i gold rum if you like.
Meyer lemons work well here since they aren't as super sour as traditional lemons. If you go the traditional lemon way I would cut back from 1 ounce of juice to ½-3/4 ounce. Taste as you go and add more if you want.
Bitters. I love adding bitters into drinks and I ordered a few different ones from

Crude Bitters

. I used their "Rizzo" which is a blend of rosemary, grapefruit and peppercorn. It's a very subtle bitters and adds a nice balance to the drink.
I used

Luxardo

brand maraschino cherry liqueur, feel free to use whatever brand you like. The liqueur is a nice addition with the rum and the lemon.
You can find natural and or organic maraschino cherries in natural grocery stores such as Whole Foods, or well stocked liquor stores. I used

Tillen Farms

Brand for these cocktails. They don't have any artificial colors or dyes in them.
Meyer Lemon Rum Sour Cocktail
A riff on the classic sour cocktail with Koloa reserve rum and meyer lemons
Ingredients
1.5

oz

Koloa Reserve Rum

.5 oz Maraschino liqueur

1

oz

fresh Meyer lemon juice

.5 oz simple syrup

.25 oz

barspoon juice from maraschino cherry jar

Few dashes of Crude Bitters "Rizzo" bitters

rosemary grapefruit, peppercorn
Garnish:
Meyer lemon wedges

Maraschino cherries with stems
Instructions
Fill a rocks glass with ice. Set aside. 

Pour in the bar spoon of juice from the jar of maraschino cherries.  Add the rest of the cocktail ingredients to a cocktail shaker tin and shake well.

Strain into the glass.

Top with a lemon wedge and two maraschino cherries.  Serve
Notes
For the simple syrup used in this drink I went with a 1:1 ratio of sugar to water. I combine in a small saucepan on the stove and heat until the sugar is dissolved. I let it simmer slightly then cool completely before using. I store in my refrigerator in an airtight jar and it usually lasts up to 3 weeks.
One of the reasons for this cocktail is from the fun tag on Instagram #Tikithesnowaway. Tiki the snow away. FUN! I am all for tiki drinks to get us through these cold winter months. Well, not super cold in Vegas, but if you live where it snows, make one of these meyer lemon rum sour cocktails to stay warm! Thanks to Koloa rum for sending me a bottle of their Reserve rum to make cocktails with you share with you all.