Easy Passion Fruit Curd Recipe with Fresh Passion Fruit. Sunshine in a jar.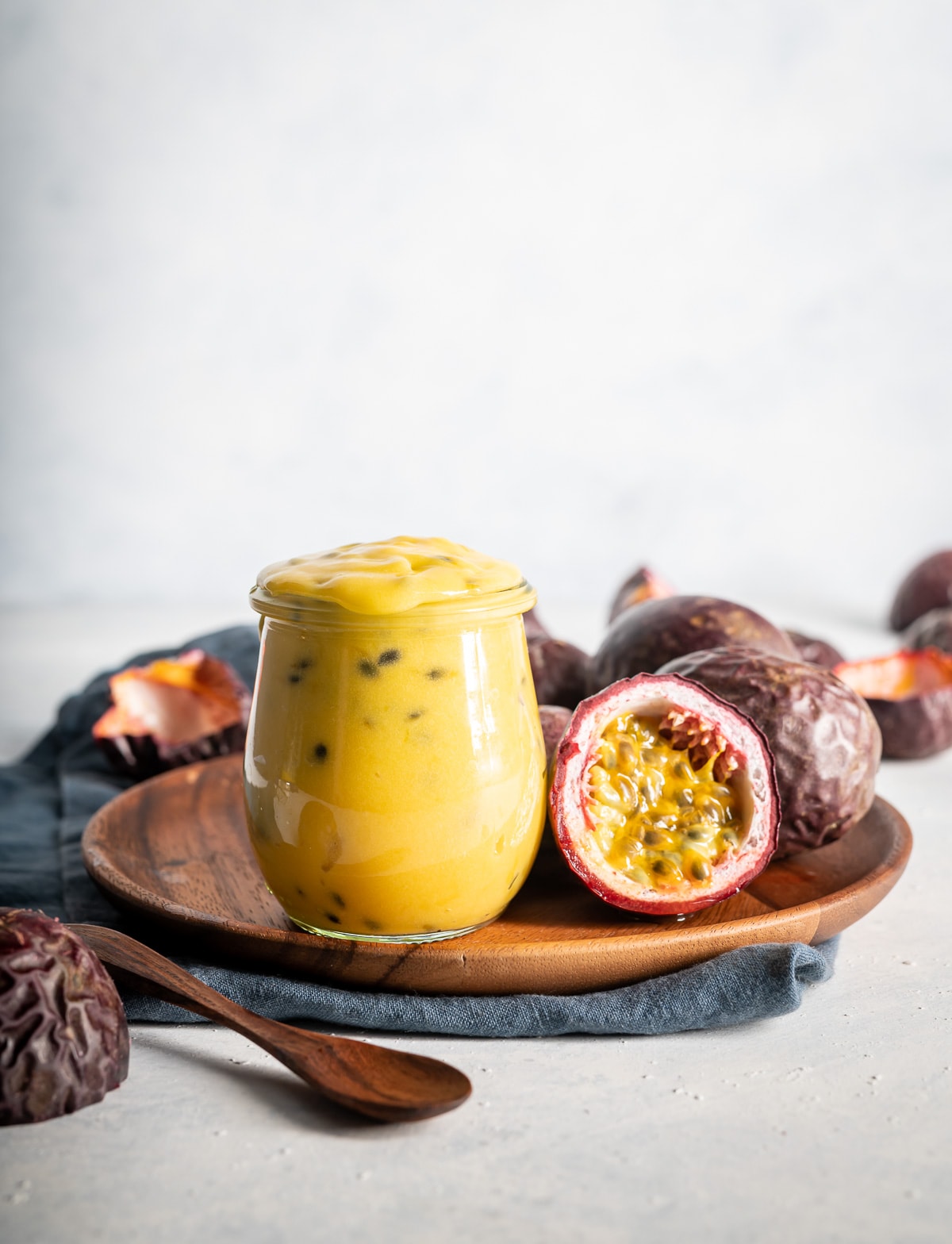 I love curd and I love making passion fruit curd. When I got the box of passion fruits from Rincon Tropics I knew I wanted to make some curd to go with a few recipes.
I also wanted to make this curd with a slightly different technique than I use when I make lemon curd so I could keep the seeds in. Leaving the passion fruit seeds in is totally optional, I love the way they look so they get to stay.
Silky smooth, sweet, tart and tropical. Passion fruit curd is one of the best recipes ever. I love spooning it over yogurt, filling cakes and cupcakes, mixing into sweetened whipped cream for a cheater's mousse, swirling into ice cream, adding to desserts such as meringues or Pavlova, spreading on toast. It is so versatile.
How do you make passion fruit curd?
Passion fruit curd is similar to lemon curd in which you will need similar ingredients - juice, sugar, eggs, butter.
For this passion fruit curd recipe I used all fresh passion fruit. I scooped out all the juice, pulp and seeds to a bowl. You will need over a cup to get a cup total since half will be fully strained.
I want to say I used around 14 passion fruits. It will depend on the size of the fruits you use for the amount of juice you will end up with. You could use frozen puree that has been thawed or bottle juice. Make sure they are 100% passion fruit and not any other additives. The texture and flavor will vary if you don't use fresh passion fruit.
One difference with this curd recipe over other recipes I have made is that I mix everything together with a stand mixer and cook over the stove using a double boiler. Most other methods have you heat the juice and sugar, temper the eggs then add in the butter off of the heat. I mix it all together first.
This results in the smoothest, silkiest curd I have ever made. The texture is perfect.
Almost like the start of baking a cake with creaming the butter and sugar together. I find this results in a much smoother curd and I can make it with out having to strain it so I can leave the seeds in.
The recipe uses a half a cup of passion fruit juice as well as a half of a cup of the juice with the pulp and seeds. There is a neat, easy trick for separating the seeds from the pulp and juice. Add to your blender and blend for a few seconds on the lowest setting. This will separate the seeds without breaking them. If some do break up, you can strain it just to make sure you got it all.
I only blend half the amount since half of the passion fruit used in this curd is juice and the other half is juice with the pulp and seeds. You will need more than a half a cup with the pulp and seeds to get the half of cup of juice without seeds.
A few more tips about this passion fruit curd recipe first:
Make sure all your ingredients are room temperature first. You will start out creaming together the butter and sugar, like how a cake recipe is started, so you want the butter to be nice and soft. Use unsalted butter.
Add all your eggs to one bowl and just tip in a little at a time to the butter sugar mixture. Stir in the passion fruit and lemon juice with a spatula. You don't want to risk breaking the passion fruit seeds by using the mixing blade.
Cook using a double boiler. If you have a dedicated double boiler pan use that, if not use a bowl large enough to sit over the simmering water in a 3-4 quart sauce pan but not touching the water. Cooking curd with a double boiler ensures that the curd won't overcook and will result in a much smoother, silkier curd.
Use a non-reactive bowl such as glass or stainless steel. You don't want to use cast iron or aluminum. They will impart a metallic taste to the curd.
If you want to be more precise with your curd to make sure no egg separates and cooks and leaves behind little bits of hard, cooked egg, use a candy thermometer and once the curd reaches 165 Deg F (74 C) it is done. This is the same temperature I use for making Swiss Meringue buttercream so I know the egg is cooked enough.
Chill the curd fully before using, it will firm up more in the refrigerator. I will chill in a larger bowl that has a lid, place plastic wrap over the top pressing into the surface of the curd so a film doesn't form then chill until fully set.
"Recipe"
Easy Passion Fruit Curd Recipe with Fresh Passion Fruit
Sweet, tart, tropical passion fruit curd using fresh passion fruits from Rincon Tropics. Sunshine in a jar.
Ingredients
Ingredients:

1

cup

granulated sugar

200g

10

tablespoon

butter

140g

2

whole eggs

3

egg yolks

¼

teaspoon

salt

½

cup

fresh passion fruit

juice with pulp and seeds (125ml)

½

cup

fresh passion fruit juice

pulp and seeds strained out (125ml)

2

tablespoon

fresh lemon juice
Instructions
Set a 3-4qt pan filled a quarter of the way with water and have a non-reactive bowl (glass or stainless steel) ready to go that will sit over the water and not touching it. 

In a large bowl or stand mixer, cream together the butter and sugar. Add in the eggs and egg yolks one at a time and mix well between each addition. Finally all in the salt, passion fruit and lemon juice and stir with a spatula. Scrape this mixture into the non-reactive bowl and set over the pan of simmering water.

Stir the curd constantly with a spatula, scraping the bottom, and cook until the mixture is thickened. You can check for doneness by dragging a finger through the curd across a side of the spatula and the curd won't come back together. Remove from the heat and transfer the curd to a separate, cool bowl or container. 

Press plastic wrap over the top so a film doesn't form and if the container you use has a lid, place that on top as well. Chill completely in the refrigerator before using. 
Notes
A lot of curds use the egg tempering method (whisk the eggs in a bowl, ladle in hot juice and sugar liquid, whisk, then add it all back to the bowl) and I use that method when not leaving solids in the curd such as zest or passion fruit seeds. Similar to my lemon curd.
I don't use a double boiler with the tempering method since I know I will be straining it in case it got a little too hot and some bits of egg separated. I strain to remove those before chilling.
You can check the curd with a candy thermometer as you are cooking it to make sure it reaches 165 Deg F (74 Deg C) but no higher. Any higher you risk the egg separating. When I leave in passion fruit seeds I don't strain the mixture and making sure the curd is at the correct temperature ensures that you won't have hard little bits of egg in it. 
If you want to make this recipe without seeds, separate out all the juice from the seeds to get a cup of juice. Use the blender trick mentioned in the post to easily separate the seeds and pulp first. You will still want a full cup of passion fruit juice. Strain the cooked curd before chilling in case there are little bits of egg or if you use the tempering method. You could also add some of the seeds back into the curd after cooking it if you want to strain the curd but still want seeds. Several ways to make this recipe. 
If it's your first time making this recipe then make sure you read all of the information in the main post as it includes lots of additional tips, as well as the answers to some common questions.
If you have any further questions then do let me know in the comments and or email me

[email protected]

and I'll do my best to help.
If you choose to make substitutions to the recipe that I have not tested yet please do so at your own risk, if they are successful I would love to hear about it and will add to my recipe notes for other readers to try as well.