Passion fruit simple syrup is a sweet-tart tropical simple syrup that is great for cocktails, mocktails, buttercream, or adding into any recipe to add sweetness and a refreshing tropical flavor.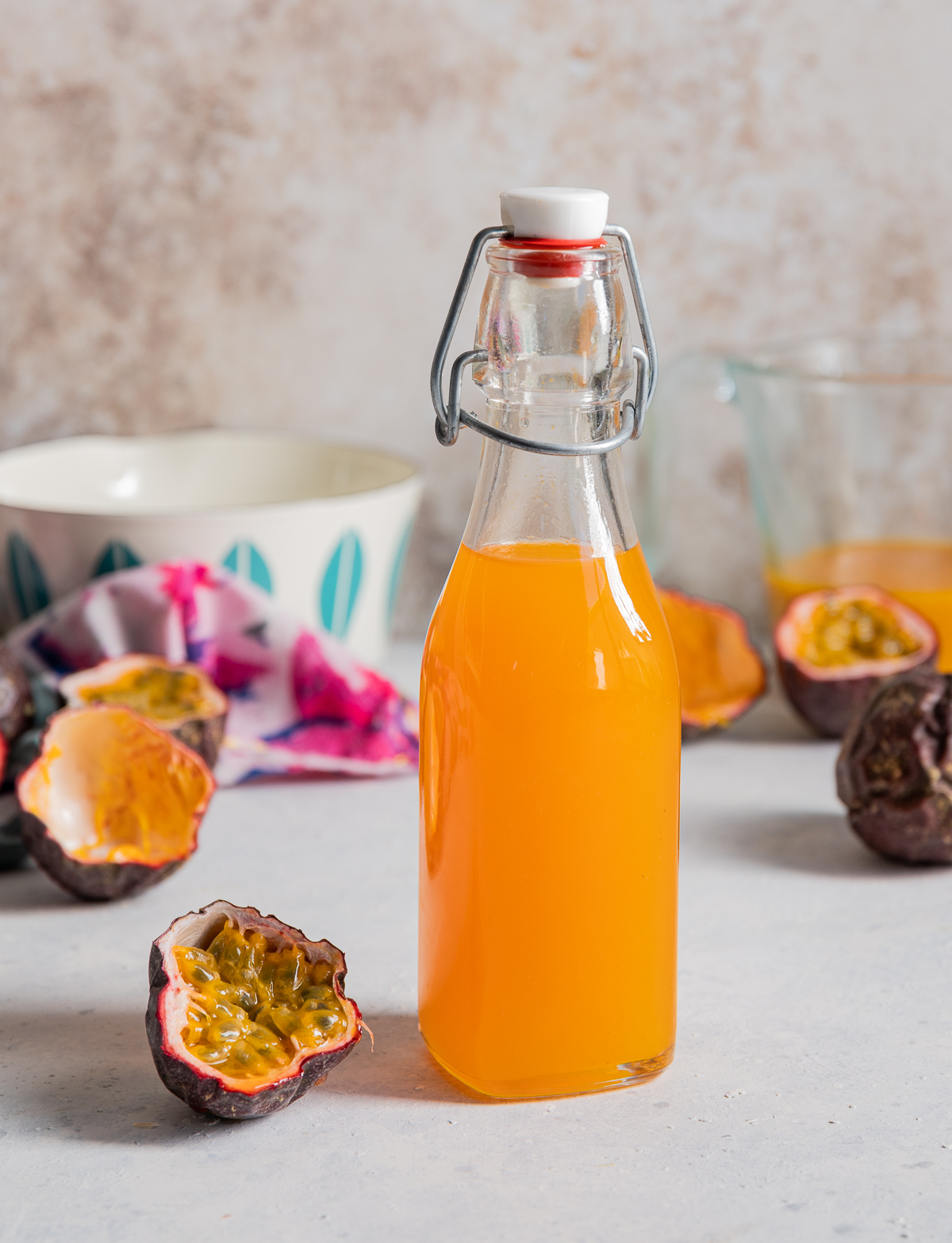 This page contains affiliate links. Affiliate links support Pineapple and Coconut at no additional cost to you. If you choose to make a purchase via these links, I earn a small commission to help keep this blog running and it is much appreciated. I am an Amazon and Adorama affiliate.
Jump to:
I had originally made this passion fruit simple syrup for my Passion fruit Bundt cake. It added an extra level of passionfruit goodness to the cake. I then also used it in my latest cocktail creation - my Passion fruit Swizzle.
I am a huge fan of making my own flavored simple syrups. So easy to make, keeps well ( I love these bottles for my syrups) and you can use them in a variety of ways.
Let's Make Passion fruit Simple Syrup:
You want to use very ripe passion fruit for this simple syrup. These will be the very wrinkly ones not the super firm and smooth. The more wrinkly, the sweeter they will be.
Cut in half and scoop it all into a measuring cup - seeds and all. I used about 10-12 passion fruits to get a little over a cup ( 240ml) of juice. I didn't use all of this juice for the simple syrup, some of it went for a cake I was making.
This recipe uses 60 ml (¼ cup) of juice. Which is about 3-4 passion fruits depending on size. I say make more juice, measure what you need for the syrup then save the remaining juice for other uses.
How do you separate passion fruit juice from seeds?
I get asked this question a lot with my passion fruit recipes. While using just a mesh strainer works, there is a better method to get the most juice separated from the seeds.
Your blender is your best friend for this. I add the juice, pulp and seeds and blend on the lowest setting for just a few seconds. Don't go higher than the lowest setting and no longer than a few seconds. You don't want to break up the seeds. Some might break up, but you don't want to pulverize them.
After I blend the juice and seeds I pass it through a strainer back into the measuring cup. This is to catch any seed pieces that might have broken up during blending as well as any larger pieces of pulp.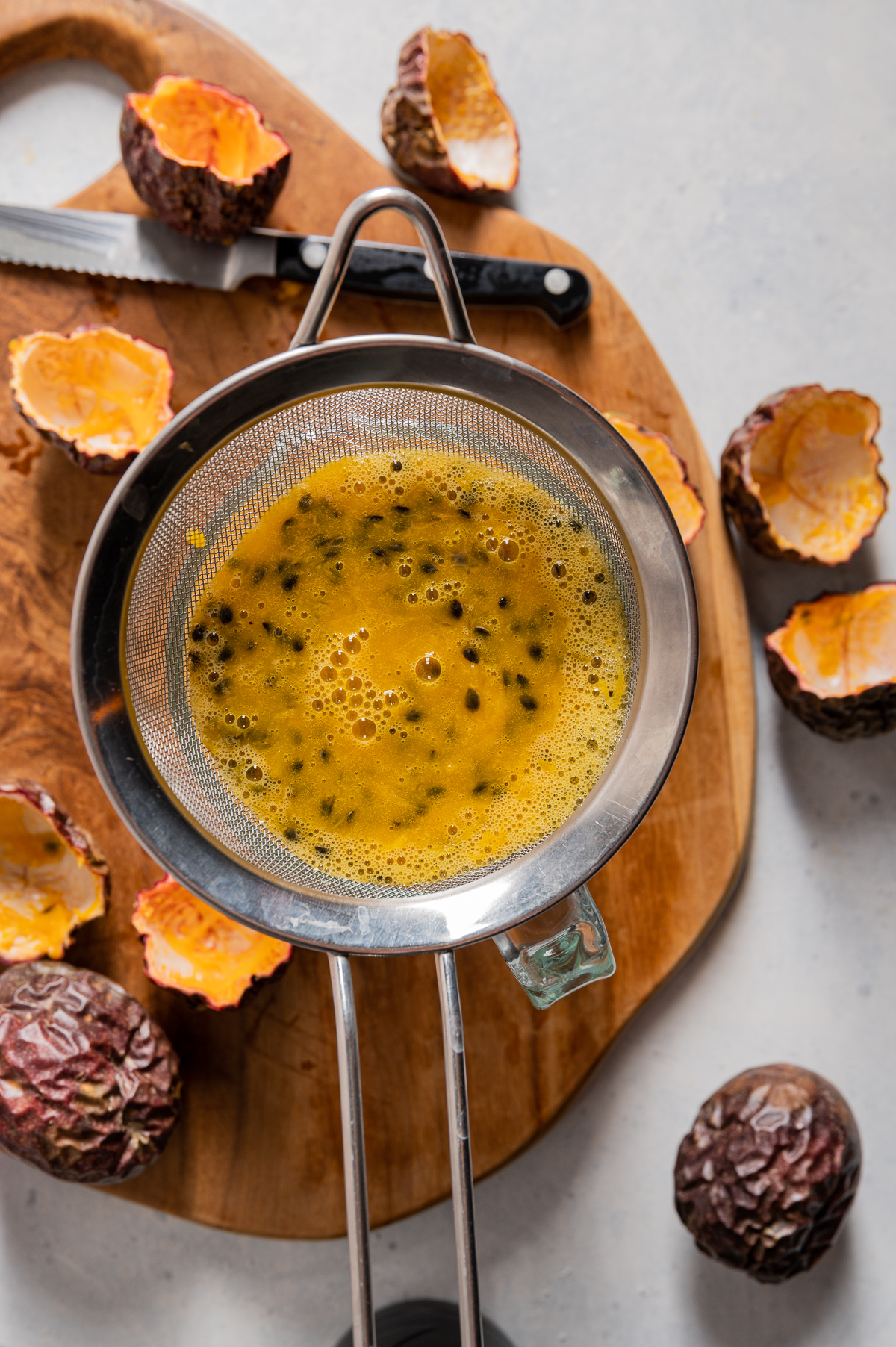 You could use an even finer mesh strainer than I have, I wouldn't go so far as using cheesecloth or anything finer like a paper coffee liner. Just a mesh strainer is fine. I press down on the seeds and pulp with a spatula to get all the juice into the measuring cup.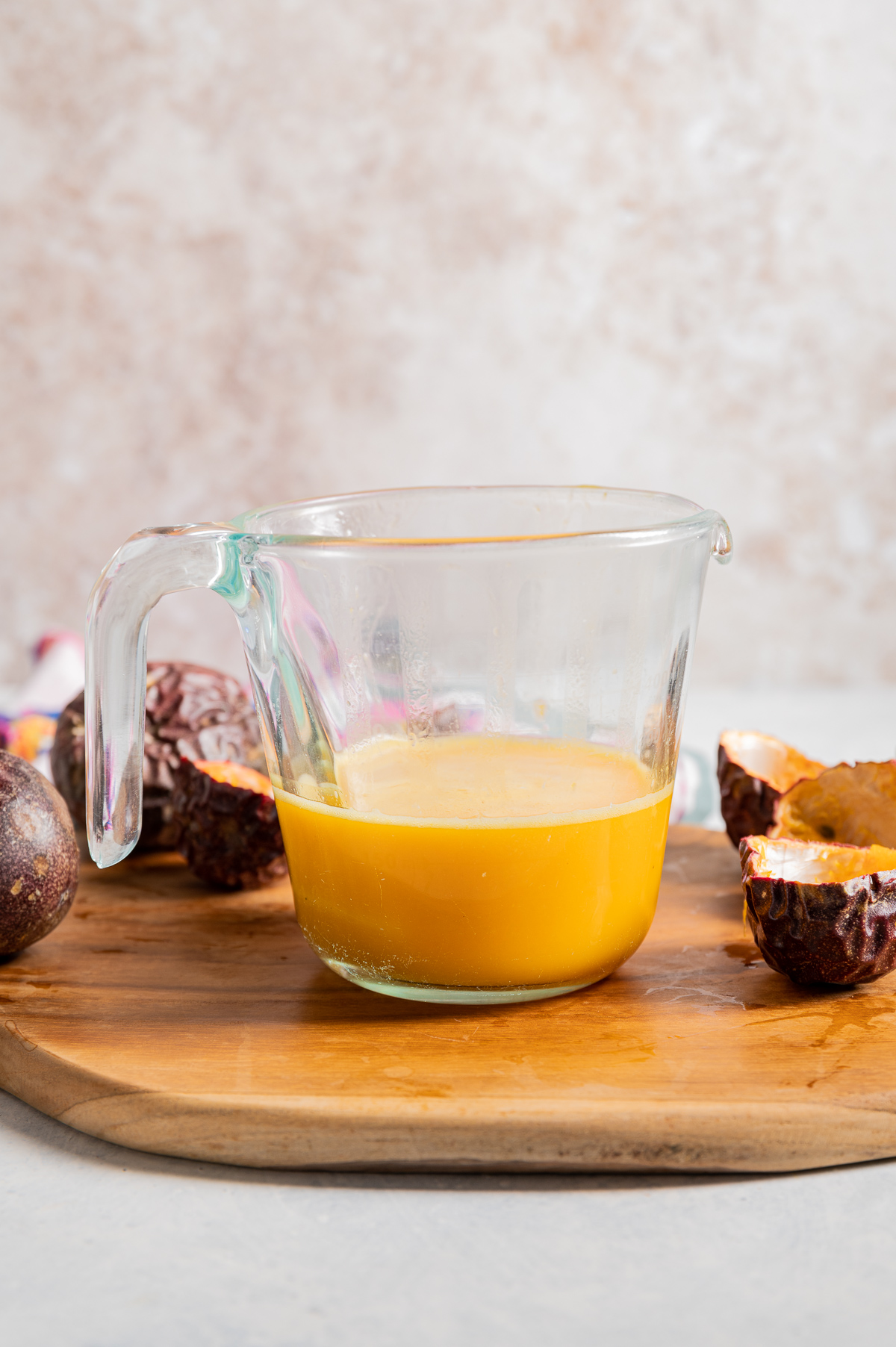 Gorgeous yellow-orange liquid gold. Now it is time to turn some of it into simple syrup.
Gather up your simple syrup ingredients:
Sugar - regular granulated sugar
Water
Strained passion fruit juice
Simple syrup is a 1:1 ratio of sugar to water for a basic syrup. A rich simple syrup, most often used in cocktails is 2:1 or 1.5:1. For this passion fruit simple I use a 1:1 and add in passion fruit juice.
The juice you add for this doesn't count towards the water amount. I have made this recipe with just passion fruit juice and sugar and I much prefer it with the water as well.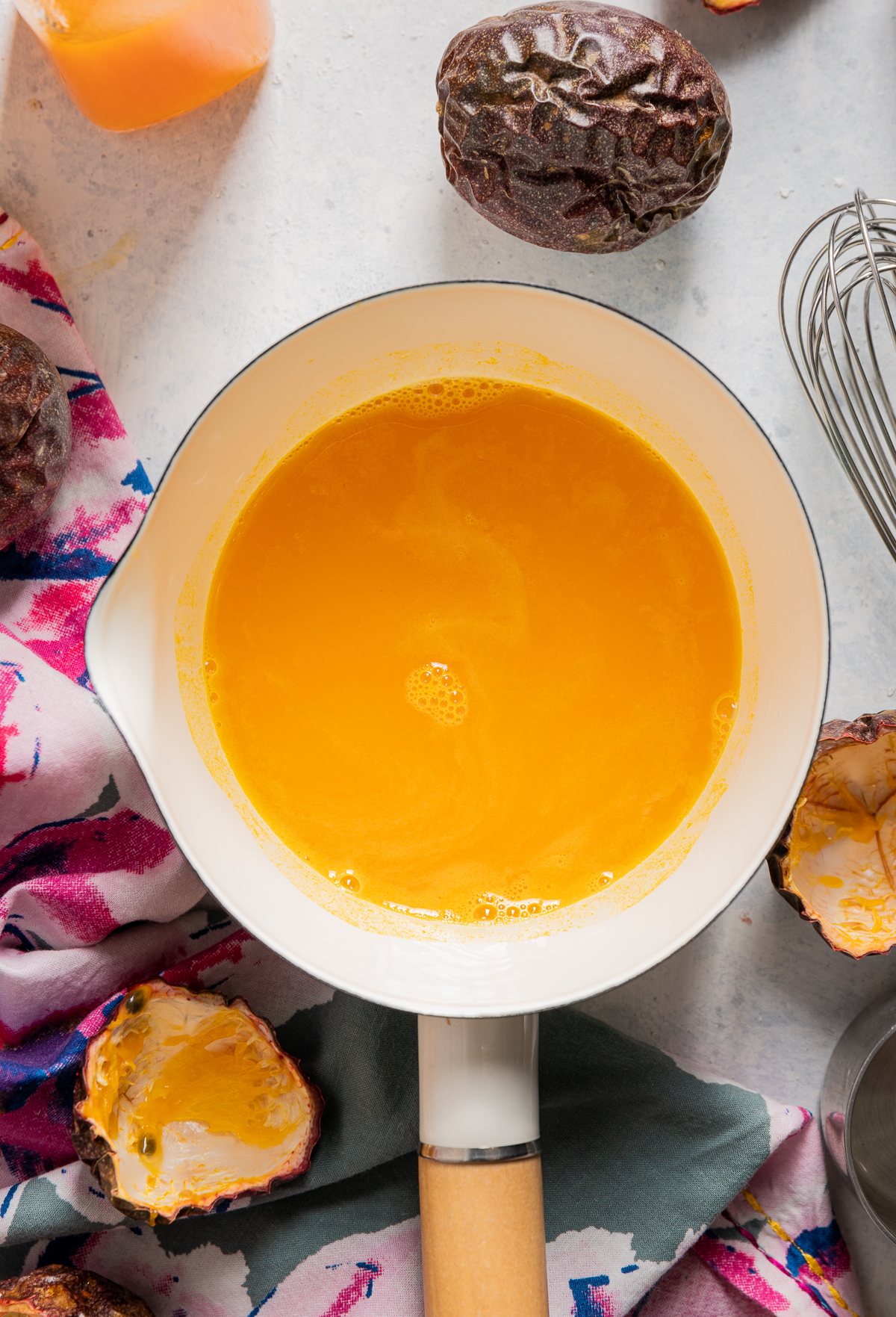 The water and sugar are combined in the pan first, brought to a simmer all while stirring to dissolve the sugar. Next it boils for a few minutes to slightly reduce and then the passion fruit juice is added. Brought to a boil a second time and then removed from the heat.
I will strain this again if I see any leftover bits of seed or pulp. Once cool I transfer it to a resealable jar or a bottle with a stopper top I like using for syrup and it is kept refrigerated.
Simple syrup on its own lasts a few weeks up to a month kept well chilled. Any syrups with fresh juice added tend to spoil quicker, use them up within two weeks.
Isn't that color gorgeous? The passion fruit simple syrup smells so good - so bright and fresh and tropical.
Other Passion fruit recipes you might also enjoy:
What if I can't find fresh passionfruit?
Passion fruit aren't always in season. When they are I buy extra, scoop out the juice, pulp and seeds and freeze in deli containers. When I can't find fresh, I will buy the juice online from my favorite passion fruit source -
Aunty Lilikoi.
You can also find passion fruit puree in the frozen section of well stocked grocery stores, Mexican grocery or international grocery.
Goya
is one brand of frozen puree. Thaw completely before using. Just make sure whatever you use is 100% passionfruit.
"Recipe"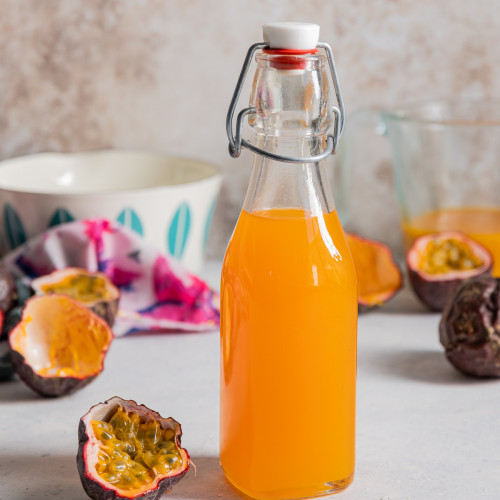 Passion Fruit Simple Syrup
Tropical sweet-tart passion fruit simple syrup. Perfect for cocktails, mocktails, buttecreams, cakes and more.
Ingredients
½

cup

granulated sugar

½

cup

water

¼

cup

fresh passion fruit juice

juice only - from 4-5 fresh passion fruits. See post on how to strain seeds
Instructions
In a small saucepan combine the sugar and water over medium high heat, bring the mixture to a simmer while stirring until the sugar is dissolved.

Bring to a boil and let boil for a few minutes until slightly reduced.

Add in the passion fruit juice and bring to a boil again.

Strain into a resealable jar or bottle with airtight stopper/lid and chill completely ( at least 4 hours) until ready to use.

Keeps well in refrigerator up to two weeks in an airtight jar or bottle.
Notes
If you can't find fresh passion fruit you can use frozen puree, just thaw before using or you can order passion fruit juice online, my favorite place to order is from Aunty Lilikoi.
Make sure the juice is 100% passion fruit, nothing else added.
You can also try this recipe with other juices.
My recipe disclaimer:
If it's your first time making this recipe then make sure you read all of the information in the main post as it includes lots of additional tips, as well as the answers to some common questions.
If you have any further questions then do let me know in the comments and or email me

[email protected]

and I'll do my best to help.
If you choose to make substitutions to the recipe that I have not tested yet please do so at your own risk. I cannot guarantee the same results if you change a lot of the ingredients or method. However, if any of your changes are successful I would love to hear about it and will add to my recipe notes for other readers to try as well.