Lavender Passion Fruit Vodka Lemonade Cocktail is a refreshing and tart summertime cocktail.
Sweetened with a vanilla lavender simple syrup this Hawaiian cocktail creation is sure to slip your mind into a daydream about a tropical vacation with every sip. Even if only for a brief few moments of your day.
I originally made this cocktail for an entry into a cocktail contest for Ocean Vodka, but it wasn't chosen as one of the finalists. I had one too many ingredients per their rules. But that is ok since testing the recipe was tasty and fun and I got to use one of my favorite ingredients, passion fruit. I love passion fruit cocktails.
When we were in Maui last year (2015) we did a few farm tours in the upcountry area. Ocean Vodka's distillery is near two of the farms we visited. Underage kids in tow meant we couldn't go into the actual distillery, but we were able to walk around the grounds.
If you get a chance to go to Maui, I highly suggest farm tours in upcountry. Kula Country Farm, Surfing Goat Dairy and Ali'i Lavender farm are my faves.
Ocean Vodka is made from organic sugar cane and deep ocean mineral water. It is unlike any vodka I have ever had before, it is very unique and delicious.
It is very smooth, no harshness to it at all and blends well into any cocktail. Plus the shape of the bottles is also very unique. I have a mini one as a paper weight on my desk. I am a sucker for unique bottles.
I still had leftover passion fruit from my Passion Fruit Moscow Mules and passion fruit is so quintessentially Hawaiian, I had to make a cocktail that encompassed a few things I love about Hawaii. I say that passionfruit smells like "Hawaii", it has such a lovely fruity and floral aroma.
The ingredients for this cocktail are pretty simple:
Fresh passion fruit, juice/pulp and seeds
Ocean vodka
lavender simple syrup
fresh lemon juice
Thai basil
garnishes of fresh lavender, pineapple leaves and Thai basil
I love using pineapple leaves as a cocktail garnish and I also garnished with some fresh lavender and Thai basil. The Thai basil came from my own garden and I also muddled some into the cocktail for a nice herbaceous note. I love basil in cocktails, its a nice change from mint.
Thai basil definitely has a different flavor than Genovese basil. The classic Italian basil that is also known as sweet basil which is the most common used in culinary applications such as pesto, caprese salad, bruschetta etc.
A few notes about this Lavender Passion Fruit Vodka Lemonade Cocktail First:
Use fresh passion fruit if you can. I know they can be expensive at certain times of the year so you could substitute frozen puree, thaw it first. I don't suggest using a canned or carton passion fruit juice since those tend to be either diluted or have other ingredients in them, such as pear juice, and will change the taste of the cocktail.
If you use fresh you can keep in the seeds or strain them, I personally like the seeds so I keep them in my recipes.
I used Ocean Vodka since this recipe was originally for a recipe contest they held years ago. You can use whatever vodka brand you like. Omit the vodka to make it non-alcoholic. You could substitute coconut water or something like pineapple juice would be great. Even a little soda water would be fantastic.
Making your own simple syrup is very easy and you can adjust the amount of lavender for your tastes. Lavender can be quite strong if too much is used, you don't want recipes tasting like soap or aromatherapy candles. But it works really well with the other flavors in the cocktail. Hate lavender? Leave it out. Simple as that
"Recipe"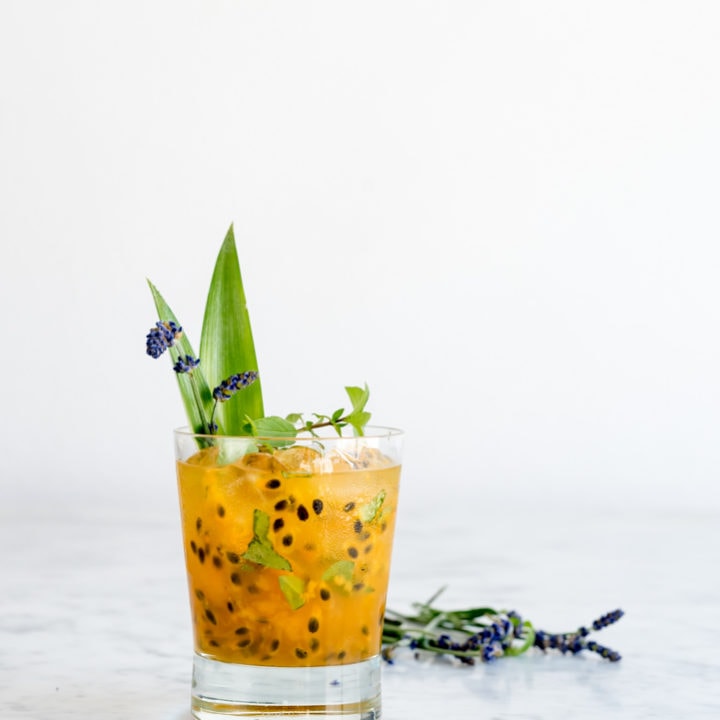 Lavender Passion Fruit Vodka Lemonade Cocktail
A refreshing summertime cocktail made with Organic Ocean Vodka, passion fruit and a lavender vanilla bean simple syrup
Ingredients
2

Ounces

Ocean Organic Vodka

1.75

ounces

Passion fruit

juice with pulp and seeds - 2-3 Passion fruit worth, depending on size

1.25

ounces

Lavender Vanilla Bean Simple Syrup**

1 ½

tablespoon

Fresh Lemon Juice

4

leaves

Thai Basil

chopped

Garnish:

2

Sprigs of Fresh Lavender

1

Sprig of Fresh Thai Basil

2

Fresh Pineapple leaves
Instructions
Scoop out the juice, pulp and seeds from two to three lilikoi until you have 1.75 ounces. Muddle this with the Thai basil leaves in a large rocks glass then fill with ice.

In a cocktail shaker filled with ice combine the Ocean Vodka, the syrup and lemon juice and shake well. Pour over the lilikoi in the rocks glass and stir. Garnish with the lavender and Thai basil sprigs and pineapple leaves. Serve and enjoy!!
Notes
To make the Lavender Vanilla Bean Simple Syrup
!Ingredients:
1 ½ C Organic Sugar
2 i Vanilla Bean Pods, seeds scraped out of one
3 tablespoon fresh Lavender ( can also use dried)
1 C water
!Instructions:
In a small saucepan add the sugar and scraped vanilla bean seeds and rub between your fingers to disperse the seeds amongst the sugar. Add the remaining ingredients to the pan and bring to a boil, stirring until the sugar is dissolved and has become fragrant. Lower heat and simmer for 10 minutes then remove from heat. Let cool completely. Chill overnight then strain into a jar, add in the other vanilla bean pod, sliced open so the seeds can permeate the syrup. Shake or stir before using.
Cheers! I hope you enjoy this lavender passion fruit vodka lemonade cocktail as much as I do.