Hawaiian New Year's Cocktail, aka Sweet and Sour Passionfruit Rum Fizz, is a perfect sweet, sour, fizzy tiki libation for ringing in the new year.
This page contains affiliate links. Affiliate links support Pineapple and Coconut at no additional cost to you. If you choose to make a purchase via these links, I earn a small commission to help keep this blog running and it is much appreciated. I am an Amazon and Adorama affiliate.
Another new year requires another new cocktail. Something bright, sweet, tart and refreshing. I know there haven't been many cocktails on my blog as of late, I don't drink much at all anymore. But I do love making them for my site so hopefully I will get back to making more fun tropical cocktails like this one in the new year.
I love a fizzy cocktail for new years and this sweet and sour passionfruit rum fizz fits the bill perfectly.
Jump to: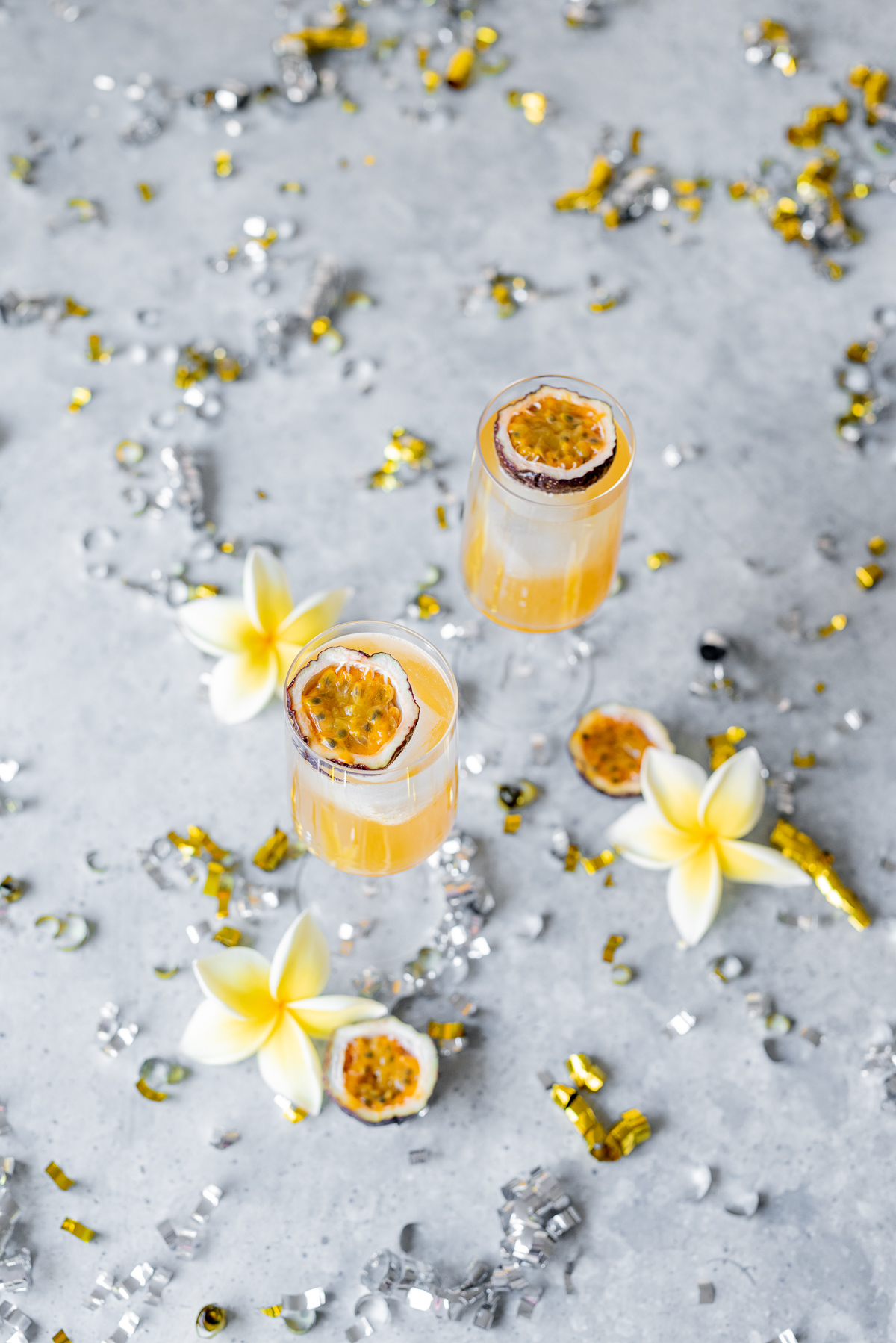 Ingredients for this passionfruit rum fizz:
Rum - I like to splurge here since it is New Years and go for a higher quality reserve rum. Koloa and Kohana work well here to keep with the Hawaiian theme.
Passionfruit juice - from fresh passionfruit or bottles 100% passionfruit juice.
Passionfruit syrup - can use a bottled syrup ( I like Small Hand Foods syrups) or you can make your own. (Passionfruit Simple Syrup Recipe)
Pineapple Gum Syrup - from Small Hand Foods. You can also make your own pineapple syrup.
Tiki Bitters - I love tiki bitters from Bittermen's bitters. Adds balance to the cocktail.
Prosecco - I prefer prosecco in cocktails like this but you can also us a dry sparkling wine or Brut Champagne.
Ice cubes - a large square or sphere ice cube looks great in these drinks.
Fresh Passionfruit - halves for garnish, they float on top of the drink.
How to make the cocktail:
Set out some fun stemmed glasses
Add all but the prosecco to a cocktail shaker full of ice
Add a few cubes of ice to your glasses
Pour the shaken cocktail into the glasses but not all the way up
Top off with prosecco - 2-3 ounces, depending on the size of your glasses
Garnish with passionfruit half and serve
Specialty ice cubes:
You can make square or sphere ice cubes with specialty ice makers you can find online or at large, well stocked liquor stores that also carry glasses, bar ware etc.
I like to make square or sphere ice cubes for these drinks since they tend to melt a lot slower and don't water down the drinks. There are lots of different novelty shaped ice cube trays on the market now (I have pineapple shaped ones no big surprise there) but they are small and tend to melt fast. Definitely go with the big square or sphere.
You can see here the passionfruit halves float on tope of the drink and don't sink down because of the big ice cube below it.
Other New Years cocktails you may like: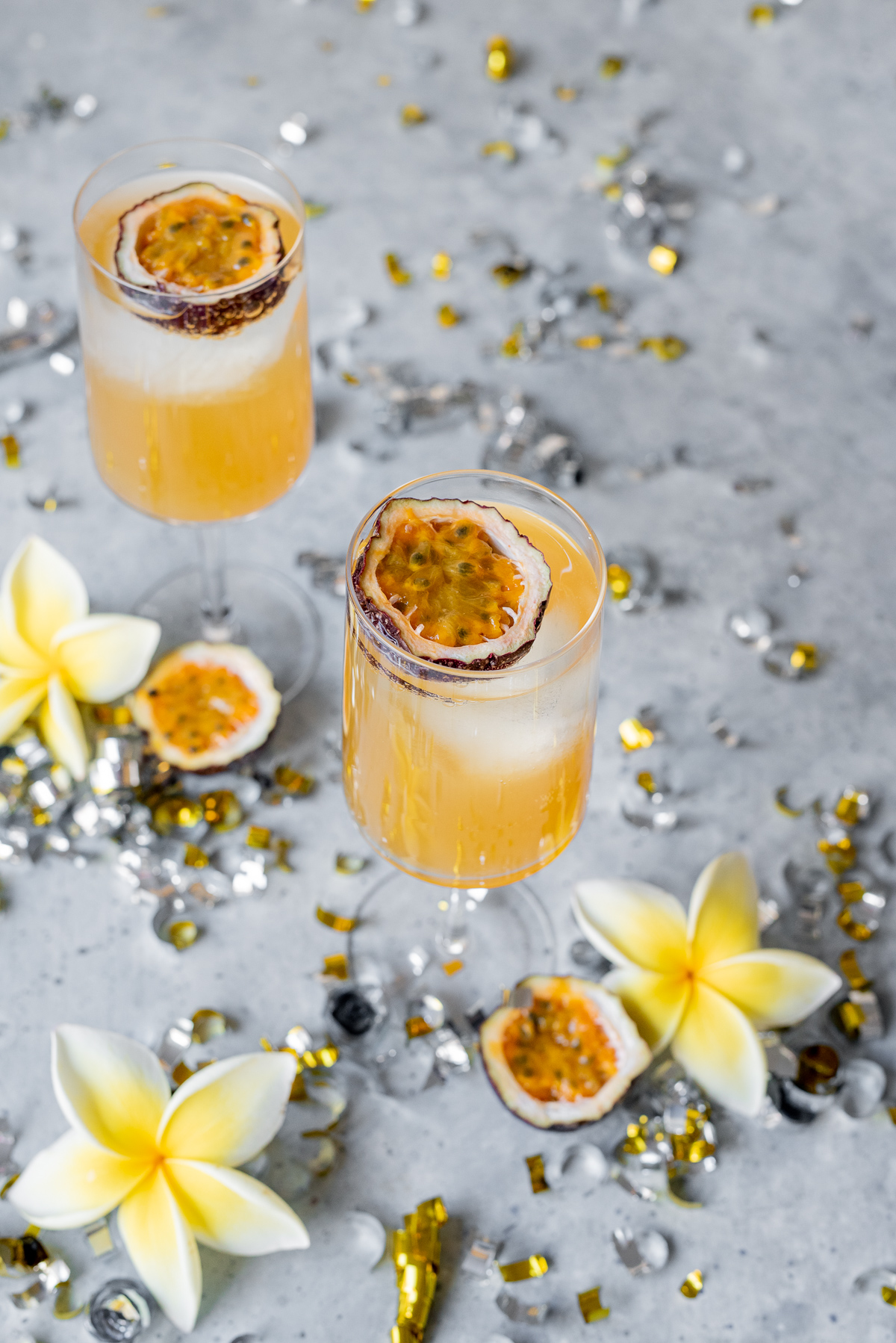 Can I make these non-alcoholic
Yes. You can substitute a clear fruit juice such as white grape or coconut water for the rum and any kind of sparkling water for the prosecco
Can I sub the rum for another liquor
I suppose you could. I have only ever made these with rum, but if you want to sub with something else feel free but know that it will change the flavor of the overall drink.
Can I make this into a larger batch?
Absolutely. Multiply the amounts by how many drinks you will want to make to make a batch for a pitcher or punch bowl. When ready to serve just pour or ladle the cocktail into glasses with ice and top with prosecco. Don't add the prosecco to the cocktail pitcher or punch bowl first. Save the fizz for the last minute.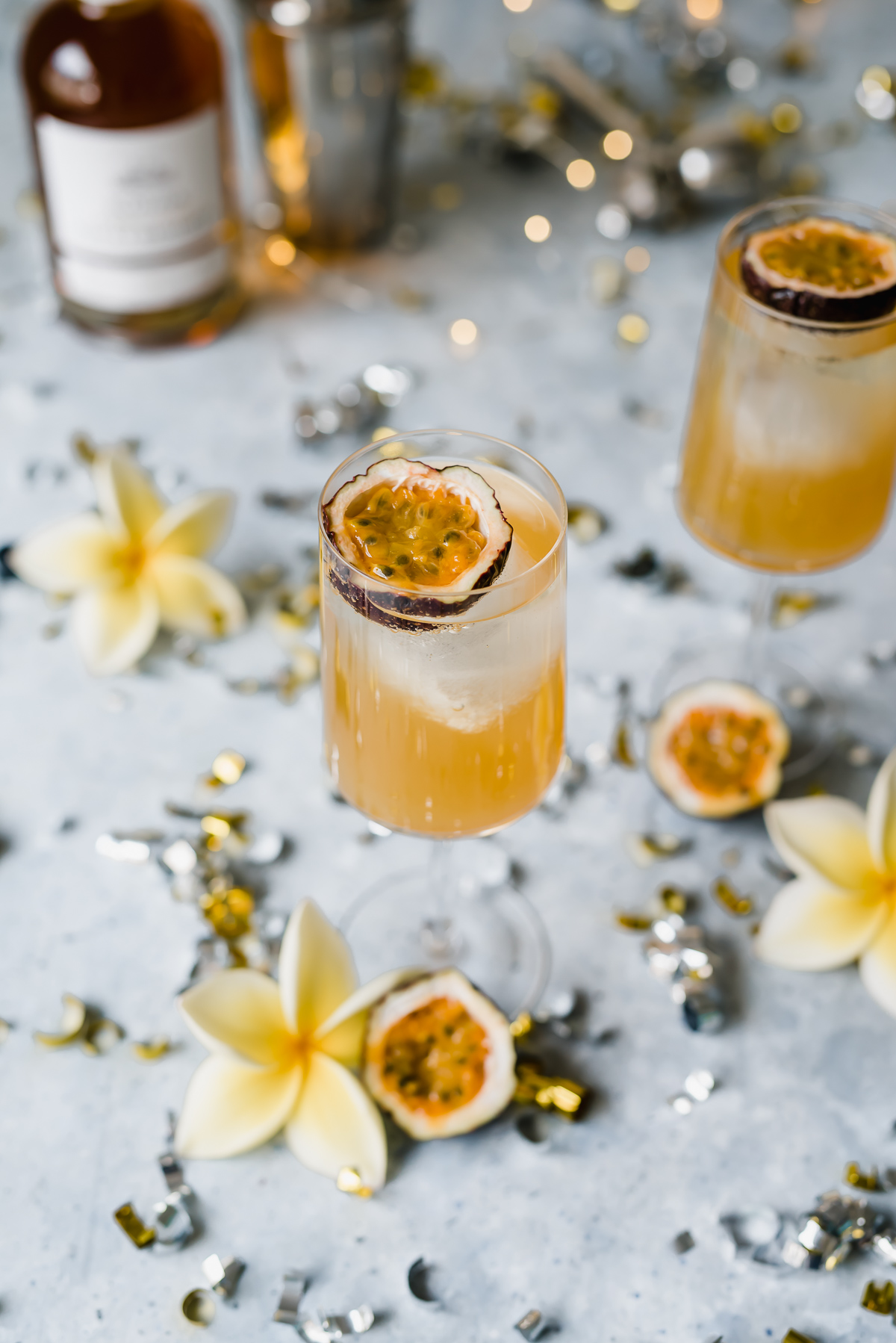 Hawaiian New Year's Cocktail ( Sweet and Sour Passion Rum Fizz) recipe:
Hawaiian New Year's Cocktail ( Sweet and Sour Passion Rum Fizz)
A delicious and easy to make sweet and sour tropical fizzy cocktail to ring in the new year.
Equipment
1 Cocktail Shaker

2 Cocktail glasses
Ingredients
4

oz

Koloa Kauai Reserve Rum - or any other brand reserve rum or Rhum Agricole

4

oz

Passion Fruit Juice

2

oz

Passion Fruit Syrup

small hands foods

1

oz

Fresh Lemon Juice

1

oz

Pineapple Gum Syrup

small hands foods

4-6

dashes Tiki Bitters

Bittermen's brand

Prosecco

sparkling wine or Brut Champagne, well chilled
Garnish:
Fresh passion fruit halves
Instructions
Combine all the cocktail ingredients up to bitters in a cocktail shaker, add ice and shake well.

Place a large ice cube ( or large ice square or sphere) into a glasses then fill ⅔ of the way with the cocktail. 

Top with chilled prosecco or sparkling wine,  then float the passion fruit half on top. 
Notes
You can substitute Koloa Kaua'i Gold Rum for the Reserve, but I highly suggest using the Reserve. Kohana is another great rum choice
To make your own syrups you can add 200g sugar (1 cup) to a pan with ¾ cup juice and ¼ cup water. Bring to a boil, stirring so the sugar dissolves, then simmer until the syrup is slightly reduced. Keep in an airtight bottle or container in refrigerator.