Perfectly Grilled Pork Chops with Blueberry Peach Basil Salsa
I can't believe it is August already. Where is summer going?? I need to blink less. Something. Luckily with recipes like this perfectly grilled pork chops with blueberry peach basil salsa will allow summer to linger on as long as possible. Nothing says summertime like grilling does. Well a few other things might, but most people I know can't wait for summer to break out their BBQs and get their grill on.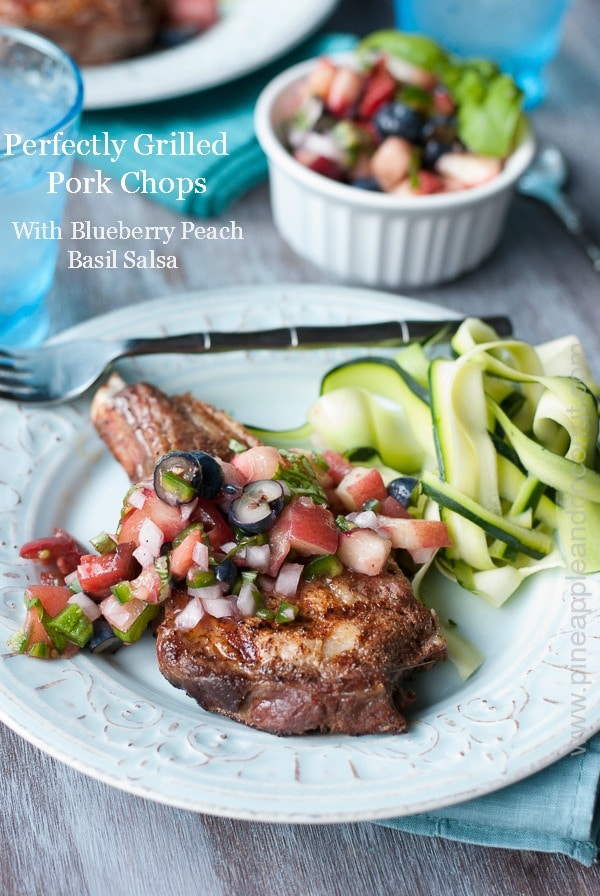 We live in Vegas so we grill year round. Which is a little crazy since its crazy hot outside during the summer and my BBQ thermometer reads about 110-130 when its off! But we brave the "elements" to grill recipes like these pork chops. These grilled pork chops were awesome. So awesome in fact we at this exact same meal two nights in a row.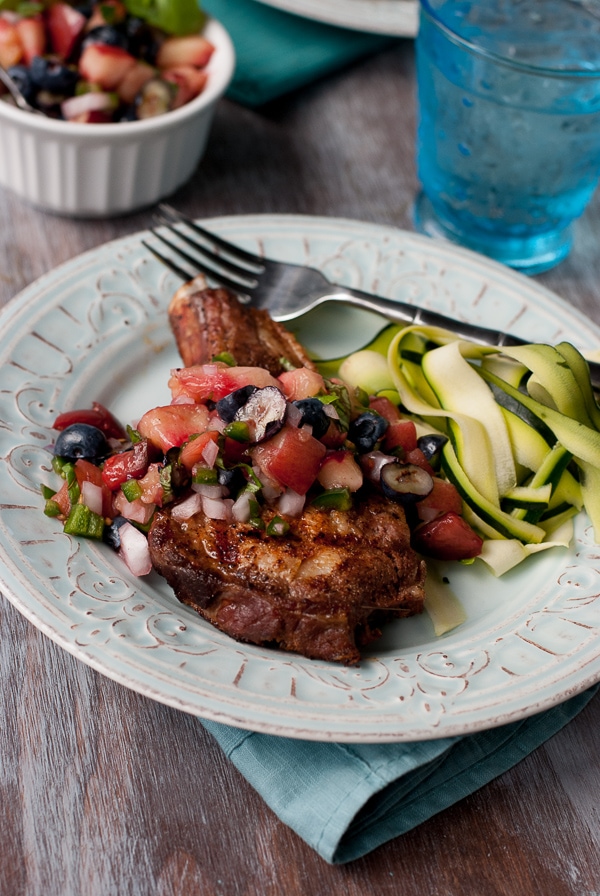 We also ate it so fast both times I forgot to get a pic of the grilled pork chops without the salsa on top. Oops. They had super pretty grill marks on them too. My husband is a master bbqer. He grilled these and I made the salsa. We make a great team in the kitchen. And outside at the bbq. We both have the same food philosophy and that we believe in eating super high quality foods. No junk for our family. He was looking online for local CSAs, farmers markets an the like when he came across the Las Vegas food co-op and saw that we could order meat from a ranch in southern Utah that brings a delivery to Vegas when they have their animal shares ready. This farm, The Christiansen's Family farm, raises pigs, chickens and cows very humanely with organic feed to supplement the feed they eat just from grazing on on the land at the farm.
We had first bought a share of 3o lbs of pastured pork from them and were blown away by the taste and quality. Unlike anything we had ever eaten before. Amazing tasting, 1000 times better than any commercially raised pork. Just so flavorful and cooked up beautifully. So when it was time for another share to purchase we decided to go with half a pig plus some extra " a la carte" items. Like more pork belly.
I have over 100lbs of pork in my freezer now. I can't even tell you how excited I am to learn how to cure my own bacon. Mmmmm Ba-con. We also bought some a-la-carte beef items and whole chickens from them. I joke I have my own farm now. A frozen farm that is.
This salsa works so well with the grilled pork chops. Sweet and spicy. The basil really makes the salsa that much better. If you want more spice add in more jalapenos with ribs and seeds. I thought it was perfect how I made it. But if you like more heat then by all means make it spicier!!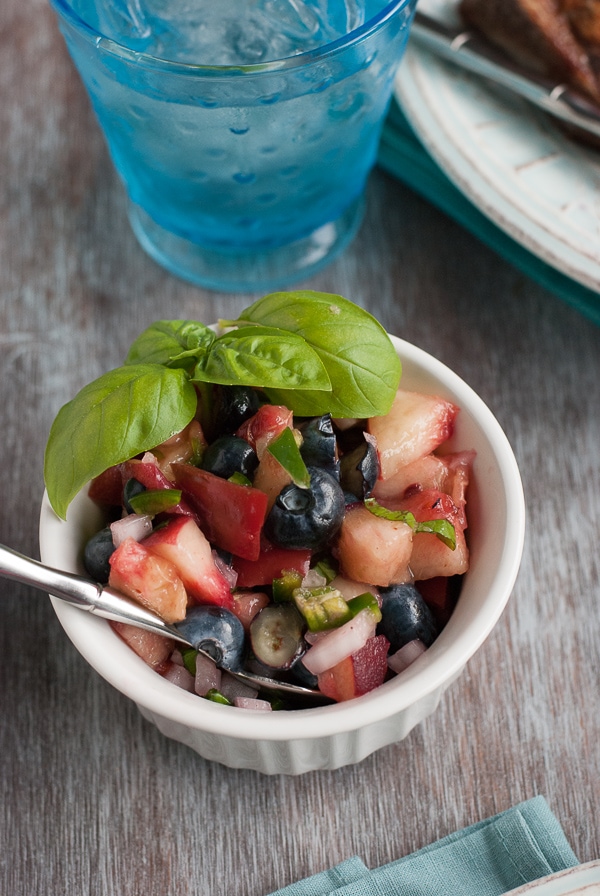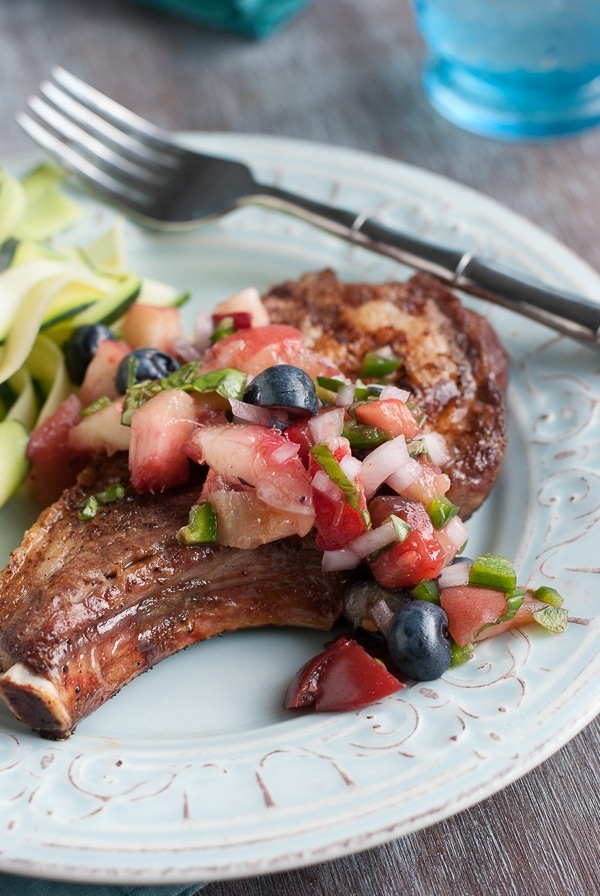 Since my husband helped me with this recipe I had him write part of it. I didn't edit his portion, even though he said I could if I needed to. He grills pork chops so perfectly that didn't want to mess with the instructions of perfection.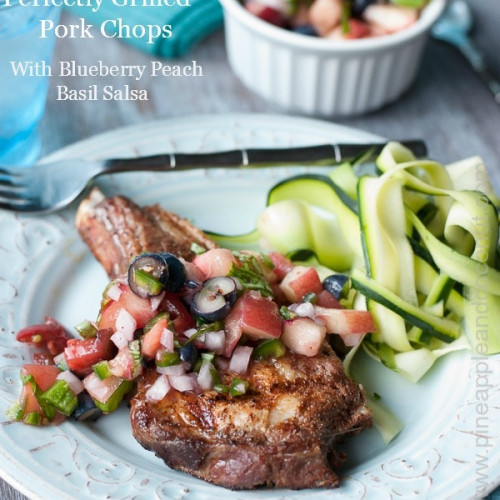 Perfectly Grilled Pork Chops with Blueberry Peach Basil Salsa
Perfectly Grilled Pork Chops with Blueberry, Peach Basil Salsa
Ingredients
For the Pork Chops
4

bone in pork chops

about 8 ounces each

1

teaspoon

each garlic powder

chili powder m, sea salt and ground black pepper
For the salsa
1

medium white peach

diced

⅓

cup

diced white onion

1

cup

blueberries

sliced in half

1

jalapeno

seeds and ribs removed, diced

1

medium heirloom tomato diced

6

big leaves of basil

sliced thin

Juice of half of a lime

½

teaspoon

each sea salt and pepper
Instructions
Bring pork chops out of refrigerator to come to room temperature

Make the salsa while the pork chops are thawing

Combine all the salsa ingredients into a bowl and gently stir to combine. Set aside until ready to use.

Season both sides of pork chops with garlic powder, chili powder, salt and pepper about ½ teaspoon each split between the chops

Clean and Pre -Heat grill on high

I like to cook pork chops over medium to medium high heat so the fat gets a little bit crispy but you need to be careful of fire when you get larger flames going on the bbq - I keep a water spray bottle to help control the flare ups.

When BBQ is very hot and ready to sear place chops on with bone end over / towards hottest part of grill- usually towards the rear. Turn gas down to medium/ medium high to try and avoid flames from fat.

you can rotate your chops after about 3 minutes if you need to move to avoid flames

flip onto a clean hot section of the grill if possible after juices begin rising from the marrow of the bone- usually about 4-5 minutes

you can rotate your chops after about 3 minutes if you need to move them to avoid flames and then turn heat to low

remove after meat feels firm and nicely browned usually about 10-12 minutes total cook time for medium-medium well. No one likes dry porkchops

allow pork chops to rest for 4-5 minutes before serving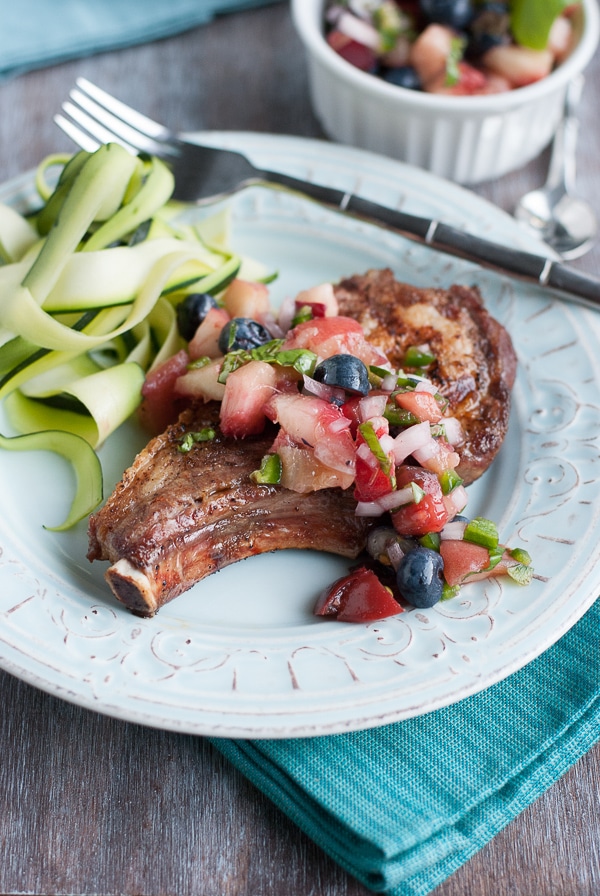 Yummy