Hot honey glazed salmon is an easy to make and delicious way to serve salmon especially when it is wild Alaskan Copper River Coho salmon. Just a few ingredients and just a few minutes and this gorgeous salmon is served for dinner.
Thank you to Copper River Salmon for sending me this gorgeous Copper River Coho salmon.
This page contains affiliate links. Affiliate links support Pineapple and Coconut at no additional cost to you. If you choose to make a purchase via these links, I earn a small commission to help keep this blog running and it is much appreciated. I am an Amazon and Adorama affiliate.
You all know my love for wild Alaskan salmon, particularly Copper River Salmon, and this hot honey glazed salmon recipe is one of my faves. Its so simple, just a few ingredients and dinner can be on the table in 30 minutes.
Salmon is such a great fish to cook and eat, especially for those who don't loooove fish but want to start trying it. Salmon is the perfect fish to start with, especially wild Alaskan salmon. Mild, great flavor and texture, cooks up quick and can go with a wide variety of seasonings and sauces.
Jump to:
Why choose wild Alaskan salmon:
Wild is best, high quality, better flavor, sustainable and overall better for the environment.
Wild fish tends to be leaner than farmed, making it quicker to overcook. But this also means since it cooks quicker, dinner is on the table faster.
No colors or other chemicals added to the fish to enhance taste, flavor and color like there is with farmed salmon
Supports smaller fisheries and family fishing businesses.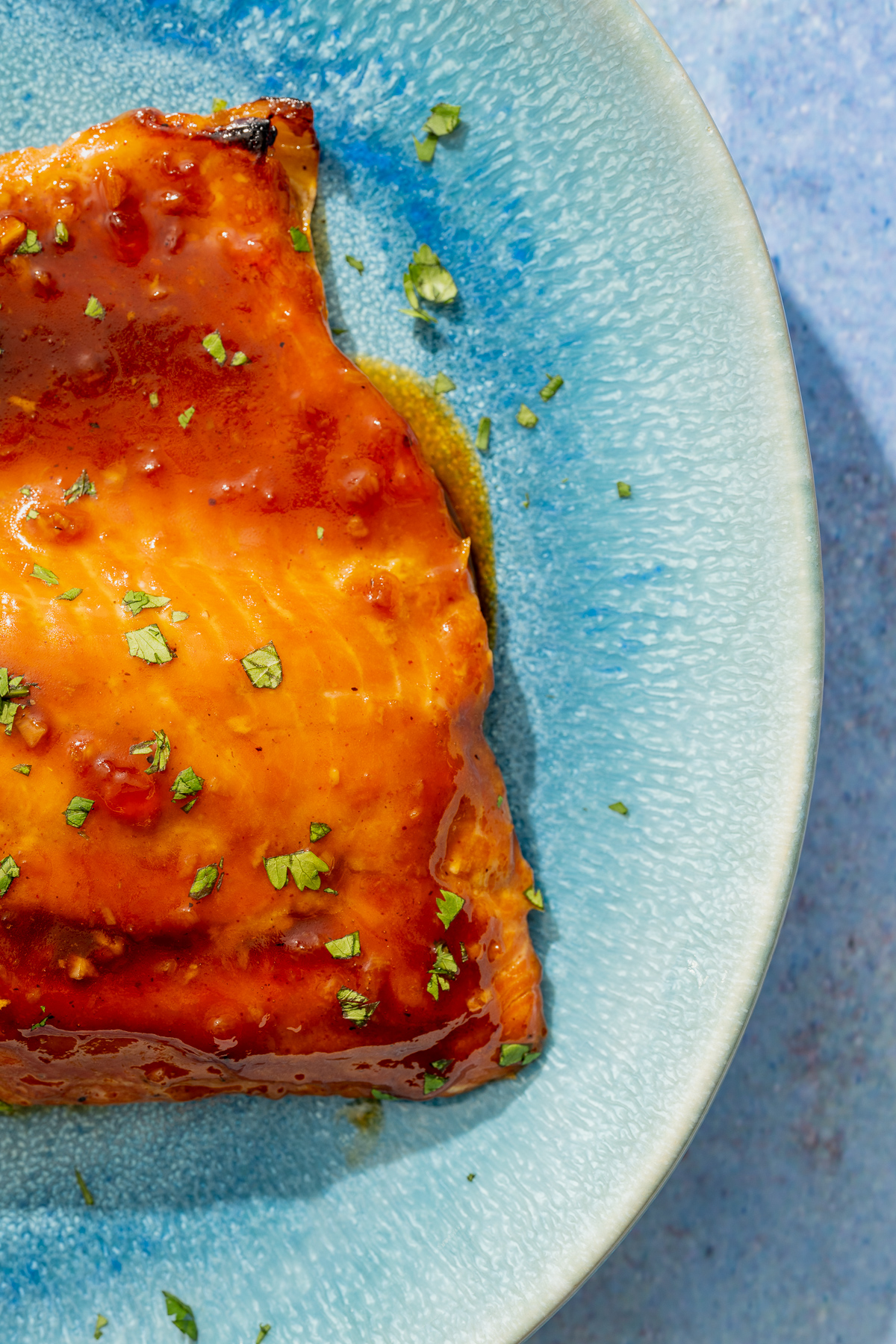 What makes this hot honey glazed salmon recipe great:
Honey - Honey and salmon go together so well. Adding a little sweetness to the fish is a great way to get more people to enjoy salmon. And the kick of chili in the hot honey is great for those who love sweet-spicy food combinations.
Quick to make - just a few minutes in the oven baking then broiling. Who doesn't love a fast dinner recipe?
Kid friendly - not too spicy the kids wont eat it ( you can adjust the level of spice if making your own hot honey vs buying a premade hot honey). Salmon is a great first fish to introduce to kids.
My Furikake Salmon recipe is another family friendly and delicious way to make wild Alaskan salmon. A favorite salmon recipe in Hawaii.
Ingredients:
This recipe is all about the hot honey glaze which is first used partly as a quick 10 minute marinade then thickened into a glaze which is then brush on the salmon fillet before and during baking and broiling.
Wild Alaskan Salmon - I used a 1.5 lb (683g) wild Alaskan Coho Salmon Fillet
Spices - Salt, pepper, paprika (can used smoked paprika if you like)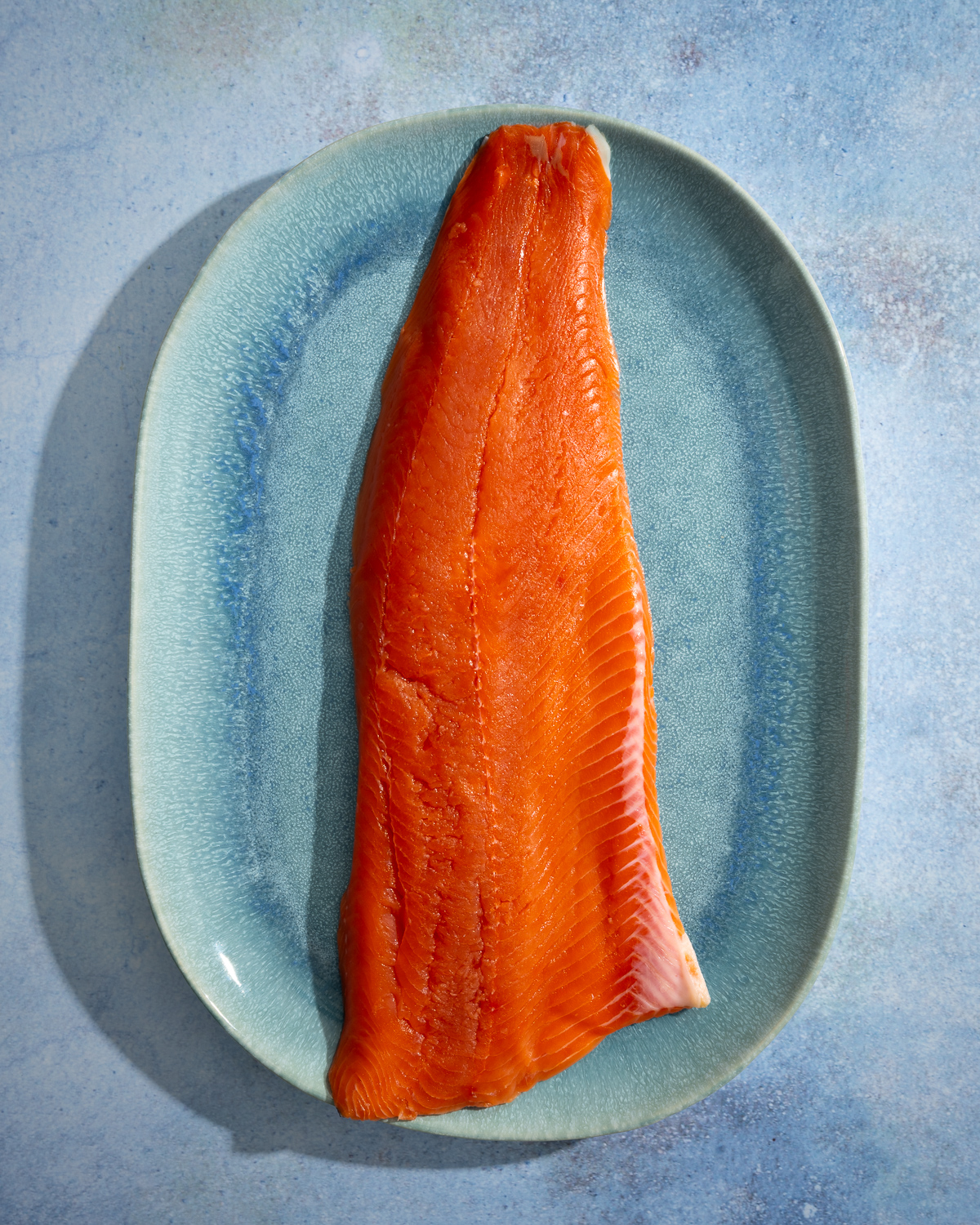 Hot honey glaze ingredients:
Soy Sauce
Hot Honey ( you can also use regular honey and your favorite chili sauce in place of the hot honey- see recipe notes for a quick homemade hot honey sauce)
Garlic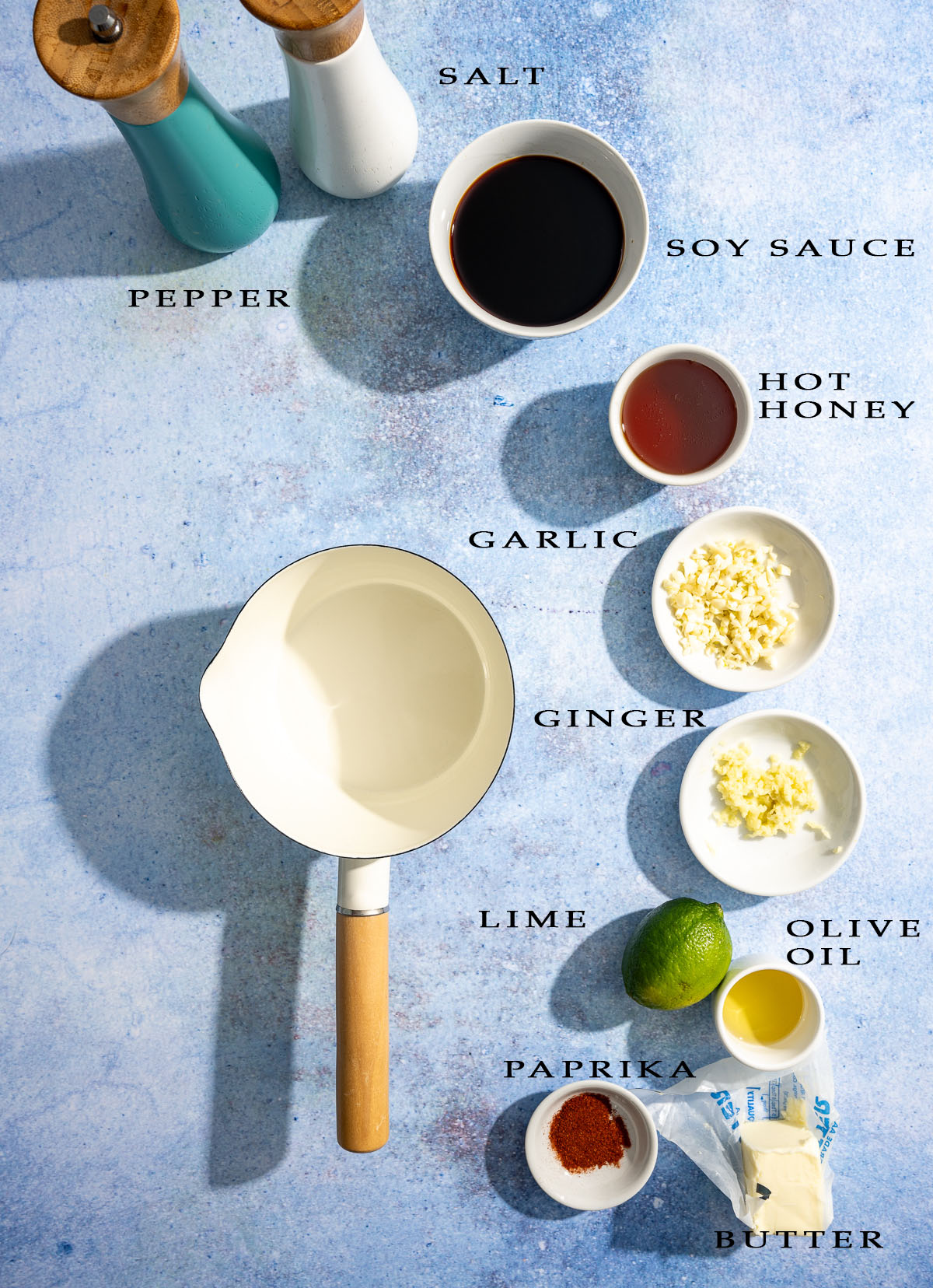 Ginger
Olive oil
Lime juice
Butter
Water
Corn Starch ( optional for thickening)
See recipe card for quantities.
Instructions
This hot honey glazed salmon recipe is so easy. Make the marinade/glaze. Marinate the salmon for a few minutes while the marinade is reduced to a glaze. Glaze the salmon, bake , glaze again, broil. Garnish with some fresh herbs. Serve.
Combine the glaze ingredients into a bowl, reserving one third for marinade, pour the remaining into a small saucepan. Add the butter to the saucepan.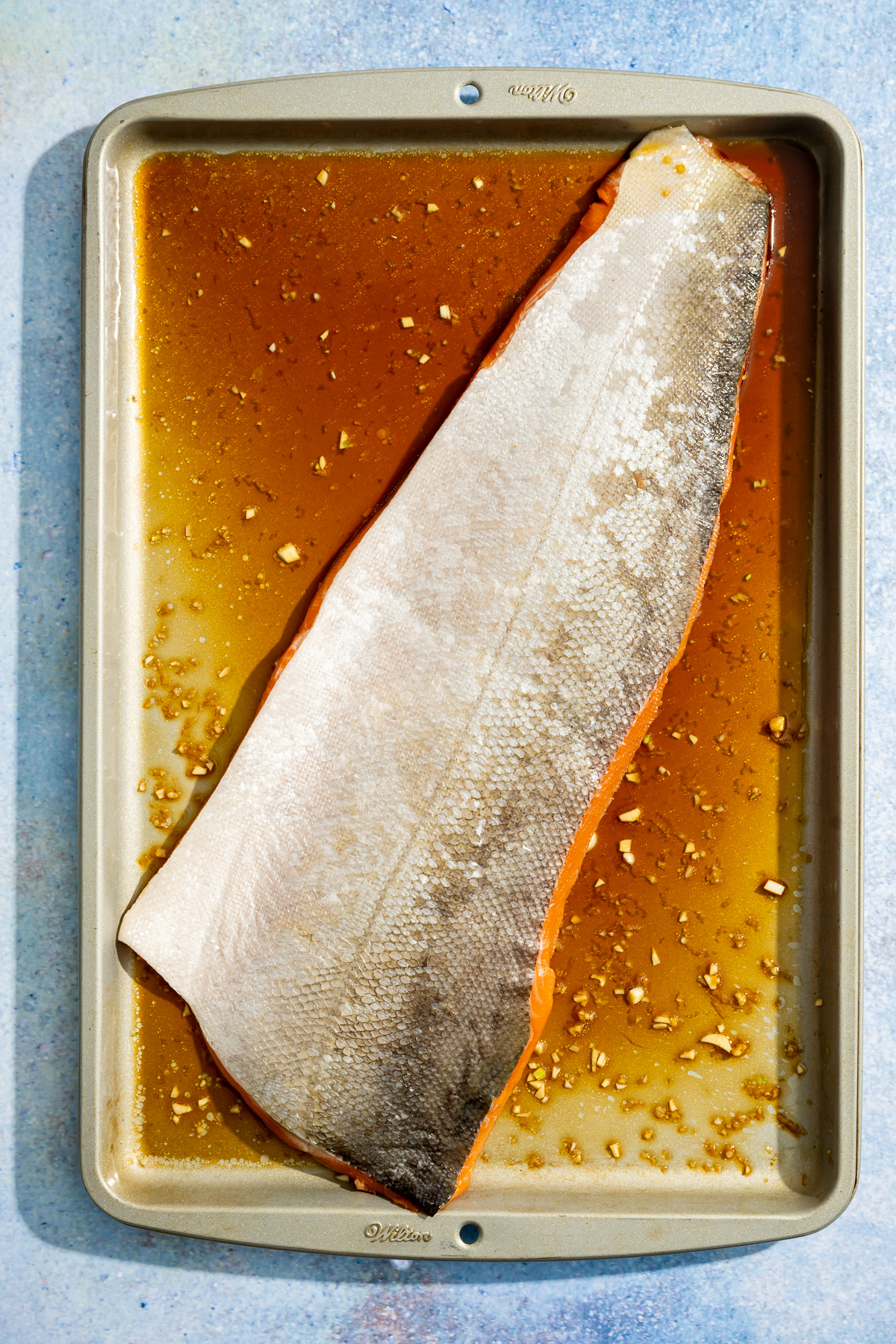 With the reserved marinade, marinate the salmon skin side up for 10 minutes. While the salmon is marinating, reduce the glaze over medium high heat until thickened.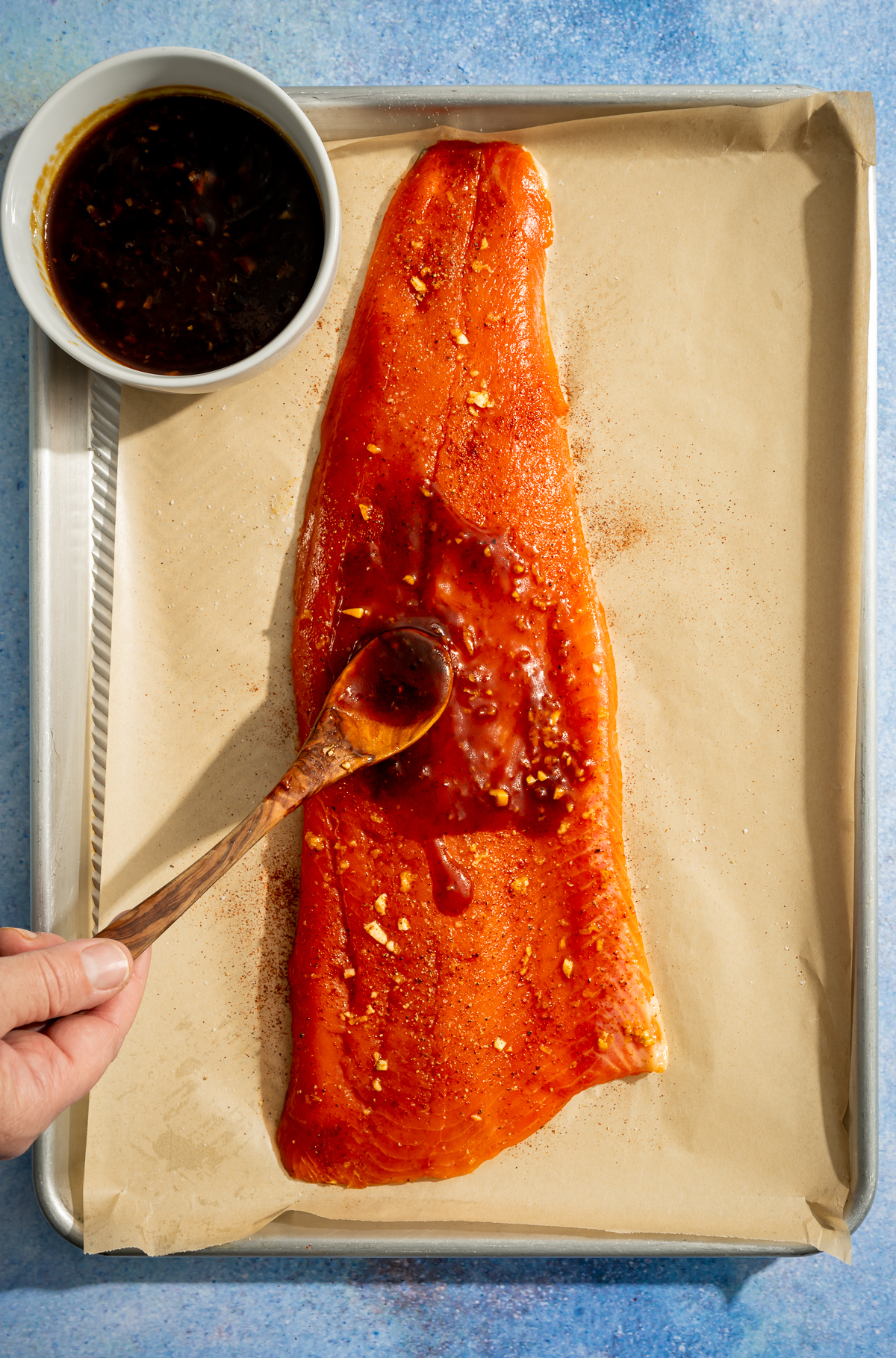 Place the marinated salmon fillet on a parchment paper lined baking sheet, season with salt, pepper, paprika and then spoon some of the thickened glaze over the top of the salmon.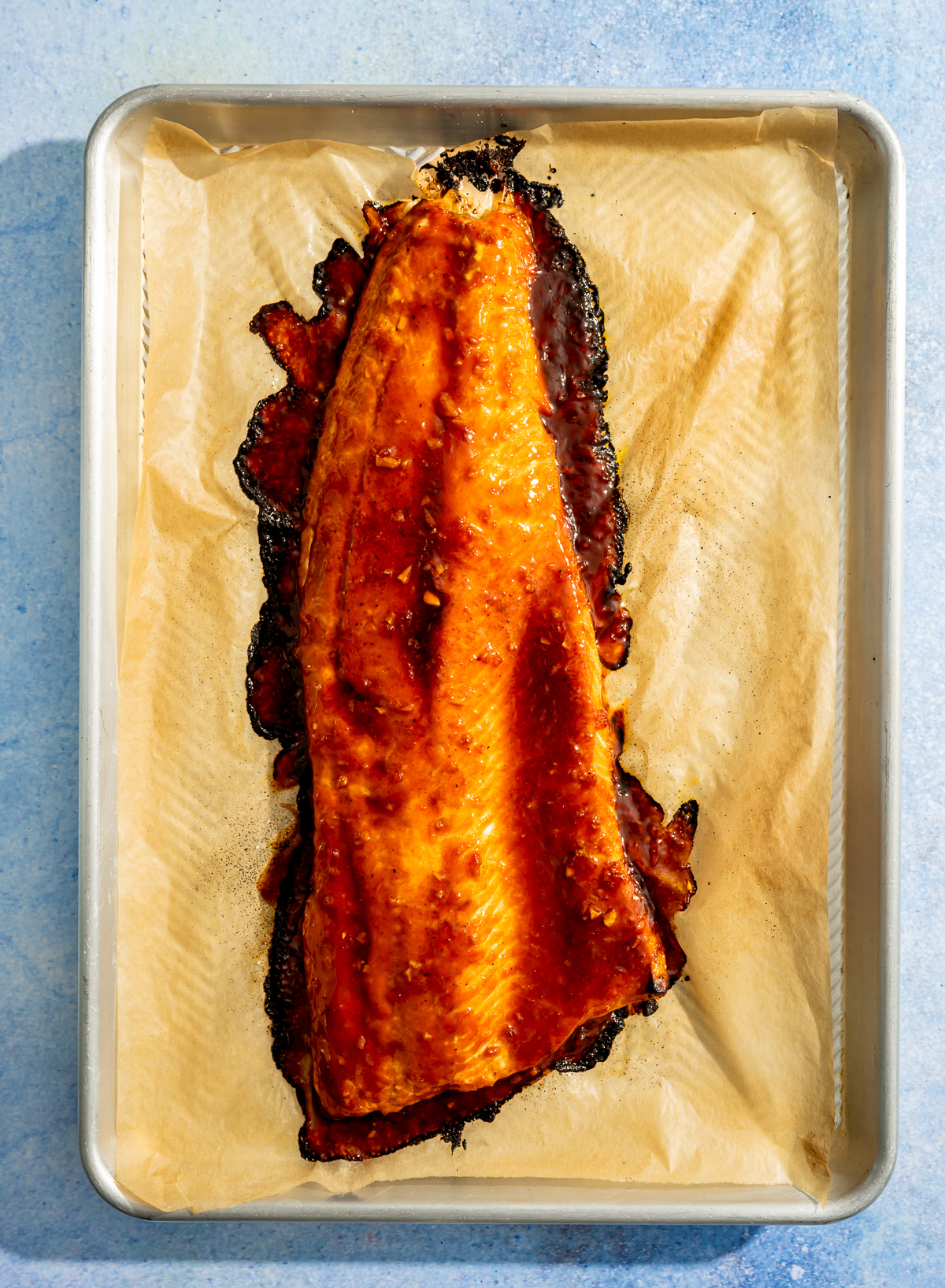 Bake the salmon at 375 Deg F for 4 minutes. Add more glaze then place under the broiler for another 4 minutes until done. That's it.
Hints: Marinate the salmon for 10-15 minutes. It really doesn't need more than that, if you want to marinate it for longer, omit the lime juice. Citrus will start to break down the salmon if marinating for too long.
If you want to thicken the glaze faster, use some corn starch mixed with water. The glaze takes about 10 minutes to reduce and thicken.
Substitutions:
I used Trader Joe's hot honey. If you don't have a trader joes near you or can't find hot honey you can use instead:
Honey - any kind of honey
Chili sauce- Sriracha, chili garlic sauce, sambal oelek etc
Vinegar - a little white or apple cider
Spices - you can also add in some red chili flakes or cayenne pepper to up the heat factor.
Equipment:
Saucepan - for the glaze
Parchment paper - high heat so it wont burn when broiling
Baking sheet - I love Nordic Ware and USA bake pans
Serving platter - my blue platter seen in these photos is from Crate and Barrel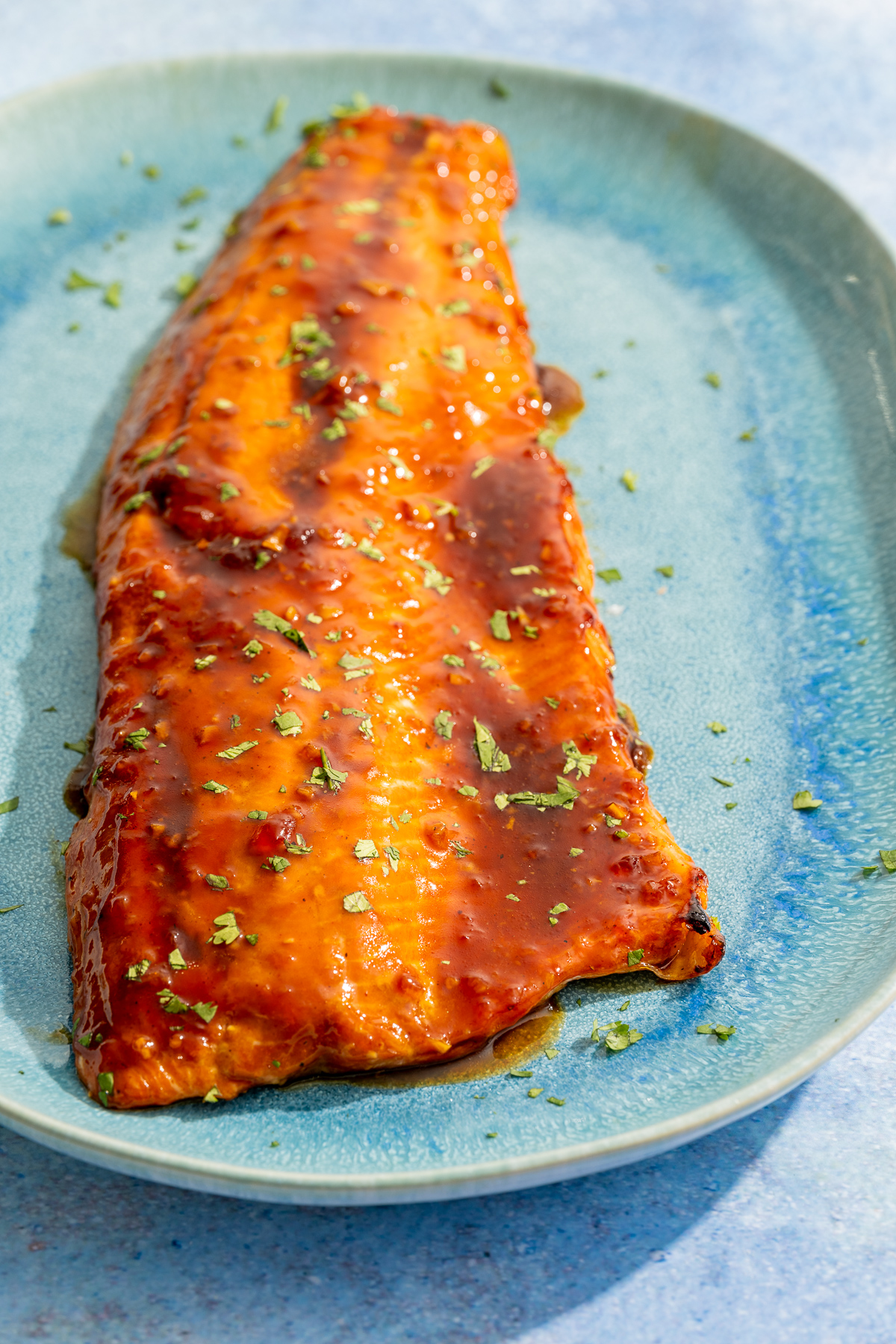 Storage:
Store the salmon in an airtight container in the refrigerator up to 5 days. You can freeze salmon before baking it, I don't usually freeze it afterwards. Reheated baked salmon from frozen tends to get a little mushy.
FAQ:
How long to bake salmon:
Salmon is a very quick baking fish. So many recipes online call for long times at high heat ( such as 25 min at 400 Deg F) and I would only suggest that if you want to make salmon jerky. I kid. But that is just way too long. Especially for wild Alaskan salmon. No more than 10 minutes is needed.
How to tell when Salmon is done baking:
The fish is firm when pressed down on gently and internal temp is 145 Deg F. If you see the white albumin coming out - it is over baked.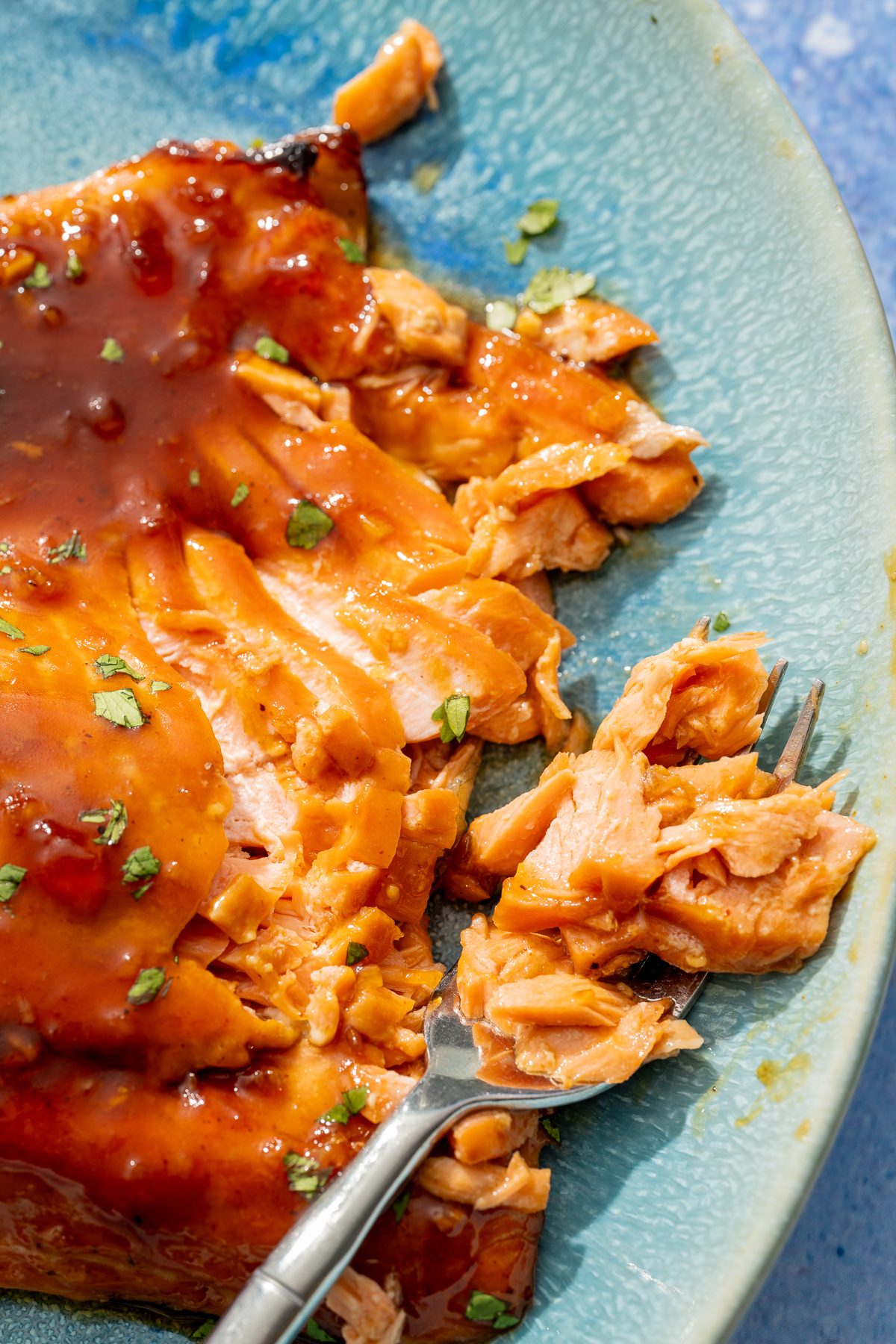 More salmon recipes to try:
Looking for other recipes like this? Try these:
Hot Honey Glazed Salmon Recipe
Hot honey glazed salmon is an easy to make and delicious. Only a few ingredients and this tasty salmon is on your dinner plate in 30 minutes.
Makes 4-6 servings
Ingredients
For the salmon:

1.5-2

lb

Wild Alaskan salmon fillet

Coho or Sockeye

1

teaspoon

kosher salt

1

teaspoon

ground black pepper

1

teaspoon

paprika

For the marinade/glaze:

132

g

soy sauce or tamari

½ cup

170

g

hot honey sauce (I used Trader Joe's brand)

(see recipe notes for homemade hot honey sauce)

3

cloves

garlic

minced

2

teaspoons

fresh ginger

grated

1

tablespoon

olive oil

1

tablespoon

lime juice

60

g

water

( ¼ cup)

2

tablespoon

butter

unsalted

1

tablespoon

cornstarch

(optional)

Fresh cilantro

diced for garnish
Instructions
Prep the salmon:

Wash and pat the salmon fillet dry, remove any scales or pin bones. Place skin side up on a baking sheet.

Prepare a baking sheet with parchment paper.

Heat oven to 375 Deg F with rack placed in upper third of the oven.

Make the marinade/glaze:

Whisk together all the glaze ingredients, except the butter and corn starch. Reserve ⅓ of the marinade and pour the remaining into a sauce pan.

Pour the reserved ⅓ of marinade into the baking sheet with the salmon fillet, lifting the fillet to get the marinade under it. Set aside.

Add the butter to the sauce pan and bring the marinade in to a boil, lower to a low boil until reduced and thickened. If you want a really thick glaze, mix the cornstarch with one tablespoon of water, stir well then add to the glaze. Raise the heat and stir until thick. Transfer the glaze to a bowl.

Place the marinated salmon skin side down on the parchment lined baking sheet. Season with the salt, pepper and paprika. Spoon some of the glaze over the top of the salmon.

Bake at 375 Deg f for 4-5 minutes. Glaze the salmon again then switch the oven to broil. Broil the salmon for another 4 minutes until the salmon is done to your liking. Do not over bake or broil.

Remove from the oven, transfer salmon to a serving platter and garnish with diced cilantro.

Goes great with rice, grains, salad etc.
Notes
To make your own homemade hot honey sauce combine ½ c  Honey (170g) with 2 Tablespoons sriracha or other hot chili sauce and 1 tablespoon apple cider vinegar. Stir until well mixed. Taste and adjust with more honey or chili sauce. Keep refrigerated.  You can also add in a few red chili flakes or a pinch of cayenne pepper if desired.