Grilled Pineapple and Pork Belly Pizza with Arugula and Burrata
I love a combo of sweet and salty on pizza and this one fits the bill. And yes, I am fully #teampineapple when it comes to pineapple on pizza.
When it comes to ordering pizza either dining out or for take out, I stick with my same order - margherita or bbq chicken . I never order anything different. I am just not that adventurous.
But when we make homemade pizza I tend to be more creative with toppings. My kids LOVE the help make pizza too. Mostly they just love to play with the dough. And make huge flour messes. The mess is half the fun. Eating the pizza is the other half of the fun.
I have tried several different pizza doughs and with how easy it is to make homemade, I will make several batches of dough, par bake and freeze so its ready to go in a pinch when I don't feel like making a ton of stuff for dinner some nights.
I absolutely love the basic pizza dough recipe from America's Test Kitchen Baking Book. I makes a really nice in-between thick and thin crust recipe. It is my go-to pizza dough recipe. I have it in my recipe notes for you all.
This pizza has a little bit of everything and while it sounds like complicated, several things can be made/prepared at the same time.
Caramelize the onions and crisp the pork belly while the pizza dough is rising. Have the tomatoes sliced, burrata prepped and arugula washed and dried.
Set it all out on a plate or tray so as soon as the dough is par-grilled or par-baked you can quickly assemble to finish the pizza.
I use uncured pork belly for this pizza recipe and not bacon. I love the chewy texture of the pork belly. If you wanted to substitute bacon you can, they will be much crispier pieces. And saltier.
What is the difference between pork belly and bacon?
Not a whole lot. Bacon comes from pork belly, but it is cured and thinly sliced. You can get uncured pork belly in a whole slab or in half or one pound sections. Bacon can come from other parts of the pig but pork belly is just that, from the belly.
Pork belly is used in many cuisines all over the world, very popular in Asian cuisines. In Japanese cuisine, Chashu is made from pork belly. I always get tonkotsu with extra chashu when we get ramen. It is so good.
Chinese cuisine has many applications for pork belly, char siu being one of their most well known. A sweet, sticky braised and barbequed pork that is amazing in bao buns.
A few notes about this grilled pizza recipe first:
I make my own dough since the recipe is super easy and I prepare the rest of the pizza ingredients while the dough rises. It makes 2 generous sized pizzas, over 12" easily, but you can roll it out as thin or thick as you like. You can use your own recipe or store bought dough
I suggest using raw dough if you go the store bought route so you can par-grill it. It won't have the same taste or texture if you use a pre-baked dough.
Pork belly is widely available at well stocked grocery stores with a large meat counter or butcher shops. You can get a slab or half to whole pound strips.
For the

pineapple

you can use either canned so they are already cut into rings or use a fresh pineapple and cut into rings yourself. Fresh pineapple tends to hold up better when grilled.
If you have access to Maui sweet onions by all means use them, but any sweet onion will work.
If you are not a fan of arugula you could always use spinach or basil
I promise all the steps are worth it. This pizza has it all, sweet, salty, caramelly, creamy, peppery and crunchy. Grilling the pineapple adds an extra depth of flavor, so definitely don't skimp out and not grill it. So worth it.
"Recipe"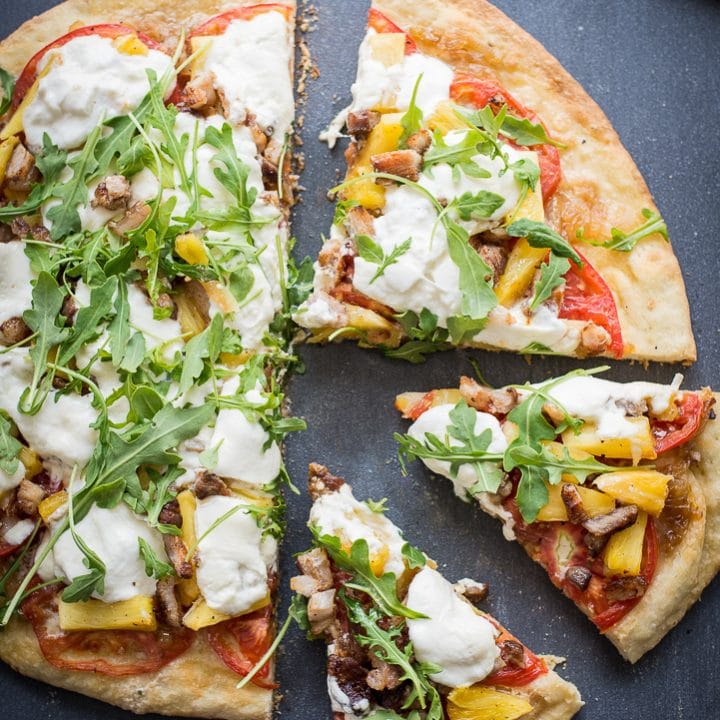 Grilled Pineapple, Crispy Pork Belly, Burrata and Arugula Pizza.
Grilled pineapple, crispy pork belly, burrata and arugula pizza
Ingredients
Pizza dough for one 12 inch pizza (either your favorite recipe

pre-made dough, or you can use the one I use from America's test kitchen found in the notes section at the bottom of the recipe.

2

medium Maui or Sweet onions

2

tablespoons

bacon fat or butter or coconut oil

12

oz

pork belly

sliced into ¼-1/3" thick pieces (uncured pork belly not bacon)

2

teaspoon

sea salt

divided

1

teaspoon

black pepper

divided

4 - ½

half inch thick pineapple rings

2-3

medium tomatoes

sliced into thin rings

10

ounces

burrata

patted dry and cut into 1" pieces

One cup arugula
Instructions
If making pizza dough prepare the dough and let it rise.

While dough is rising prepare toppings.

Slice the onions in thin circles. Heat the bacon fat in a cast iron skillet and add the onions. Reduce heat to medium low and cook for 30-40 min stirring occasionally until caramelized. Transfer to a bowl.

At the same time sat the onions are caramelizing, cook the pork belly in a separate pan. Season the pork belly with half the salt and half of the pepper and cook on medium heat until crispy on both sides, about 20 min turning occasionally. Let drain on a paper towel and then roughly chop.

Preheat grill. Lightly oil the grill using tongs and a paper towel soaked with a high heat oil such as coconut or grapeseed, and wipe the grates. Roll out pizza dough and brush the edges with olive oil and lightly prick all over with a fork. Using a pizza peel gently slide the dough onto the grill and par-bake for 5 min. At the same time grill the pineapple rings, turning once during those 5 minutes. Remove the pizza dough and the pineapple. Slice the pineapple into ½" pieces.
Start layering the toppings:
Spread the caramelized onions over the top, then a single layer of tomatoes. Add on the pineapple and pork belly and then place 1" pieces of the burrata over the top. Using the pizza peel again gently slide the pizza back on the grill and close the lid. Grill for another 5-8 minutes or until the burrata is melted and the crust is done. Remove from the grill. Season with the remaining salt and pepper and sprinkle the arugula over the top. Slice and serve.
Notes
You can use bacon if you don't have pork belly. Just omit the salt and pepper. Any fresh mozzarella would work if you can't find burrata, however burrata works best. If using pre made crust just preheat the grill, add the toppings and bake.
America's Test Kitchen Basic Pizza Dough:
makes: 2 pounds dough, enough for 2 (12-inch) pies.
ingredients:
4.25 cups bread flour, plus extra for counter (22 ounces)
1 packet (2.25 tsp) instant or rapid-rise yeast
1.5 teaspoon salt
2 tablespoon olive oil
1.75 cups warm water
instructions:
pulse 4 cups of the flour, yeast, and salt in a food processor to combine. w/ the processor running, pour in the oil, then the water through a feed tube and process until ball forms, 30-40 s. let rest 2 mins, then process 30 s.
turn dough out onto floured counter, knead by hand to form smooth, round ball, about 5 min, adding remaining ¼ c flour as needed to prevent sticking. transfer to oiled bowl and wrap. let rise in warm place until doubled in size, 1-1.5 h.
Divide dough in half an freeze half wrapped in plastic to save for another day or par-bake, wrap and freeze to save.
Let me know if you make this pizza and how you like it or if you make your own variation of it!
Staring at this pizza while I write this post has made me hungry. I am off to grab a slice. Don't forget to check out all the other pizzas for #pizzaweek. A huge thanks to my friends at NoshOn.It for organizing this fun group post!