Three Layer Pineapple Upside Down Cheesecake Cake inspired by the pineapple cheesecake from the one and only Cheesecake Factory.
Well this is rather embarrassing. I meant to post this three layer pineapple upside down cake a while ago. June 1st to be exact. My anniversary. I always make a fancy layer cake for my anniversary and this cake is one of the best ones I have made so far if I do say so myself. I guess better late than never right? At the pace I am going, expect pumpkin recipes in March...
It had been so long since I had made this three layer pineapple upside down cheesecake cake and photographed it I almost didn't write about it. In fact I had this whole story planned about how we were moving and this was the last cake I baked in my old oven and it was going to be my oven's "swan song" and what a good oven it had been to me over the years. We took the oven with us on our move from Oregon to Vegas and installed it in our rental home instead of using the cheap oven they had for us to use.
I had even taken a picture of my old oven. No clue where that picture is now, I must have deleted it. It was a good oven. It baked many cakes and cookies and cupcakes. I made both of my daughters' first birthday cakes in it. All of my husbands birthday cakes and our anniversary cakes. Plenty of cupcakes for friends and co-worker's birthdays. Last minute cookies or cupcakes for the husband's work potlucks.
There weren't many days that they oven wasn't preheating to 350 degrees to bake up all my confections perfectly. And healthy dinners. We don't just eat cake all day long. Although that sounds like fun.
Even though the oven was such a good one, I longed for double ovens. So many times I was making a ton of stuff and wished that I had two ovens to get the work done faster, more efficient. I also loved the stovetop part of the oven aka range. First time I had 5 burners and we love the huge middle burner that had a griddle on top. So easy for making pancakes. But again, I longed for a larger cooktop because I have several massive pots and pans that just didn't fit on it so I rarely used them.
So when we bought our new house we decided that we needed to upgrade. I now have double ovens and an 8 burner 48" cooktop and I couldn't be happier.
Its no secret that pineapple upside down cake is my favorite cake. Its a really simple cake to make, unless you decide to make it a layer cake. With a cheescake in the middle. And I am not even a cheesecake fan. But it works in this cake. Like really works. When we had family in town last year we went to The Cheesecake Factory and I normally just get my salad and nothing else. Same salad every time too. Others were ordering cheesecake and while I never do, I spied "Pineapple Upside Down Cheesecake" on the menu.
Of course I had to order. It was good, very sweet. But not like typical cheesecake. It was a cheesecake sandwiched between two very thin layers of pineapple upside down cake. And of course I ate the pineapple cake layers up and only a few bites of the cheesecake layer.
So since I am more of a cake fan than a cheesecake fan I felt I needed to re-create this with THICK layers of pineapple upside down cake. I must have forgotten about my dislike of cheesecake because there is a huge layer of cheesecake in it and I really liked this cake. I may just be turning into a cheesecake fan afterall. Maybe
"Recipe"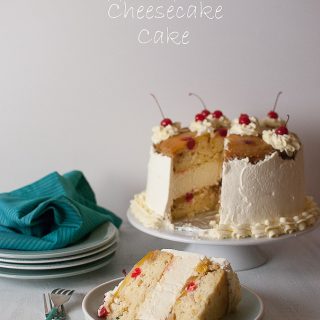 Three Layer Pineapple Upside Down Cheesecake Cake
Three Layer Pineapple Upside Down Cheesecake Cake Makes one huge 3 layer cake. Servings depends on how big you cut the slices Inspired and adapted from The Cheesecake Factory
Ingredients
For the Upside Down Pineapple Cakes
2 ⅔

cups

all-purpose flour

1

sticks butter

113g, ½ c

1 ¾

c

organic sugar

evaporated cane juice

4

large eggs

room temperatur

3

tablespoon

pineapple or coconut rum

2

teaspoons

baking powder

¼

teaspoon

salt

1 ¼

cups

buttermilk

room temp

4

tablespoons

dark rum

1

c

finely diced fresh pineapple

½

cup

butter

divided

1 ½

cups

firmly packed muscovado sugar

1

large pineapple

peeled, sliced into 20 rings and cores cut out

Maraschino cherries

stems removed
For the Crustless Pineapple Cheesecake
4 8

oz

packages of neufchatel cheese

at room temperature

11/4

cups

organic sugar

1

cup

greek yogurt

at room temperature

¼

cup

all-purpose flour

4

eggs

room temperature

½

teaspoon

vanilla extract

¼

c

pineapple simple syrup**

⅓

c

crushed pineapple

juice drained

4

tablespoon

Maraschino cherry juice
For The Pineapple Simple Syrup**
1

cup

organic cane sugar

1

cup

water

1

cup

pineapple juice

1

cup

diced pineapple
For assembly:
2

cups

chilled whipping cream

½

c

powdered sugar

½

teaspoon

vanilla extract

Maraschino cherries with stems
Instructions
For the Pineapple Upside down Layer Cake:
Preheat oven to 350 deg F. Divide ¼ c butter between two 9" round cake pans and place in oven until butter is melted. Remove from oven and spread the melted butter around the bottoms of the pan to make sure they're evenly coated. Sprinkle the muscovado sugar, ⅔ c per pan, over the butter evenly. Place 5 pineapple rings around the the pan, on top of the muscovado sugar, and place one smaller ring in the middle. Place one maraschino cherry in the center of each ring and fill the spaces between the pineapple rings on the outer edges with diced pineapple, about 1 tablespoon each space. Set the remaining pineapple aside for adding to the cake batter.

In a medium bowl whisk together the flour, baking powder and salt. Set aside

In the bowl of a stand mixer add the butter and beat until fluffy, about 30 seconds. Add the sugar and beat again until soft and fluffy, scrape downs the sides of the bowl with a spatula when needed. Add the eggs in one at a time, beating well after each addition. Then add in the rum and the diced pineapple and mix for another 30 seconds. Scrape down the sides of the bowl again.

Slowly add in the flour mixture alternating with the buttermilk in several additions, mixing on low a few turns in between additions. Once all is combined mix on medium about 30 seconds. Divide the batter evenly amongst the cake pans and bake for 40-50 min or until a toothpick comes out clean.

Cool the cakes for about 10 min. Carefully loosen the edges with a knife then invert using a cooling rack and cool completely. Have the cooling rack placed on a foil covered pan to catch any drips. Remove the pan and scrape any remaining bits off the pan and spread on the cake. Refrigerate at least 6 hours to overnight, well wrapped in plastic wrap
For The Pineapple Simple Syrup
Place all in a saucepan on the stove and turn heat to medium, stirring until sugar is dissolved. Raise heat and bring to a boil, once boiling lower the heat and simmer 20-40 min mashing the diced pineapple occasionally. Once the syrup is thickened strain into a jar and keep refrigerated. Keeps well about 2 weeks well chilled in a covered container such as a mason jar. This syrup is also great for cocktails, pancakes and waffles.
For the Crustless Pineapple Cheesecake
Heat the oven to 475 degrees

Wrap aluminum foil around the bottom of a greased, 9-inch spring form pan (to prevent leakage from the water bath).

Place the spring form pan in a large roasting pan, for the water bath

In a large bowl, beat the Neufchatel cheese with an electric mixer on low speed.

Gradually beat in the sugar, eggs, greek yogurt, flour, vanilla and pineapple syrup.

When mixture is blended, scrape down the sides, and pour it into the spring form pan.

Pour hot water in the roasting pan filling so it reaches about halfway up the outer sides of the spring form pan being careful not to get any water in the cheesecake.

Swirl in maraschino cherry juice and crushed pineapple, making sure the juice reaches the sides and bottom, add more if desired.

Place the pan in the oven, being careful not to spill the water out of the pan or into the spring form pan.

After 10 minutes, reduce heat to 350 and bake for another 50-75 minutes until the top is set.

Remove from oven and carefully take the pan out of the waterbath and let cool ten minutes. Place in the refrigerator still in pan and cool completely. If using to layer with the cake immediately, carefully remove from the spring form pan, using a thin long knife run around the underside and remove from the base to set on top of the bottom layer of the cake. If not using immediately wrap in plastic wrap and seal in an airtight baggie and freeze. Thaw slightly before using.
For assembly:
Whip the chilled whipping cream to soft peaks. Add in the powdered sugar and vanilla in and whip again until stiff peaks are formed. Keep chilled.

Place one of the pineapple upside down cakes on a cake plate with the pineapple rings facing up. Spread a thin layer of whipped cream and then place the cheesecake on top. Spread another thin layer of whipped cream and place the other pineapple upside down cake on top. Frost the sides with whipped cream and pipe swirls on top. Place a maraschino cherry in each swirl. Keep Chilled until ready to serve.
I now want a slice of this cake and it is long since gone.
Also if you haven't noticed already I have a new blog logo/header. Since I had the amazing Heather from FarmGirl Gourmet design a new logo for me and she added in a pic of this cake into the header I figured this was the perfect time to finally post this recipe. I couldn't be more thrilled with how perfect the new logo is - its so ME!!