Vietnamese Inspired Salmon Rice Noodle Salad Bowls with Mango Nuoc Cham. A perfect, light and refreshing summertime meal.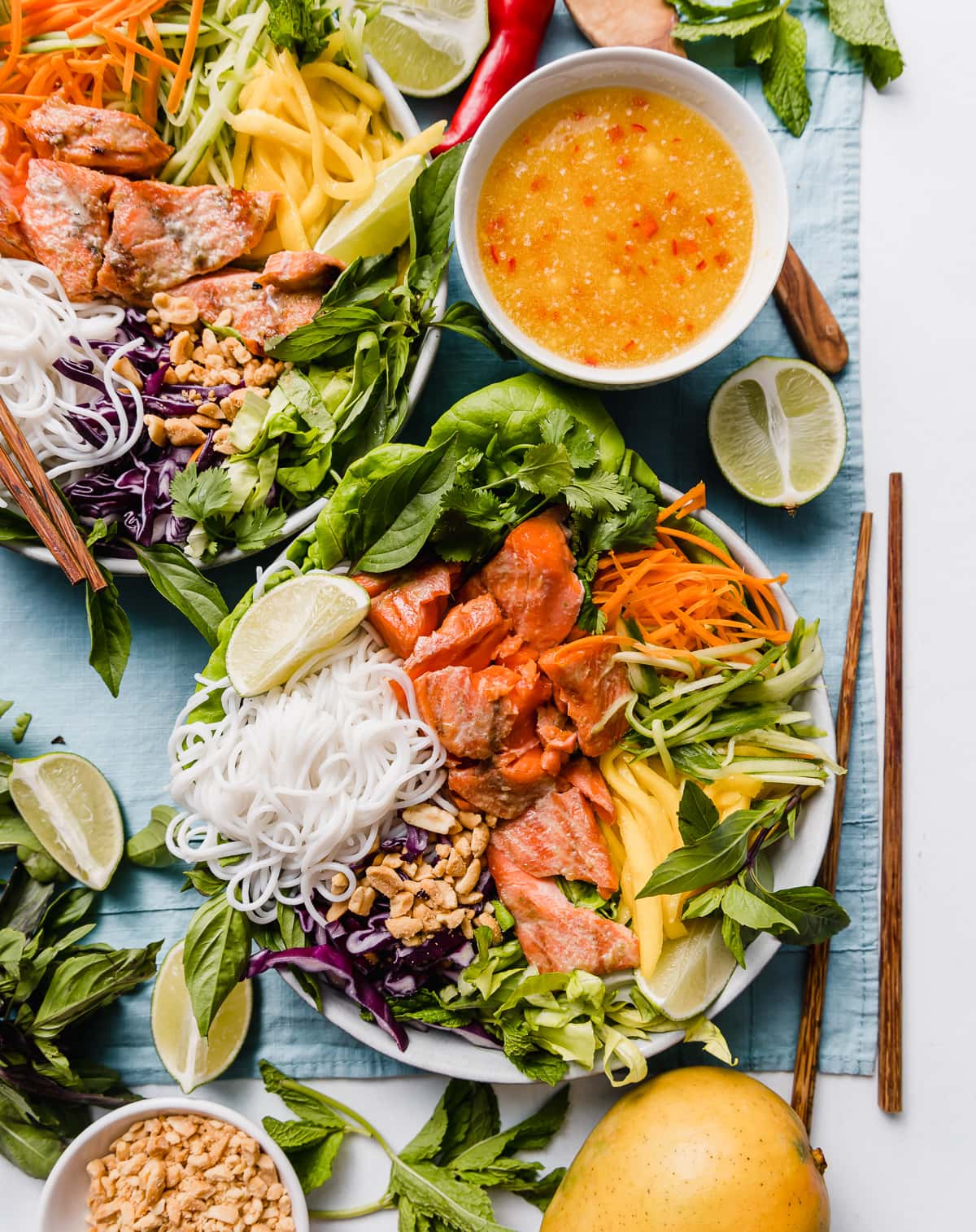 This recipe is Vietnamese inspired since I took inspiration from Vietnamese rice noodle bowls and salad rolls. I originally wanted to make these as salad rolls, since they are great as a portable snack, but, my rolling skills need work. A lot of work. The last two times I attempted rolls, they ended up as salad bowls.
I really want to take some Vietnamese cooking classes. I think classes would help a ton since I adore Vietnamese cuisine and learning techniques from an expert would help me become a better cook and develop an even greater respect and appreciation for the cuisine.
I love Vietnamese food. The flavors are all so fresh, the use of multiple herbs, tons of fresh vegetables and fish sauce in marinades, sauces and more. You know my love of fish sauce, I use it in so many different recipes.
Food blogger soap box time:
I researched ideas for this recipe via online and cookbooks, wanting to honor the Vietnamese culture and cuisine, but not take or claim as my own. I think one of the biggest issues in food these days, especially food blogging is taking any single ingredient and claiming it to belong to a specific culture when no research was done. Or naming a recipe something specific when it isn't even close to that recipe.
People will just add soy sauce to any dish and call it "Asian", adding pineapple to anything and everything and labeling it "Hawaiian" when pineapple isn't even native to Hawaii. It's lazy and disrespectful. I guess I would rather pay respect to specific cuisines than label things for the sake of SEO.
I see many cultural recipes with no context behind the recipe, nothing linked to sources of inspiration or credit given. We can make recipes from other cultures, but in my opinion, the respect and context must be there. Always. I would rather see someone say "this recipe is inspired by" and cites links than see them try to claim as their own original idea thinking people will have lest respect for them for not having an "original" idea.
Steps off soap box.
This salmon rice noodle salad bowl recipe is heavily inspired by Andrea Nguyen's cookbook "Vietnamese Food Any Day" which has quickly become one of my favorite cookbooks, we make recipes from it often. Andrea is an amazing source for Vietnamese cuisine and embraces those who make recipes from her home country.
She says that rice noodle bowls are up for interpretation using what you have on hand, one recipe that the rules can be bent depending on what you have. This is my interpretation using salmon and adding mango to her Nuoc Cham recipe.
Gorgeous wild sockeye salmon from Prince William Sound. I was sent this gorgeous fish the day after it was caught. It doesn't get much fresher than this. I had planned on making this rice noodle salad bowl recipe with the salmon and made it the day it arrived.
The color and quality of this fish is unmatched. I knew that it would be the perfect protein for these bowls.
Prince William Sound Sockeye Salmon is the best salmon I have ever eaten. It is so fresh, comes from the world's richest waters, super healthy to eat, full of those amazing omega 3's and its flavor is amazing. You really don't need a lot of seasoning with salmon this fresh, but I like to add some either in a dry seasoning or a quick, light marinade to enhance it's flavor.
I marinate the salmon in a quick marinade made with lemongrass, fish sauce, brown sugar, soy sauce and more. Just a quick 20-30 minute marinade. Enough time to prep the rest of the vegetables and cook the rice noodles.
To make quick work of the vegetable prep, I use a julienne peeler. I know a lot of people don't like having a ton of different single use kitchen gadgets or appliances but this is one I use a lot for veg prep to have lots of ready to go veg for rolls, salads etc. I have an OXO julienne peeler, but there are lots of brands to choose from.
How do you make rice noodle salad bowls?
With a traditional Vietnamese rice noodle bowl or rice noodle salad bowls you will always find a combination of:
Protein - typically pork or seafood such as shrimp, marinated in aromatics such as lemongrass, ginger, garlic, Asian fish sauce, soy and something sweet like molasses or brown sugar and a little citrus such as lime
Tons of fresh vegetables - usually julienned carrots, cucumber cabbage, bean sprouts, lettuce etc
A variety of herbs- especially mint, Thai basil, cilantro (culantro)
A dressing which is usually the same as a salad roll or spring roll dipping sauce, the two most common being a Nuoc Cham which is a sweetened citrus fish sauce dipping sauce or a peanut based sauce with hoisin.
Rice noodles. There are a variety of rice and gluten free noodles used in Vietnamese cuisine and for rolls and bowls the thinner kind are most commonly used. Vermicelli or Capellini. I like using

Three Ladies Brand

rice vermicelli.
What is Nuoc Cham?
Nuoc Cham is a Vietnamese fish sauce dipping sauce. It starts with lime, sugar and water, often times garlic and rice vinegar is added, fish sauce gets added to taste and then diced red chilies are added. Another item commonly seen is diced carrot.
It is salty, sweet, sour and umami. The base flavor profile for Vietnamese cuisine. Its light and refreshing and works so well as a dressing for salads.
I added mango puree to my version which I absolutely loved the taste and texture of this sauce which works so well for a dressing for these salads. I omitted garlic, but if you want you can add in a clove or two.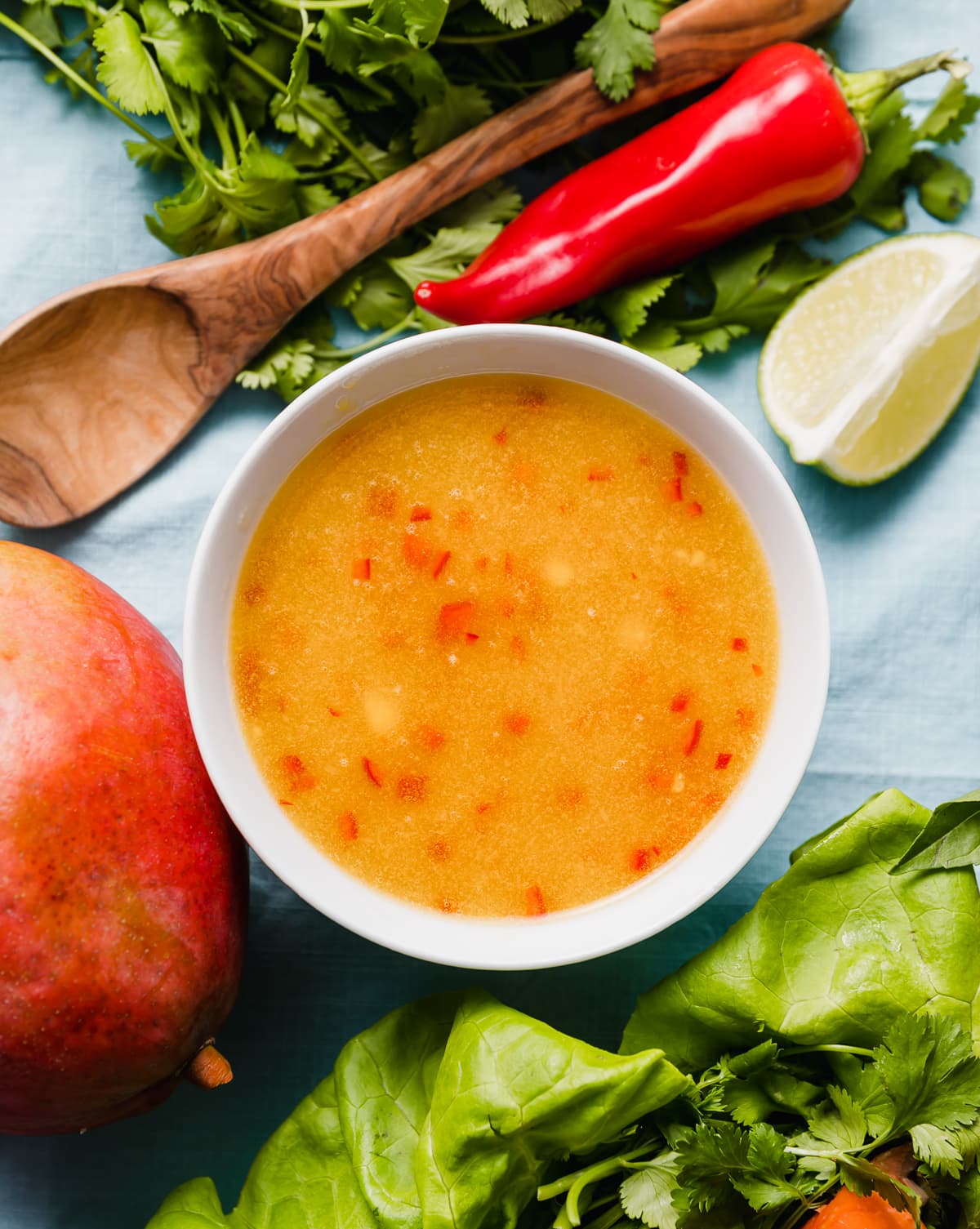 A few more notes before this Vietnamese Inspired Salmon Rice Noodle Bowls with Mango Nuoc Cham recipe:
It is important to use Asian fish sauce for this, and any Vietnamese recipe. My favorite brand to use is

Red Boat

. You can find Red Boat at any well stocked grocery store, Asian or international market that carries a wide variety of Asian cuisines such as Viet, Thai, Japanese, Filipino etc. It has become more popular in recent years, I have even found it at Trader Joe's.
Asian supermarkets. Where you can find an amazing variety of items needed for many recipes. However, not all Asian markets are the same or a one size fits all. Andrea Nguyen has a fantastic article on her blog

Viet World Kitchen

, all about different kinds of Asian markets and that they are not monolithic, one size fits all markets. We are lucky to have a wide variety of markets here in Las Vegas, two of my favorites which are Greenland market, a Korean market that carries a lot of Thai and Vietnamese ingredients as well as our International Marketplace that covers just about every cuisine you could think of. An amazing wide variety from Hawaiian to Filipino, Thai, Laotian, Japanese, Chinese, Korean and more. This is where you can find different fish sauces, soy sauces, condiments, lots of specialty ingredients that I use in a lot of my different recipes inspired by these different cultures.
Mango - since I am on a run of mango recipes I wanted to add in julienned mango to the bowls as well as add pureed mango to the Nuoc Cham. You can use either green or ripe mango for either of these.
The salad ingredients are really approximate - depends on the size bowls you use and how much salad you want in terms of lettuce, vegetables herbs etc. I usually go for a cup of lettuce and a half a cup of each of the rest of the main ingredients, herbs usually a quarter of a cup to a few tablespoons and about a cup of the rice noodles.
"Recipe"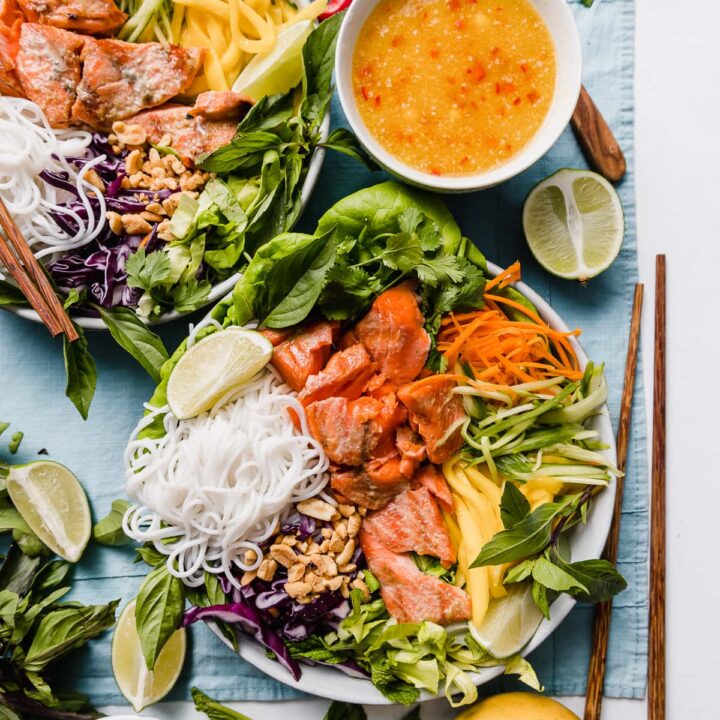 Vietnamese inspired Salmon Rice Noodle Salad Bowls with Mango Nuoc Cham
Inspired by Vietnamese salad rolls and rice noodle bowls this salad is full off fresh vegetables, herbs, marinated and grilled fresh wild Alaskan Sockeye salmon and a Mango version of traditional Nuoc Cham, a Vietnamese dipping sauce.
Ingredients
For the Salmon:
Four 4-6 ounce Wild Sockeye Salmon Fillets

⅓

c

brown sugar

71g

⅓

cup

water

3

tablespoon

fish sauce

I love Red Boat

1

shallot

diced, about 2 Tbsp

3

large garlic cloves

peeled and diced

2

teaspoon

lemongrass

diced ( from a 2-3 inch piece)

2

teaspoon

lime zest

2

teaspoon

soy sauce

2

teaspoon

ginger

minced
For the salad:
Salad ingredients are approximate

depends on how large of a salad you make.

2-3

Carrots

peeled and julienned or shredded 1-2 cups)

1

Japanese cucumber

or 2 Persian, julienned or shredded (1-2 cups)

1-2

Mangoes

peeled and julienned (1-2 cups) Green or ripe

½

Red cabbage

shredded ( 1-2 cups)

1

head Butter lettuce

half shredded, half left in whole leaves ( 4-6 cups lettuce total)

1

bunch Thai Basil

1

bunch Mint (2-3 tablespoon per bowl

1

bunch Cilantro

¼ cup per bowl

6-8

oz

Vietnamese thin rice noodles

vermicelli or capellini, cooked according to package directions ( see notes) about a cup for each serving

½

cup

salted peanuts

roughly chopped

2-3

whole limes

sliced
For the Mango Nuoc Cham:
2 ½

tablespoon

Sugar

3-4

tablespoon

Lime Juice

½

cup

warm water

3-4

tablespoon

fish sauce

½

cup

mango

pureed

2

teaspoon

rice vinegar

unseasoned

1-2

Red Chili pepper

Fresno, Serrano or Thai stem, seeds and ribs removed, finely diced
Instructions
There are a lot of ingredients to this recipe, however it is still really easy to make. The marinade, the salad itself and the sauce which is used as a vinaigrette here. 

 Combine all the marinade ingredients in a blender and blend until smooth. Pour into a shallow baking dish then place the salmon on top, skin side up. Set aside to marinate for 20-30 minutes

Make the Mango Nuoc Cham. Start with adding the sugar and lime juice together then the water. Taste and add more sugar or lime juice if you like before adding in fish sauce. Start with two tablespoons and then add more as you taste it to see how you like it. Stir in the vinegar and pureed mango and whisk well. Stir in the diced chili pepper and keep chilled until ready to use. 

Prepare the salad ingredients. Peel and julienne the carrots. You can finely dice, use a food processor or a julienne peeler. Julienne the cucumbers, mango. Finely shred the cabbage and half the lettuce, save some of the lettuce leaves whole to layer in the bottom of the bowl.

For the rice noodles, bring unsalted water to a boil and add the noodles. Boil according to package directions - this will vary depending on thickness of noodles used. Immediately drain and rinse with cold water until cool. 

Preheat your grill or oven to 450 Deg F. Grill the salmon 3 minutes skin side up then flip and grill another 3-4 minutes. You an also roast on a grill pan in an oven for the same amount of time. You want it just past pink but not overcooked at all. I prefer grilling. 

Let the salmon rest while you assemble the bowls. 

Using wide, shallow soup or pasta bowls, spread a few of the whole lettuce leaves on one half, the shredded lettuce on the other. Arrange the rest of the prepared vegetables around the bowl in any order you like. Add some off the noodles on one side and top with the salmon, separating into chunks if you like. Garnish with the herbs and chopped peanuts. Serve with the Mango Nuoc Cham. Drizzle the sauce over the bowls and mix with a fork or chopsticks before eating.