Simple Citrus and Coconut Cocktail
It was 90 degrees today. I feel bad for friends that are still talking about snowfall, waiting for spring when Vegas is feeling like summertime.
There have been nectarines and cherries at the farmers markets already, and weather like this makes me want to sit outside, stick my feet in the kiddy pool and sip on a light refreshing cocktail like this simple citrus and coconut cocktail.
This coconut cocktail is so simple that I almost wasn't going to blog it. But sometimes simple is good. Especially when I want a cocktail without a ton of steps or ingredients and still tastes great and is super refreshing. And coconutty.
I have had a coconut cocktail similar to this several times now over the past couple years when out with friends or on a date night with my husband at several different restaurants or bars, but it wasn't until about a month ago when I had friends in town that I had it again when I was out with them and decided I needed to start making it at home.
Two of my really good friends from where I used to live in Colorado were in town for a work conference and I planned on meeting them for dinner and drinks one night. One of my friends I hadn't seen in about 8 years. It was so great to see her. We pretty much picked back up where we left off and the three of us gals chatted and giggled for hours.
When I met up with my girlfriends after they FINALLY decided where to go ( and it was a bit later than we had originally planned so I ate dinner before I got there) I decided to just order a drink.
I scanned the menu and saw this lemon coconut cocktail. Sounded good to me! It was vodka, coconut water and lemon. Simple and easy.
It was so good but really light on the coconut, almost too light, and a nice sour note from the lemon. It was good and I am glad I got it because I wanted to remake it at home and tweak it some to make the coconut flavor a little more prominent.
I made this coconut cocktail a variety of ways and I decided that all the ways I made it were equally good even though slightly different. In the recipe notes I will state the few different ways to customize this awesome coconut cocktail.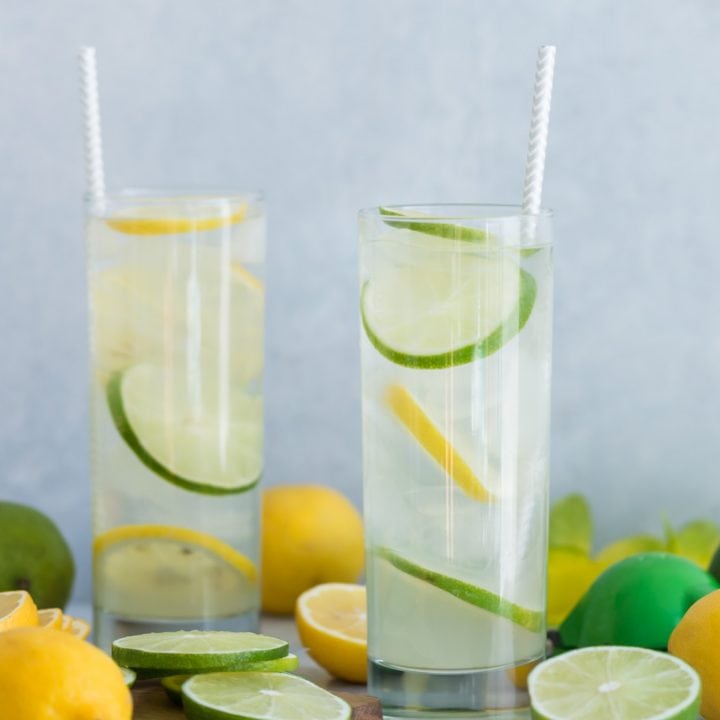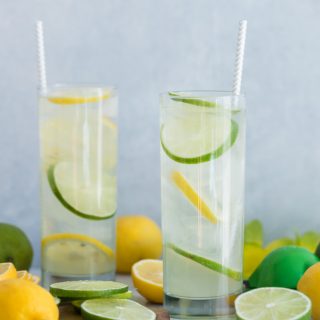 Simple Citrus and Coconut Cocktail
Light and refreshing cocktail with only a few ingredients
Ingredients
5

ounces

Coconut Vodka

I like Ciroc

2

teaspoon

lime juice

2

teaspoon

lemon juice

Coconut water

ice

lime slices

lemon slices

Simple syrup - optional
Instructions
In a cocktail shaker combine the vodka and citrus juices and shake well.

Fill two tall collins glasses with ice layering a few lemon and lime slices with the ice. Divide the vodka between the glasses and then top each glass with coconut water.

Stir slightly and serve
Notes
This cocktail is awesome with just lemons or just limes or even a little orange juice/orange slices. If you prefer sweeter - add in a little simple syrup - about one teaspoon to each cocktail. This cocktail is also really good with 1800 coconut tequila, which I might even prefer over the vodka.
Simple Syrup is a 1:1 sugar to water mix. Heated up until the sugar is dissolved. I make a batch a few times a year and keep in a jar in my fridge. Its great to have on hand for cocktails, lemonades etc.
Cheers and have a happy Friday!!