Hot Smoked Salmon Tacos with Avocado Crema. Alaska meets California with these chile spiced smoked salmon tacos with a tangy lime avocado crema sauce.
I love fish tacos of any kind, something I grew up on and eat at least once a week now. The bright flavors, tangy sauces, fresh veggies and of course chips and salsa or guacamole to go with them.
Usually I do a quick fish taco with cod, mahi or even halibut. I prefer grilled to fried fish for tacos but sometimes you gotta go with a classic fried fish taco, Baja style.
We also make a lot of shrimp tacos too. These salmon tacos take a little bit more time with the hot smoked salmon but they are oh so worth it. The salmon is courtesy of Copper River Salmon. Amazing quality and taste, raised in the worlds richest water of the Prince William sound in Cordova, Alaska.
Before we get into the tacos let's discuss this amazing hot smoked salmon.
Hot smoked salmon is different from the smoked salmon you see in the deli section of grocery stores that are typically used for bagels, aka lox. That is cold smoked salmon, which is actually smoked hot but at a much lower temperature so it is considered to be "cold smoked". With cold smoked you get a much different texture to the salmon.
Cold smoked salmon is smoked at around 90 Deg F. It is considered more to be a cured salmon than a cooked salmon.
Hot smoked salmon is cooked at a higher temperature, 140 Deg f and up, and has a very firm yet flaky texture, which makes it perfect for tacos, pastas, soups etc.
How to hot smoke salmon:
There are a few different ways to hot smoke salmon. Most common method is starting with a wet brine, 4 to 8 hours or up to overnight in the refrigerator. Then a drying period either on your counter in a cool area with a strong breeze ( 60 Deg F, under a ceiling fan) or in the refrigerator. Another 4-8 hours up to overnight.
Resting between wet brine and smoking helps to develop a pellicle, which is a shiny skin which helps seal the fish and keep that smoky flavor locked in. Then smoking until the salmon reaches an internal temperature of 140 Deg F. Smoker temperatures vary depending on who's recipe you follow. Some people set it as low as 140 Deg F some go as high as 250 Deg F.
It really all depends on the end goal and how much time you have.
For my hot smoked salmon I went with a quicker route of a dry brine, a short rest to develop the pellicle, another spice rub then hot smoked at 200 deg F until the salmon was 140 deg F internal temp. Let's get into the prep. Look at this gorgeous Wild Alaskan Sockeye salmon fillet from Copper River Salmon:
Since I am doing a dry brine I set the salmon skin side down on a wire rack set over a baking sheet. The salmon will release water during the brining process so this keeps it from making a mess.
I check the salmon for any bones and remove with tweezers then I rinse and pat it dry with paper towels.
The steps to hot smoking salmon are:
Preparing the salmon fillet. You can use a single whole filled, smaller fillet pieces. Two pounds up to as many pounds as your smoker will hold. Skin stays on the salmon.
Brine - I use a dry brine with a 2:1 sugar to salt ratio. I use brown sugar and kosher salt for this recipe, mix together well, then evenly coat the salmon fillet with it. Use all the brine mixture. Don't brine the skin side since that will be discarded post smoking and it doesn't need it anyway.
Let rest at cool room temperature to dry out and develop the pellicle. Minimum of 30 minutes up to 4 hours. I don't rinse the salmon, some people who do a dry brine will rinse the salmon but I leave as is before adding the dry rub seasoning. The pellicle helps keep the fat in so the fish doesn't leak out albumin as it cooks.
Next I season the salmon with a dry rub of more sugar and salt with some extra added spices such as chile powder and ancho chile. This is going with tacos so I like to add in seasonings that go well with tacos.
Time to smoke. The steps for this will depend on the kind of smoker you have. I have a pretty basic

digital electric smoker

which means I use wood chips that I soak first for at least 30 minutes then put them in the wood chip tray. Soaking the chips will help regulate the temperature of the smoker as well as give a nice mild smoke flavor.
I used applewood and pecan for this recipe, nice mild smoke flavor from these wood chips. You don't want anything too strong with salmon. I also place a tray of water on the rack underneath the rack the salmon will be on. This also helps regulate the heat.
I preheat the smoker to 225 Deg F. I find that any higher of a temp leads to the salmon cooking faster and a higher chance of the albumin, or white fat, leaking out which isn't bad, just isn't as visually appealing and can lead to the fish drying out faster. You want to keep that good fat in the fish.
Check the salmon after 30 minutes of smoking. I use a

digital thermometer

meant for high heat cooking and see what the temperature of the thickest part of the salmon is at. I check the internal temperature of the smoker as well and make sure it isn't over 225 Deg. F. I then check the salmon every 10- 15 minutes until it has reached 140 Deg. F.
After the salmon has reached proper smoking temp, I transfer back to the wire rack on a baking sheet then I rest the fish for 30 minutes. I either place the tray in my oven, heat off, just to stay out of the way of open air, or on my counter loosely covered in foil.
Smoked salmon will last up to 10 days refrigerated in an airtight container or up to 3 months frozen. I flake the salmon into large pieces, discard the skin then store if not using immediately.
I do use a good amount of dry rub for more flavor for this recipe. You can cut the seasoning in half if you want just lightly seasoned.
Some people like to baste their smoked salmon during the smoking process with either honey, maple syrup or a combination of a syrup and spices. I don't for this recipe. Personal preference.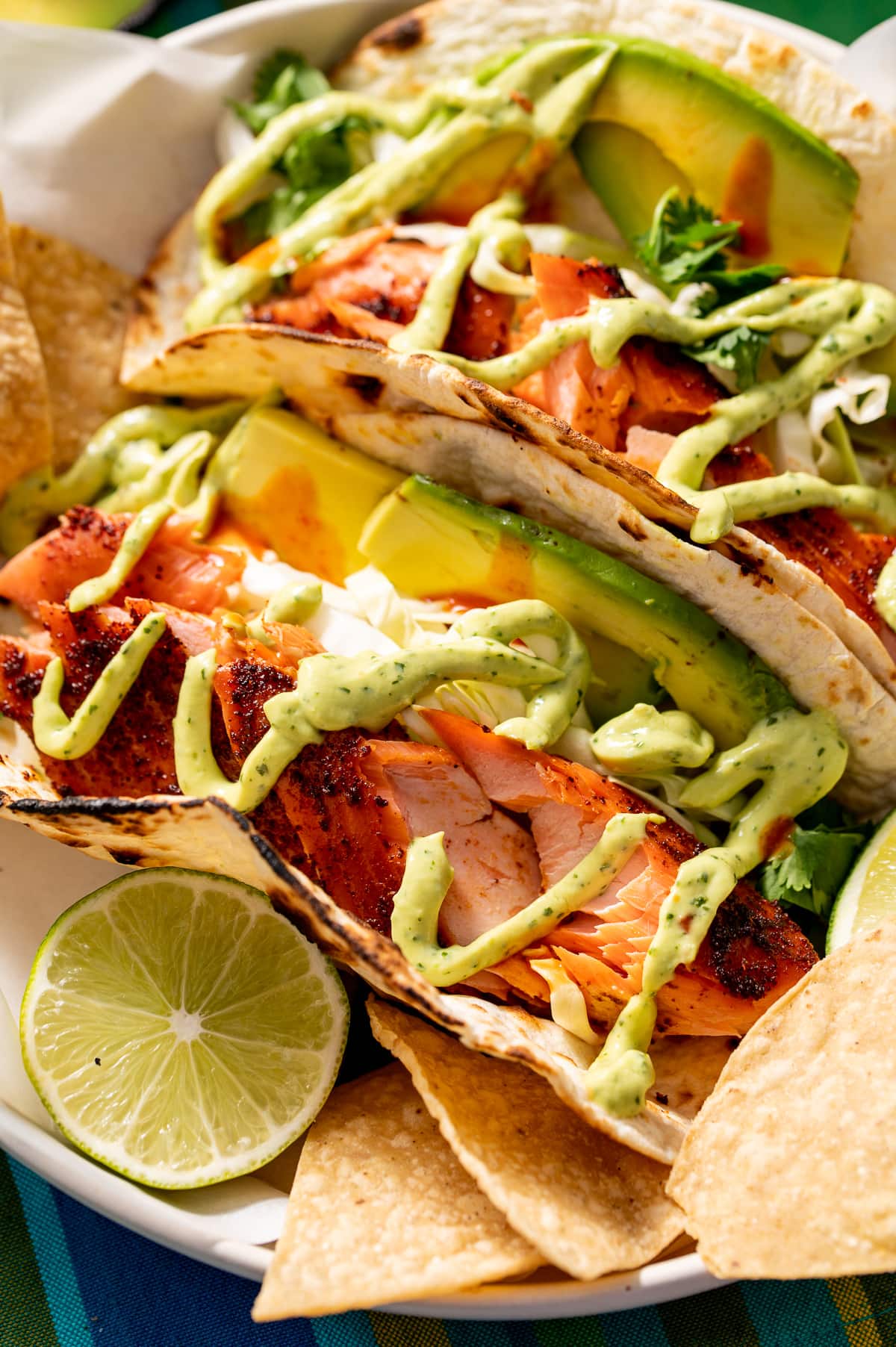 Now that the salmon is smoked and ready to go, let's assemble the tacos. For these hot smoked salmon tacos I used:
Charred flour tortillas - you can use corn if you like. I like flour and I char them using tongs and an open flame on my stove. If you don't gave a gas stove you can heat them on a pan to soften or char slightly on a grill.
Green cabbage - thinly sliced, I love the crunch and flavor of green cabbage with tacos, and it is a very common ingredient with fish tacos. You could use purple cabbage if you prefer it to green.
Avocados - I use the avocados two ways here. Slices that go into the tacos and a generous drizzle my

lime avocado crema

sauce over the top of the tacos. This sauce is SO GOOD and goes amazing with the smoked salmon. I also love to dip chips into the sauce. If you prefer, make guacamole to go with the tacos. My

tomatillo guacamole

would be perfect with these smoked salmon tacos.
Cilantro and limes - pretty much a taco must have.
Chips. Gotta have chips with tacos. I love blue and yellow corn tortilla chips. Great for dipping in the avocado crema.
Something to drink, a

margarita

perhaps?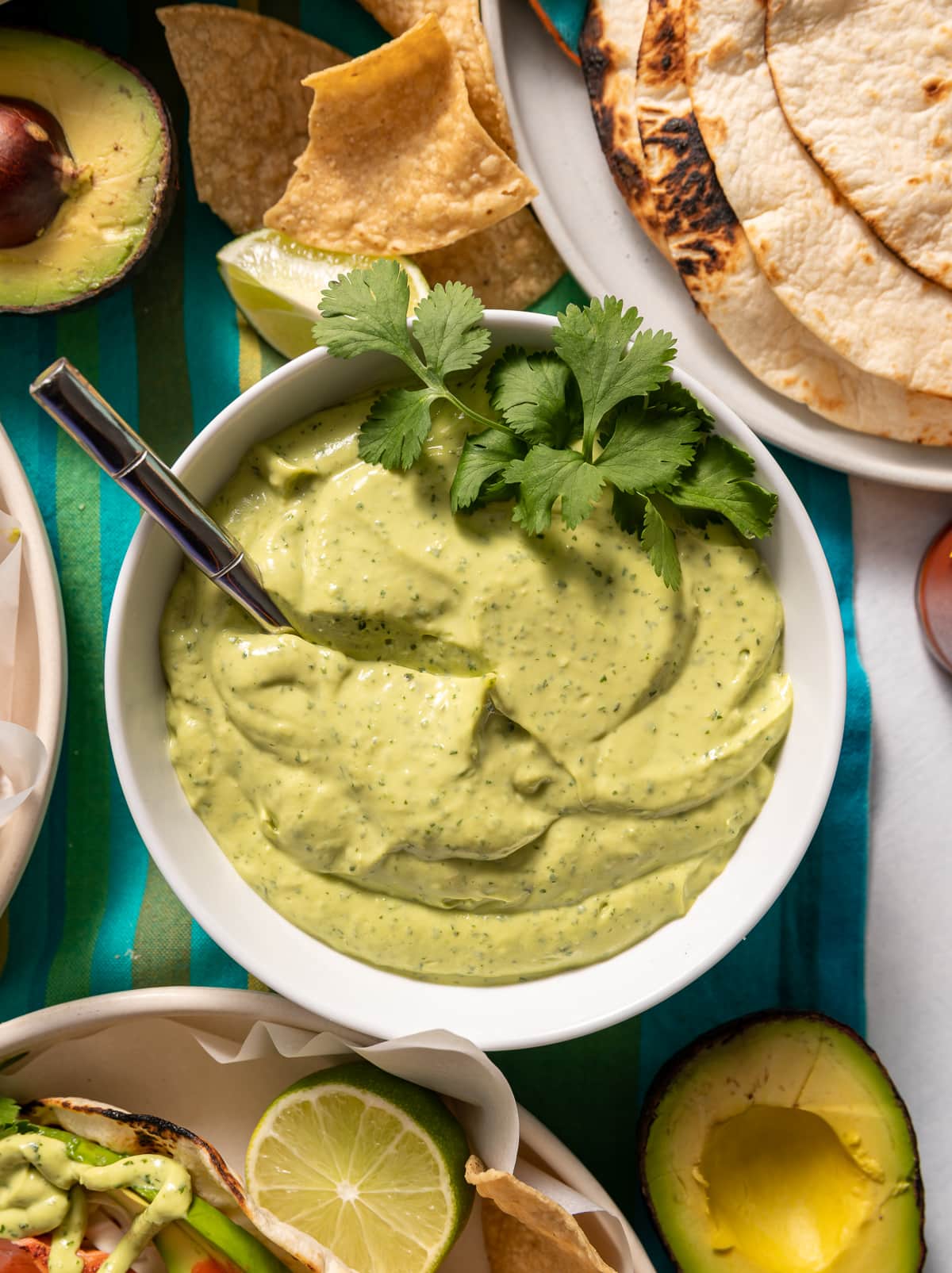 This lime avocado crema sauce is everything. It's so good with these tacos, perfect as a dip for chips and we had leftovers which we used for breakfast tacos the next day.
Its also really good as a sandwich spread - so good with a BLT. Oh a smoked salmon BLT sandwich wit this sauce would be amazing! I might have to make that soon.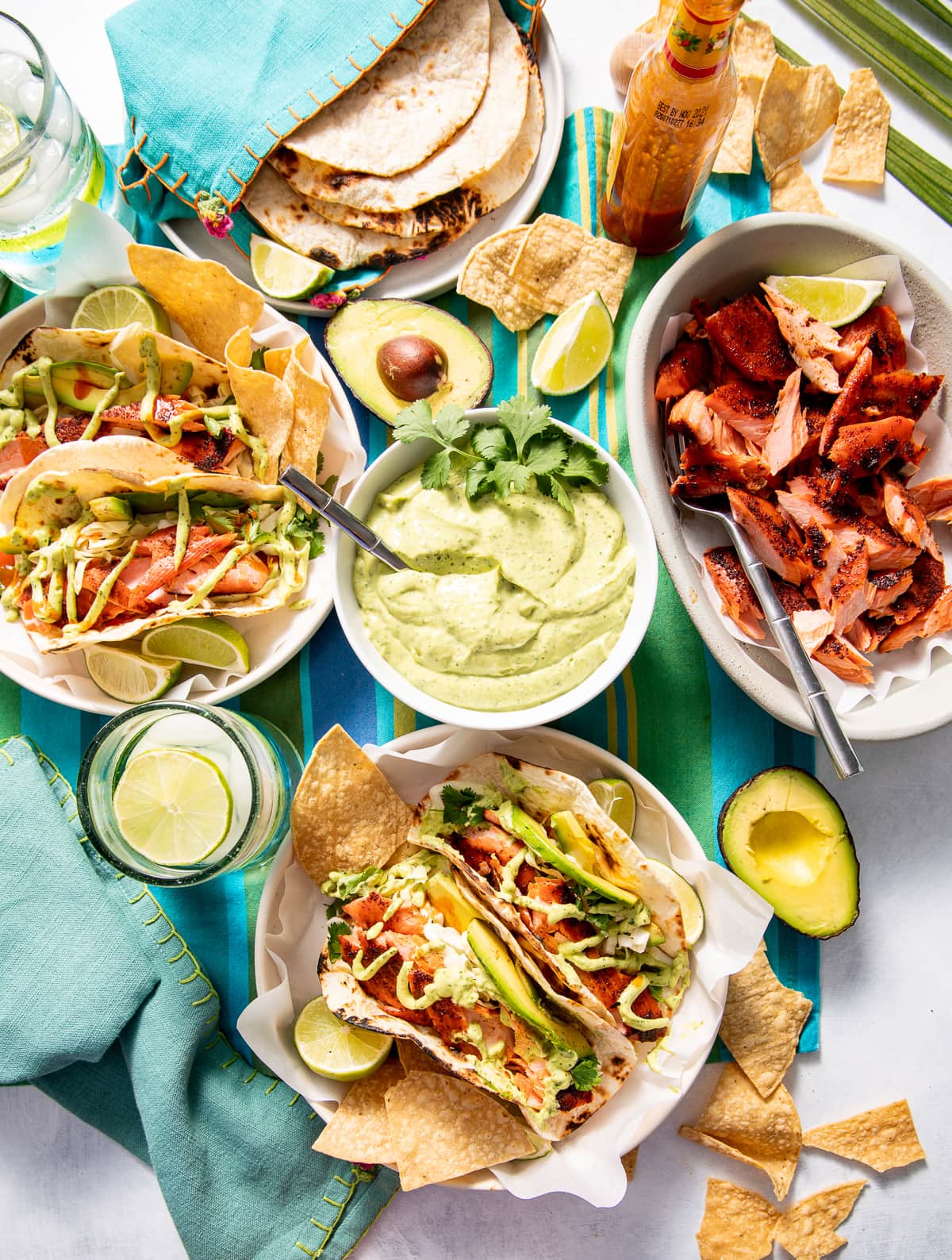 A few more notes about this hot smoked salmon tacos with avocado crema recipe first:
This is a recipe that uses a

smoker

for cooking the salmon. If you don't have a smoker you can grill the salmon or bake in the oven at a lower temperature but it won't gave the same texture or smoky flavor. If you have a stovetop smoker feel free to use that. You could also add a few drops of liquid smoke to the brine to achieve a smoky flavor if not using a smoker.
This recipe is for 2 pounds of sockeye salmon. You can use any kind of salmon and any amount, adjust brine and rub amounts for the amount you use. If you don't have sockeye salmon you can use coho, king, steelhead trout or even Arctic char. Any firm, red flesh ocean fish works great. I have't tried this smoking method with any white fish such as snapper, cod or halibut.
The salmon takes a while to brine, rest and smoke so prepare accordingly. You can make the salmon a day ahead of making the tacos and reheat slightly in your smoker or a low oven. You don't want the salmon to dry out.
You can also make the

lime avocado crema sauce

the day before taco assembly, or you can make it the day of since it is fairly quick to make. I make it while the salmon is brining. Just try not to eat it all before you make the tacos.
"Recipe"
Hot Smoked Salmon Tacos with Avocado Crema
Taco night just got an upgrade with chile spiced hot smoked salmon and a crazy delicious tangy lime avocado crema sauce. Don't forget the chips and margaritas!
Ingredients
2

pounds

wild Sockeye salmon fillet

uncut
For the brine:
4

Tablespoons

brown sugar

2

Tablespoons

kosher salt

I use Diamond
For the seasoning rub:
2

Tablespoons

granulated sugar

2

teaspoons

kosher salt

2

teaspoon

chili powder

1

teaspoon

ancho chili powder
For the tacos:
8-10 8

inch

flour or corn tortilla shells

½

large green cabbage

thinly sliced or shredded

1-2

avocados

sliced

½

bunch Cilantro

around 1 cup - loose, not packed in

2-3

Limes

Hot sauce of choice

I like Cholula and Tapatio

Lime Avocado Crema sauce

see blog post

Chips
Equipment needed:
Wire rack

Baking sheet

Electric smoker

Digital thermometer
Instructions
For the smoked salmon:
Prepare your salmon fillet by rinsing and patting dry with paper towels. Remove any pin bones with small tweezers. 

Set the salmon fillet skin side down on a wire rack set over a baking sheet. Mix the brine ingredients together then spoon over the top side of the fillet (don't rub brine into the skin side).

Set the brined salmon in your refrigerator, uncovered, for 4 hours up to overnight. This will depend on the thickness of the salmon fillet, the thicker it is the longer the brine. Don't let it sit with the brine longer than 48 hours. 

Remove the salmon on the tray from your refrigerator and leave on your counter at cool room temperature for 2-4 hours or until the surface is shiny and only slightly tacky to the touch. 

While the salmon is resting before smoking, preheat your smoker to 225 Deg f and soak some wood chips. The amount will depend upon your smoker and how much it holds. I used apple wood and pecan chips. Alder also work well. You don't want anything too overpowering. 

When the smoker is ready, set the salmon on a rack towards the top and set a tray of water on the rack below it. This will help regulate the smoker's temperature as well as evenly distribute the smoke. 

Check after 30 minutes and keep an eye on the smoker's internal temperature with a digital thermometer to make sure it is maintaining heat. Check the fish's internal. Temperature as well and keep checking the fish every 10 minutes until the thickest part reaches 140 Deg f. This will take around an hour total. 

Once the salmon has reached temperature, transfer the salmon to a wire rack set on a baking tray or a foil lined tray and let rest for at least 30 minutes. You can rest in a cool oven or on the counter with the fish lightly tented with foil.
Prepare tortillas and taco ingredients:
While the salmon is resting prepare the rest of the taco ingredients. 

Make the lime avocado cream sauce now, unless you make it while the salmon was in the brine stage. 

Char the tortillas over an open flame on our stove or grill, or soften in the oven or in a pan if using an electric or induction stove top. 

Slice the green cabbage thinly as well as chop the cilantro, Cut the limes into slices. 
Assemble the tacos:
Remove the salmon skin and flake the salmon into large chunks and place in a serving bowl.

Take one charred tortilla and add a small handful of the shredded cabbage, top with 2-3 ounces of the smoked salmon. Tuck in 2-3 slices of avocado next to the salmon along with a few sprigs of cilantro. Drizzle the

lime avocado crema sauce

and and extra squeeze of lime. Add a few dashes of hot sauce if you like. 

This recipe makes 8-12 tacos depending on how full you fill them. 

Serve with chips, salsa, guacamole, and of course margaritas. 
Notes
If it's your first time making this recipe then make sure you read all of the information in the main post as it includes lots of additional tips, as well as the answers to some common questions.
If you have any further questions then do let me know in the comments and or email me

[email protected]

and I'll do my best to help.
If you choose to make substitutions to the recipe or use a cooking method that I have not tested yet please do so at your own risk, if they are successful I would love to hear about it and will add to my recipe notes for other readers to try as well. 
The smoked salmon will last up to 10 days in the refrigerator kept in an airtight container or up to three months in the freezer. Reheat in a low oven being careful not to dry it out. It is also excellent served cold.
I hope you enjoy these hot smoked salmon tacos with avocado crema as much as we do. Please let me know if you make them and any additions or substitutions you make. I would love to know!