Simple smoked whole chicken. Smoking is probably our favorite way to cook whole chickens. Minimal fuss yields perfectly cooked, moist chicken every time. 
One of the keys to being a great home-cook is having a few simple, but solid recipes in your repertoire. A whole chicken being one of them. There really doesn't need to be much to cooking a whole chicken besides fantastic seasonings and a means to cook it. I will either roast a chicken in my oven or like seen here, cooked in my smoker.
The key to a great smoked whole chicken is the seasonings. There are so many ways to season a chicken. You can do a brine - either wet or dry, a spice rub ( like what I do), spiced and a sauce of some sort such as a homemade or store bought bbq sauce. You can also fill the chicken with citrus, onions, fresh herbs. The seasoning possibilities are endless.
For these chickens I made my own blend of kosher salt, sugar, onion, garlic, chili powder, ancho chili powder, smoked paprika, and ground black pepper.
You can combine the spices together in a bowl and spoon the mix onto the chicken or you can add it all to a spice shaker to save the leftover mix for later uses. Just don't be like me and forget to label your homemade spice jars.
Set the chickens out on a parchment lined baking sheet for 30-40 minutes, until they are cool room temp. You can preheat your smoker at this time as well since it takes about 30 minutes to get to temp. We like smoking chickens at 250 Deg F. (121 Deg C).
Generously season the chicken. You don't need to butter or oil the skin first. I find that the seasoning sticks well to the cool chicken skin, but if you want to lightly brush the chickens with melted butter or oil first, go for it.
You can place the chickens side by side in the smoker or on separate racks, but staggered so one isn't dripping all over the other. We like to set them side by side. I find they cook at the same rate this way.
Add your liquid to the foil lined drip tray ( we use a combo of water, apple juice, apple cider vinegar) and add your chips to the chip tray. Follow your smoker's instructions for how much to use for the drip tray and the wood chips. We have a Masterbuilt electric smoker. It's about the size of a tall dorm fridge, and worth the investment. We have made everything in it from whole chickens, ribs, kalua pork, salmon etc. It's so versatile.
For the wood chips we use a variety of kinds. Either all of one kind or a combo of cherry, applewood, pecan, hickory. All lend subtle flavor differences, it's up to you what you want to use.
We smoke the chickens at 1 hour per pound. At around 1 hour before time is up we start to check the chicken's internal temperature with a high heat meat thermometer. Insert into the thicker part of the chicken thigh.
I check every 15-20 minutes, quickly too so the smoker's heat doesn't start to drop. Once the thigh registers 180 Deg F (82 C), and the juices run clear, I take the chickens out of the smoker. 
I set the chickens on the smoker rack on a baking sheet with a new piece of parchment.
Tent in foil and let rest for 15 minutes before serving.
My favorite is the crispy smoked chicken wings. I love chicken wings of any kind really, smoked, baked, fried.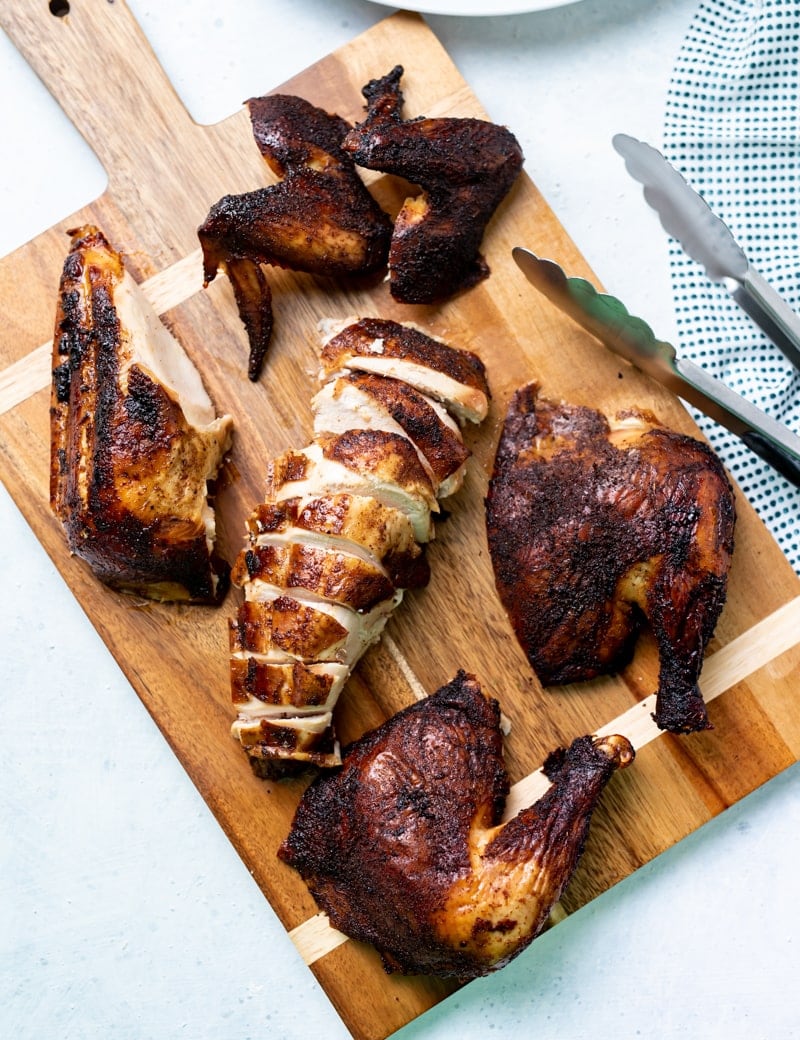 Carve up the chicken and serve! Save all the bones in a bag in the freezer to make chicken stock later. I have a recipe coming up for smoky chicken stock and it is amazing!
"Recipe"
Simple Smoked Whole Chicken
Simple smoked whole chickens with a homemade all-purpose seasoning blend. Makes 2 whole chickens - servings vary.
Ingredients
All-purpose seasoning blend:
½

cup

granulated sugar

¼

cup

kosher salt

¼

cup

chili powder

1

tablespoon

smoked paprika

1

tablespoon

garlic powder

2

teaspoon

ancho chili powder

2

teaspoon

onion powder

2

teaspoon

ground black pepper
For the smoker:
Drip Tray:

1

part cup water

1 cup or more if drip pan is big

1

part apple juice

1 cup or more if drip pan is big
Additional items needed
smoker chips - applewood

cherry, pecan, hickory

high temp meat thermometer
Instructions
Preheat smoker to 250 Deg F. This takes about 30-40 minutes

Place the chickens on a parchment lined baking sheet and let them come to cool room temp. About 30-40 min.

Combine the seasoning blend ingredients. Generously season both chickens. You don't need to prep the chickens with oil or melted butter first, but can if you want to. 

Place in smoker. Line the drip pan with foil and fill with the water and apple juice. 

Place chickens next to each other on the middle smoker rack and lock up the smoker door. Fill the wood chip tray with chips of choice. 

Smoke the chickens for 1 hour per pound. Check chickens' internal temp before the total time is up. You can start at 1 hour before total time. Stick thermometer into thickest part of thigh. Once it registers 180 Deg F and juices run clear, the chickens are done.

Remove from smoker, tent the chickens in foil and let rest for 15-20 minutes before carving and serving. 
Notes
I like to smoke 5-6 lb chickens. They tend to hold on to moisture better than smaller chickens.
Serve the chicken with a salad, a side like risotto, or whatever you like. I find this whole smoked chicken is so moist and flavorful it doesn't need anything else to go on it, but you are more than welcome to add anything you like such as a bbq sauce.