HI! It has been forever since I have update my blog with a new post. I know like since July I think! It's been an insane year to say the least with my husband back in school full time, working full time, me recovering from knee surgery still ( darn tennis injury) driving our kids to and from school, to and from tennis lessons, to and from tennis tournaments. I have barely had time to breath let alone blog.
And I hate it. I miss blogging. I miss making and photographing recipes. But I am working on a different schedule so I can work more. And make more recipes to share with you all. Like this tropical inspired sparkling spiced hibiscus cocktail just in time for the Thanksgiving and Christmas holidays.
Also with my busy schedule my blog underwent a bit of an overhaul, a face lift, a new blog theme, a recipe index redo and more simplified. My old blog theme was about 9-10 years old. It was time for something fresh and new.
The recipe index is still a work in progress, but it will be finished soon.
Working on making it more simple and easier to search the categories. And lots of photos like I like to have!
Back to this lovely hibiscus cocktail. I picked up a few bags of dehydrated sweetened hibiscus flowers at Trader Joes a few months ago. I had heard that they were back and I wanted to grab some for cocktails and blog photos.
They are chewy like fruit leather, lightly sweetened and look so neat all curled up. Perfect cocktail garnishes. Or a yummy flower snack according to my kids.
The weather has finally cooled off here in Las Vegas so that meant bringing all my tropical plants indoors. 6 pineapple plants, 15 plumerias, one passion fruit vine and a barely clinging to life hibiscus plant.
Two of my plumerias are no longer plants, thee are giant trees. One touches our 8' ceiling! Wasn't even close last year. I am amazed at how much they grew this year.
They are still producing flowers too but since there isn't much humidity now the flowers are yellow and white with little twinges of pink here and there instead of there rich pink and orange that they had all summer long.
I will forever be amazed at how much temp and humidity affects the colors of the flowers. I am just so happy they are still producing flowers so I can use them in my photos. I love the colors with my hibiscus cocktails in these photos.
On to this hibiscus cocktail now. I love Bundaberg ginger beer and sodas. It is an Australian brand that is making its way around the states. I often find it at Cost Plus World Market and Whole Foods.
They have a Pineapple and Coconut flavor that I NEED but have yet to find it here. I did find this amazing spiced ginger beer that has hints of cinnamon and clove and is perfect for the holidays.
IF you cannot find the Bundaberg Spiced Ginger Beer in stores I have an alternative cocktail making method for you. Swap out the spiced ginger beer for any ginger beer and instead of Koloa Gold rum use Koloa Kaua'i Spice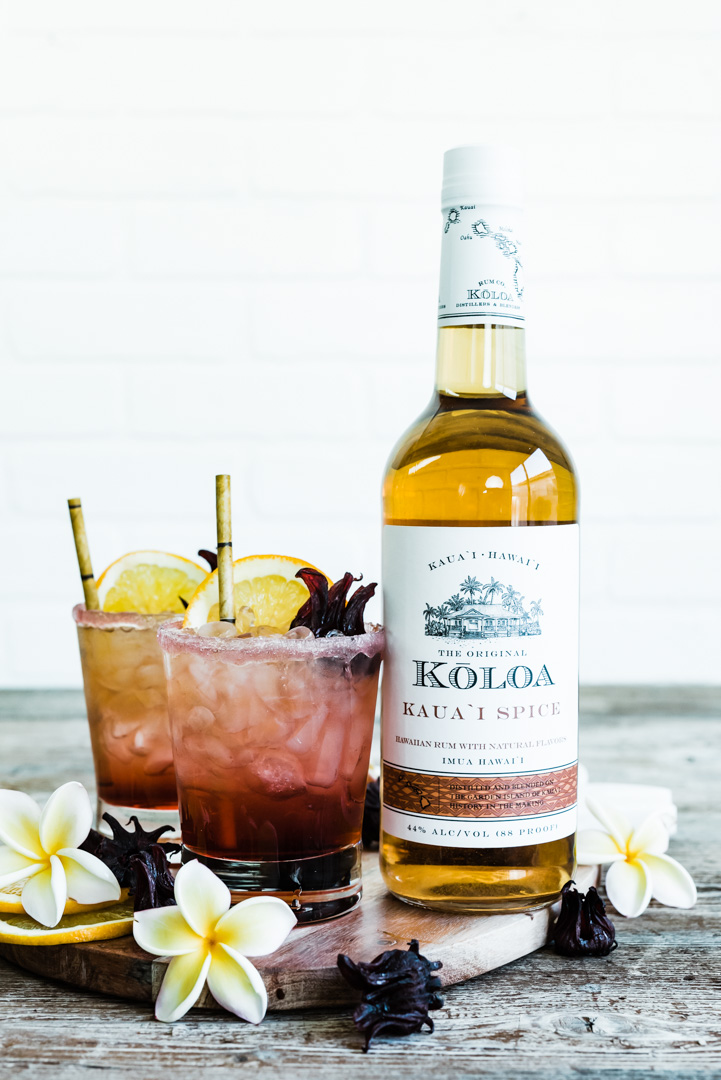 I love both versions of this cocktail. The hibiscus syrup is easy to make and you can make ahead of time. It's great with soda water for a refreshing tropical soda, you can also leave the rum and cointreau out of the cocktail for a non-alcoholic beverage too.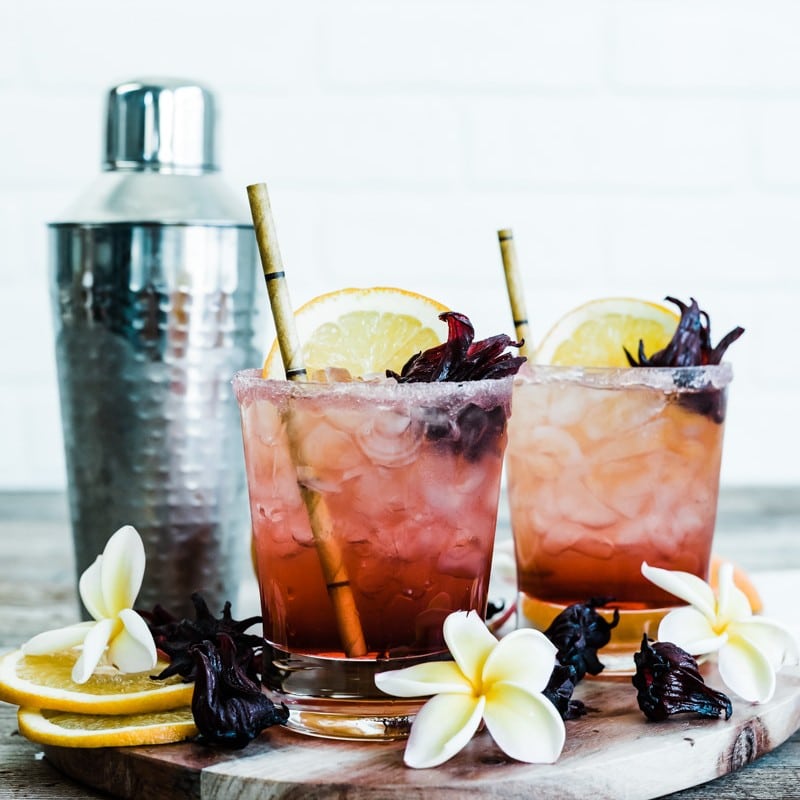 Sparkling Spiced Hibiscus Cocktail
A delicious refreshing sparkling spiced cocktail with a tropical twist perfect for the holidays.
Ingredients
Cocktail
3

Oz

Koloa Gold OR Koloa Spiced Rum*

1

Oz

Cointreau

1

Oz

Orgeat

3-4

tablespoon

Hibiscus syrup

more for sweeter cocktails

Bundaberg Spiced Ginger Beer*
Hibiscus Syrup
⅓

C

Dried Hibiscus Flowers or Hibiscus Tea

1

C

Sugar

1

C

Water
Garnish
Hibiscus Syrup and Sugar for sugar rim

Orange slices

Dried Sweetened Hibiscus Flowers**
Instructions
Make the Hibiscus Syrup:
1. Combine the dried hibiscus flowers, sugar and water in a pan and heat on high stirring until the sugar is dissolved.
2.Bring to a boil, boil for 3 minutes then turn off the heat. Let cool completely. Strain into a glass jar then chill completely before using. The syrup can be made ahead of time. It can be stored in the refrigerator up to two weeks.
3. If using Hibiscus tea, steep the tea bags in the boiling sugar water.
Make the cocktails:
1. Pour a little of the hibiscus syrup into a bowl and sugar in another bowl. Dip the rim of your glass into the syrup, let excess drip off then dip into the sugar, making sure to coat the whole rim. Set glasses aside.

2. In a cocktail shaker filled with ice add the rum, cointreau, orgeat and hibiscus syrup. Shake well. Add crushed ice to the glasses and divide the cocktail mixture between glasses. Top with spiced ginger beer. Garnish with orange slice and dehydrated hibiscus flower.
Notes
*If you can't find the spiced Bundaberg Ginger beer feel free to use any ginger beer in its place and instead of the Koloa Gold Rum use the Koloa Kaua'i Spice Rum
** You can find the Dried Sweetened Hibiscus Flowers at Trader Joes or online such as Amazon or other online specialty food shops. They might be seasonal at Trader Joes, so online might be your best bet during the holidays.
Happy Aloha Friday and Happy Holidays!!

Sparkling Spiced Hibiscus Cocktail is my newest cocktail creation for this Aloha Friday and just in time for the upcoming holidays. Its sweet, spicy, sparkling, refreshing and delicious.