Spatchcock Skillet Roasted Chicken with Citrus and Leeks. So easy, so good.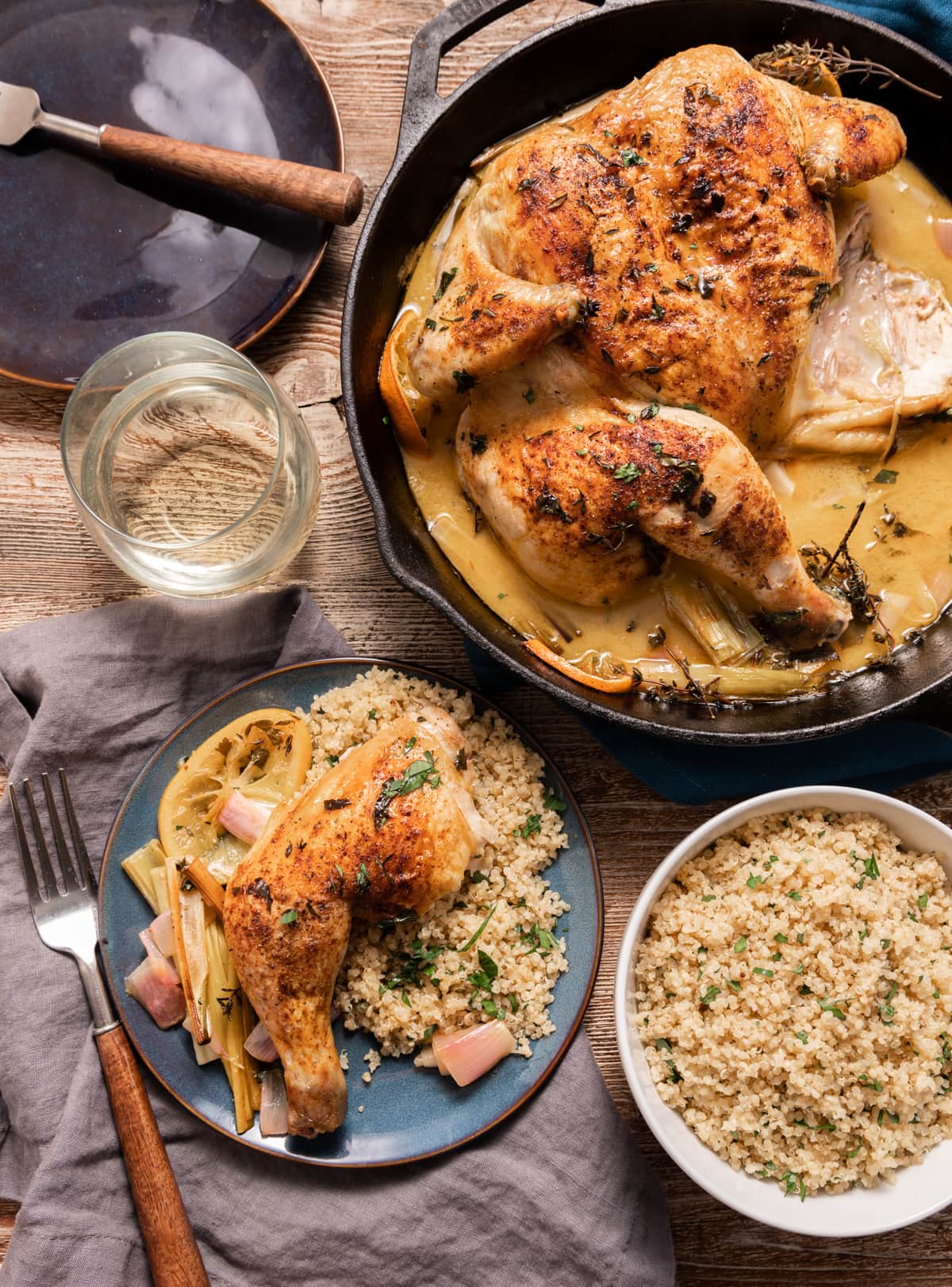 I make a skillet roasted chicken at least once a week. It is one of the easiest recipes to make and incredibly versatile.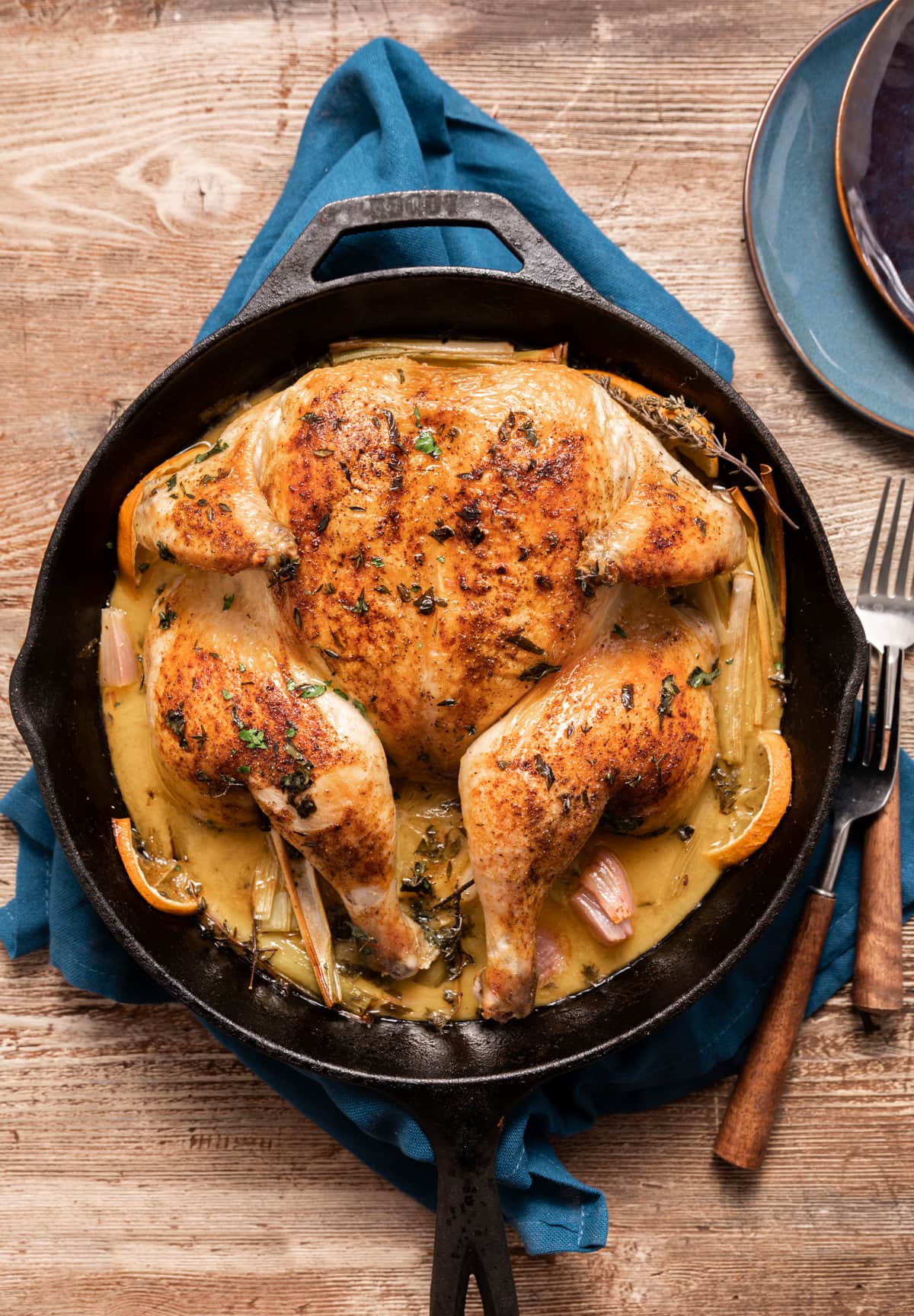 I have been making roasted whole chicken for as long as I can remember. I almost always make it in the oven, sometimes we will make smoked whole chickens or even roast on our grill. I suppose that would be called grilled chicken. I think when one talks about grilled chicken its usually just pieces, not the whole chicken.
I roast more chickens inside in my oven during winter than taking outside to smoke or grill. I will either roast whole or butterfly it here which is is also called, spatchcock, a term for the way the chicken is butchered and laid out like this. Let's get into how to spatchcock a chicken. It is easy, hopefully the next photos don't gross you out, we are dealing with a whole, raw chicken here...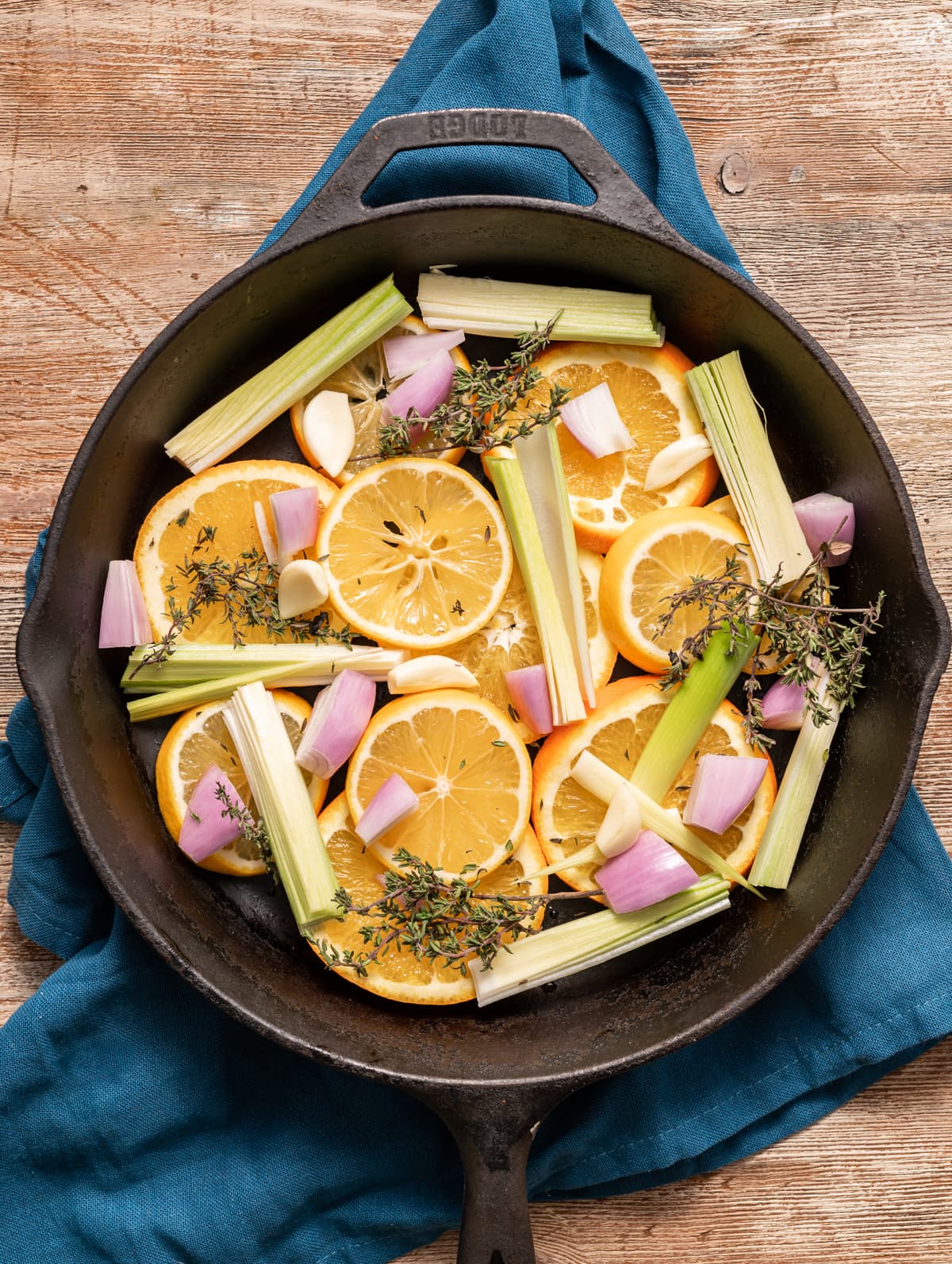 Actually let's prepare the citrus, leeks and herbs first. I slice up the Meyer lemons and orange first and layer those in to the 12 inch cast iron skillet. Then I prepare the leeks by trimming off the bottoms and the upper, tougher dark green leaves.
Cut in half and rinse out all the grit then quarter length wise. I use 3-4 leeks here, depending on size. Sometimes I find huge, fat leeks, other times very small. Then I add in peeled whole garlic cloves, 1-2 sliced shallot, a few sprigs of fresh thyme.
Now let's get to the chicken.
How to spatchcock a chicken:
First things first make sure your chicken is full thawed if previously frozen and brought to room temperature. This makes it a lot easier to handle. Remove the packet of neck bones and giblets from the center cavity if applicable, then place chicken breast side down on a cutting board.
Take a pair of sharp kitchen scissors and cut along the backbone starting from the tail and cut all the way to the neck. Repeat on other side. Yes you will cut through bones, you have to.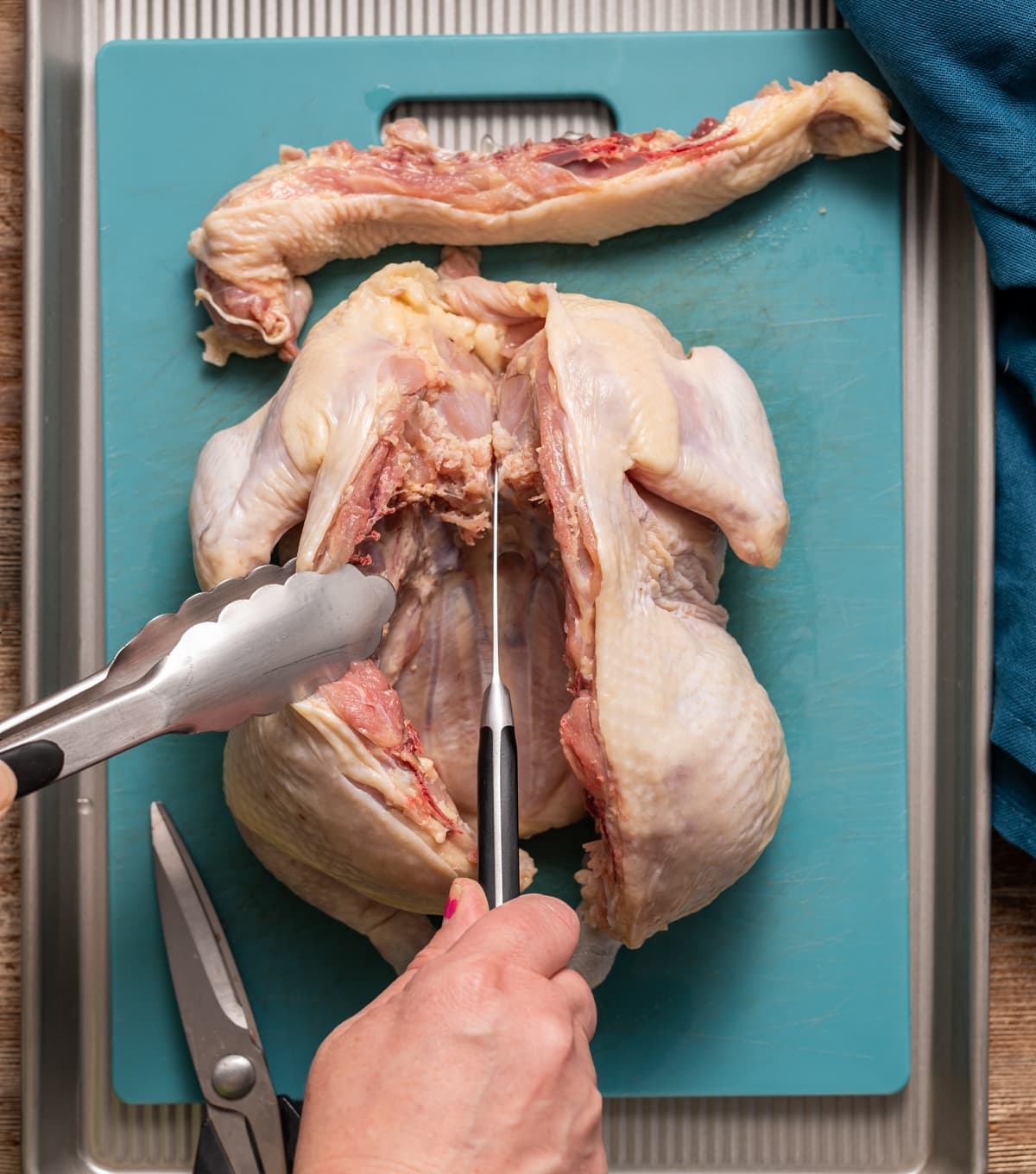 Next, flip the chicken over (excuse my pasty white hands, I haven't been to Hawaii for a tan in a while LOL, and clearly I need a better manicure), and using a sharp knife cut a slice through the sternum bone, but not all the way through. Just enough so the two halves of the chicken will flatten out better when you press down on the front, in the next step.
Cut off the wing tips as well. Save the chicken back and wing tips in a resealable bag in your freezer to make stock with them. I make homemade stock all the time with chicken bones from roasted chickens.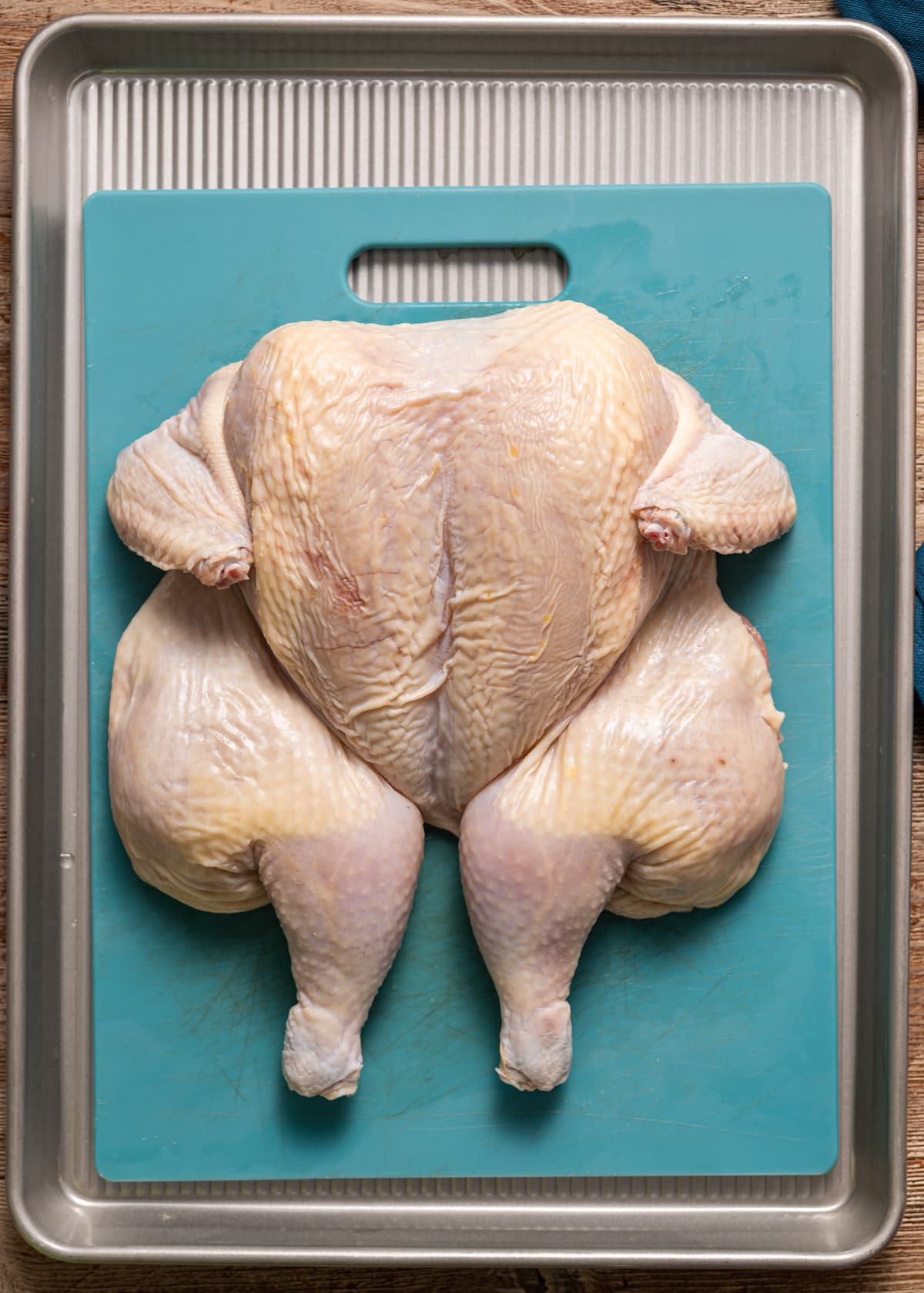 Flip the chicken over again. This is like chicken gymnastics, lots of flips. Press down in the middle of the chicken breasts to flatten or butterfly the chicken. You will hear the wishbone crack, sorry for those who want to use it for a wish after roasting.
Next take your chicken and rinse it out in case anything is left from initial butchering, then pat dry with paper towels. Season the inside of the chicken with olive oil, salt, pepper and smoked paprika. Set it breast side up over the citrus and veg in the skillet.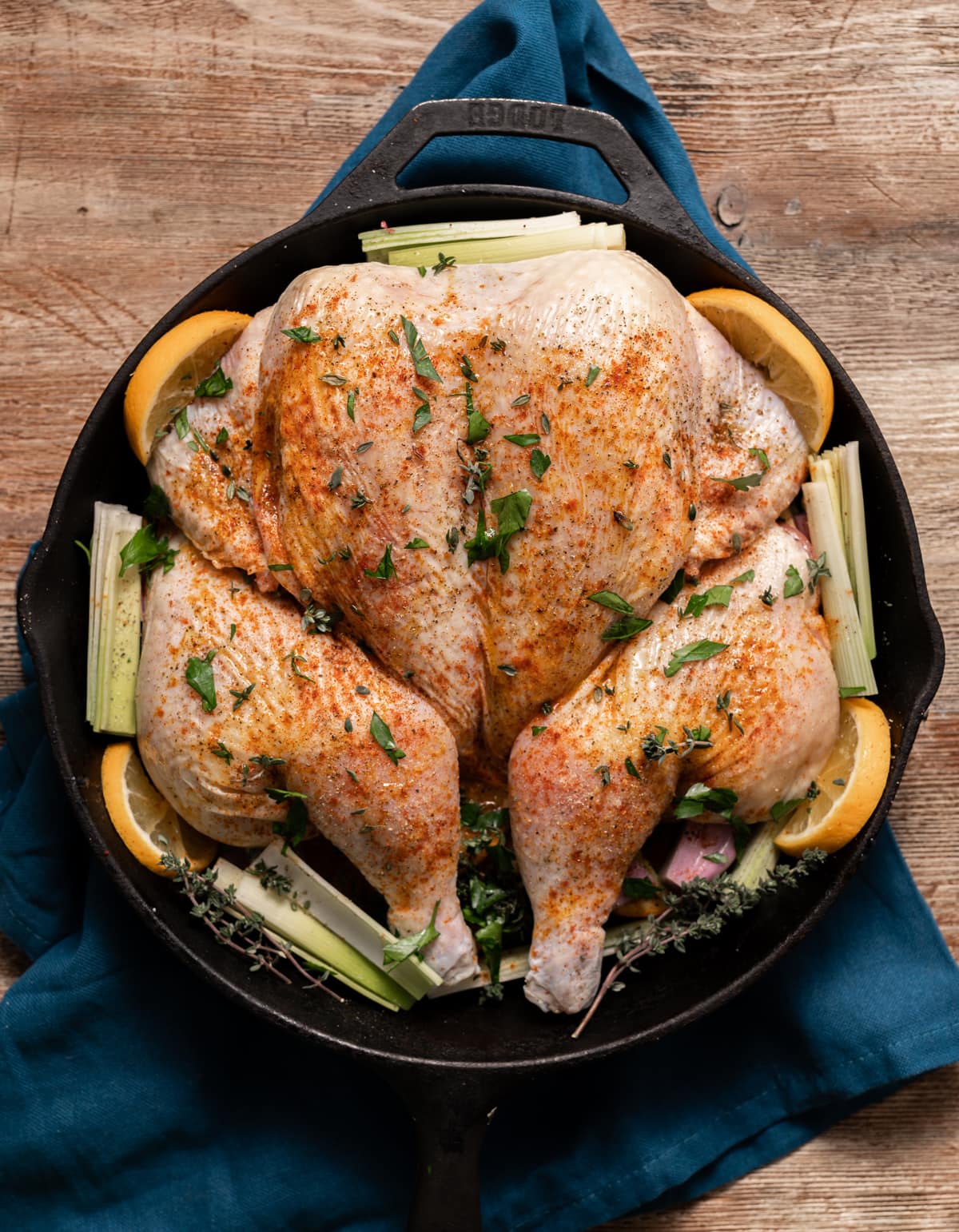 Tuck in wings under the sides of the breasts, and make sure the whole chicken is as flat as can be. Add another generous drizzle of olive oil all over as well as kosher salt, ground black pepper, smoked paprika ( you can even add more than I did here, I didn't cover it too much for photos but I usually add more), some more fresh thyme and some fresh flat leaf parsley.
The bird is now ready for the oven.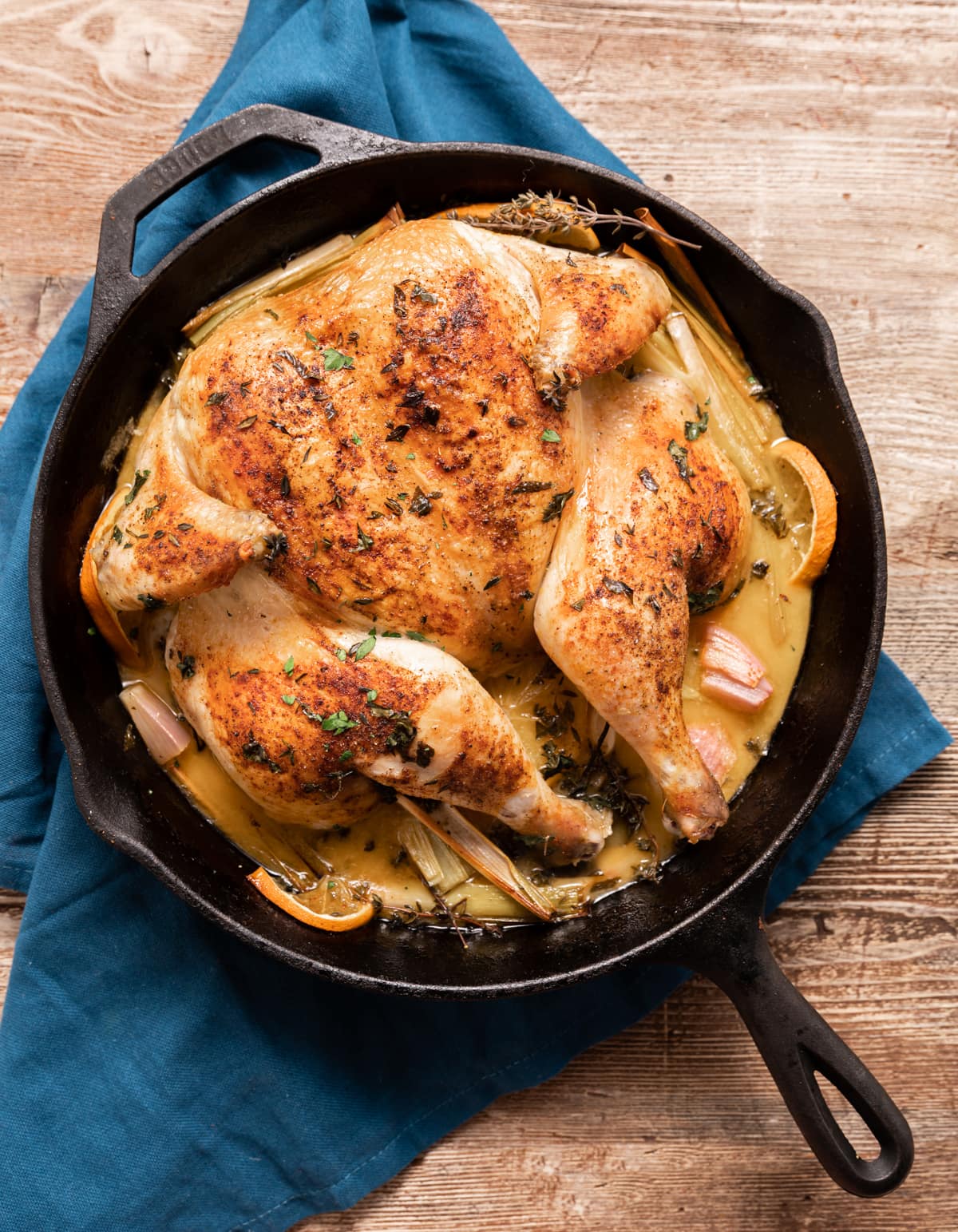 Around halfway through roasting I will add some white wine, lemon juice and a few teaspoons of butter to the pan. I pour it into the skillet or pan next to the chicken, not over it. I want to keep that skin crispy. I add in a few teaspoons of butter around the chicken as well. This helps make for a lovely pan sauce as the chicken finishes roasting.
The chicken roasts at 425 Deg F for 45-60 min OR until the internal temp of the thigh reaches 175-180 Deg F and the breast is 155-160. I take an instant read digital meat thermometer and stick in in the thickest part, I usually take 2-3 readings to make sure it is done. If the top of the chicken is getting too dark before it reaches temp, tent it with some foil.
The roasting times vary depending on the size chicken you use. Please keep note of this as you cook. A 6 pound chicken will take long and the halfway point for adding in the wine, butter etc will be closer to 30 minutes whereas a smaller chicken will be around 20 minutes. These aren't exact times, if you add these in at say 38 minutes or 24 minutes, it will be ok. It is more important to check temperatures rather than the time.
Once the chicken has come to temperature, remove from the oven, loosely tent with foul and let the chicken rest for 10 min after roasting before serving to let those juices settle.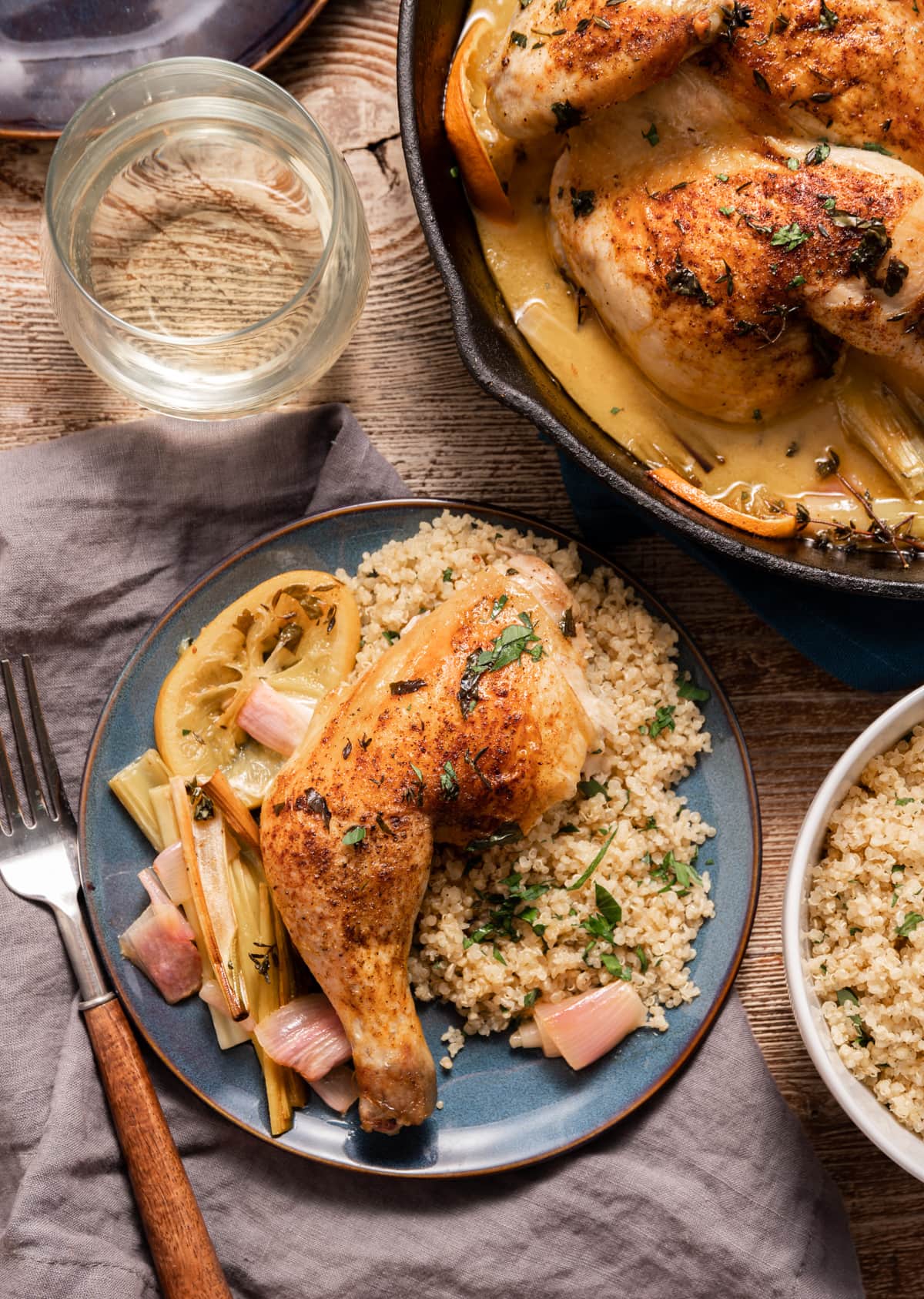 This skillet roasted chicken is amazing served with rice, potatoes, couscous or as seen here, herbed quinoa. I will cut the chicken breasts into slices for my kids, add some of the pan juice over it, divide the leeks, garlic and shallots from the pan and add those to plates as well.
A green salad would go great with this meal as well. We usually eat the chicken like this the first night then shred the rest of the meat to use either in soup, enchiladas, tacos, you name it. A very versatile skillet roasted chicken recipe.
Spatchcock Skillet Roasted Chicken with Citrus and Leeks
Juicy spatchcock skillet roasted chicken with leeks, Meyer lemons, oranges, shallots and thyme. A super easy and versatile roast chicken recipe.
Ingredients
1 5-6

pound

chicken

completely thawed if previously frozen ( if using a smaller chicken 2-4 pounds, roasting total time will be less).

3

large leeks

cleaned, white and light green parts only, quartered lengthwise

2

shallots

peeled and sliced length wise

1

large Meyer lemon sliced in rounds

1

navel orange sliced in rounds

4

garlic cloves

peeled and sliced

3-4

sprigs fresh thyme

leaves removed from one of the sprigs

1 ½

teaspoon

kosher salt

1

teaspoon

ground black pepper

1

teaspoon

smoked paprika

2

Tablespoons

flat leaf parsley

¾

cup

white wine or chicken stock

2

Tablespoons

lemon juice

2

Tablespoons

unsalted butter

cut into pieces
Instructions
Heat oven to 425 Deg F. Set out a 12 inch cast iron skillet. 

Set chicken out to come to room temperature, remove giblet packet from inside the chicken if applicable. About 30 to 40 minutes. Prepare all the vegetables, aromatics and herbs before handling the chicken.

Rinse and pat the chicken dry with paper towels, set it breast side down on a sturdy cutting board. Using kitchen shears cut out the backbone starting at the tail to the neck. Cut off the wing tips as well and save the backbone and wing tips for making stock. Rinse the chicken again in the inside to get rid of any excess parts left over from butchering. (You can wear gloves if you want when handling the chicken).

Spread the chicken open and slice down the sternum just slightly, flip the chicken over and press down on the breastbone to flatten, you should hear the wishbone crack. Flip again and drizzle a little oil in the inside of the chicken as well as season with a teaspoon each of salt, pepper and smoked paprika.

Layer the lemon and orange slices in a 12 inch cast iron skillet along with the shallot slices, leeks, garlic cloves and thyme. Place the chicken on top, breast side up and tuck the wings in as well as the thighs. 

Drizzle olive oil over the top of the chicken and season with more salt, pepper, smoked paprika, parsley and fresh thyme leaves.

Set in preheated oven and roast the chicken for 45-60 minutes total ( Depends on the size of your chicken, smaller will need less total roasting time). There are some steps during that total roasting time as follows.

Pour the lemon juice and wine into the skillet around the chicken, a little more than halfway through roasting, around the 30 min mark, next to the chicken, not over it. Next add in the butter pieces around the chicken as well then roast for another 15-25 minutes (after you have added in the wine etc at the halfway-ish point) until you reach total roasting time and the chicken has reached proper temperature.

Check for doneness when internal temp of chicken thigh is at least 175 Deg F and breast is 155 Deg F. You can start checking temperature about 10 minutes before total roasting time has been reached. Smaller chicken sizes check earlier than larger chickens. If the chicken starts to get too brown when it hasn't roasted to the correct internal temperature yet you can tent it with foil to prevent burning. 

When the chicken has reached proper internal temperatures, remove from oven, cover with foil if you haven't already done so, then let rest 10-15 minutes. 

Remove chicken from skillet to cutting board to cut into sections or pieces, serve with some of the shallots and leeks and sauce from the pan. This is great served over rice, couscous or quinoa. 
Notes
If the idea of butchering the chicken is a bit too much for you, when you buy the chicken from your grocer or butcher you can ask them to spatchcock or butterfly it for you. You can also roast the chicken whole instead of spatchcocking it. For this version, you can fill the cavity with more lemon and orange slices, leeks, shallots, garlic and a sprig of thyme. Cooking time will be a bit longer this way, but the best way to know that it is done is with internal temps taken with a good digital meat thermometer.