Ube Mochi waffles aka purple sweet potato waffles. Frieda's Produce was so kind to send me a box of these amazing purple tubers and I knew exactly what to do with them. Waffles!
I have been on a waffle kick lately since my family is home full time now, so that means more leisurely mornings, extra time to make more than a smoothie or eggs and toast for breakfast. Waffles are my favorite sweet breakfast food. I have a gazillion favorite savory breakfast foods such as eggs benedict - especially Hawaiian style with kalua pork, huevos rancheros, chilaquiles, breakfast tacos, to name a few.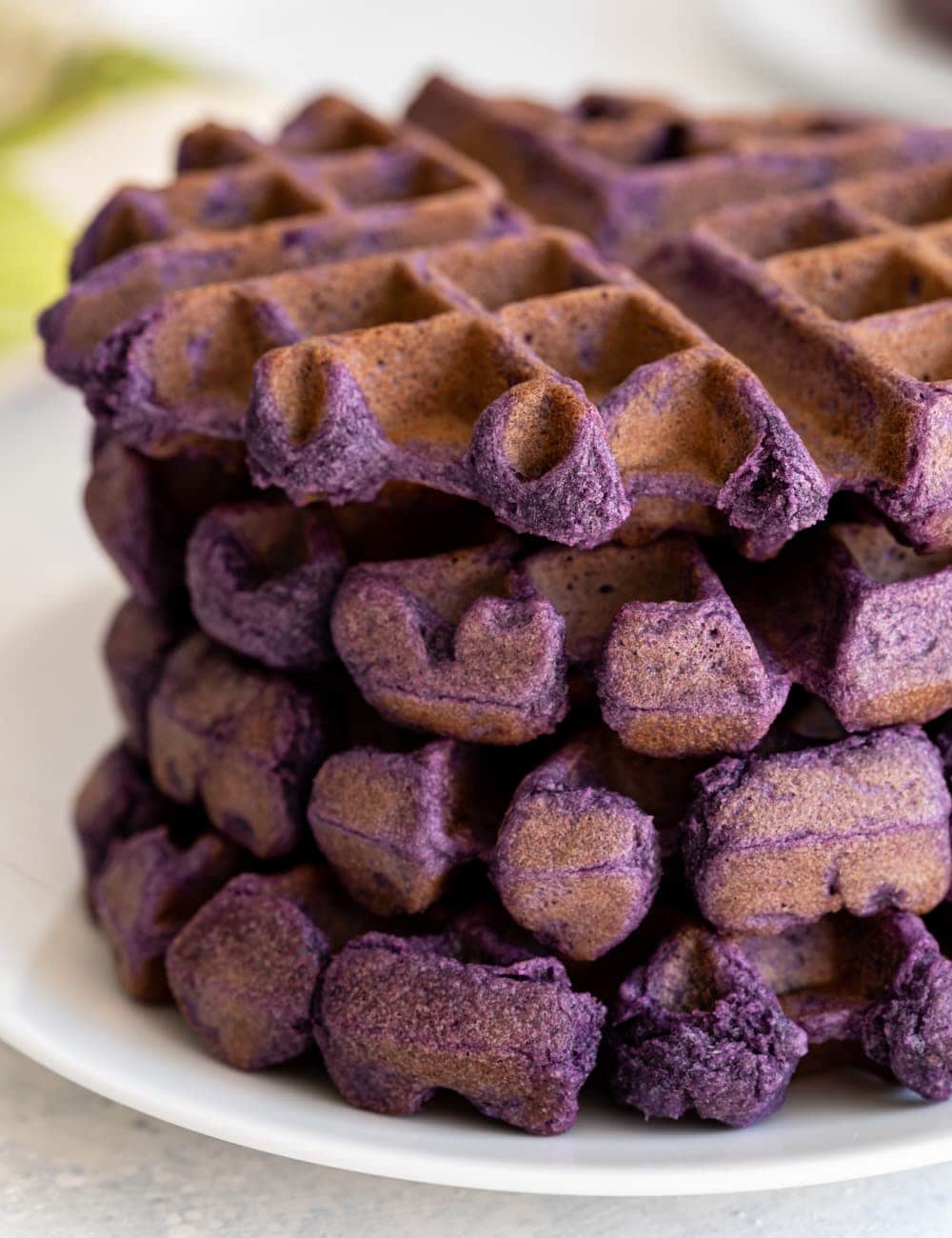 When it comes to sweet breakfast foods my heart has always belonged to those thick, Belgian style waffles with the deep squares you can fill with sauces and syrups. I love the crunchy exterior and the soft, chewy interior. Purple sweet potato and or Ube (ooh-bay) add an extra layer of texture and flavor to these already amazing waffles.
The two key ingredients for these ube mochi waffles - mochiko flour and roasted, mashed ube yam or purple sweet potato. Koda Farms mochiko flour is my fave to use. I used Stokes purple sweet potatoes from Frieda's produce, but if you can find ube yams use those instead for true ube. In the past I have used other brands of purple sweet potatoes including the Okinawan purple sweets I have found in Hawaii and in Asian and international grocery stores locally. Those have a light tan skin with a lighter purple interior.
Stokes have a purple skin and a deep purple interior. They bake up even darker purple. The color of these potatoes are amazing. And the taste is incredible all on their own. Sometimes I make them with a few splashes of coconut for a smoother mashed potato to serve as a side with dinner.
Baked into a waffle these potatoes keep the purple color so well. I have made a few other baked items with the purple sweet potato that I roasted, and it has been a bit of an experiment to get them to retain their purple color. I made some muffins that came out kind of a bluish-green. They tasted good, looked awful. Back to the drawing board on those. But for these ube mochi waffles I will go through a few steps on how I made them.
Starting with measuring/weighing ingredients into separate bowls then combining the ingredients in order to make for a smooth waffle batter.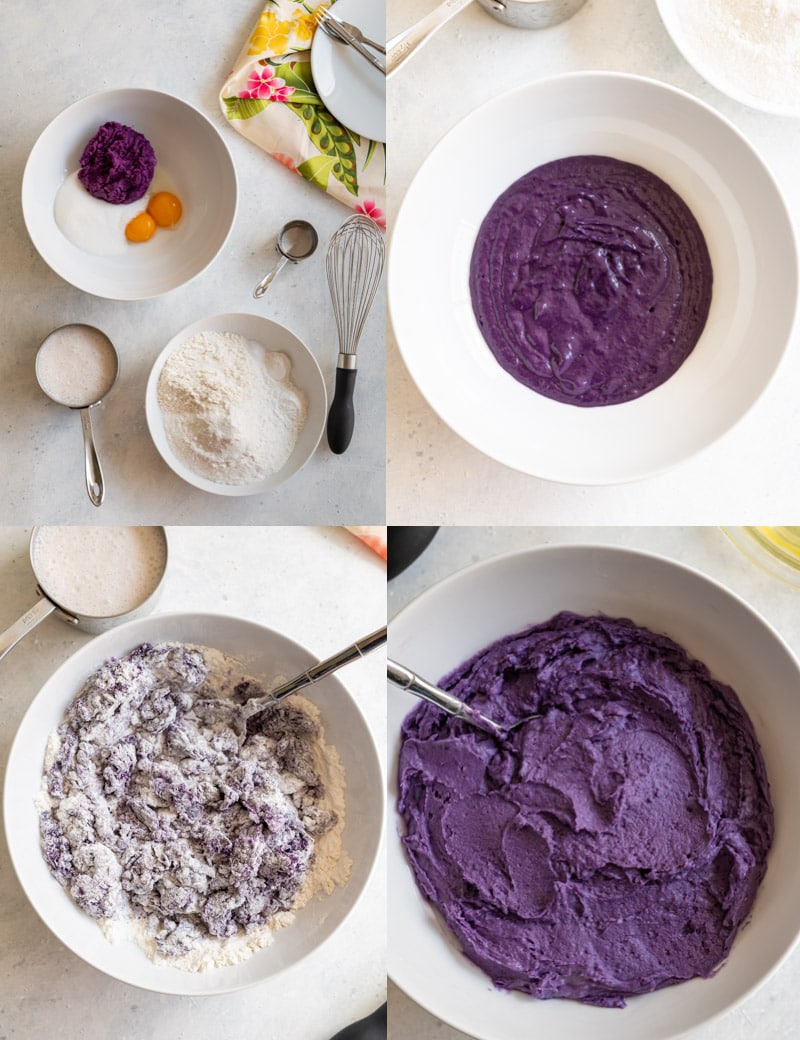 Because of the addition of the mashed, purple sweet potato this waffle batter is a little thicker than traditional batter, or even batter that uses something like pumpkin puree.
The mochi rice flour makes it a little thicker textured as well and this is why one of the steps that I always use when making waffles is separating the eggs. Folding in whipped egg whites will always help lighten the batter and make for fluffier waffles.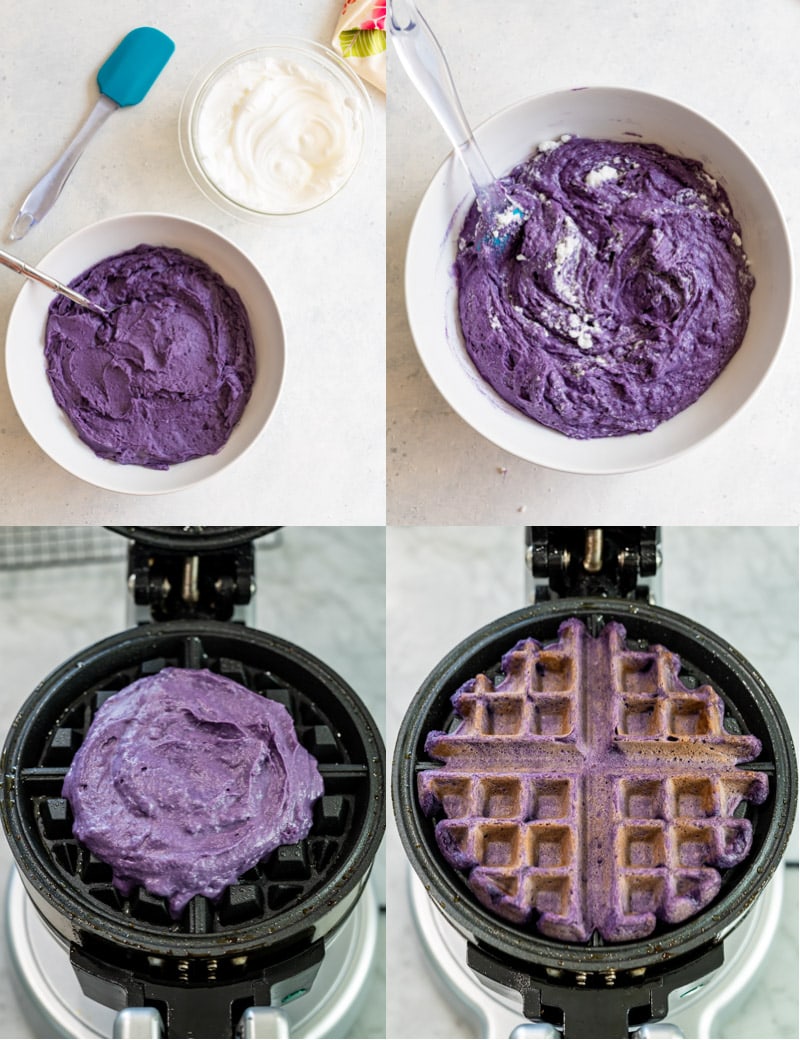 Because this is a thicker batter it won't spread quite as much as traditional buttermilk style Belgian waffles. I use a Cuisinart double Belgian style waffle maker that makes two waffles at a time. It flips like commercial waffle makers or the kind you find in a hotel. I love being able to make two big waffles at the same time. This waffle iron makes perfect waffles every time.
Since these ube waffles have more moisture and a thicker batter I go by looks rather than time when cooking them. I wait for the steam to start to slow down and I peek to see how brown they are getting. You don't want them completely brown or else they will end up burnt. You want to still see purple.
I always err on the side of a little less batter with my first few waffles and then the last one ends up spilling over with the most batter. Even though I think I am measuring it correctly every time I still do this. I use a large batter scoop that is commonly used for cupcakes. The one I use is a #16 that holds ¼ cup batter. I will use two scoops per waffle.
I also have a #12 scoop (or disher as it is also called), that is about ⅓ cup. It all depends on the thickness of the waffle batter for which waffle recipe I am making.
You can opt to use Ube flavoring/coloring in these waffles but you really don't need to. I prefer to stay away from as much artificial flavoring or coloring as I can. But feel free to use it. It will give them a much richer color.
Syrup is a must. Use whatever you like, maple, coconut, anything tropical. Passionfruit syrup would be good as well.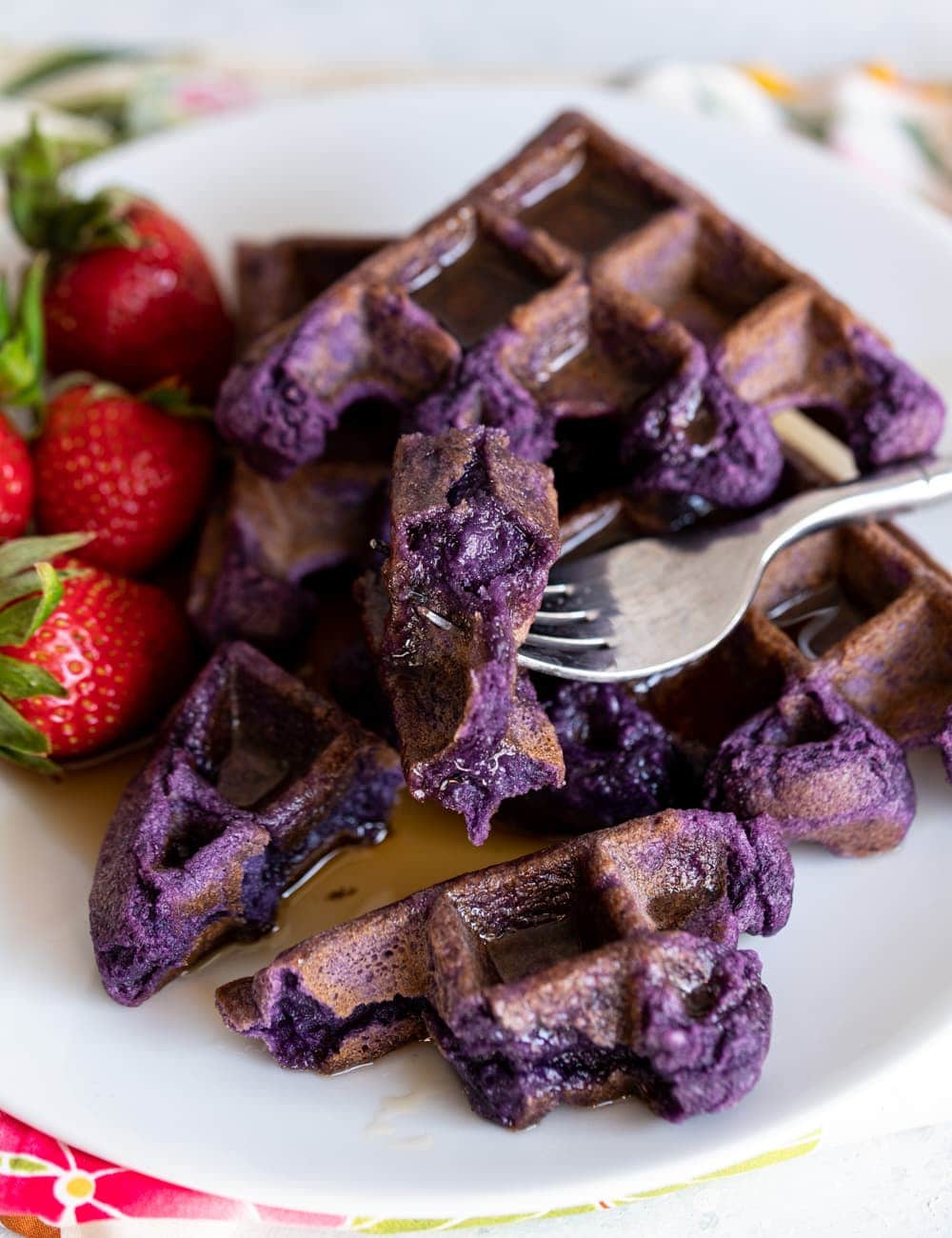 So purple. So yummy.
A few notes about the ube mochie waffles recipe first:
Blue Star brand Mochiko flour is my flour of choice for these and any mochi waffles I make. I have tried a few other brands but this is my fave. You want to use a finely ground sweet glutinous rice flour
You can substitute the regular wheat all purpose flour for any gluten free AP flour of choice if you want to make them all gluten free.
I use coconut oil in place of butter which helps retain the purple color. I like that coconut oil is clear, other oils tend to have a yellowish tinge to them. I have not tried these with any other oil so I cannot comment on how well it will work, or if it will change the taste or color
You can find purple sweet potatoes in any well stocked grocery store or Asian or international store. When I haven't been able to find fresh I have found them in the freezer section of Asian or International stores. Those are either shredded raw or cooked and mashed already. Try to find the mashed. Ube yams tend to be harder to find but if you can find those, use those instead.
I roast the purple sweet potatoes at 250 Deg F for about an hour. I wrap in foil and bake until soft. Let cool then peel, mash, and save in an airtight container until ready to use. Bring to room temp and measure out the amount I need. I always roast the sweet potatoes a day or two ahead of time.
Corn starch is my "secret ingredient" to extra crispy exteriors on waffles. If you can't find any in stores these days its ok to omit. They will be just as good still.
"Recipe"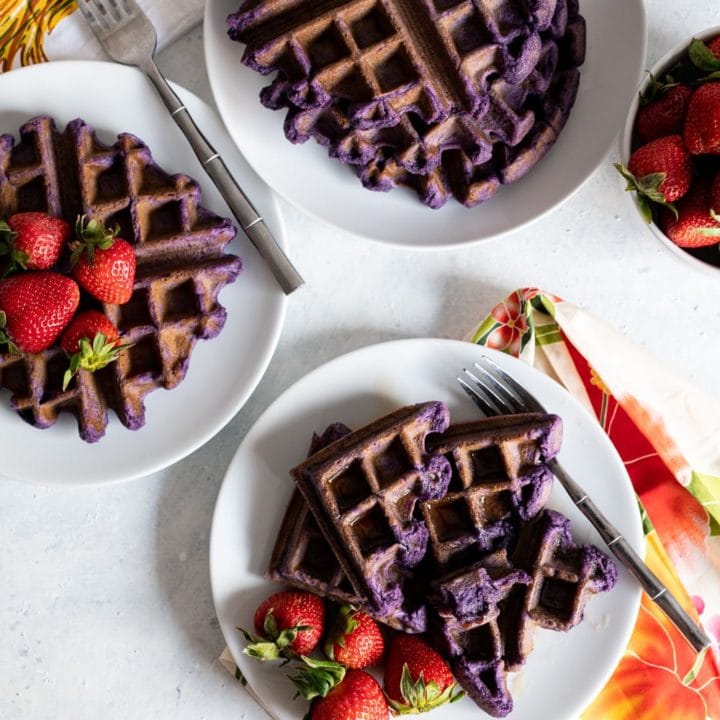 Ube Mochi Waffles ( Purple Sweet Potato Mochi Waffles)
Crispy on the outside, soft and chewy middles, these ube waffles are perfect for any breakfast, brunch or brinner meal!
Ingredients
1 ½

cups

mochiko rice four

½

cup

all purpose flour

2

tablespoon

cornstarch

2

teaspoon

baking powder

½

teaspoon

kosher salt

½

cup

sugar

¼

cup

coconut oil

melted

¾

cup

roasted and mashed ube yam or purple sweet potato

could also be pressed through a potato ricer *

2

eggs

separated

1 -2

teaspoon

ube flavor/color

optional -this will make a richer purple color

1 ½

c

milk

coconut, macadamia, dairy milk
Instructions
Preheat waffle iron. Spray with cooking spray or brush with coconut oil

In a small bowl whisk together the flours, cornstarch, baking powder and salt. In a separate larger bowl whisk together the sugar, coconut oil, mashed sweet potato, egg yolks, optional flavoring/coloring.

Add in the flour mixture to the sweet potato mixture and mix until starting to come together then add in the milk and mix until well combined. This mixture will be pretty thick but smooth. 

Whip the egg whites until medium-stiff peaks, then fold into the waffle batter until no white streaks remain

Pour a heaping half a cup of batter into the waffle iron and cook for 3-4 minutes, until the steaming has started to slow down and the waffles start to turn golden but are still mostly purple.

Keep waffles warm in a low temp oven directly on the rack or on the counter on a wire cooling rack until all are cooked.  Serve with fresh fruit and syrup of choice. 
Notes
* For making the roasted, mashed ube yam or purple sweet potatoes wash the potatoes then pierce a few times with a fork. Wrap in foil and roast for an hour at 400 Deg F. Cool for 10 min or until cool enough to handle, unwrap the foil, peel and mash. The mashed potato could be pressed through a ricer if you have one, but isn't necessary. This can be done a day ahead of time. Bring to room temp before adding to waffle batter. 
If using frozen shredded ube, thaw then cook with ¼ cup coconut milk to get it soft enough to mash. Then follow the recipe as stated