Zucchini Linguine with Langostinos and Lobster Sauce
This is just like linguine with clam sauce. Except zucchini instead of linguine. And langostinos instead of clams. And lobster sauce instead of clam sauce. Ok so it isn't the exact same but this is my non-pasta twist on the dish and its so so so tasty! Bonus - my kids gobbled it up. I am stoked to see them love seafood as much as I did when I was a kid.

When I was a kid I loved seafood, shellfish especially and I loved ordering linguine with clam sauce at restaurants. I know, not a typical "kid" meal to eat at all. I was not into chicken fingers ( or strips because the thought of eating an actual chicken finger is kind of gross) or a corndog or anything that came with fries. I had a more sophisticated palate as a young kid. I did love pizza then, shoot I love it now, because pizza is delicious. I think I liked eating the clams because they were chewy and that made for fun eating.
I take my kids grocery shopping with me often and whenever we pass by the fish counter at whole foods my 6 year old loves looking at the whole fish ( which she will want me to get whole trout to cook that she LOVES) or she wants to see the shellfish. One time a few weeks ago she wanted clams for dinner. I asked " do you want steamed clams, linguine with clams sauce or the shells to play with?" clearly it was for the shells to play with but I got a couple pounds of manilla clams to make linguine with clam sauce with ( and a couple cans of chopped clams too because extra clams make the dish even more awesome) and we finished up our shopping and headed home to make dinner. My kids ate the heck out of it! So proud of my good eaters.
I personally am not a huge fan of pasta. Never really have been. I can eat a huge pile of pasta and never really feel full ( not sure if that is a good or a bad thing) so I tend to make veggie noodles instead. Years and years ago when I was into figure bodybuilding I was on a pretty strict diet to get all lean and muscley and that meant not a ton of carbs so I got creative since spaghetti is a fave meal and I started using a box cheese grater to shred zucchini to use in place of the noodles. It was a pain using the grater to make the zucchini linguine. I had no clue about the spiral vegetable slicers out there.
It wasn't until last year when I finally bought one and what a difference it makes. plus it is crazy fun to spiral veggies and see how long of a noodle I can make. This is such a great alternative to pasta and the possibilities are endless with veggie spirals. I also met online a blogger who has dedicated her whole blog to the spiralizer - Ali of Inspiralized. I have made a ton of her recipes from her site that have all been so good. So for a ton of awesome spiralized recipes check her blog out HERE.
I had bought a couple bags of the frozen langostino lobster tails at Trader Joes a while back with the intention of making this recipe and it ended up being a little while after I bought them. I have used them in crawfish etouffee before ( another delicious meal) and I knew they would be perfect for my twist on linguine with clams.
I just love saying that I can eat lobster tails by the bowlful. I WISH! That would be a dream come true. When I was in Seattle for IFBC I saw some insanely huge lobster tails at Pike's Market. I had never seen them so big in my life. $40 a lb and they looked to easily be 3-4 lbs a piece and almost a foot long and about 5 inches wide. That is one HUGE lobster!! Pretty sure I could eat that whole tail in one sitting. Lobster is so so good.
Another thing I love about these langostino lobster tails is they are pre-cooked which means heat and eat. They are quick to prepare like shrimp which makes this meal take about 15 minutes total to prepare and cook. I am now into full on busy mom mode with kids in school, lessons for tennis and swimming, my tennis team practices and matches, dog training for the new puppy, busy husband working lots at his job and on the house at home with our 8 million on going remodel projects so I need dinners that are quick and of course healthy!
My friend Vijay from NoshOn.it asked me to be in a group questionaire about kids and vegetables and what we do to get our kids to eat them. One question asked was do we sneak vegetables into our kids diets? He told me that my answer was really similar to a lot of the other bloggers that answered. Heck no!! I refuse to sneak anything from my kids. They love vegetables and actually eat quite an awesome variety. I believe in having them help pick out veggies at the store or farmers market, and help prep them at meals so they know what they are eating and because of always doing this my kids have always loved veggies. Not saying that they haven't had their picky moments, they have they are kids after all, but I think they eat a pretty awesome variety of veggies for being so young.
I think I can say I am doing a good job as a parent when I have two young kids that eat seafood and veggies without too much of a fight. The eating part is easy, its getting them to sit still in the chair. That's a whole nother problem. I miss the days of the high chair where I could seatbelt them in. I keep threatening to add seat belts to our kitchen table chairs. They don't think I am being serious...
"Recipe"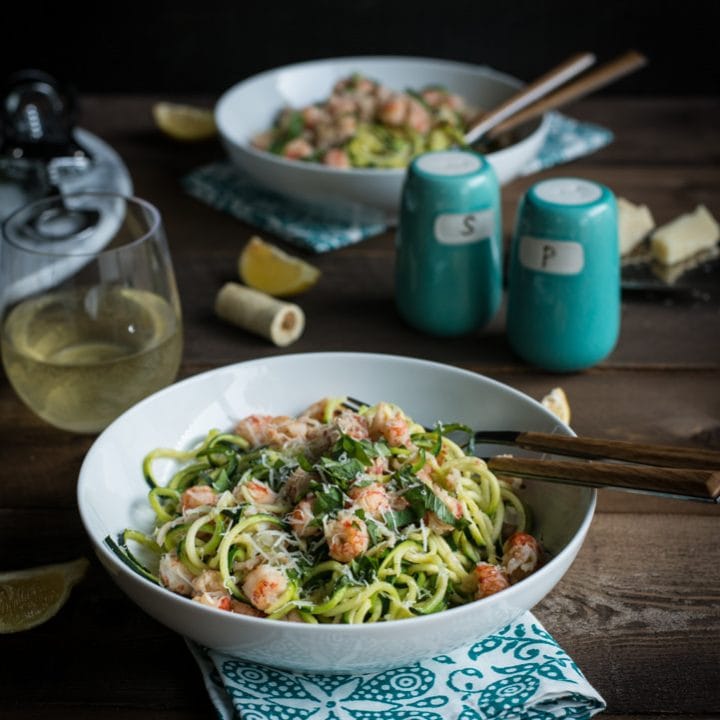 Zucchini Linguine with Langostinos and Lobster Sauce
Zucchini Linguine with Langostinos and Lobster Sauce Makes 4 servings.
Ingredients
1

tablespoon

butter

1

tablespoon

olive oil

⅓

cup

white wine

1 8

oz

bottle lobster juice

or clam

juice of half a lemon

about 2 tsp

1

medium shallot diced - about ⅓ cup

4

large garlic cloves

minced

¼

teaspoon

red pepper flakes

1

teaspoon

sea salt

½

teaspoon

ground black pepper

4

medium zucchinis - washed

ends cut off and spiralized

24

ounces

Langostino Lobster tails

thawed

Parmesan cheese

finely shredded

¼

cup

diced basil

or Italian flat leaf parsley
Instructions
In a large sauté pan combine the butter and olive oil together and heat over medium high until bubbling. Add the shallots and garlic and sauté for 2 minutes then add in the wine, lobster juice and lemon juice. Cook for 5 min on medium-high until slightly reduced. Add in the pepper flakes, salt and pepper and the spiraled zucchini. Reduced the heat to medium and cook for another 5 min to slightly soften the zucchini. Add in the langostinos and cook another 2-3 minutes or until heated through being careful not to overcook them.

Divide amongst 4 bowls, top with basil or parsley and some finely shredded parmesan. Serve immediately.
Notes
I used Bar Harbor brand of lobster juice that I got at Whole Foods. They also sell bottled clam juice. If you can't find the lobster juice, clam juice is a perfect substitute. You can also sub shrimp for the langostinos, just cook them longer than the langostinos if you buy uncooked.
If you can't find langostino lobster tails, shrimp work too. Or clams!