Savory Apfel Flammkuchen. Also known as a French-German apple flatbread, Flammekuche or Tarte Flambée since this tasty treat has both German and French origins.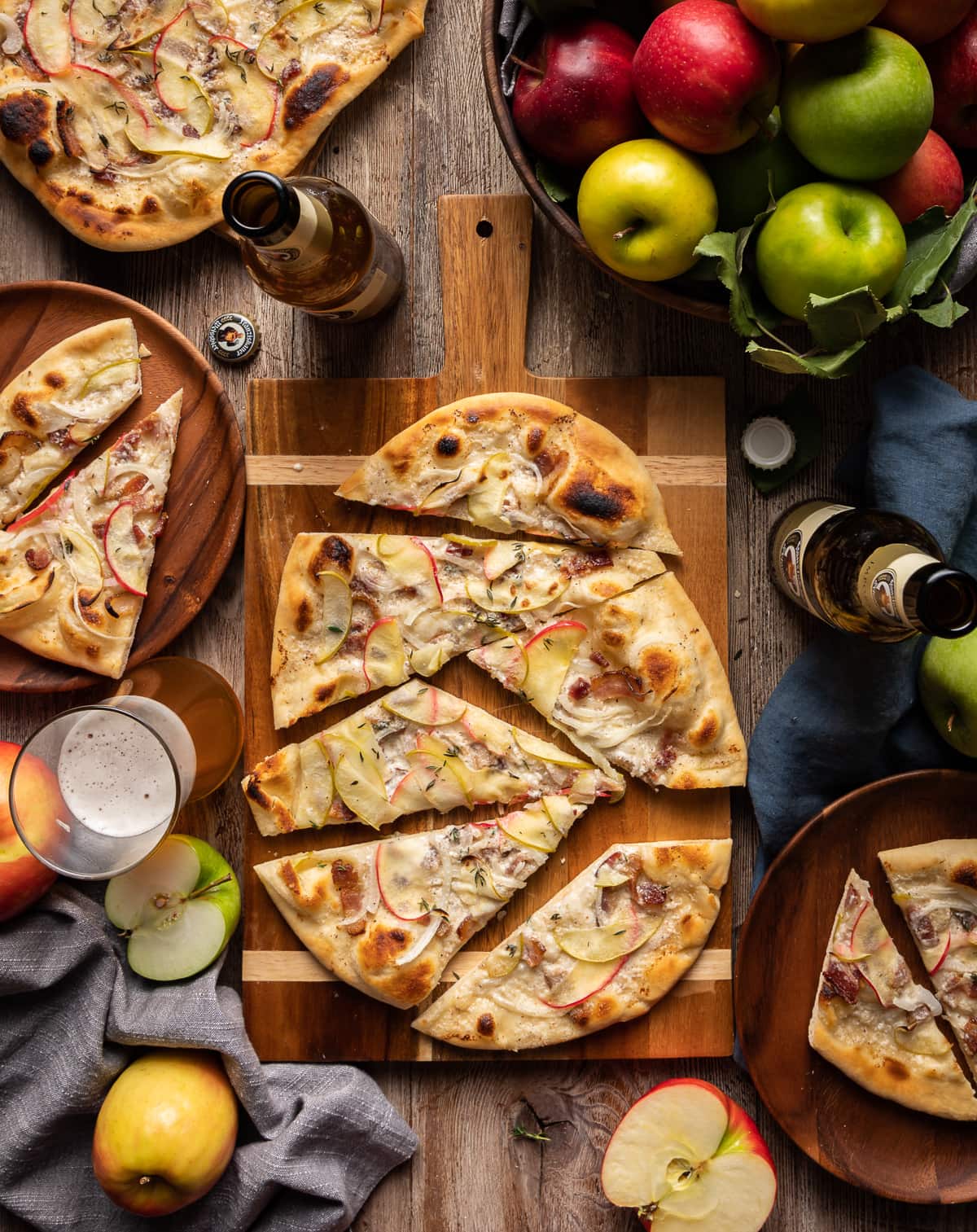 This page contains affiliate links. Affiliate links support Pineapple and Coconut at no additional cost to you. If you choose to make a purchase via these links, I earn a small commission to help keep this blog running and it is much appreciated. I am an Amazon and Adorama affiliate.
Jump to:
What is Flammkuchen?
Flammkuchen translates to flame cake. These are traditionally made in pizza or bread ovens SO HOT that they cook in just a few minutes, have a little bit of char on the crust and served as soon as they are made. Not actually set on fire. 
Flammkuchen ( pronounced flam-kook-hen) comes from a region once called Alsace, which is in an area of both southwest Germany and northeast France. Alsace has been both French and or German land depending on the border at that time. The border has moved around a bit. It's a long complicated history.
The German side of my husband's family comes from this region. Strasbourg is what the main city is now known as, which sits in France on the border between Germany and France next to the Rhine river. A French and German speaking town with a German name with renaissance, medieval and German architecture. Lots of amazing foods from this region with both French and German influences.
I have had Flammkuchen at many an Oktoberfest celebration here in the states. I guess some festivals don't stick to traditional Oktoberfest foods and have branched out to other regions. Which I am glad for since I got to experience this amazing tasting sort of pizza years ago and have made it many times since.
Traditional recipe:
Traditional Flammkuchen is made either savory or sweet. I went with a combination of the two by adding apples to the savory version. This is similar to a thin crust pizza as it is made of a dough, rolled out until thin, then covered with a "sauce" and toppings. But that is where the similarities end.
Flammkuchen usually isn't referred to as a pizza but more of a flatbread. Some recipes use yeast in the dough and some don't. I have made both and I prefer just a little bit of yeast to give the crust just a little bit of chew, not super thin cracker like consistency. You can make it either way you like. I will tell you how. 
Ingredients:
For the flatbread dough:
Flour - I like to use Type 00 flour or pizza flour. You can also use all purpose or bread flour
Yeast - instant or active dry yeast
Water
Oil - olive oil
Sugar
Kosher Salt
Make the dough:
Since I make mine with yeast I start with proofing the yeast with a little sugar and warm water ( around 110 Deg F - no warmer). I whisk together the flour with salt in the bowl of my stand mixer.
You can do this entire thing by hand - if you are up for it. Otherwise using a mixer with a dough hook is the way to go since the total kneading time is 5 minutes once the dough has come together.
I start with pizza flour - Italian OO flour. This is the BEST flour I have found for pizza or any kind of flatbread dough. I am a huge fan of Caputo flour. You can also use bread or all purpose if you like.
I mix the flour with the oil then add in the yeast mixture. I let my stand mixer do the work and once it has come together and is a cohesive ball of dough I let it mix on low to knead for five minutes. Doesn't need more than that. Knead. Need. Ha ha.
Now, if you decide to make this without yeast you can just mix the dough together until it becomes a ball then just let it rest about twenty minutes. With yeast, it gets placed into a lightly oiled bowl, covered in plastic wrap, then a towel and placed in a warm spot to rise for one hour. While the dough is rising I get the toppings ready.
I also get my pizza stone ready as well. Both the yeast version of the dough and my pizza stone need an hour to get ready. I heat my oven to 500 deg f (260 c) and heat for an hour before I make the flammkuchen recipe. They cook in just a few minutes because of the high heat.
Traditional Flammkuchen toppings consist of:
Creme Fraiche - A French style thick, tangy cream similar to sour cream. This gets seasoned with salt, pepper and nutmeg.
Onion - thinly sliced. Can be either red or yellow onion.
Bacon - thinly sliced into lardons. This can be added to the pizza as is or partially cooked beforehand. I like to partially cook it first since the flatbread cooks very quickly and I like the bacon to be just a little crispier.
Fresh herbs - I use fresh Thyme.
A sweet Flammkuchen, or Tarte Flambée Sucre, has a sweetened creme fraiche "sauce" then covered in apples and plenty of cinnamon sugar. YUM.
I add thinly sliced apple to my flammkuchen recipe since I love the addition of the sweet-tart flavor with the rest of the ingredients.
How do you make flammkuchen?
Start with the dough and while that is either resting or rising if you use yeast, prepare the toppings. 
Mix together the creme fraiche, salt, pepper and nutmeg (freshly ground if have whole nutmeg and a zester) and set aside. 
Cook the bacon lardons about ⅔ of the way done then rest on a paper towel to drain off excess fat. 
Thinly slice the onion. Core and thinly slice the apples, you don't have to peel them. Set the apple slices in a bowl and drizzle with lemon juice. This keeps them from browning before being added to the tart and adds a hit of acid to balance out all the flavors. 
Divide the dough into four pieces then roll out one dough ball at a time. Spread with one fourth of the creme fraiche mixture then one fourth of the toppings on each one.
Bake until the dough is crisp - 2 minutes baking, 2 minutes broiling.
Top tip:
These take just a few minutes to cook. I highly suggest having a pizza stone or baking steel ( my stone broke after years and years so I just bought a baking steel) or a pizza oven that can go to super high heat. However, you can also use a baking sheet that will withstand high heat since this recipe uses both baking and broiling to char the top.
Storage:
These German flatbreads keep best in an airtight container in the refrigerator. I don't suggest freezing. You can freeze the dough then thaw at room temperature before rolling out etc. They reheat well in the oven for just a minute or two. Also really great eaten cold the next day.
Other tasty German recipes:
Recipe:
Savory Apfel Flammkuchen (French-German Savory Apple Flatbread)
A tasty savory flatbread topped with crème fraîche, thinly sliced onions, bacon lardons and sweet-tart apple that originates from the Alsace region of France and Germany. Easy to prepare and cooks in just a few minutes. Perfect for a light dinner, cut up into wedges as an appetizer or snack.
Ingredients
For the Dough:
500

grams

pizza flour or all purpose flour

Italian 00 flour is best

1 ½

teaspoon

kosher salt

300

ml

warm water

around 110 Deg F

7

grams

instant yeast

1 packet or 2 ¼ teaspoon (omit if making non-yeast version)

½

teaspoon

sugar

4

tablespoons

olive oil
For the toppings:
12

ounces

Crème Fraîche (340 grams

Salt

Pepper

Nutmeg

6-8

strips Bacon

cut into lardons

1

cup

Onion

white or red, cut in half then sliced into thin half circles

1-2

apples

Granny Smith, Honeycrisp, Gala, Pink lady etc - cut in half, core removed, very thinly sliced (do not have to peel if you don't want.

Juice of one lemon - about two tablespoons

Fresh herbs - I used thyme

you can also use rosemary, parsley etc.
Instructions
For the yeast dough:
In a bowl of a stand mixer ( or a large mixing bowl) whisk together the flour and salt. In a measuring cup measure out the warm water then stir in the yeast and sugar. Let sit for 5 minutes until yeast starts to bubble. 

With the mixer on low, add the oil slowly to the flour then add in the yeast mixture. Keep on low until the dough forms a shaggy ball. Raise speed to medium low ( around a 4 on the settings) and knead for five minutes. 

Transfer the dough ball to a lightly oiled bowl (or you can remove the dough from the mixer bowl, oil in then add the dough ball back in) and cover with plastic wrap and a towel. Place in a warm, draft free area for one hour. 
Heat the oven:
At this time pre-heat your oven to 500 Deg F with a pizza stone, pizza steel or baking sheet that can withstand high temps placed on the highest rack about 6-8 inches below the broiler elements. This is important since half the cooking is done with the broiler. Heat for an hour before baking (same amount of time the dough needs to rise).
Prepare the toppings while the dough is rising and oven is heating:
Mix together the crème fraîche with the salt, pepper and nutmeg. Keep chilled until ready to use. 

Slice the bacon into lardons ( thin, widthwise strips) and cook in a skillet ( cast iron preferably) until about ⅔ of the way cooked. Transfer to a paper towel lined plate. 

Remove the core from the apples using an apple corer or cutting into quarters and cutting out then thinly slice. Almost paper thin slices. 

Onion - remove peel, cut in half and slice super thin. 

Once the dough is ready - remove and cut into 4 even pieces. About 215 grams each. Working with one piece of dough at a time. Roll out to a thin rectangle about 10 by 15 inches then place on a piece of parchment paper. 

Spread one-fourth of the seasoned crème fraîche on top then add a fourth of each the bacon, onions then apples and sprinkle with a teaspoon or so of fresh thyme. Repeat with remaining dough to prepare all the flatbreads at once ( if you have the counter space).

If your baking stone/steel or baking sheet is large enough you can bake two at a time, if not bake one at a time. 
To bake the flatbreads:
Slide onto your heated stone/steel/baking sheet on the parchment ( using a pizza peel if you have one) and bake for 2 minutes. After 2 minutes, remove the parchment and switch your oven to broil and broil for 2 more minutes, turning the flatbreads after a minute. If you want an even darker more charred crust, cook for another minute. Transfer the flatbread to a cutting board and repeat with remaining ingredients to make four flatbreads. If baking more than one at a time the same steps work for both and time to cook. 

Cut into wedges and serve. These go great with a nice German Weissbier. 
Notes
f making the dough without the yeast, omit the yeast and follow the same directions as making the dough. The resting time will only be twenty minutes. No need to proof in a warm area since we aren't needing to make the yeast do its thing. 
I highly suggest using a pizza stone, steel or even pizza oven if you have one to get that nice, crisp crust. A baking sheet works as long as it can withstand high temps. 
I start with the flatbreads on parchment to slide them into the oven easily since they are so thin. Then the parchment is removed to help get the bottom of the crust super crisp.  I have made these using all broiling instead of baking and then broiling and I burnt them. I found that baking first to get the bottom of the crust super crispy first then broil to char the top. 
Flammkuchen is best served same day still hot, but it is still really good cold the next day.